Edwin Toonen
Edwin is a strategic content specialist. Before joining Yoast, he spent years honing his skill at The Netherlands' leading web design magazine.
WordPress 5.2 introduced a brand-new feature called Site Health. This is a tool that monitors the health of your site and notifies you of any issues or improvements to make. It is important for you to keep an eye on this page as this is where all major plugins will drop their notifications as well. Let's dive in.
What is Site Health?
Site Health is a tool in WordPress that helps you monitor how your site is doing. It consists of two parts: a Status screen and an Info screen. You can find the Site Health tool via Tools > Site Health in your WordPress backend. In addition to WordPress' checks, plugin developers can also integrate with Site Health.
As it gives critical information, you would expect it to show notifications in an additional way. Unfortunately, that's not the case. At the moment, you can't set an email reminder for it or find a widget on the dashboard. Luckily, the latter will be added in WordPress 5.4 due to arrive at the end of March 2020.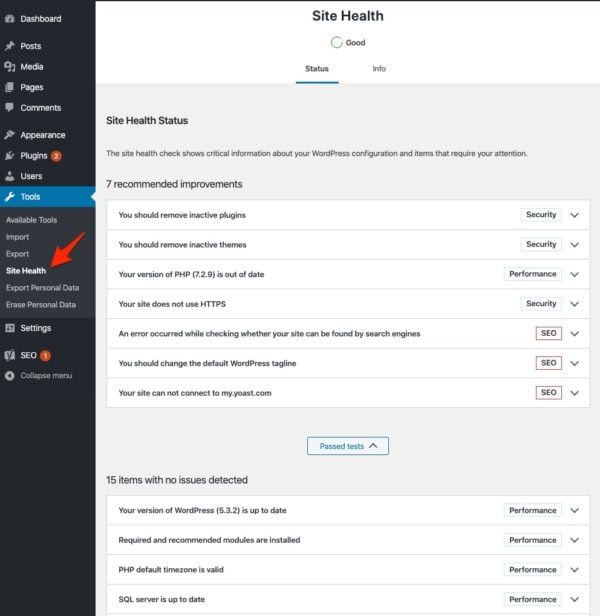 Status page
Arriving on the Status screen, WordPress runs a performance and security analysis that checks your site and gives notifications and recommendations. At the top of the page, you'll also notice a coloured circle that gives you an idea how healthy your site is. Seeing red? You've got work to do.
All the notifications are collapsable, so you can click on the title to see more information. You'll also find links to more information about the issue and how to it.