We all love WordPress, but one frustrating thing with the platform out of the box is having to deal with large volumes of comment spam. No matter what type of blog your business runs, you will have to figure out or come up with a strategy on how to stop WordPress comment spam at some point.
Thankfully there are a lot of great plugins, tricks, and settings you can easily enable and or install to literally reduce your spam by 99%. Yes, you can really reduce it that much! Stop wasting time managing spam comments and focus on growing your blog and business.
Too much comment spam will harm your site. It can affect your search engine rankings, will impact the credibility of your discussion among legitimate commenters, and could have a security impact. Stopping it is well worth your while.
So how do you stop WordPress comment spam?
7 Ways to Stop WordPress Spam Comments with Built-In Features
The first place to go when combatting WordPress comment spam is the discussion settings, which you access via Settings > Discussion.
Here, you can:
You can also disable comments for individual posts via the post editing screen.
Let's take a look at each of these methods.
Spam comments? Never heard of them ? …thanks to these plugins and features ❌
Click to Tweet
1. Disable Comments Entirely
The first option you have to simply disable WordPress comments altogether. Perhaps your business doesn't use or want comments, so to protect yourself from getting any spam comments you can just disable them. One of the easiest ways to do this is to simply uncheck the Allow people to post comments on new articles option, which is located under Settings > Discussion.
To disable comments entirely, go to the Default post settings section at the top of the Discussion settings screen, and uncheck the options.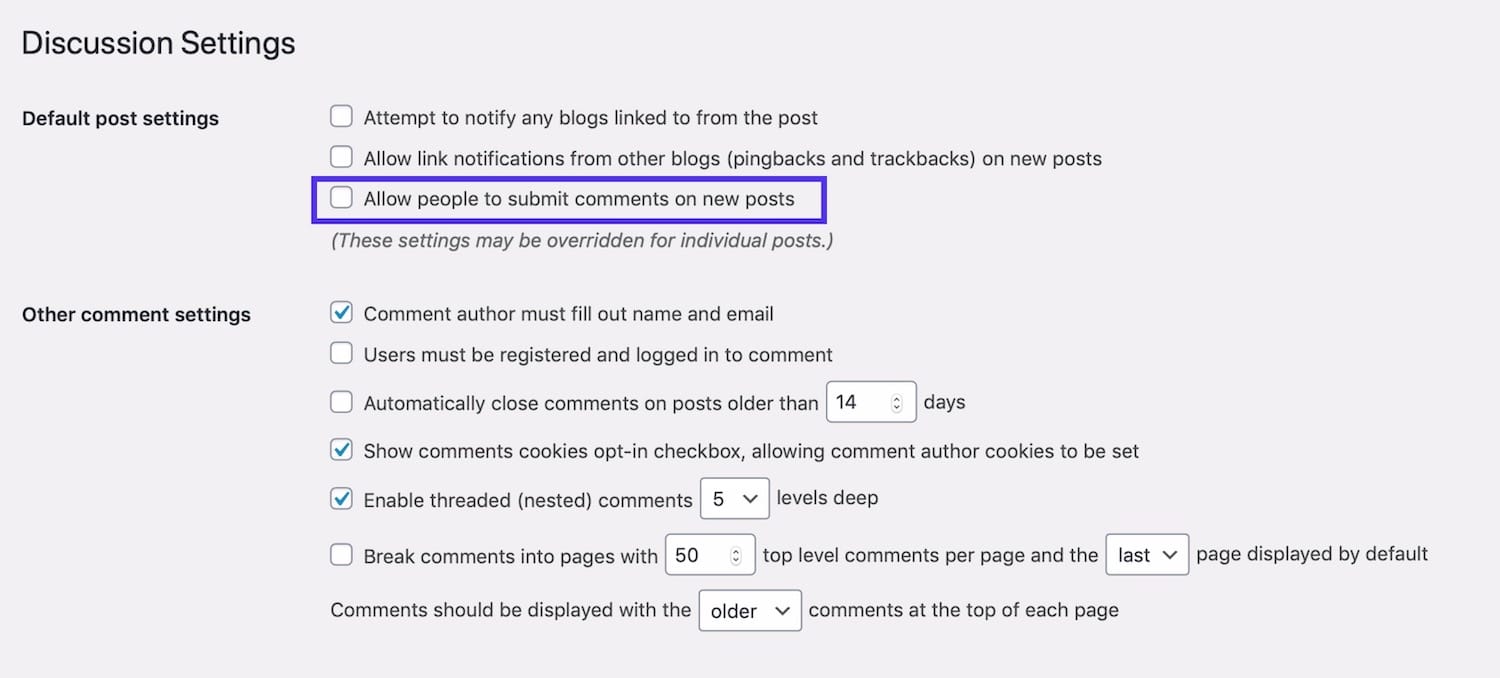 This will turn off comments on all new posts. You can also turn off pingbacks too.
Note that commenting isn't turned off for posts you already published. If you want to turn these off, you'll need to do this for each of those posts individually. We'll show you how to do that shortly.
Scroll to the bottom of the screen and hit the Save Changes button. All commenting will now be disabled.
2. Turn off Anonymous Comments
Another option you have is to turn off anonymous comments. WordPress native comments ask the visitor for four pieces of information: comment, name, email, and website by default.
If anonymous comments are enabled, they won't be required. This instantly opens up your site to a lot of
[…]
This article was written by Rachel McCollin and originally published on Blog – Kinsta Managed WordPress Hosting.