A blog is a great way to be creative, grow your brand and flex your writing skills. Of all the possible blogging platforms WordPress is the best (or at least we think so – it's what we use to run our blog that you're reading right now). WordPress makes blogging easy and with the help of one of the best blog WordPress themes you can get started writing asap.
When looking at themes for your blog there are a few key factors to consider:
Layout: Choose a theme with a layout you like. If you want a masonry grid layout, it's easier to pick a theme that has a masonry demo instead of installing a plugin and trying to make it work. Along the same lines – your theme should be responsive to ensure your blog looks great on any device.
Post Formats: Find a theme that can handle the media you want to upload. Whether you just want standard posts, videos, image galleries or quote double check that the theme you pick supports those formats.
Social Media: Any good blogging theme will include support for social media. Social media marketing is a huge part of growing your blog and online presence, which is why it's so important that your blog posts are easy to share. A good WordPress blog theme will usually have social sharing options on posts, links in your header/footer and a social "follow" widget.
Those are just a few features we think an awesome WordPress blogging theme should have. Depending on your own needs you may also want a theme with WooCommerce compatibility, built-in ad spots to monetize your blog, an autoplay feature (in you're thinking of starting a vlog), etc.
If you search for the best WordPress blog themes you'll likely find thousands upon thousands of results. To save you some time, here's our list of the best blog WordPress themes to get started blogging. We hope you enjoy!
Disclaimer: WPExplorer is an affiliate for one or more products listed below. If you click a link and complete a purchase we could make a commission.
1. Total
The Total drag & drop WordPress theme is a flexible, multipurpose theme perfect for any website design. It's a top selling theme with over 32,000+ happy customers – which is why we keep recommending it! With built-in responsiveness, RTL support, A11y features, custom post types (portfolio, staff, testimonials), an easy to use page builder, premium animated sliders and more Total is an obvious choice for your blog or web design project.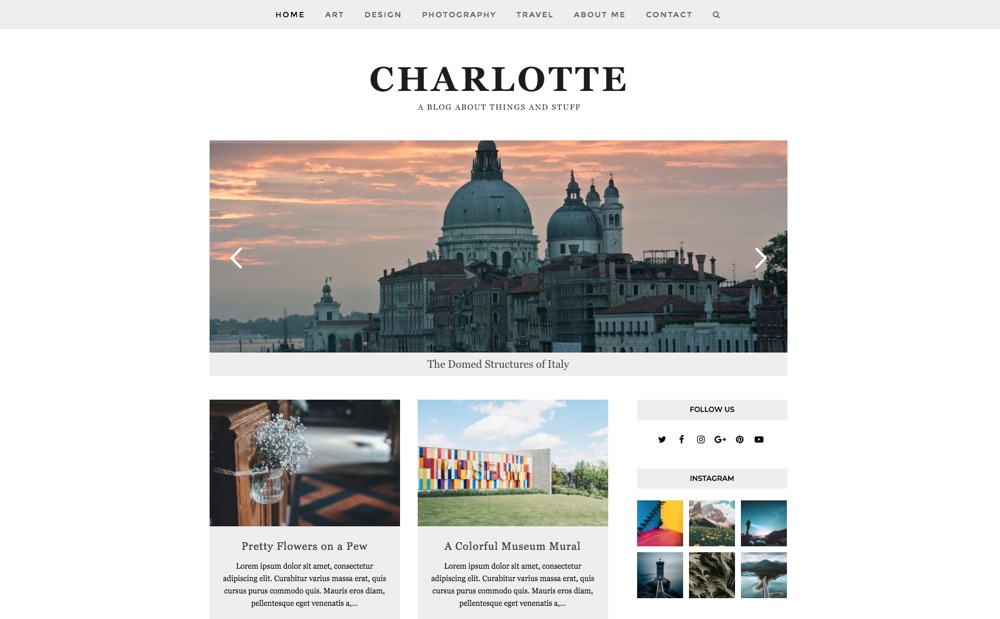 Total also includes 40+ quick install sample demos, including the Mason and Charlotte blog demos seen above. This way you can simply install a sample demo to have your website started in minutes. The theme includes tons of blog-specific features including columns,
[…]
This article was written by Kyla and originally published on WPExplorer.