While it may not seem as though an education website requires compelling visuals, nothing could be further from the truth. With an attractive website to hand, you can stimulate potential students and make your establishment the most viable option for them. Education WordPress themes can help you realize that vision.
The best themes will give you way to customize the look of your site to match your branding guidelines. However, the standout themes will also include additional functionality to help make your student's learning more valuable and successful.
For this post, we'll look at some of the best education WordPress themes on the market. The list below is in no order, so feel free to dip in and out of those that take your fancy!
First off, we'll discuss our pick of the best education WordPress themes available – Kadence WP. This multipurpose theme that comes from the same team of developers responsible for LearnDash. This Learning Management System (LMS) is top of the pile for many reasons, which makes Kadence WP the most optimal way to integrate the platform with your site.
We have a review of Kadence WP, and within it we note a few standout features:
Some of the best customization options available to help make your site look strong.
Compatibility with both the Block Editor and the Elementor page builder plugin.
If you're a LearnDash user, you'll have the best integration on offer.
You can extend the building modules on offer using the Kadence Blocks plugin.
We like the scope of the header and footer builder too. On the whole, Kadence WP is not only good as an education WordPress theme, it's solid for other applications too.
Pricing: You can download Kadence WP for free, but it restricts the features and functionality you'll get. If you want the full experience, the premium version of Kadence WP begins from $129 per year, for the first year.
Why Kadence WP Is Our Top Pick
LearnDash is arguably the most popular LMS available. This means you'll want to find a theme to fit it. No other theme can offer the same level of compatibility as Kadence WP. What's more, you have a gorgeous set of templates and modules (if you use Kadence Blocks) for a decent price.
Next on our list of best education WordPress themes is Astra. This is actually a multipurpose theme, but includes a number of templates specifically for education and learning.
As with Kadence WP, we also review Astra. In that post, we look at a few areas where the theme beats the competition in any niche:
You can use the built-in WordPress Customizer to create your site's design.
Astra performs well in benchmark tests and real-world usage.
The theme is intuitive and easy to use.
What's more, you can use your choice of page builder plugin, or stick with the native Block Editor if you wish. On the whole, Astra offers immense flexibility, deep customization options, stellar templates, and comprehensive third-party integrations.
For those who don't use LearnDash, Astra supports the LifterLMS plugin too. You'll also want to check out our in-depth comparison of LearnDash vs LifterLMS if you still don't know which one to pick.
Pricing: A premium version of Astra starts from $59 per year, but you can nab a sweet discount using our dedicated Astra coupon code!
Next up is EduBlock. WPZoom's education WordPress theme comes with a solid feature set, and supports WordPress' newest technological innovations.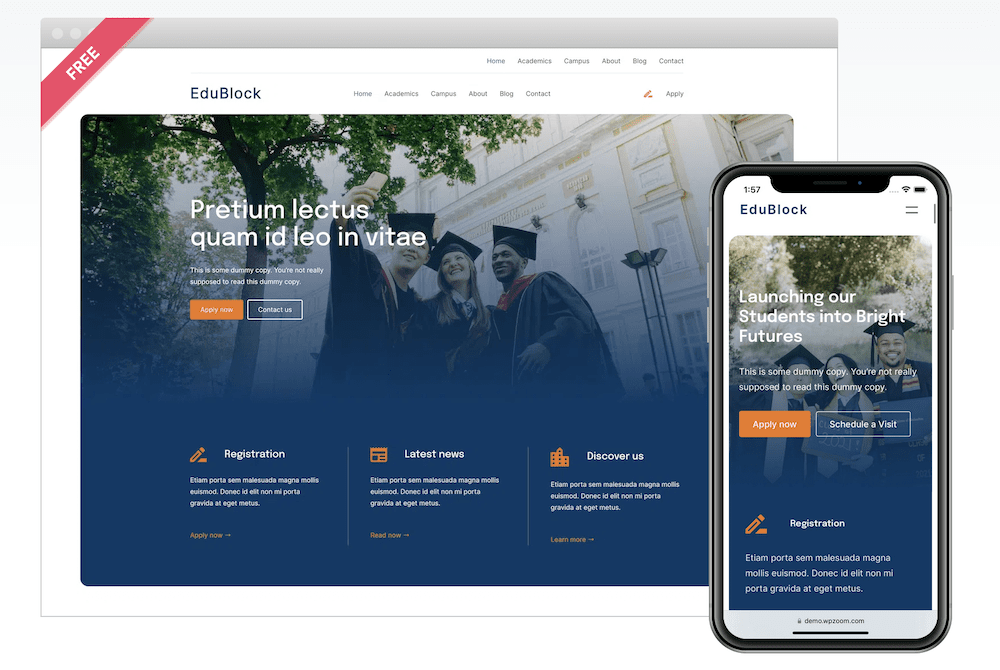 EduBlock performs well on speed testing tools such as Google's PageSpeed Insights, and also looks to support some of the latest WordPress additions. For example, if you want to use the Block Editor to carry out Full Site Editing (FSE) you can do so without the need for third-party plugins.
Pricing: You'll pay $59 per year for EduBlock PRO, although there is a limited free version available. However, if you use our WPZoom coupon code, you'll get more off the price!
WPLMS is a full-featured LMS theme for WordPress that uses a mobile-first approach. This is important, as many would-be learners will use smaller screens to browse the web.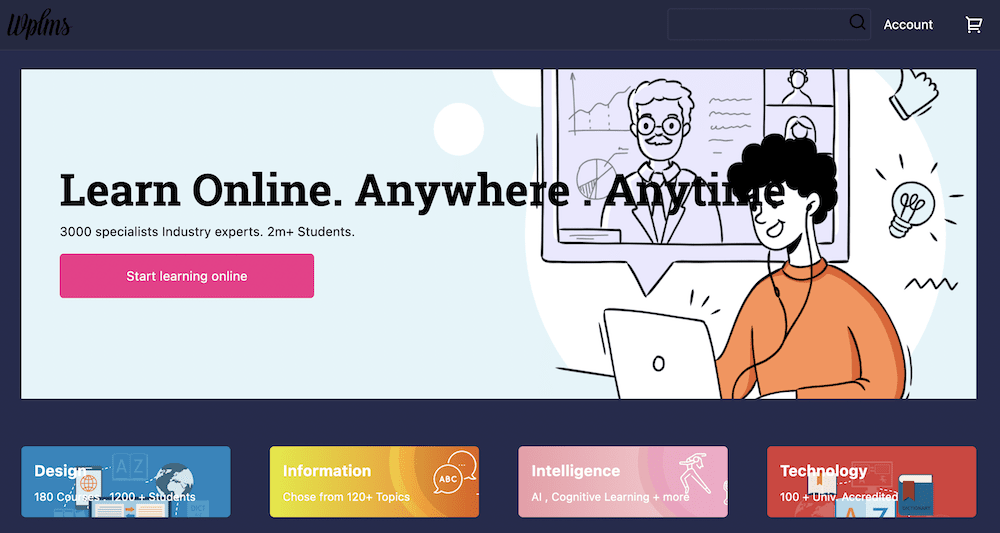 The standout feature of WPLMS is its course and materials delivery system. You'll use a front-end builder to create the courses, and employ multiple unit types to offer variety. In addition, you have a number of ways to feed these units and courses to learners. For instance, you can drip them, use a progression strategy, and much more.
Pricing: WPLMS costs $75, for which you get six months of support and perpetual future updates.
The TutorLMS plugin is one of the best around. As such, the TutorStarter companion theme offers you the best integration with the plugin.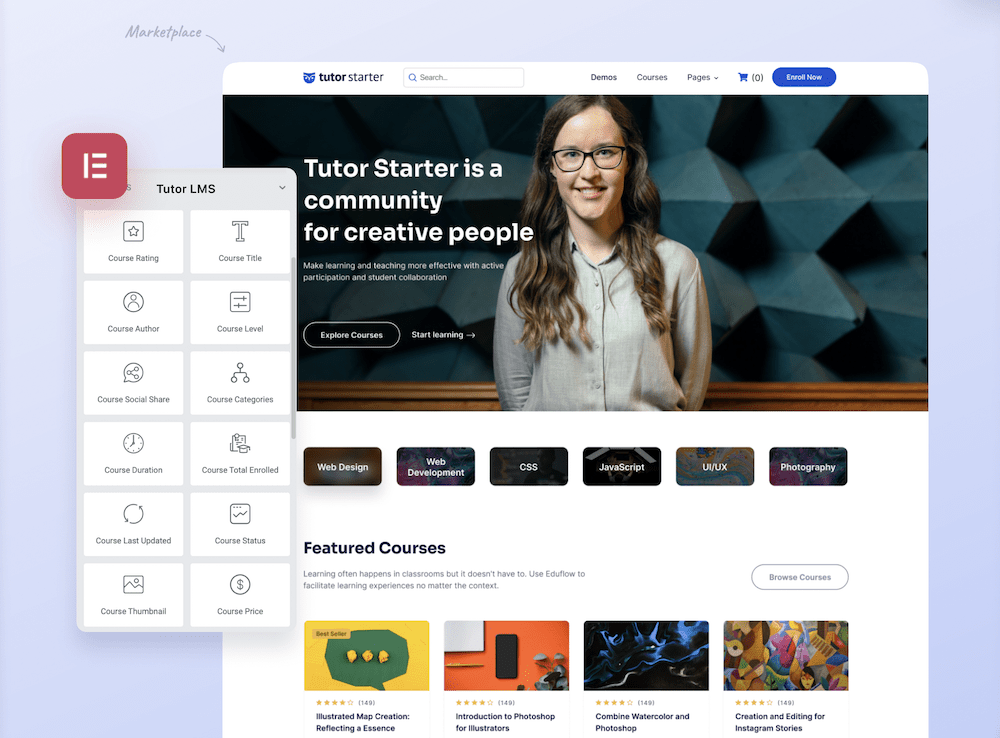 There are different theme templates based on your learning strategy and establishment. For example, you can choose site templates for single courses, universities, marketplaces, or even focus on a single instructor. Each design looks modern and slick, with plenty of customization and unified design with the TutorLMS plugin.
Pricing: The TutorStarter theme is free, but you'll want to purchase a TutorLMS subscription in order to make the most of it.
Ed School is an education WordPress theme that comes with a slew of premium plugins, and plenty of design options.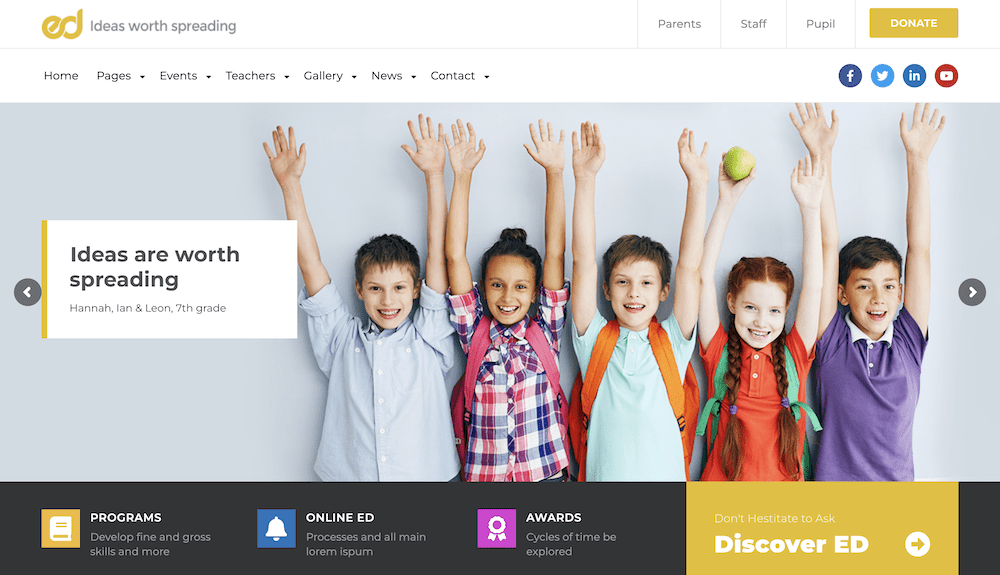 The main focus for the theme is for younger learning environments, such as kindergartens. The default designs border a line between formal and fun, and we like the color schemes in use. While you can use the Block Editor or the Elementor page builder plugin, you also have access to WPBakery Page Builder. You'll also have access to premium plugins such as Mammoth Mega Menu and Slider Revolution.
Pricing: Ed School is $54 for a perpetual license. However, you'll only get six months of support from the developer.
Kalium isn't a dedicated education WordPress theme. However, much like Astra and Kadence WP, it has the feature set to excel in this area too.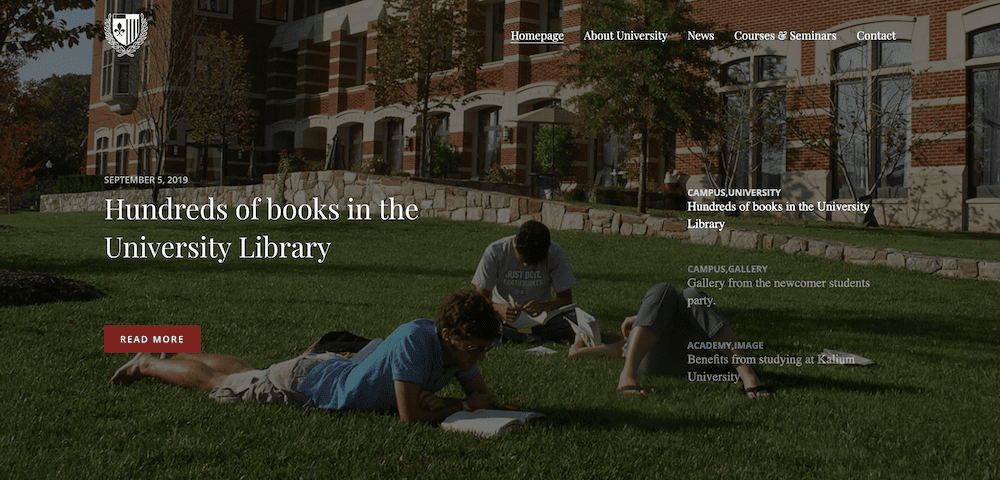 We like how Kalium gives you a choice of page builder. You can use the native Block Editor, Elementor, or the WPBakery Page Builder. You also get a collection of templates you can install with a single click. This includes a dedicated Education template that can adapt to almost any type of relevant site. What's more, there are a lot of header styles and template layouts to choose from.
Pricing: Kalium costs $69 as a one-off fee. This means you get all future updates, and six months of support that you can extend to 12 with for an additional cost.
Tabula offers something a little different compared to the competition. Its color schemes are vibrant, with plenty of support for third-party plugins.

The main focus for this theme is children's education. As such, you'll find templates for art, music, dancing, and other creative arts that appeal to young people. Default color schemes and layouts are fresh, vibrant, and exciting. You also get a built-in front end editor, and support for plugins such as Yoast SEO, W3 Total Cache, and much more.
Pricing: Tabula is $69 and follow's ThemeForest's typical pricing practices. This means you'll get all future updates, six months of support, and the option to extend that support to 12 months.
9. Education Academy
Next on our list of education WordPress themes is Education Academy. If you want a formal presentation for your education establishment, this theme could fit the bill.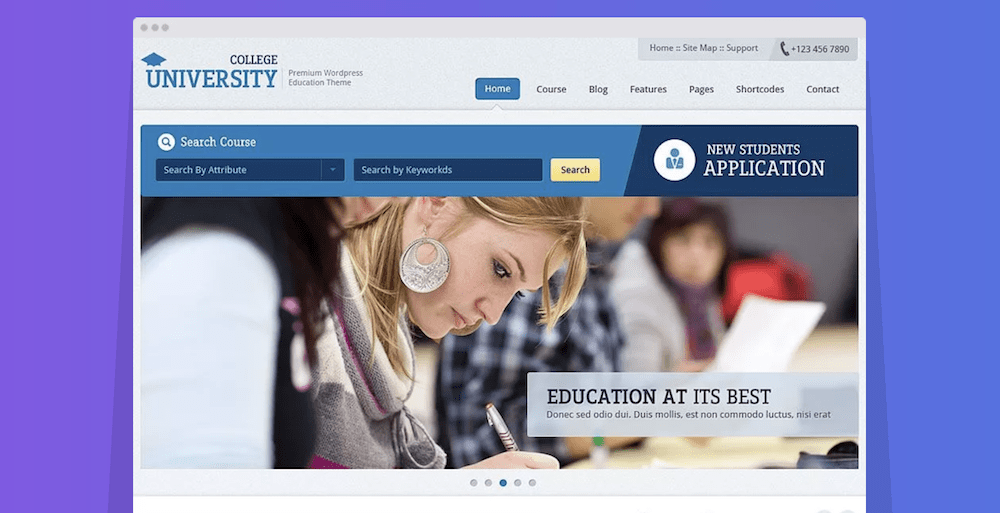 Despite the subjective dated appearance, Education Academy offers a lot of top functionality. For example, you can create staff and student directories, run blogs, and create a comprehensive contact page. Each of the multiple post types are useful, and welcome for any school. While design customization is low, Education Academy excels feature-wise.
Pricing: A one-site licenses gives you the full experience of Education Academy for $49 per year. A five-site license is $89 per year.
Themeum's Skillate uses what WordPress gives it in order to provide a quality e-learning theme, with choice third-party support too.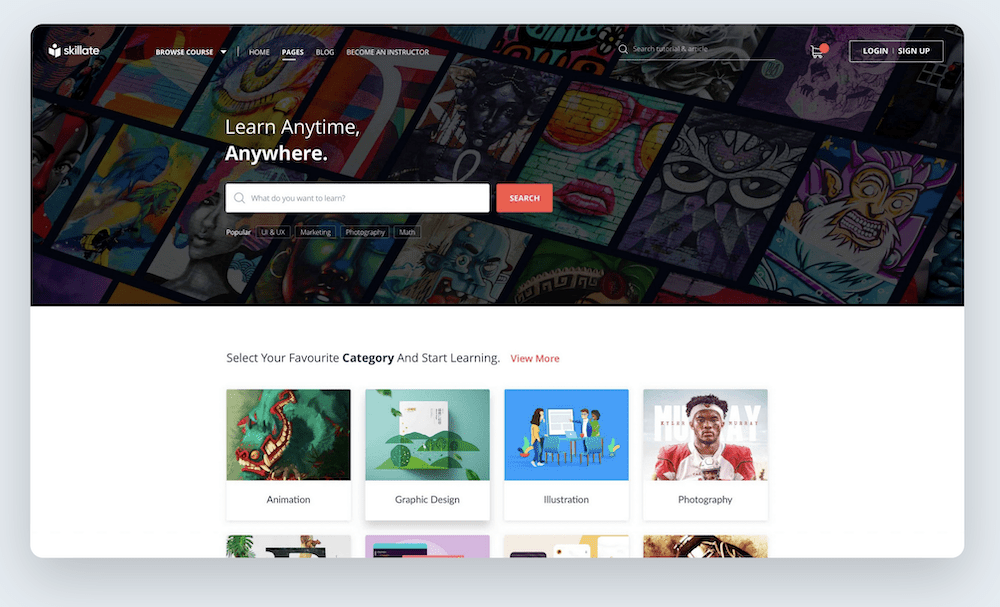 The theme uses the WordPress Block Editor, which makes it snappy and intuitive to design with. You can integrate multiple teachers and profiles, add marketplaces with ease, and incorporate instructor badges. You also have third-party support for plugins such as WooCommerce and TutorLMS too, which makes this package complete.
Pricing: You can buy a single site license for one of the best education WordPress themes available for $79 per year. A five-site license costs $149 per year.
Eduma is a niche within a niche. It's one of only a multipurpose education WordPress themes, which means it can be suitable for all manner of learning sites.

The main draw for this theme is the number of premium add-ons you'll get. There are lots of ways to extend the core LearnPress LMS: Stripe and WooCommerce integration, point management systems, a Paid Memberships Pro add-on, and much more. You also get good support for Elementor, and a collection of widgets to extend the page builder too.
Pricing: Eduma follows the typical ThemeForest pricing: $69 per year for perpetual updates and six months of support.
While Fleming Pro isn't one of the strict education WordPress themes on this list – it also focuses on city hall, non-government establishments, and more – it does cover that ground well. It's more of a 'formal' theme that gives you a solid base to present your establishment.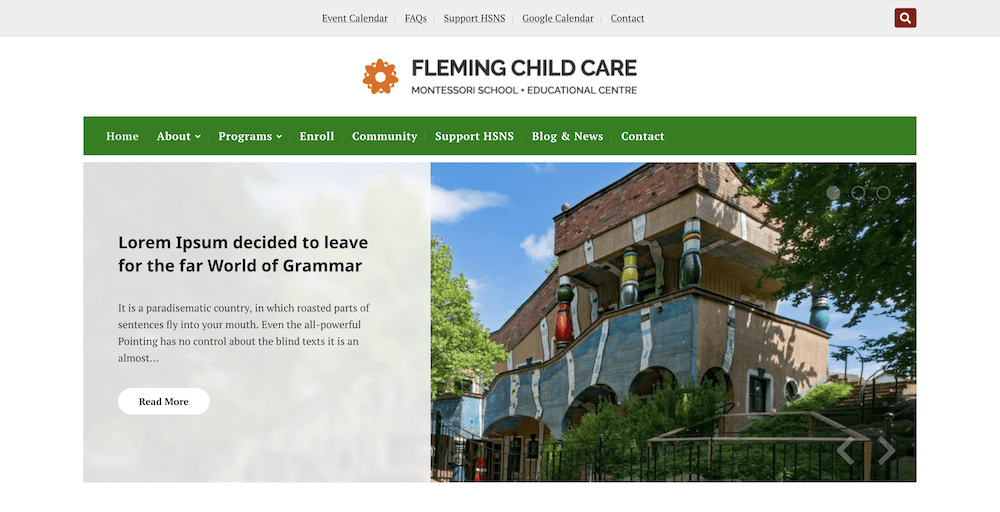 There's lots of demo content available, and the developers work to make sure the theme is compliant with WordPress coding guidelines. In addition, you have support for WooCommerce, in order to sell courses through your site, and you'll host all fonts and icons on your site rather than using a Content Delivery Network (CDN.)
Pricing: A year's license for five sites costs €75, while a ten-site license is €175 per year.
StudioPress' popularity is lower than in the past, but it still gives you a fantastic experience. Course Maker Pro is one of the better child themes for the Genesis Framework.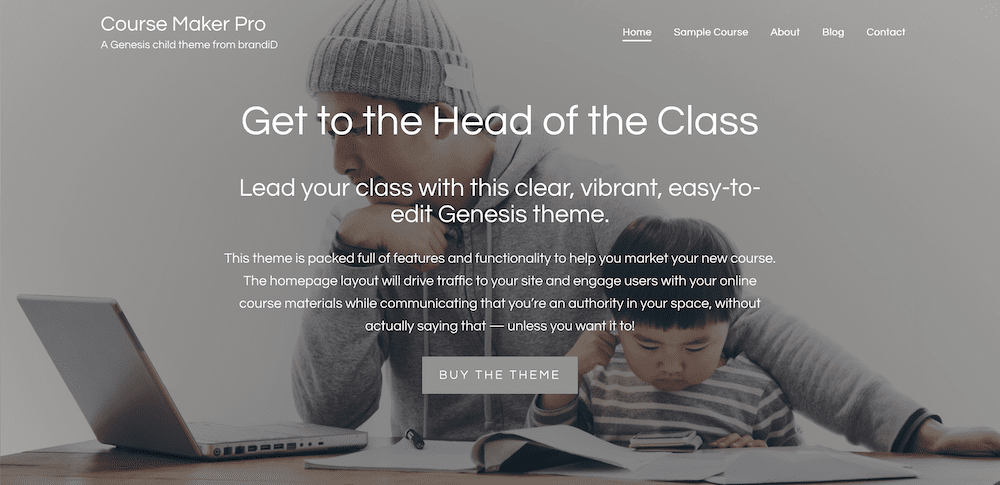 If you use the LifterLMS plugin, you'll love the styling compatibility with Course Maker Pro. You'll also see pre-styling for WooCommerce too, so your course marketplace and stores will look great out of the box. The theme uses the WordPress Customizer and Block Editor, so you'll have all you need within the box to create your site.
Price: Course Maker Pro costs $97 per year, and comes with the full Genesis Framework.
MasterStudy is another theme that helps you sell online courses, complete with a robust feature set.

The theme offers course builder functionality, and a whole host of ways to engage learners. For example, you get quizzing tools, the ability to drip-feed content, and more. You can also manage tutors too, with a robust payment system that you'll operate from the WordPress dashboard.
Pricing: MasterStudy costs $69 per year from ThemeForest, which also includes six months of support and perpetual updates.
MaxCoach is one of the more popular education WordPress themes on this list. It offers a way to present personal coaching and teaching services to would-be learners.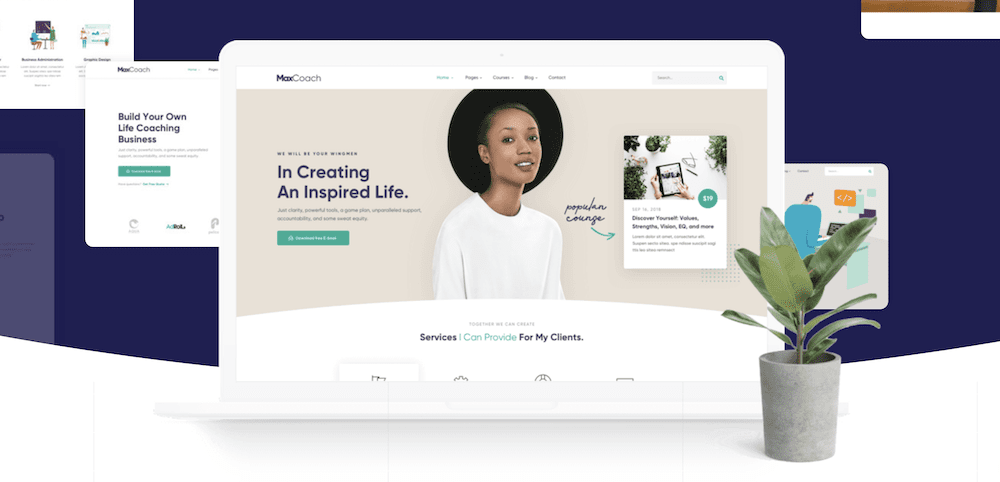 MaxCoach offers compatibility with LearnPress, and also integrates Zoom video conferencing. The design templates on offer will suit yoga studios, gym coaching, remote training, artists, motivational coaches, and much more.
The theme lets you implement courses, lessons, quizzes, and more from the WordPress dashboard. You'll also be able to look at your course analytics in order to spot improvements in your delivery.
Pricing: MaxCoach is another theme from ThemeForest, so it's $69 for all future updates and six months' support.
16. BuddyBoss for LearnDash
The last of our education WordPress themes is one of the best: BuddyBoss for LearnDash. If you use the LearnDash LMS, you'll also want to put this theme to the top of your shortlist.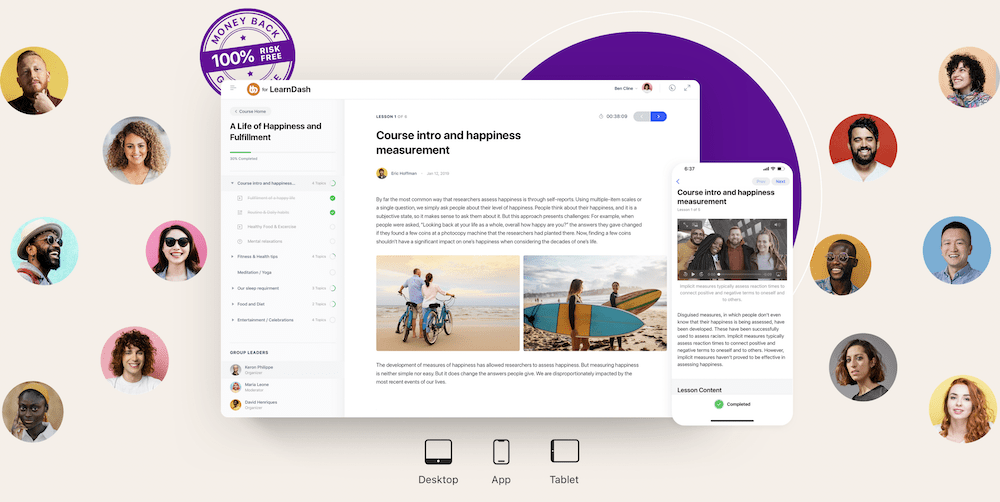 This theme won't be for traditional education establishments, but more for personal coaches and marketplaces. As such, it includes lots of relevant functionality. For starters, you'll be able to use a dedicated editing interface using the Block Editor, or opt for Elementor. You get a whole host of demo templates too, along with near-complete LearnDash integration and support.
This gives you a way to implement all of the functionality you'll love about the LMS, such as lesson timers, multi-tier courses, assignment management, and much more.
Pricing: A one-site license for BuddyBoss is $228 per year. This also gives you access to BuddyBoss Platform Pro, and a year of updates. However, there is also a five-site license for $288 per year, and ten licenses for $388.
Wrapping Up
If your website looks the part, you'll be able to attract a greater number of students to your education establishment. Your visuals should be top-drawer, and to achieve this, you'll want to use one of the best education WordPress themes in this list.
Every option here will suit an education environment, but we like Kadence WP the most. This is because it offers a high level of customization, templates that look great, and flexibility with page builder plugins. However, the real selling point is its integration with LearnDash. If this LMS plugin is something you use, there will be no better theme to opt for than Kadence WP.
Which of the education WordPress themes on this list will you opt for? Let us know in the comments section below!
Keep reading the article at WPKube. The article was originally written by Tom Rankin on 2023-07-05 09:08:56.

The article was hand-picked and curated for you by the Editorial Team of WP Archives.