The popularity of digital currencies such as Bitcoin, Bitcoin Cash, Ether, Ripple, and others requires a good WordPress theme. Suppose you want to research and write about this topic or educate those interested in it. You will have to own a good cryptocurrency blog.
Moreover, if you want to create professional content, your website design should be outstanding. However, your website will follow the latest trends, be responsive, and offer a great user experience.
So, before you start dealing with the world of cryptocurrency, check out these professional WordPress themes that'll help you launch in no time.
Cryption
Cryption is a WordPress theme specially optimized for the cryptocurrency industry. In other words, this means that it's perfect for building websites for both consultants and cryptocurrency agencies.
Also, this theme offers various range of different homepage layouts. And further, lots of features with every individual design. However, if you want to create more personalized content, you can customize pre-built elements to match your needs better. Cryption will also offer you a complete set of blog templates that you can customize as well.
This theme is suitable for creating a cryptocurrency blog and adding a blog to another type of website. Since this theme includes a premium page builder, there is no limitation just to a standard WordPress editor. Instead, you're free to use this embedded editor and design custom elements and layouts.
There are also pretty detailed options in the control panel which enable you to change the appearance of your website. Adjusting fonts, changing colors, changing the header layout, and moving elements are just some of the options that come with this cryptocurrency theme.
When you start building a site, you can choose whether your website will be in a one-page or multipage design. A widget-ready footer area also gives you various options to display elements and widgets in this website area.
Pricing
Lastly, we have to mention that the Cryption theme has several website demos that you can check out before purchasing. The price of this theme is as low as $39 (one-time payment). Also, if you want to extend support to 12 months, you can do so by paying an extra $10.13.
Crypton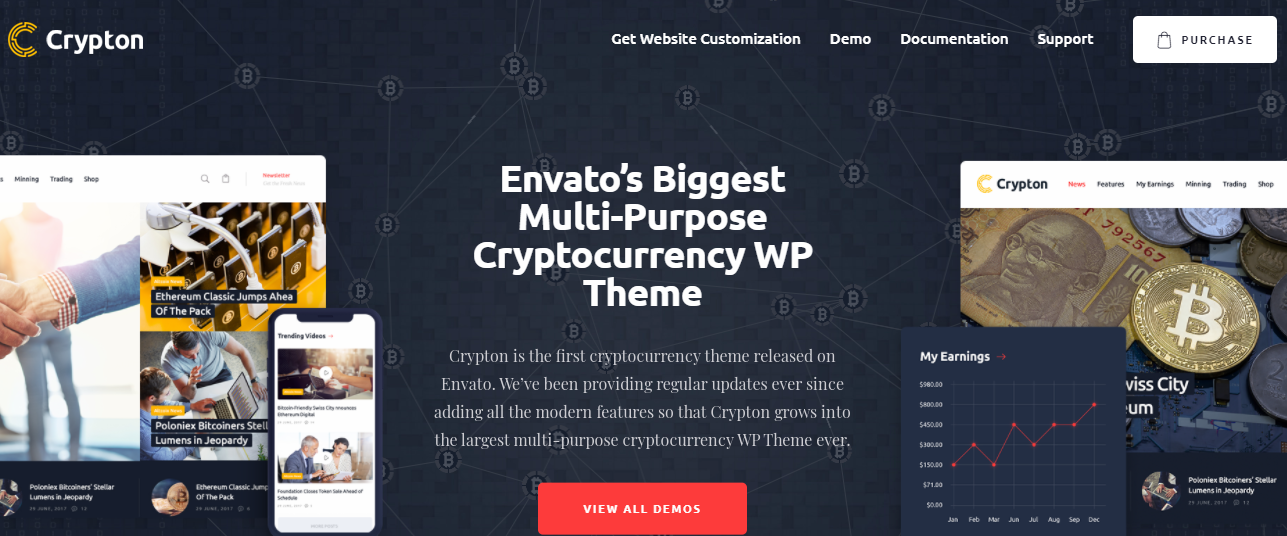 Crypton is a multi-purpose cryptocurrency WordPress theme that offers several different website versions, as you can guess from the name. Since there are multiple demos and layouts you can choose from, you can easily create a cryptocurrency blog. You can even build an online magazine or even a cryptocurrency store and services.
Also, the Crypton theme delivers the best website design, responsiveness, and lots of pre-built features. Depending on which demo you choose to use, you'll be able to set up and create a professional website
[…]
This article was written by Ida Hajrami and originally published on WP Pluginsify.