Making money online has never been easier. There are so many different ways to earn extra income from home, even if you think you don't have any skills or experience.
Let's face it; we could all do with a little extra cash. Maybe you're looking for a way to replace your full-time job and be your own boss. Or perhaps you just want a few hundred extra dollars each month to save for something special. 
As long as you have a computer (or even a smartphone!) and an internet connection, you can start making money from anywhere in the world.
In this article, you'll find over 30 ideas on how to make money online for beginners with little to no experience. From taking surveys to blogging, there's a way for everyone to start making an extra income with these simple jobs. And some of these ideas can even put money in your account today.
An important caveat before we get started: Don't dismiss these ideas straight away if you think they're too hard. It's true that some of these strategies require more effort than others. But you don't necessarily be an expert to get started either. Everyone has to start somewhere. So even if you're a complete beginner, you can take steps today to start learning.
(Hint: skip to the last item on the list for a secret trick to make money from pretty much any of these methods without any prior skills or experience.)
📚 So take a list through the list below, pick an option that appeals to you, and get started!
Freelancing
Sell an eBook
Affiliate marketing
Display ads
Sell stuff on eBay & other selling platforms
Join the gig economy and do anything for $5
Website testing
Become a search engine evaluator
Create an online course
Take surveys for cash
Micro tasking
Sell photos online
Sell graphics, WordPress themes, printables, and other digital assets
Print on demand
Set up an eCommerce store
Dropshipping
Reselling on Amazon FBA or eBay
Start a YouTube channel
Online teaching & tutoring
Set up a paid forum or membership site
Coaching
Become a social media influencer
Launch an SEO agency
Online trading
Domain and website flipping
Matched betting
Get cashback for shopping online
Peer to peer lending
Invest in cryptocurrency
Sell NFTs
PPC marketing
Work from home with a remote job/telecommuting
Video game livestreaming
Outsource the work to someone else
1. Freelancing
Let's start with one of the easiest and most obvious ways to make money from home: freelancing.
Despite the fact that it's so easy to get started as a freelancer, many newbies to the world of working online think that you need a lot of experience or even special qualifications or a business license to work as a freelancer. This isn't true!
There are thousands of freelance jobs to consider, and you can start doing some types of freelance work with no experience or qualifications whatsoever.
You can do pretty much any kind of work on a freelance basis, but some of the most popular and common freelance jobs include:
Writing
Editing
Translation
Transcription
Coding & software development
Graphic design (including website design, logo design, etc.)
Video editing
Social media management
Virtual assistant
This is just a small selection of some of the job opportunities available to freelancers. Remember, you can do pretty much any work on a freelance basis if you're willing to learn the skills.
While top-rated freelancers may have years of experience behind them, there's plenty of room for those who are just starting out. Many businesses are working on a small budget and will be happy to work with freelancers trying to build up their portfolio and experience if their rates are lower than more established specialists.
For example, freelance writing is one of the most accessible freelance jobs to get started with for native English speakers. You don't have to have a journalism degree or be a published author. Casual conversational-style writing is fine for the web, so as long as you write clearly and error-free (use software like Grammarly to catch any spelling or grammar errors), you're good to go!
You'll need to offer low rates to make your services attractive when you're just getting started. However, as you build up a portfolio of work, you can increase your rates accordingly.
How to get started:
Decide what skill you want to offer as a freelancer.
If you don't have any experience at all, it's a good idea to educate yourself. For example, you can do courses on Udemy or Skillshare on topics like video editing, logo design, and web development.
Decide on a price for your services and advertise to businesses looking to outsource tasks. Platforms like Fiverr and Upwork are a great place for beginners to get started.
2. Sell an eBook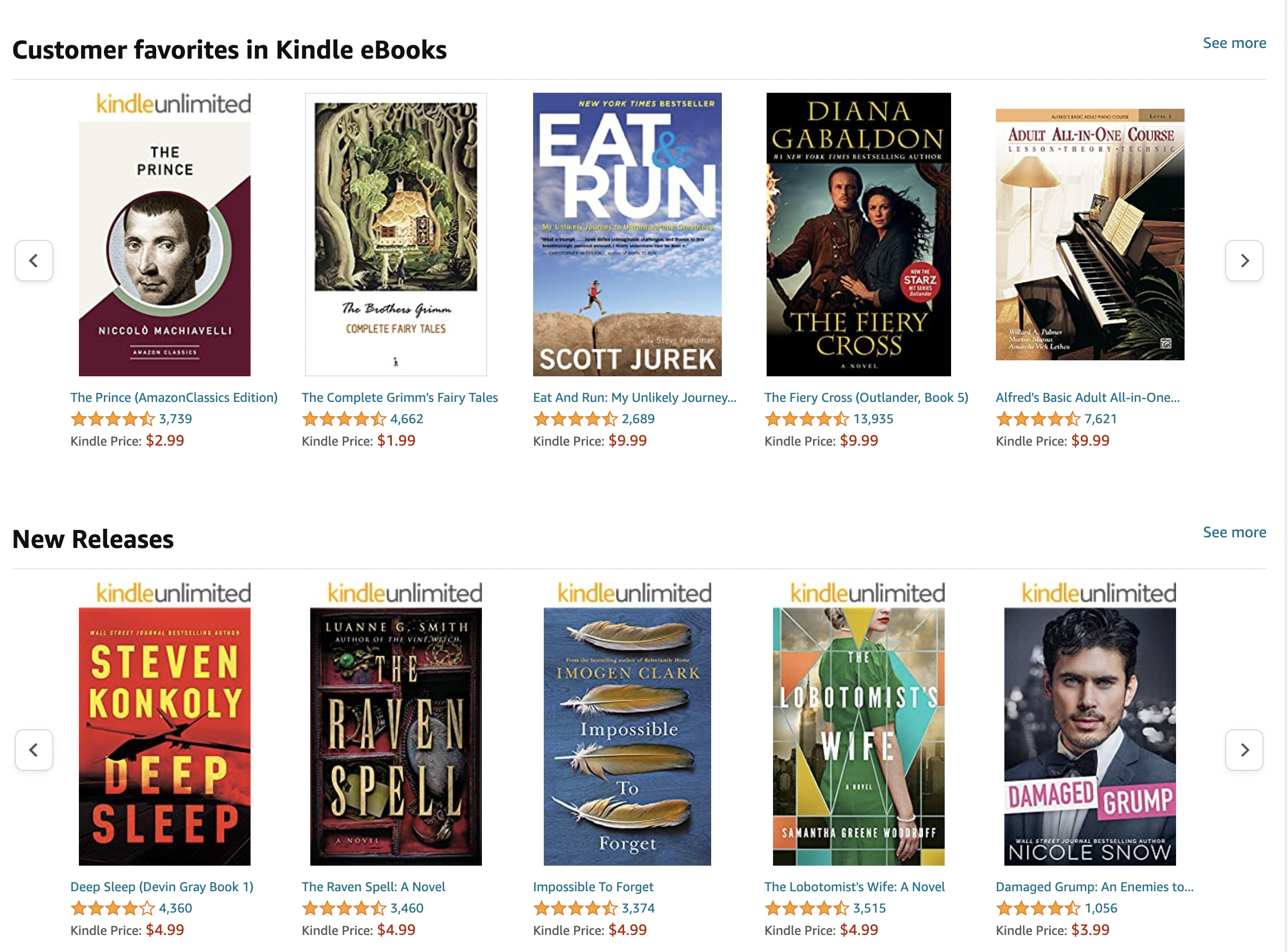 If you've considered making money as a freelance writer, another easy way to make money online from your writing is by publishing a book.
Many people are wary of trying to create an eBook because they assume that it's difficult. But it's much easier than you may think for beginners to break into the world of self-publishing.
The first step, of course, is to write your eBook. That's the hard part! But while it can be overwhelming to tackle a whole book, it's really not that much different from writing a series of blog posts or articles.
If you're creative and already have some great story ideas, you might want to try your hand at fiction. But most people will find it easier to write a short non-fiction book for their first attempt at self-publishing.
You can take a look through other eBooks on Amazon for ideas. You can download a preview of every Kindle book to see the table of contents and get ideas for how to structure your own book.
Once you have your eBook written, the next step is to format it for publication. Amazon KDP (Kindle Direct Publishing) has guides on how to do this yourself, or you can pay someone to do it for you.
You'll need to design a cover too. This doesn't have to be expensive – there are plenty of free templates and tools online that you can use to create a stunning cover on a budget.
Finally, it's time to publish! KDP will walk you through the process, but it's very easy. You can set your own price (remember to take into account Amazon's commission), and you're ready to go.
How to get started:
Decide on a topic that you're passionate about or are an expert in.
Come up with a list of chapters to structure your book.
Write your eBook.
Format and design a cover for your book.
Use a platform like Kindle Direct Publishing to publish your book.
Sell your book on Amazon to earn passive income.
Remember that you can also distribute your eBook in other ways, so even if it doesn't sell well on Amazon, you might find success elsewhere online. For example, you could use a platform like Gumroad or Sellfy. This can be a successful strategy if you already have a large following on social media.
3. Affiliate Marketing
Affiliate marketing is a great way to make money online because it's relatively easy to get started, and the income potential is high.
With affiliate marketing, you promote other people's products or services in exchange for a commission on sales. This can be done in a number of ways, but one of the most common is by creating blog posts and articles that contain affiliate links.
You can also promote products with your affiliate link on social media platforms like Facebook or YouTube.
Many people overlook affiliate marketing when they're thinking of ways to make money online. This is because they believe it's complicated or even because they don't know it exists!
But anyone can get started with affiliate marketing, and it can be very exciting to make those first few sales and watch the dollars rolling in.
Another great thing about affiliate marketing is that it's a passive income stream. Once you've set up your affiliate links and created some great content, you can keep making money from those links for years to come.
How to get started:
Find some products to promote. Amazon's affiliate program is one of the easiest to get started with. You can make a commission from anything a customer buys on the site after clicking your affiliate link. There are several other affiliate programs to explore, such as CJ and ShareASale. In addition, hosting companies and software or SaaS businesses often run their own affiliate programs with generous commissions.
Create a blog or website full of great content that is relevant to the topic(s) you're promoting.
Sign up as an affiliate to your chosen programs.
Add affiliate links to your web pages, articles, and social media posts.
4. Display Ads
Display ads are another easy way to monetize your website that you can use instead of or alongside affiliate marketing.
The advantage of using display ads is that you can place them on any website or blog, and they're relatively easy to set up.
You just need to upload some code provided by the advertising network (e.g., Google AdSense) where your ad will appear, and they will pay you every time someone clicks on it.
Many display ads only pay a few cents per click, but this soon adds up if you have a large website with a lot of traffic. Therefore, the best way to make money with this method is to create a high-quality site with informational content and publish new articles as often as possible.
This method of website monetization is probably a little easier for beginners than affiliate marketing, as you can put ads on any type of website. In addition, you don't have to try and sell any products; just write great content that people want to read. However, it can take a long time to scale up your earnings to a full-time income.
How to get started:
Sign up to an ad network (Google AdSense is a good option for beginners)
Create good quality, relevant content on your website or blog (the more, the better!)
Place ads strategically around your site
Earn money from each click on your ads.
Keep adding more content, growing traffic to your site, and earning more money.
Once your site is getting a lot of traffic, you'll probably want to change to a higher-paying ad network like Ezoic or Mediavine.
5. Sell Stuff on eBay and Other Selling Platforms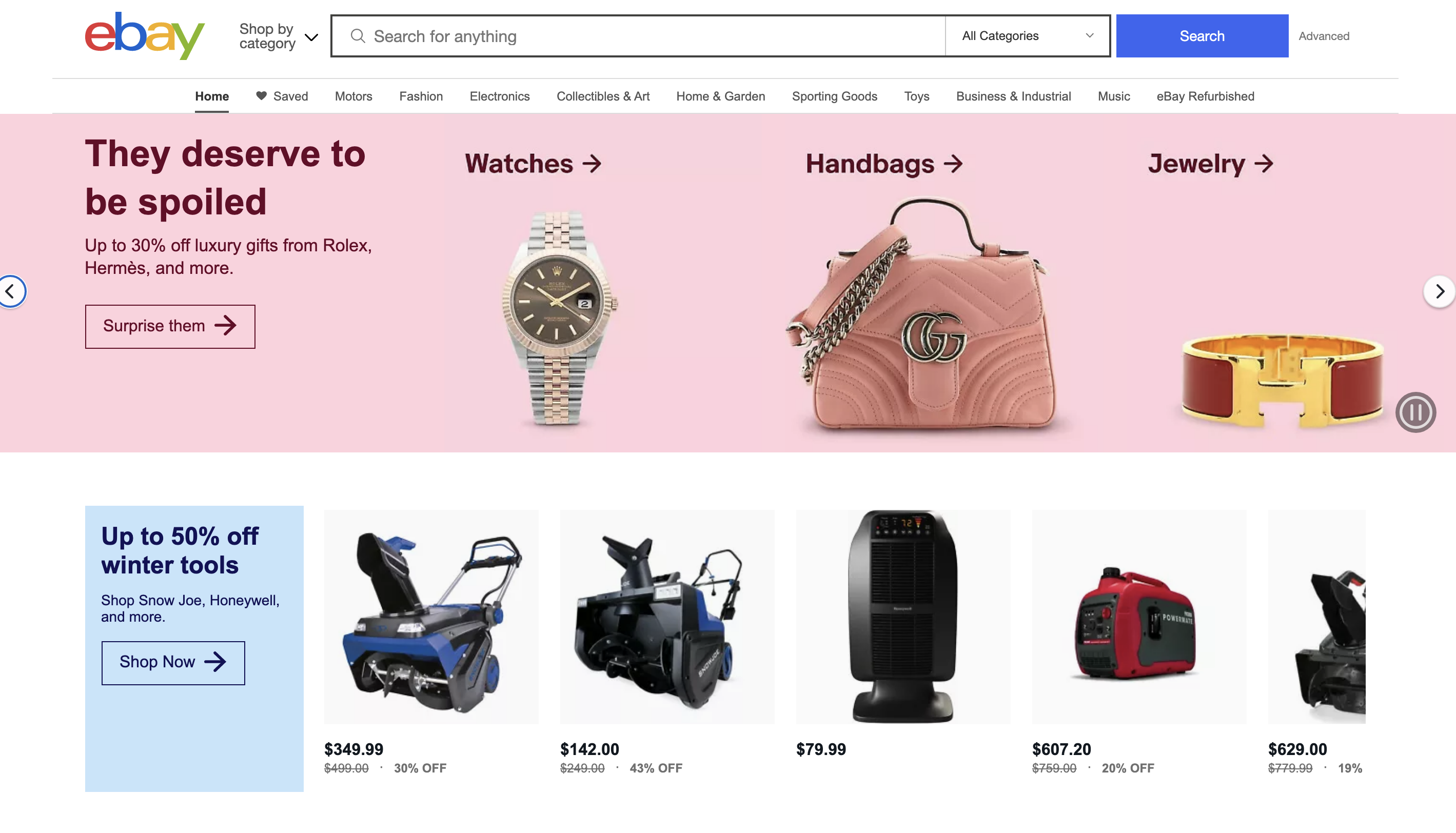 One person's junk is another person's treasure. So if you have a wardrobe full of clothing you never wear or a house full of clutter, you can easily make some cash and Konmari your home at the same time!
You can sell anything and everything on eBay, from clothes to appliances to furniture. There are also several other online marketplaces you can use, such as Craigslist, Facebook Marketplace, and others. Poshmark is a popular marketplace for fashion items, particularly designer gear.
This isn't really a way to make a sustained income (although you can certainly use eBay in that way as a reseller – more on that later), but it can be a great way to get some quick cash when you really need it. Plus, you get to declutter your house at the same time – win-win!
How to get started:
Clear out your house and find things you don't want or use anymore. This could be anything from old toys, books, and video games to electronics, kitchen gadgets, shoes, and clothing.
Sign up to an online selling site like eBay
Take good quality photos of your items, write a compelling description and either set a fixed price or sell at auction (remember to add packing and shipping costs).
Sell everything you can and enjoy your new minimal lifestyle!
6. Join the Gig Economy and Do Anything for $5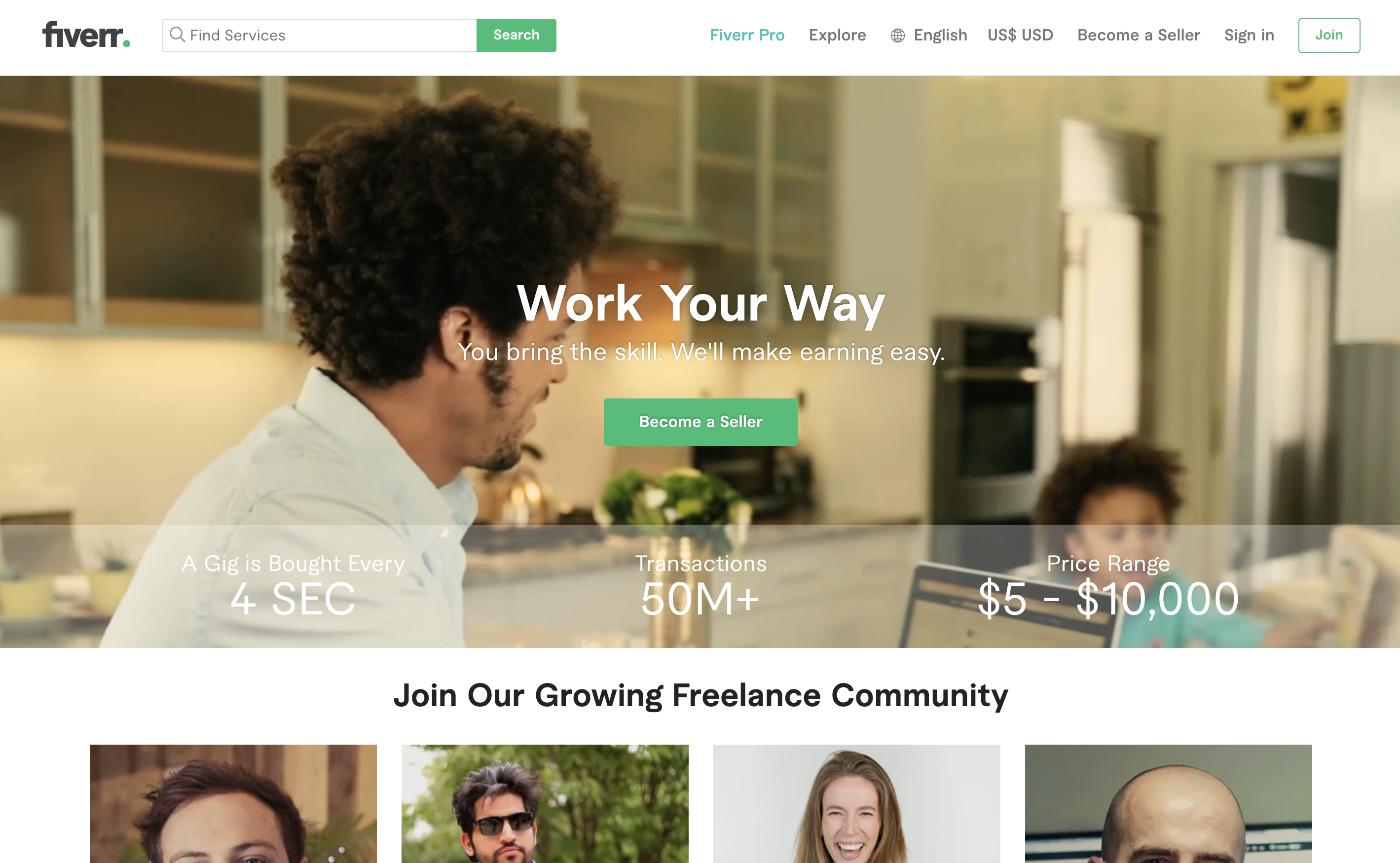 I already mentioned how Fiverr can be a good way to get started as a freelancer. But even if you're not keen on the idea of a traditional freelancing career, you can make money on Fiverr for doing pretty much anything.
Some of the more unusual gigs currently offered by sellers on Fiverr include:
Singing Happy Birthday in any language
Taking a picture of a lawn flamingo in strange situations
Juggle anything
Dance behind random strangers without getting caught
The possibilities are endless. You can browse Fiverr for some ideas or let your imagination run wild. Basically, you don't need a specific skill to offer services on Fiverr, and it's surprising what people will pay for!
How to get started:
Create a Fiverr account as a seller.
Browse the site to get an idea of what's currently being offered.
Come up with a few services you could offer (be creative!)
Write a great gig description and add some photos.
Start taking orders and earning money.
7. Website and App Testing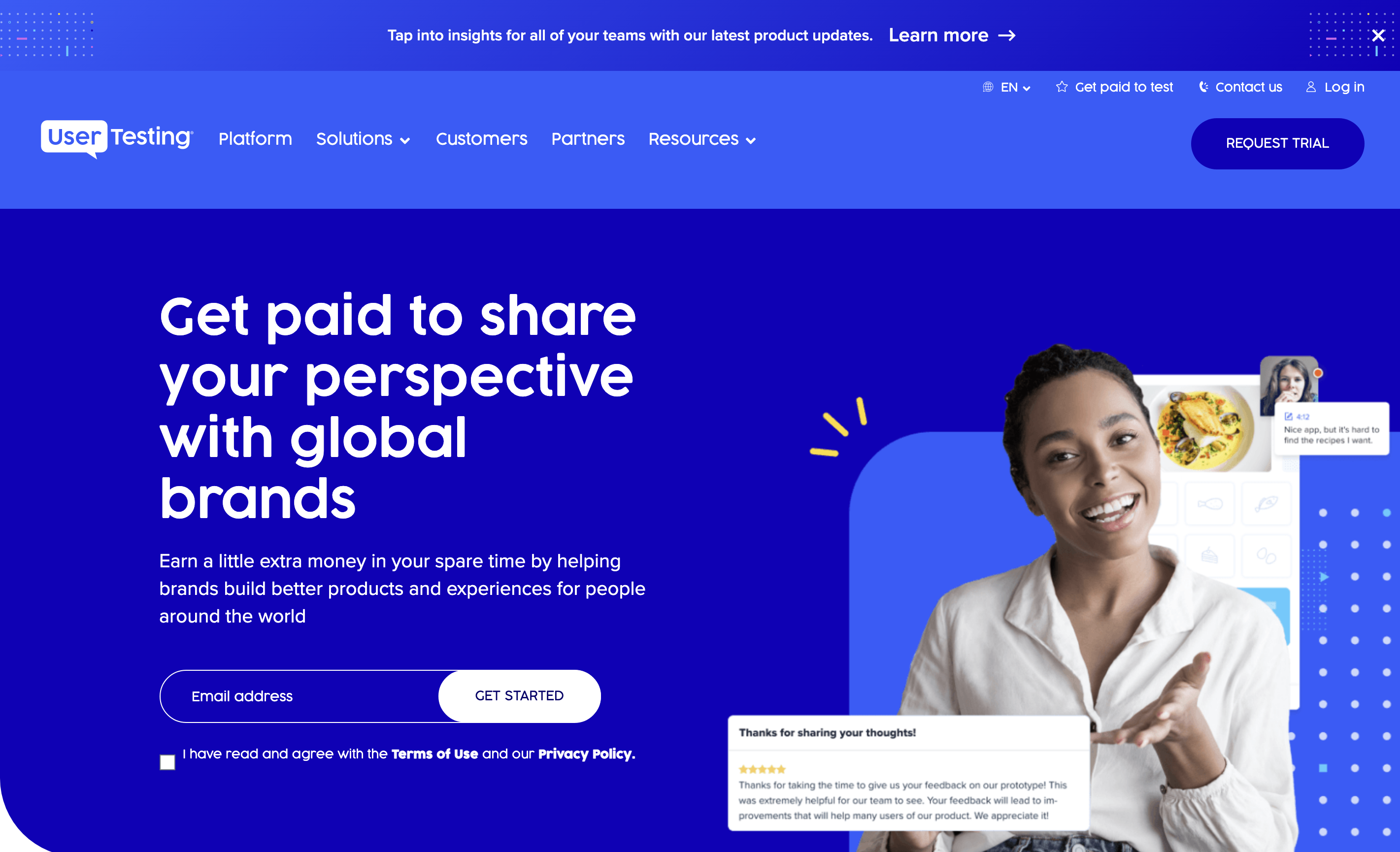 Before you skip over this one: no, you don't need any coding or website development skills to be a tester.
Businesses and web design agencies need to try out their websites on real people before they go live. That's where website testers come in. They test the websites for usability and how easy it is to find information.
You'll typically record your visit to the website with screen recording software and a microphone. You might be asked to find specific information, complete a task, or just provide feedback on your overall experience. As you navigate through the site, you may be asked to provide spoken commentary about what you're thinking and any ideas you have for improvements.
If you're testing an app, the process is similar. However, you might need a specific phone or device to be eligible.
Website and app testers are typically paid on a per-project basis. You can work when it suits you. Expect to make between $10 and $20 for a 20-minute test.
How to get started:
Register with one of the many testing companies, such as usertesting.com or userfeel.com. They'll give you more information on how their process works.
Check the requirements to be a tester. For example, there may be specifications for internet speed, the device you're using, and recording equipment such as a webcam and microphone.
Do a practice test. It can take a while before you feel comfortable voicing your thoughts and feelings about a website or app, but it will soon become second nature.
Start doing paid tests.
8. Become a Search Engine Evaluator
Do you know your way around Google? Do you love giving feedback and helping people improve their search results? If so, becoming a search engine evaluator might be the perfect side hustle for you.
As a search engine evaluator, you'll be given specific tasks to do, such as rating the quality of web search results, identifying spam, and testing new features. You'll be expected to provide written evaluations of your findings as well as any improvements you suggest.
You'll be paid hourly and expected to complete tasks in a specific time. Most companies ask you to commit to working a minimum number of hours per week when you sign the contract.
Training is provided for doing this type of work, and you'll need to pass an assessment before you can start.
How to get started:
There are a few companies offering contracts to search engine evaluators. These include Appen and Lionbridge.
Check the websites for search engine evaluator positions. You may have to be based in a specific country or speak a particular language.
Ensure you meet the job requirements and submit an application.
If your application is successful, you'll be asked to read a training document and complete a test to demonstrate you understand what you need to do. If you successfully pass the test, you can usually start working immediately.
9. Create an Online Course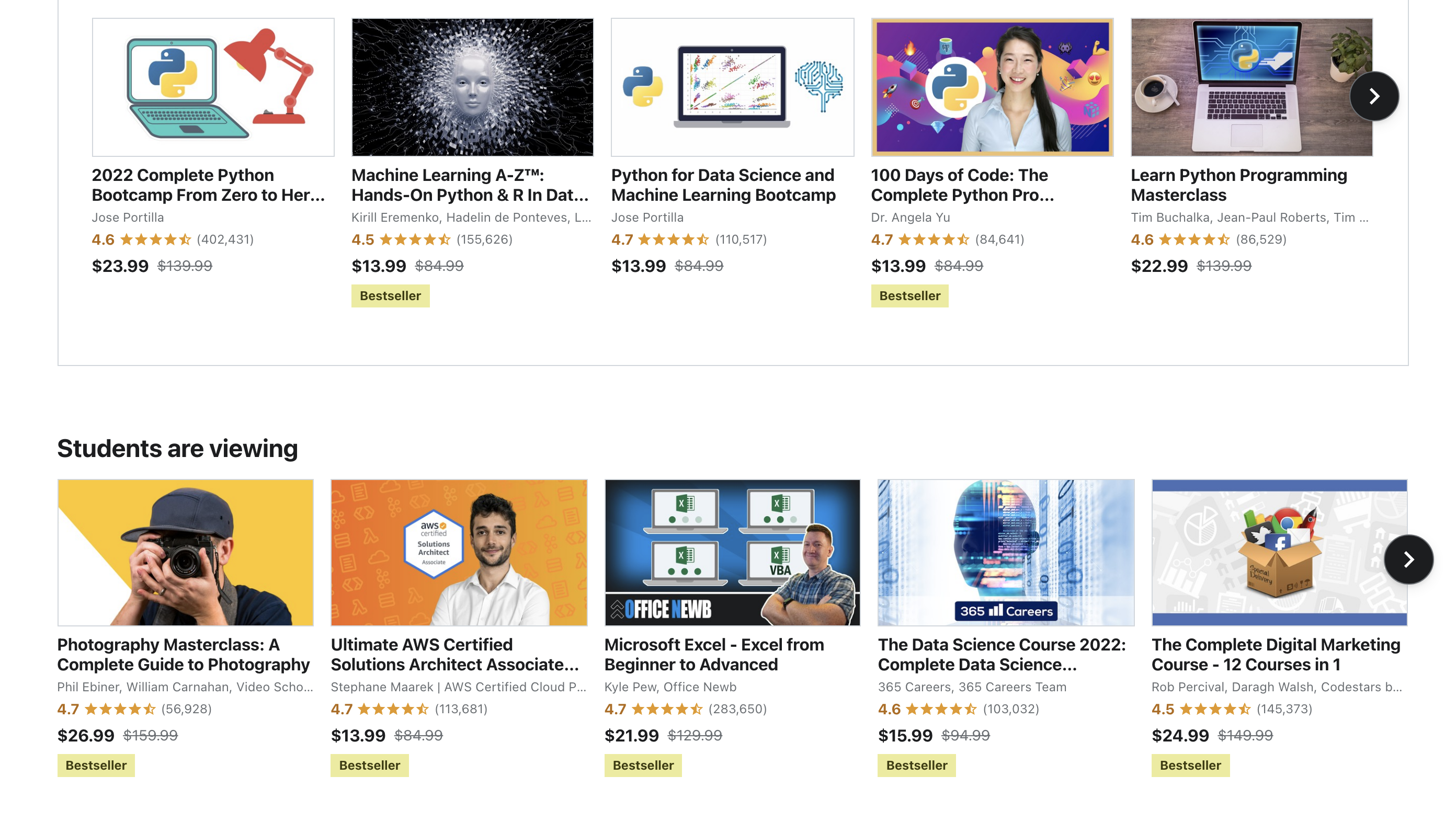 Whatever skills and knowledge you have, the chances are that someone will pay you to benefit from them.
That's why online courses are such a big business, and there is a huge demand for people to create them. You could be an expert in anything from growing vegetables to photography, or you might want to share your love of gaming with the world. It doesn't matter what it is as long as someone else is interested.
In the past, creating an online course was difficult and time-consuming. Nowadays there are plenty of services that will do most of the work for you. You just need to come up with your idea and decide how much you want to charge for it.
How to get started:
Brainstorm some ideas for courses you could create. This could be something you're an expert in or passionate about, or it might be something you're learning about too. Condensing what you learn from months of reading, research, and practice into an online course is just as valuable.
Check out online course platforms such as Teachable, Udemy, or Skillshare to see what's involved in creating a course.
If you have a WordPress site, you can use an LMS plugin to host your course on your own site.
Create your course content. This might be text, audio, or video content. You can also add worksheets and other resources.
Submit your course for approval.
Market your course. This could be through social media, your website or blog, or by partnering with other sites.
Start earning money from your online course!
10. Take Surveys for Cash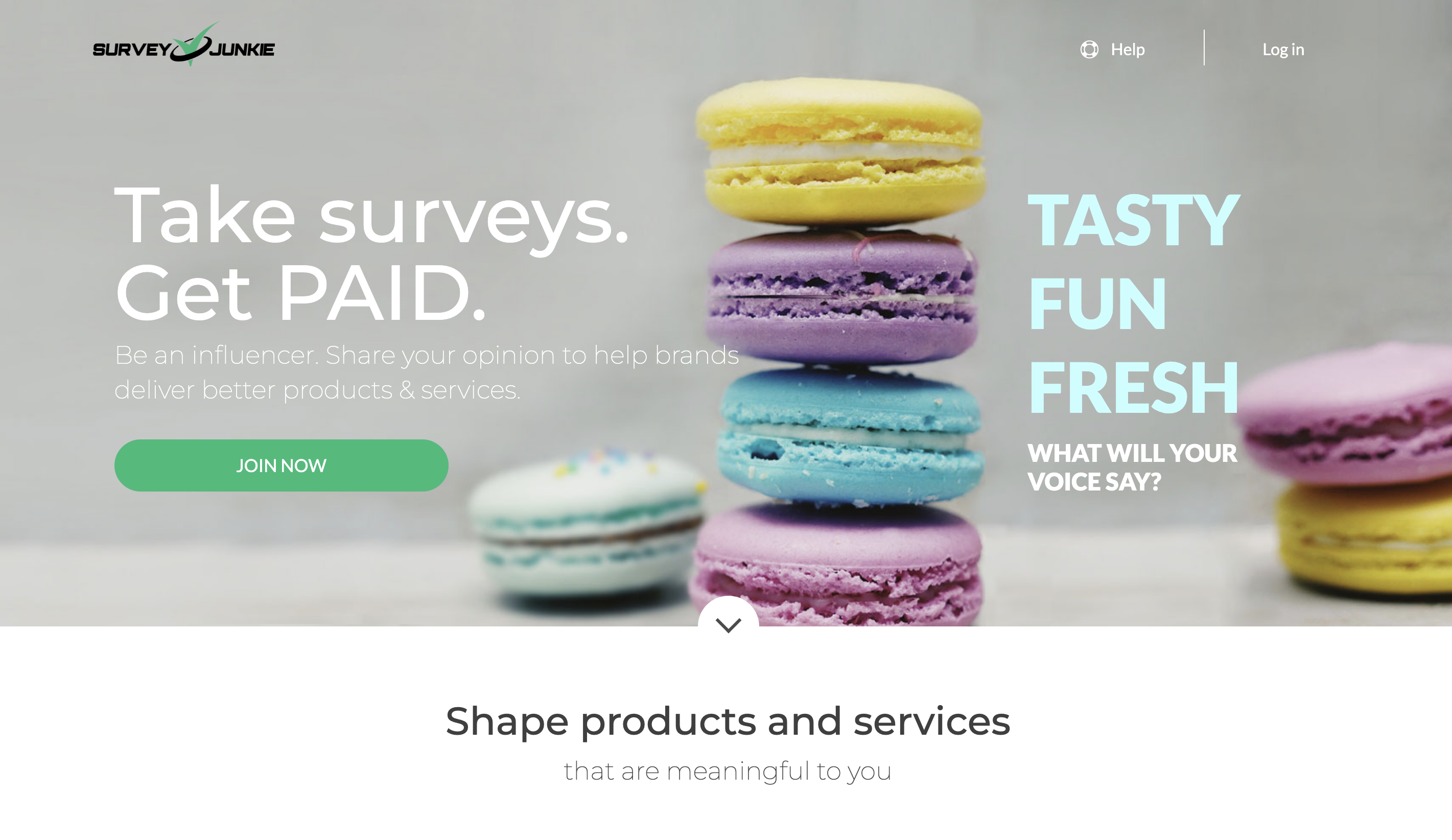 Taking online surveys for cash is an easy way to make extra money. Of course, you won't be able to make a full-time income from doing this, but it's a great way to make some extra money on the side.
There are a number of survey companies that will pay you for your opinions, and all you need to do is sign up and start taking surveys. You could be asked about anything from your favorite products to your thoughts on current events.
How to get started:
Start by signing up with the most popular survey companies. Check out Survey Junkie, Swagbucks, and Pinecone Research to get started.
Complete your profile and start taking surveys you're eligible for.
Cash-out your earnings when you reach the minimum payout amount.
11. Micro-tasking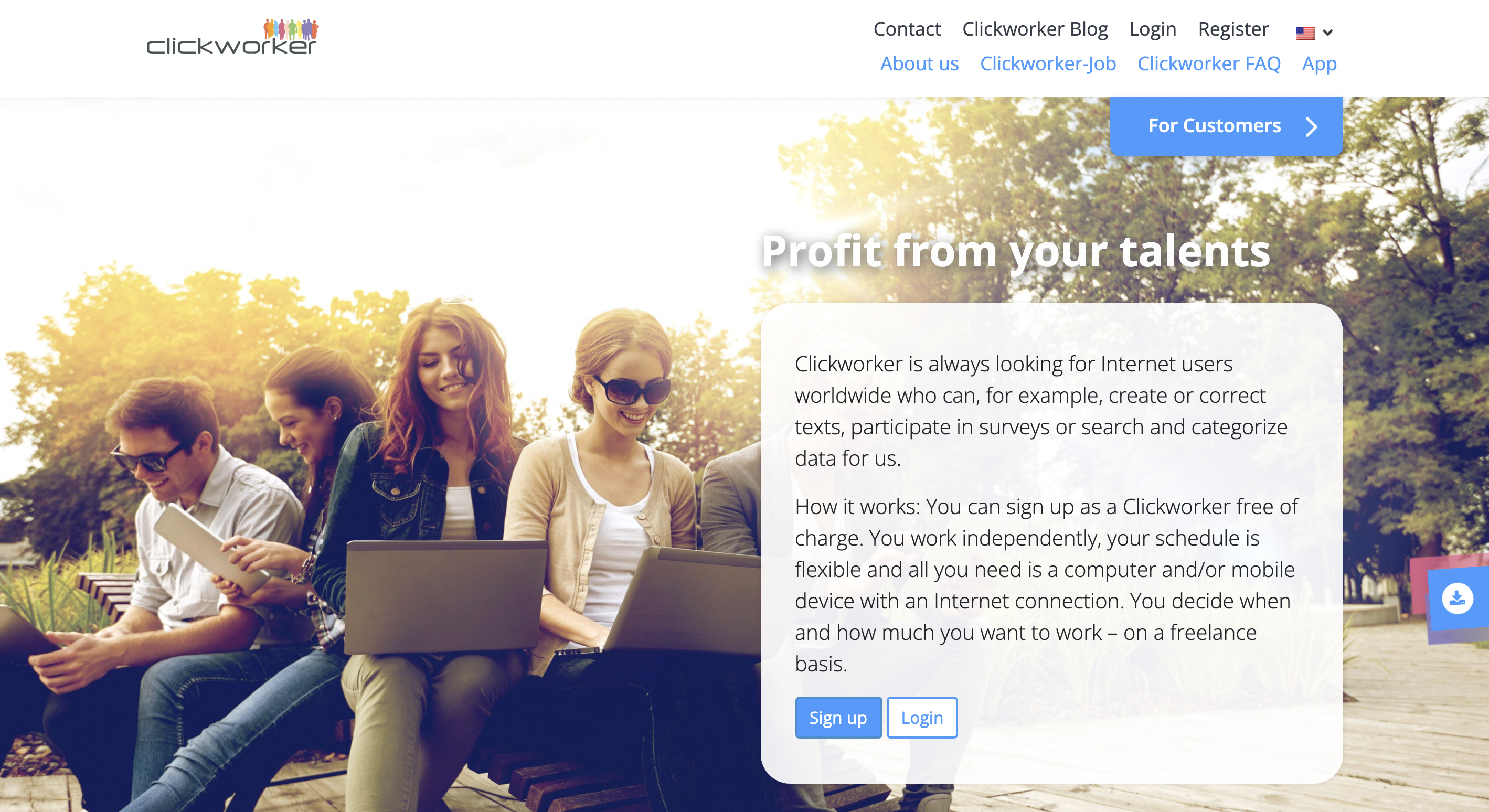 Micro-tasking is another online work opportunity that will enable you to perform small tasks and get paid for it. Rather than being paid per hour, you're typically paid per task completed, and this may be as low as just a few cents.
This may not seem worth it, and you're not going to get rich from micro-tasking. But some people like this easy way to earn a bit of extra cash while watching TV, commuting, or even working other jobs.
This type of work is often offered through crowdsourcing platforms, and you can choose the tasks you want to do from a range of different categories. Some examples of tasks that might be on offer include transcribing text from an image, simple research tasks such as looking up a business address, and rating the quality of a chatbot response.
How to get started:
Sign up for a crowdsourcing platform like Amazon Mechanical Turk or Clickworker.
Start completing tasks and earning money.
12. Sell photos online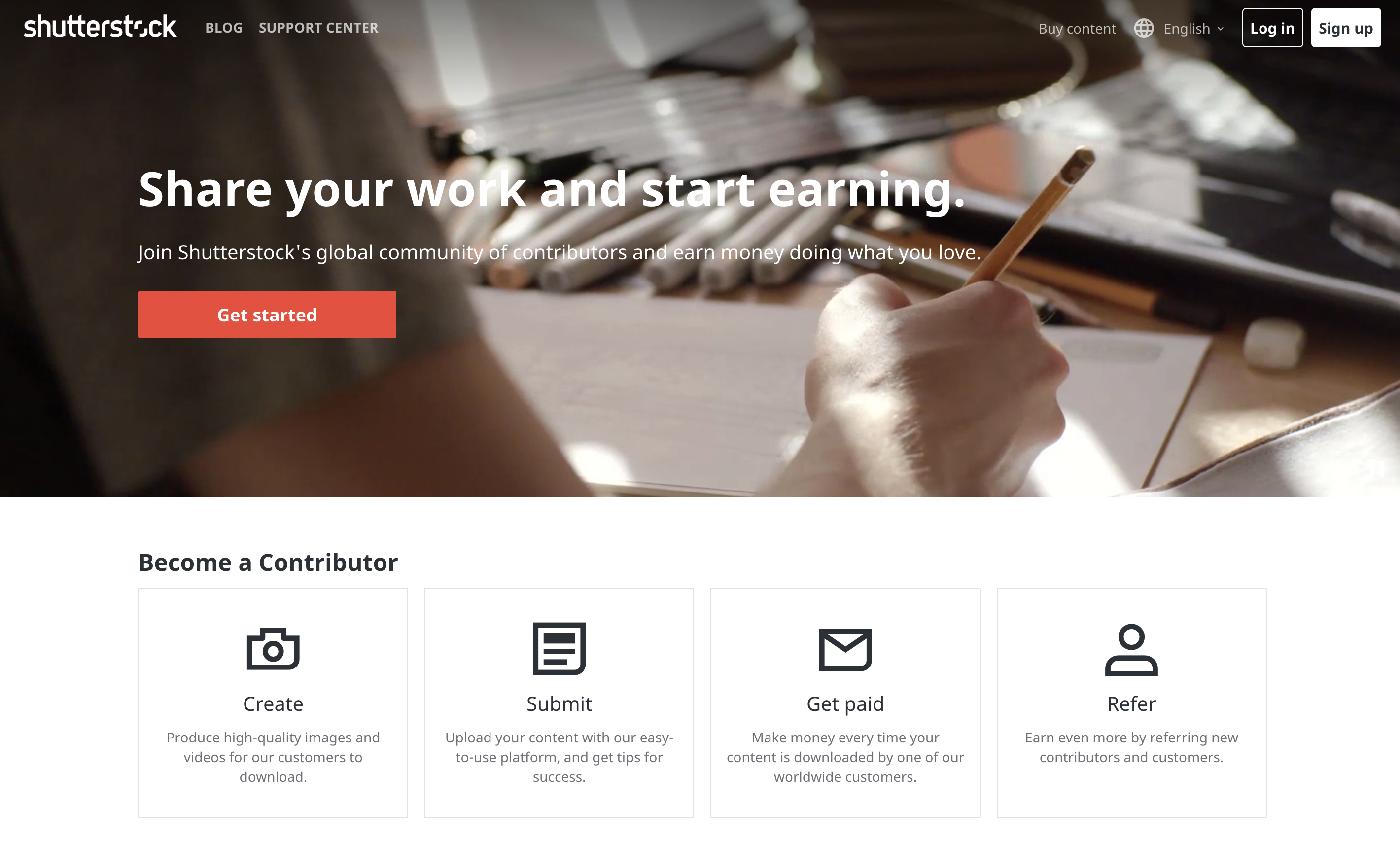 If you have an eye for photography, there are many ways to make money online by selling your photos.
You can become a stock photographer and sell images that you've taken for use in advertising, brochures, websites, social media posts, etc. You'll only earn a small amount for each photograph you sell but you can earn a decent side income if you build up a large portfolio of sought-after images.
Another option is to create your own gallery website and sell prints directly. You can potentially sell your photographs for much higher prices if you do this, but it can be challenging to find enough buyers who are willing to pay for your work.
You can also create and sell your own physical or digital products, such as photo books, calendars, and t-shirts.
How to get started:
Decide whether you're going to sell your images through a stock photo site or sell directly from your own gallery site.
Build your website or sign up to a stock photography website like Shutterstock or Getty Images.
Upload your images
Use your website, social media, and other marketing channels to promote your photography business.
13. Sell Graphics, WordPress Themes, Printables, and Other Digital Assets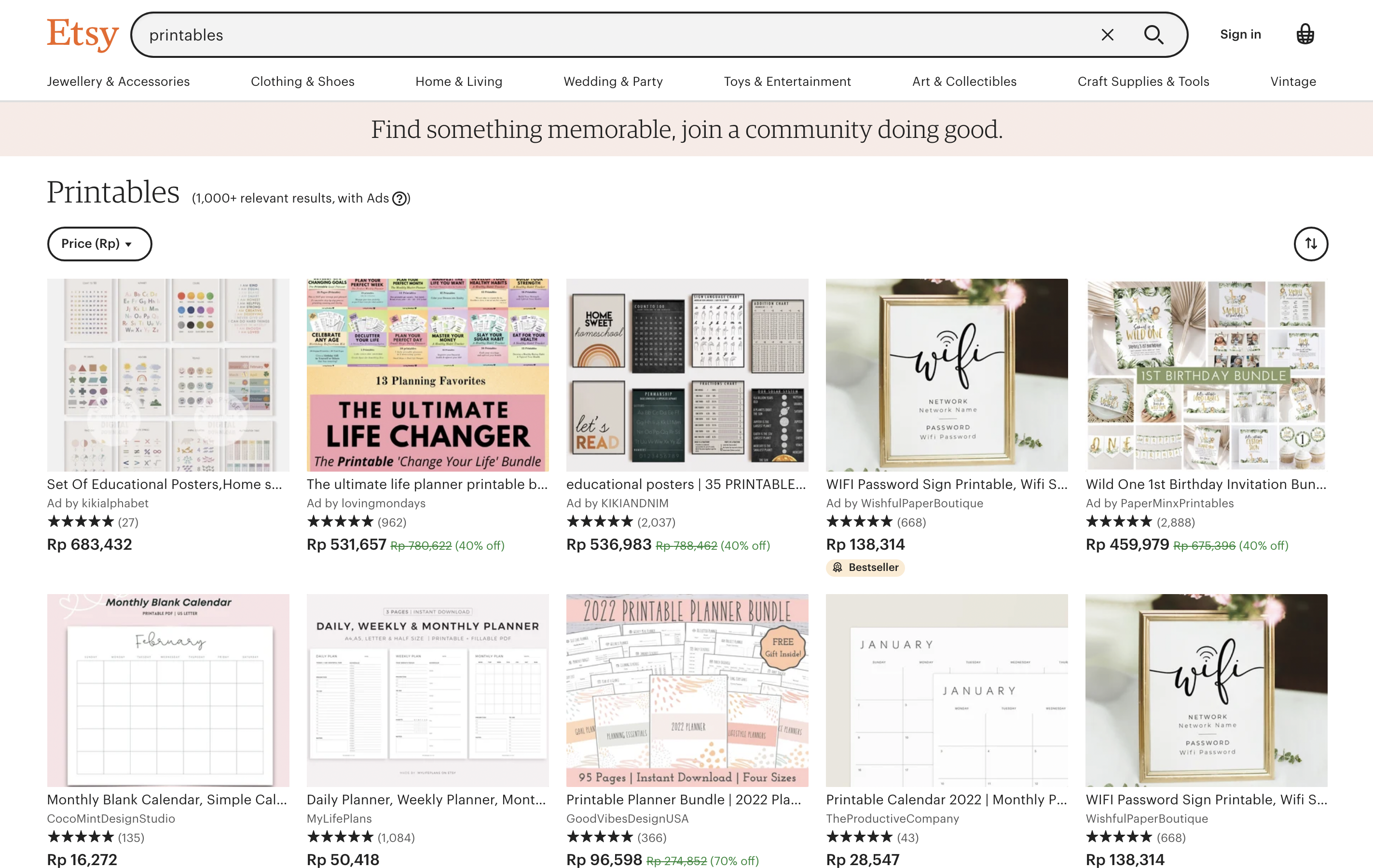 If you have design skills or you're a talented coder, you can create digital products that solve other people's problems.
You can sell WordPress themes and plugins, graphics for use in branding or social media posts, templates, digital journals, and other digital assets.
Even if you don't have a huge amount of experience in graphic design, there are many opportunities to sell templates and products that other people can use in their businesses. 
For example, you could create a set of social media templates on an easy-to-use graphics platform like Canva. Or, if you're a teacher or homeschooling parent, you could sell educational printables and digital teaching resources.
How to get started:
Decide what you're going to make and sell. Or have a look at digital marketplaces like Creative Market to get some ideas. Printables are also a popular category on Etsy.
Create your products.
Upload and sell your digital products online.
14. Print on Demand
Another opportunity for creative entrepreneurs to make money online is print on demand. This is where you create a design, which is then printed onto products such as mugs, t-shirts, tote bags, phone cases, and other items only when they are ordered by a customer.
Again, you don't need to be a design genius to come up with ideas that people want to buy. For example, a clever slogan in an eye-catching font can work just as well as an original illustration.
How to get started:
Come up with some ideas for design. Appealing to a specific target market can be very successful. For example, you could sell products aimed at hamster enthusiasts or people born in a particular year.
Choose a print-on-demand platform like Zazzle, CafePress, or Redbubble.
Upload your designs and set your prices.
15. Set up an eCommerce store
Selling products online is a much easier business to get started in than setting up a brick-and-mortar store.
You can sell any type of product that you like, as long as there's a demand for it. However, it can be beneficial to choose a niche market that you know something about so that you can provide valuable information and advice to your customers.
Building an eCommerce website is the easiest part of selling online. There are many services available that have templates and pre-built themes so you can create a website in minutes. Shopify is one of the most popular standalone eCommerce platforms, or you can use a plugin like WooCommerce to turn a WordPress site into an eCommerce store.
How to get started:
Choose a product to sell. You could either find a supplier to buy stock at a wholesale rate or manufacture your own products.
Create a website using one of the eCommerce platforms mentioned above.
Setup payment processing and shipping methods.
Attract more traffic to your store with methods like content marketing, social media, and email marketing.
16. Dropshipping
If you like the idea of starting an eCommerce business but don't want the hassle of storing and shipping products, dropshipping might be a good option for you.
With the dropshipping model, you order products individually from a supplier when you receive an order on your website and have them ship the items directly to the customer.
Dropshipping is a much easier model to get started with than traditional eCommerce, as you don't have to invest capital in buying stock before you start selling.
How to get started:
Find a supplier who will drop ship products for you. Aliexpress is a popular directory of (mostly Chinese) suppliers for thousands of products.
Set up your store. You can use a platform like Shopify, WooCommerce, or BigCommerce to create an eCommerce store. There are even plugins available that will import product photos and descriptions from AliExpress and other dropshipping suppliers.
Use ads or other marketing methods to drive traffic to your store.
Order and ship products as orders are placed.
17. Reselling on Amazon FBA or eBay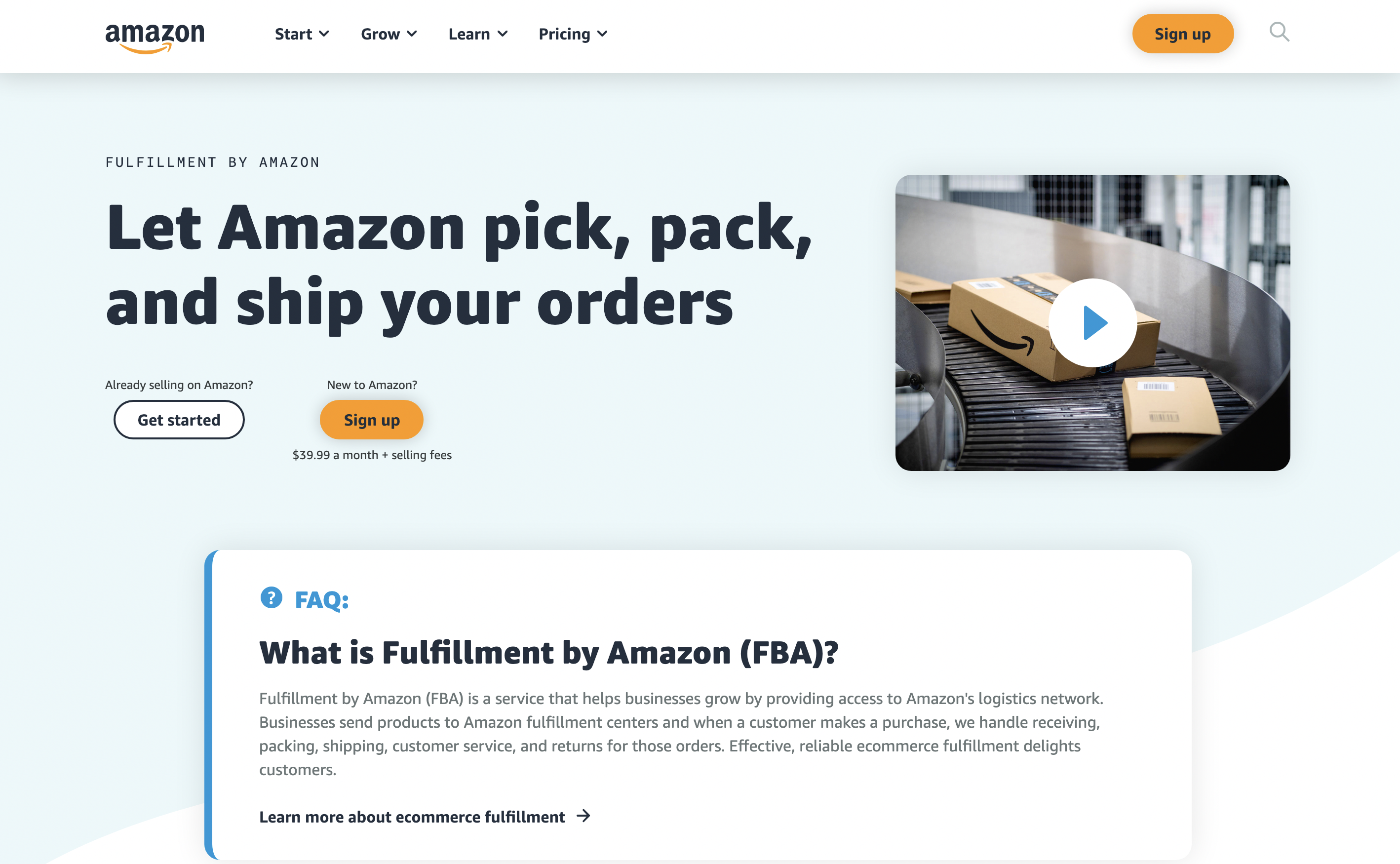 Reselling, also known as retail arbitrage, is where you find products that are being sold at a low price, buy them in bulk, then sell them on for profit. It's an easy way to get started in eCommerce as you don't need to source wholesale suppliers or manufacture your own products.
You can sell products on any platform, but eBay and Amazon are probably the most popular. eBay has become less popular in recent years, but it's worth experimenting with as certain products still do well there.
Amazon is one of the easiest platforms to re-sell products on for a few reasons.
Firstly, Amazon has a vast user base, with millions of shoppers visiting the site every day. Amazon also does a great job at marketing and cross-promoting its products.
In addition, Amazon's FBA (fulfilled by Amazon) program makes it really easy to sell products without the hassles of a traditional eCommerce model. With FBA, Amazon will store and ship your products for you, so all you need to do is focus on finding products that you can sell for a good margin.
How to get started:
Find a product that is being sold at a discount online. You can either use a site like AliExpress or find clearance items at local stores. There are apps available like InventoryLab that allow you to scan the barcode of a potential product and automatically calculate profit potential based on the current price on Amazon, fees, shipping, and other costs.
Create an account with eBay or Amazon, then list your products for sale.
Find more products and increase your store inventory. The more products you sell, the more money you can make.
18. Start a YouTube channel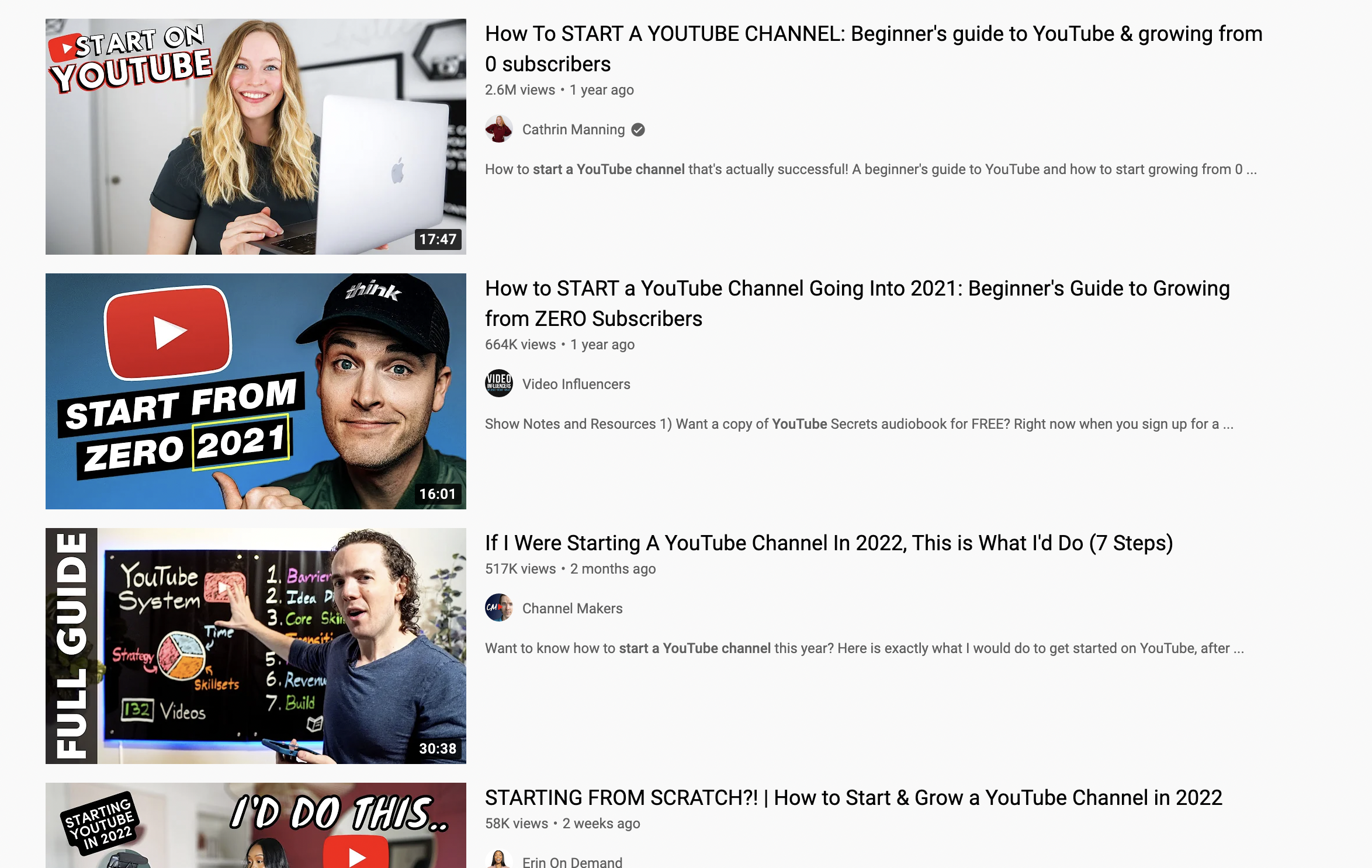 YouTube is becoming an increasingly popular way to make money online. The sheer number of users on YouTube means that you have an enormous audience to tap into, all looking for different types of content.
So how can you make money from videos? There are several ways you can monetize your YouTube channel:
Advertising – YouTube partners with advertisers who want their adverts included in the millions of pre-rolls and in-video ads that are served to viewers. You can sign up for the YouTube Partner Program and start earning money when your channel reaches a certain number of views per day.
Sell products – If you have created an eCommerce store, then it's easy to add YouTube videos into the mix so that you're not just describing, but demonstrating how to use your products. You can also embed these videos into your site.
Sell subscriptions – The YouTube Partner Program also allows you to sell paid membership for premium content that can't be viewed on the free version of your channel. This is a great way to let viewers support you and increase your income.
Affiliate marketing –  Many YouTube content creators make good money from affiliate marketing simply by linking products they use or mention in their videos in the video description.
Brand deals – If you have a dedicated audience on YouTube, brands will often pay for review videos and shout-outs from your channel. This can be very lucrative and many content creators make several thousands each month from brand deals alone.
You'll need to put a lot of work into building up your channel to make a good income from it, but the potential is there if you can create engaging, informative, and entertaining videos.
How to get started:
Pick a topic for your channel that you're interested in or passionate about. This will help you produce content that is interesting and relevant to your audience. 
Create high-quality content that people want to watch. You don't need expensive equipment to get started – your phone camera is enough. But you do need to be engaging and entertaining.
Once your channel reaches a certain number of subscribers and views, you can apply to the YouTube Partner Program and start making money from your videos. However, you can get started with affiliate marketing and brand deals right away.
19. Online Teaching & Tutoring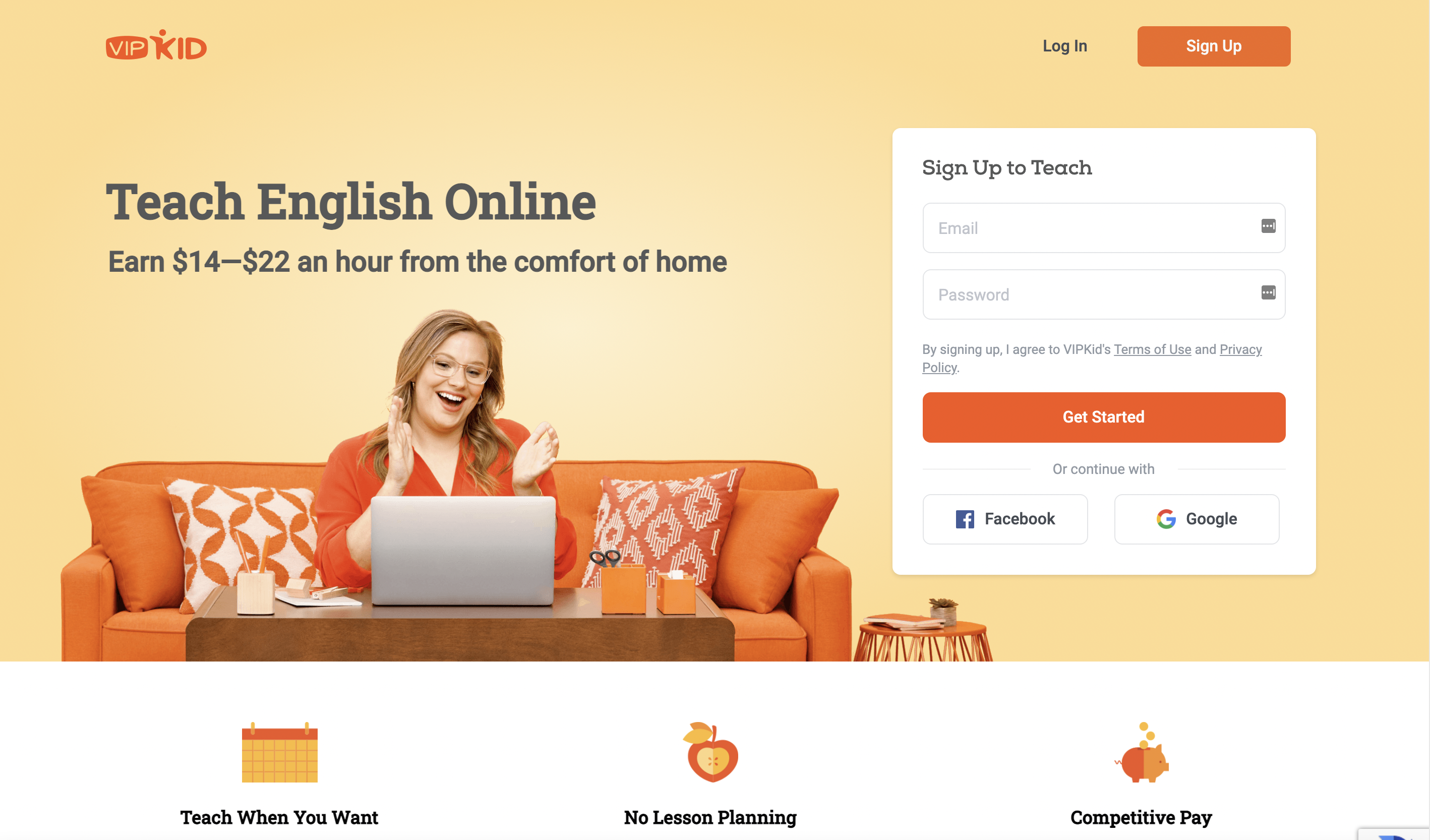 The online education business has been booming since the start of the pandemic when many schools and colleges were forced to close their classrooms in favor of virtual learning.
Now things are starting to get back to "normal," but learning online is as popular as ever.
There are many opportunities for earning an income in this space, from teaching English to kids in Asia to tutoring university students and offering specialist lessons in music, art, or anything you're skilled or experienced in.
You'll usually need to have some teaching experience and/or qualifications to get started. Still, if you're an expert in a particular subject, then you could find yourself with a thriving online tutoring business in no time.
How to get started:
Check out the following sites for online teaching and tutoring jobs: VIPKID,  QKids, Tutor, Verbling.
Sign up as a teacher on Outschool. This is an online platform that allows you to offer online classes to students worldwide.
Start your own online tutoring business by building a website, listing your services on sites like Facebook or Craigslist, or creating a profile on Upwork.
20. Set up a Paid forum or Membership Site
Are you very knowledgeable or experienced in a particular subject area? Do you have a lot of tips and tricks to share with others looking for help in this area?
If so, consider starting your own online community or membership site where people can get access to all your content and advice. This is not only an opportunity to make money but also put the word out about yourself as an expert in the field.
You'll need to put in a lot of hard work and effort to get your forum or membership site up and running, but if you can build a loyal following, then it could be a very profitable venture.
You could charge a monthly or yearly fee for access to this content, and put it behind a password-protected members-only area of your site using a membership plugin. You could also set up a paid forum for members to access valuable discussions and insights from others in the same industry.
Another option is to set up a paid email newsletter on a platform like Substack.
This is a great way to create an additional income stream from your content while also providing valuable information and support to your audience.
How to get started: 
Think about the topic or subject area you're most knowledgable in and brainstorm some ideas for a paid forum, membership site, or paid email subscription around this.
Check out online forums and membership sites in your niche to get an idea of what's already out there and what people are looking for.
Create a website, blog, or social media account to promote your community or membership site. You'll need to build up a following and get fans interested in your content before you can start charging for access, so give yourself plenty of time to grow this side business idea.
21. Coaching
A very popular way to earn money online is by coaching and teaching people how to be successful in a particular area.
If you have experience or knowledge in an important topic such as finance, health & wellness, fitness, parenting, or relationships, it could be your ticket to helping others improve their lives.
Coaching can be done in a one-on-one setting or a group format, and you can charge by the hour, session, or package.
You'll need to set up a website or online coaching profile where people can learn more about you and your services, and you'll also need to invest time and effort into marketing yourself and your business.
How to get started:
Choose a coaching niche and create an online profile around it.
Start a blog or website to share your coaching tips, tricks, and experiences.
Participate in online forums and communities related to your coaching niche.
Offer help and advice for free on your social media platforms and direct people back to your coaching website if they want more in-depth guidance.
22. Become a Social Media Influencer
Social media influencers are people who have a large following on one or more social media platforms and can influence the buying decisions of others.
If you're good at promoting your own content, or if you have a large and engaged social media following, then you could make money by promoting products or services for other brands.
You don't necessarily need to be an expert in anything to succeed at this kind of work, but that doesn't mean it's easy. You'll need to build a following, develop relationships with brands, and create high-quality content that is valuable to your audience.
In some cases, you may be approached by brands who would like to work with you directly, but in other cases, you'll need to reach out to brands and propose a collaboration.
How to get started:
Choose a social media platform to focus on. This might be Instagram if you have an eye for creating beautiful images or TikTok if you prefer creating short videos.
Find successful social media influencers in your industry or niche, identify what they're doing well, and try to emulate this success yourself.
Engage with your followers and build relationships with other social media influencers.
Make sure you don't just copy others but rather use them as inspiration to create your own style and content. Try to do something that makes your content unique and interesting.
Once you've built a following, reach out to brands and propose collaborations. Then, as you grow in popularity, you'll find the brands come to you.
23. Launch an SEO Agency
If you're good at online marketing, you could start your own SEO agency and help small businesses improve their website ranking and visibility.
SEO is a hot topic right now, and there's always a demand for high-quality services that can help businesses get more leads and sales from their website.
As an SEO agency owner, your services could include performing website audits, conducting keyword research, building links, and creating content for clients to use on their own websites and social media profiles, etc.
How to get started:
If you already have experience in SEO or digital marketing, you'll be able to hit the ground running and establish your business as a reputable SEO agency.
However, if you don't have any experience in digital marketing or SEO, then it's best to start as an apprentice and learn the ropes from someone who is already established within this field.
Once you've decided on your niche and acquired some knowledge, you can reach out to potential clients and offer your services. Start by creating a simple website or landing page for your agency and list all the services you offer.
Network with other business owners and promote your SEO agency as the best solution for improving their online visibility.
24. Online Trading
If you have the money to invest in stocks, currencies, or other financial assets, you could make a lot of money by trading online.
Online trading can be an incredibly quick way to turn small amounts into significant profits, but it's also a high-risk investment and should only be done if you're comfortable with the risks involved.
How to get started:
Before you start trading, it's essential to do your research and learn as much as possible about the different types of assets that are available, the markets where they trade, and how to read charts and indicators.
There are many online courses and tutorials that can teach you the basics of trading, but it's also essential to find a good mentor or trading community who can help guide you in the right direction.
Once you feel confident enough, start by investing a small amount of money into assets that you're comfortable with. As you gain experience and make profits, you can then reinvest these funds into other assets and markets.
25. Domain and Website Flipping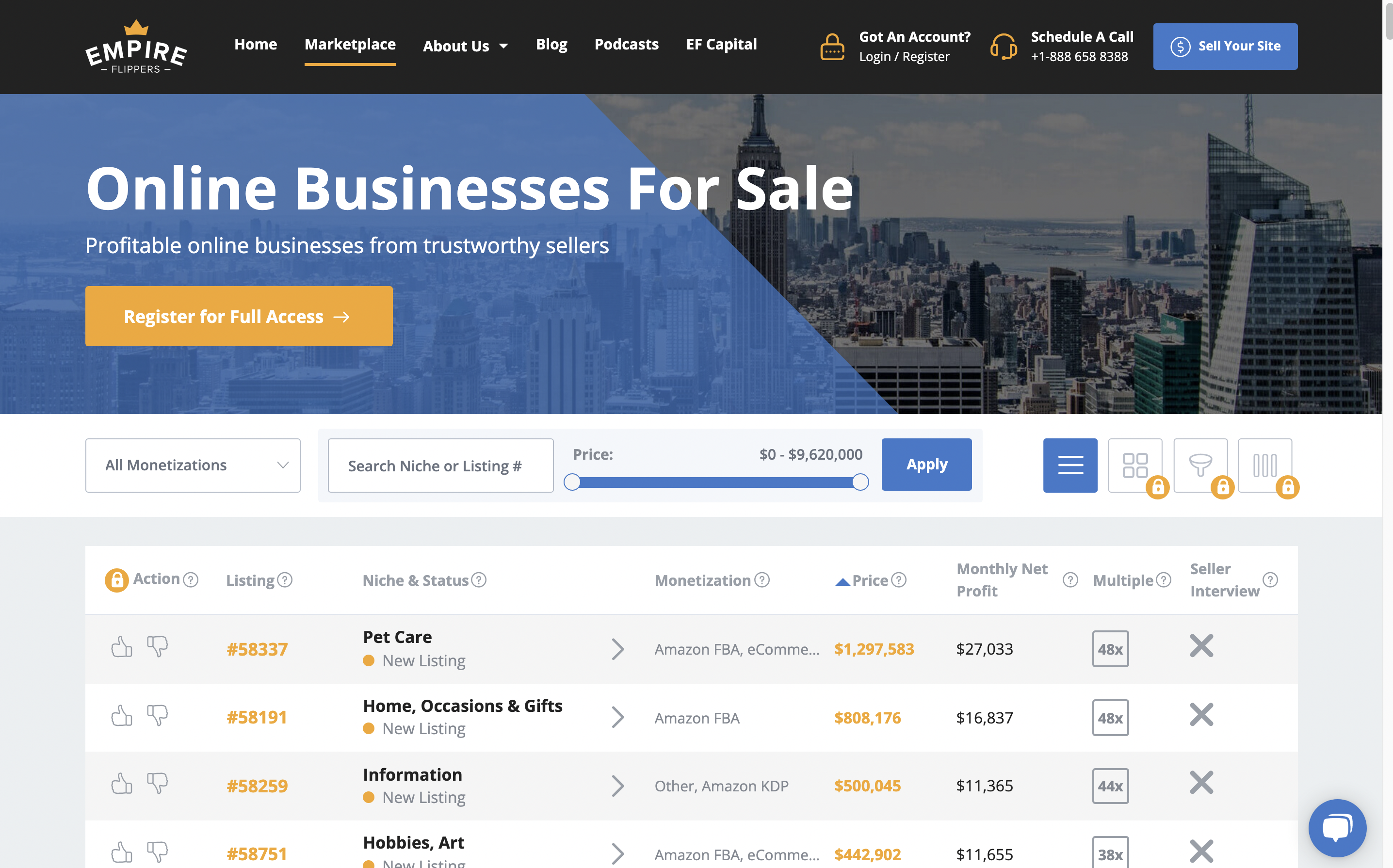 Domain flipping is the process of buying and selling domain names for a profit.
You could buy a domain name for $20, sell it for $200, and make a nice profit in just a few days. However, it's more likely that you'll hold onto a domain for several years before you can sell it for a significant profit.
Website flipping is a similar concept, but instead of just buying and selling domains,  you'll be trading fully-functioning websites complete with content.
You can make a lot of money by purchasing an underperforming website, making a few easy improvements, and selling it on again once the traffic and income have improved.
However, it's also very easy to get scammed if you don't know what you're doing and buy a "dud" website that doesn't make any money. It's best to start by building and selling websites you've made yourself so you understand the earning potential of a site and how to make it more valuable.
How to get started:
Find a good domain name that isn't registered yet,  purchase it,  and set up a simple website with your contact information.
The trick is to be one step ahead of trending domain names and purchase them before anyone else has a chance. You can also use websites like or Sedo to find good domain names that are for sale.
Browse website marketplaces like Flippa or EmpireFlippers to find established websites that you can buy and improve for a profit.
Be sure to do your research before making any offers, as some of these sites may be overpriced or not worth the investment.
Increase the value of the sites you buy by improving their design, adding new content, or increasing traffic through SEO and marketing.
When you're ready, re-list the site on a marketplace and sell it to someone else for a profit.
26. Matched Betting
Matched betting is a technique used to make guaranteed profits from the free bets offered by online bookmakers.
It's a legal and risk-free way to make money from home, and there are many different ways to do it. However, the basic principle is simple:  you place a bet on one outcome of an event (say, the home team to win) and then back another outcome with a bookmaker (the away team to win). If you do this correctly, you'll make a profit regardless of the result.
However, it's essential to understand the risks involved and how matched betting works before starting. There are many online guides and tutorials that can teach you everything you need to know.
You do need a small amount of money to get started, but your initial investment is safe as long as you follow the rules. And once you've made a profit, you can withdraw your funds and start again with another free bet. If you have more money to invest, you can place more bets in a day and make a profit faster.
It's also important to note that you can't do matched betting in every country. It's most popular in the UK but is possible from other countries too. You'll need to make sure online gambling is legal and you can access a betting exchange from wherever you're based.
How to get started:
The first step is to find a suitable matched betting guide or tutorial that covers the basics.
There are many good ones available for free online, or you can purchase a membership to a site like Profit Accumulator, which will give you access to step-by-step tutorials, odds calculators, videos, and a community of matched bettors.
Once you understand the basics, start by placing small bets on simple events to get used to the process. As you gain experience, you can then move on to more complex bets and make larger profits.
Track your profits and losses, so you know exactly how much money you're making and how much is tied up in different accounts.
27. Get Cashback for Shopping Online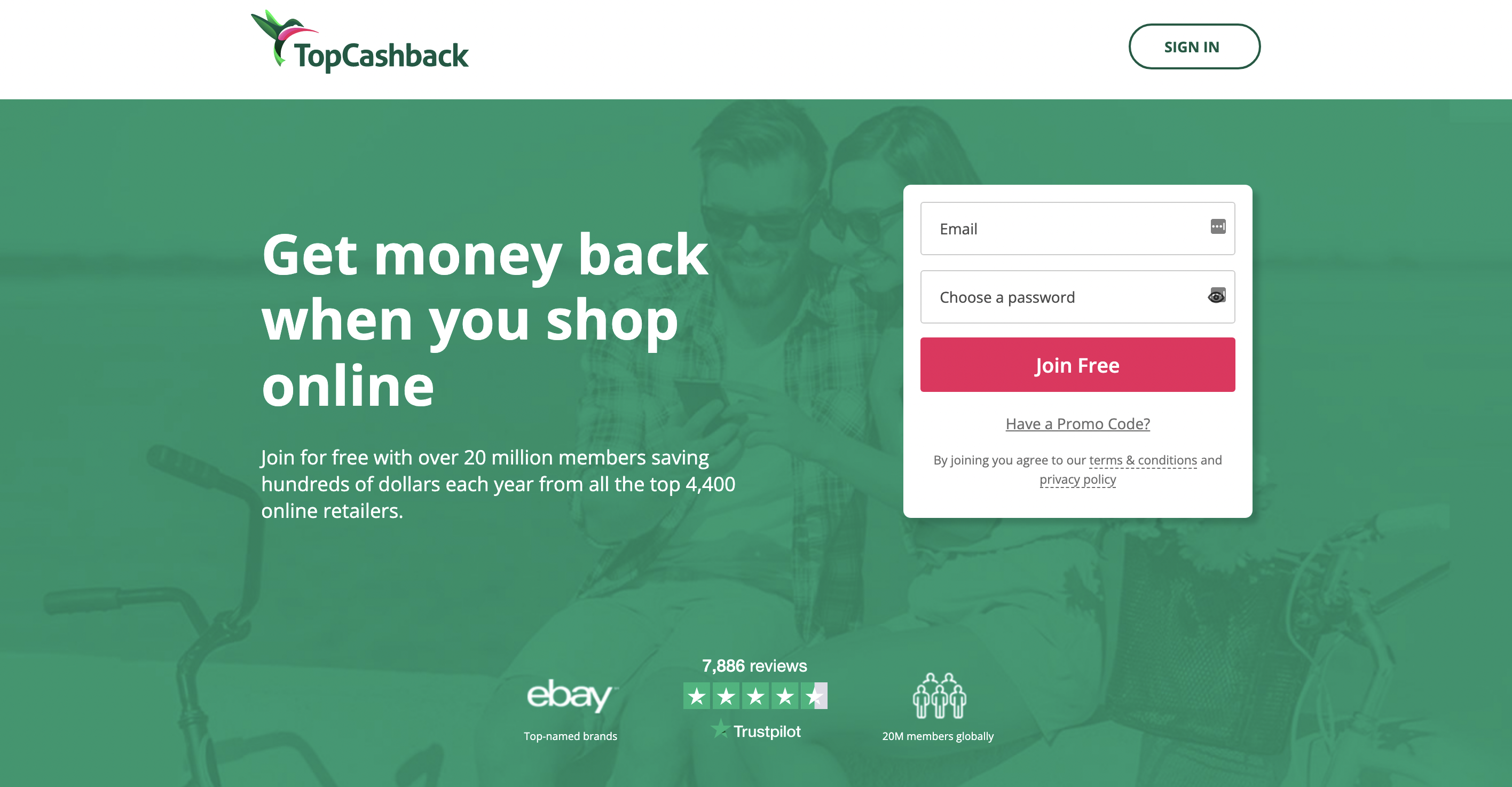 Cashback sites allow you to get paid for purchases you make online. It's not a lot of money, but it's a nice way to get a little extra cash for something you would do anyway.
The best part is that using these cashback sites really isn't any more hassle than shopping online as usual. In most cases, you just need to click a link from the cashback website to visit the retailer and shop as normal.
Some cashback services even come with browser extensions that will notify you if cashback is available on eCommerce sites as you browse. This means you'll never forget to check for cashback before you shop.
Your purchases will be tracked by the site and added to your account after a few weeks. You can then withdraw your balance once it reaches the minimum amount.
The cashback rates you'll receive will vary from service to service and retailer to retailer, but they usually range between 0.25% and 15%.
How to get started:
Join a cashback site. The most popular sites include TopCashback and Rakuten, or you can install a browser extension like Honey which will automatically find the best deals for you.
Make sure to use your cashback site when shopping online so that your purchases are tracked.
28. Peer-to-Peer Lending
Peer-to-peer lending is an alternative investment option that can be more profitable than traditional banking. For example, if you have money that you would typically keep in a savings account, you can lend it out to other people instead and earn a good return on your investment. 
The process is simple: you create a lending profile on a peer-to-peer lending site and deposit funds to your account. You can then browse through loan listings and choose one that interests you. If you like the terms of the deal, then your money will be lent out to borrowers at a fixed interest rate.
You'll receive regular updates on how much money has been repaid and what the total returns are so far, which means you can withdraw or reinvest your profits at any time.
This method of investing is technically riskier than putting money in the bank, but it also comes with higher returns. Additionally, the P2P lending platforms generally do a good job of vetting loan applicants, so there is usually minimal risk involved.
How to get started:
Sign up for a peer-to-peer lending site like Peerform or Upstart. 
Make a deposit to get started. You can start investing in P2P lending with as little as $25.
Browse through the listings and choose an investment that interests you. You can usually see information such as the reason for the loan, interest rate, and repayment period. You can also spread your money across multiple loans to reduce your risk.
Monitor your account to see how your investment is doing. You can reinvest or withdraw your profits at any time.
29. Invest in Cryptocurrency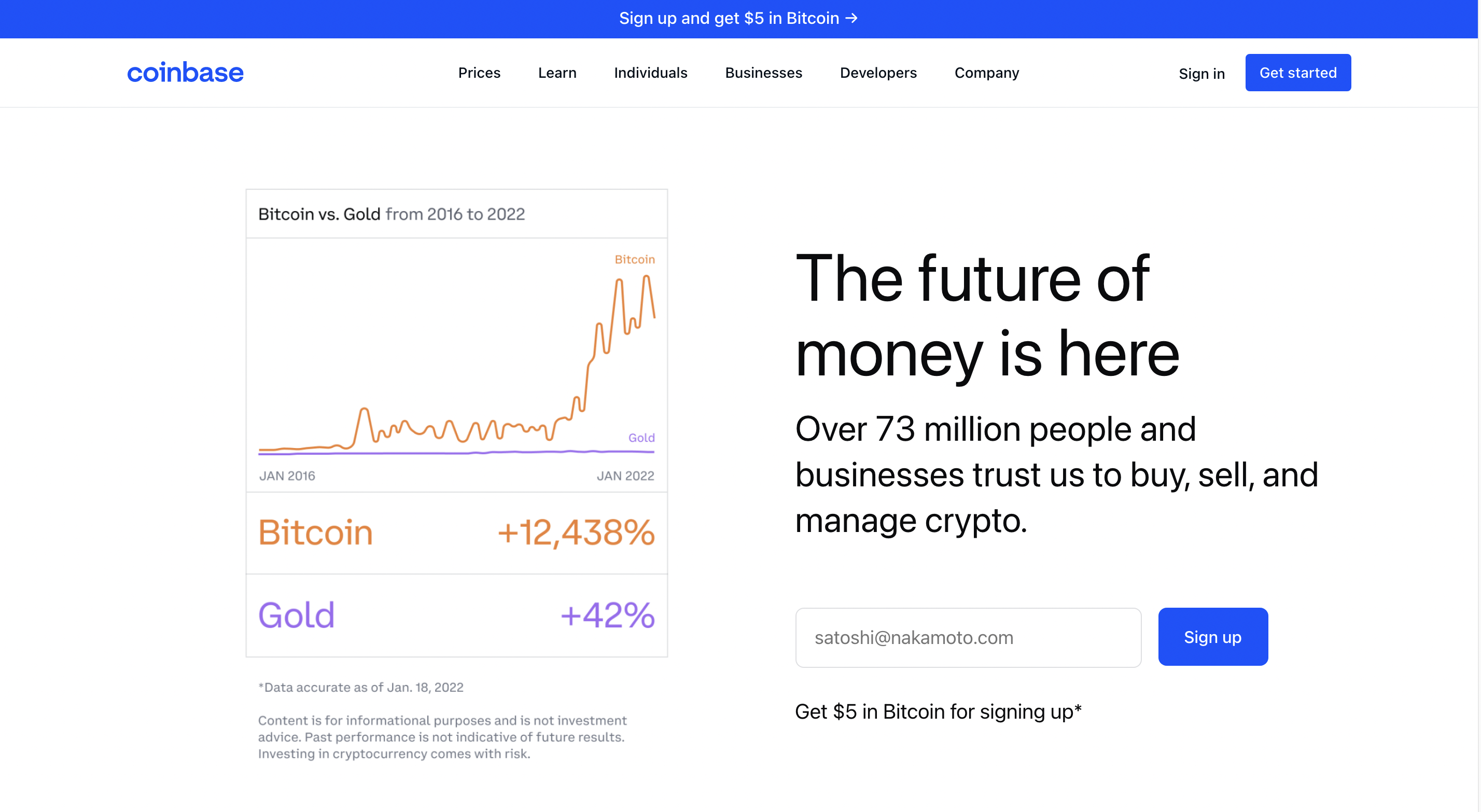 The cryptocurrency market is extremely volatile, but it can also be very lucrative. For example, if you'd purchased $500 worth of Bitcoin in 2016, your investment would now be worth over $40,000.
That said, it's not easy to make money in the cryptocurrency market. New currencies are constantly being created, which means that there is always a risk of your investment becoming worthless quickly.
It takes a highly long-term view of things to invest in cryptocurrencies properly, but if you can stomach the volatility, then they are worth considering.
How to get started:
Sign up for a cryptocurrency exchange. You can use Coinbase, Bitstamp, or another exchange to buy and sell Bitcoin and other cryptocurrencies.
Choose an investment strategy depending on your risk tolerance.  If you're willing to take on more risk, you can invest in altcoins (cryptocurrencies other than Bitcoin). On the other hand, if you want a less volatile investment, stick to well-known cryptocurrencies like Bitcoin and Ethereum.
Monitor your investment to see how it's doing. If you're lucky enough to invest in a cryptocurrency before it skyrockets in value, you can make huge profits.
30. Sell NFTs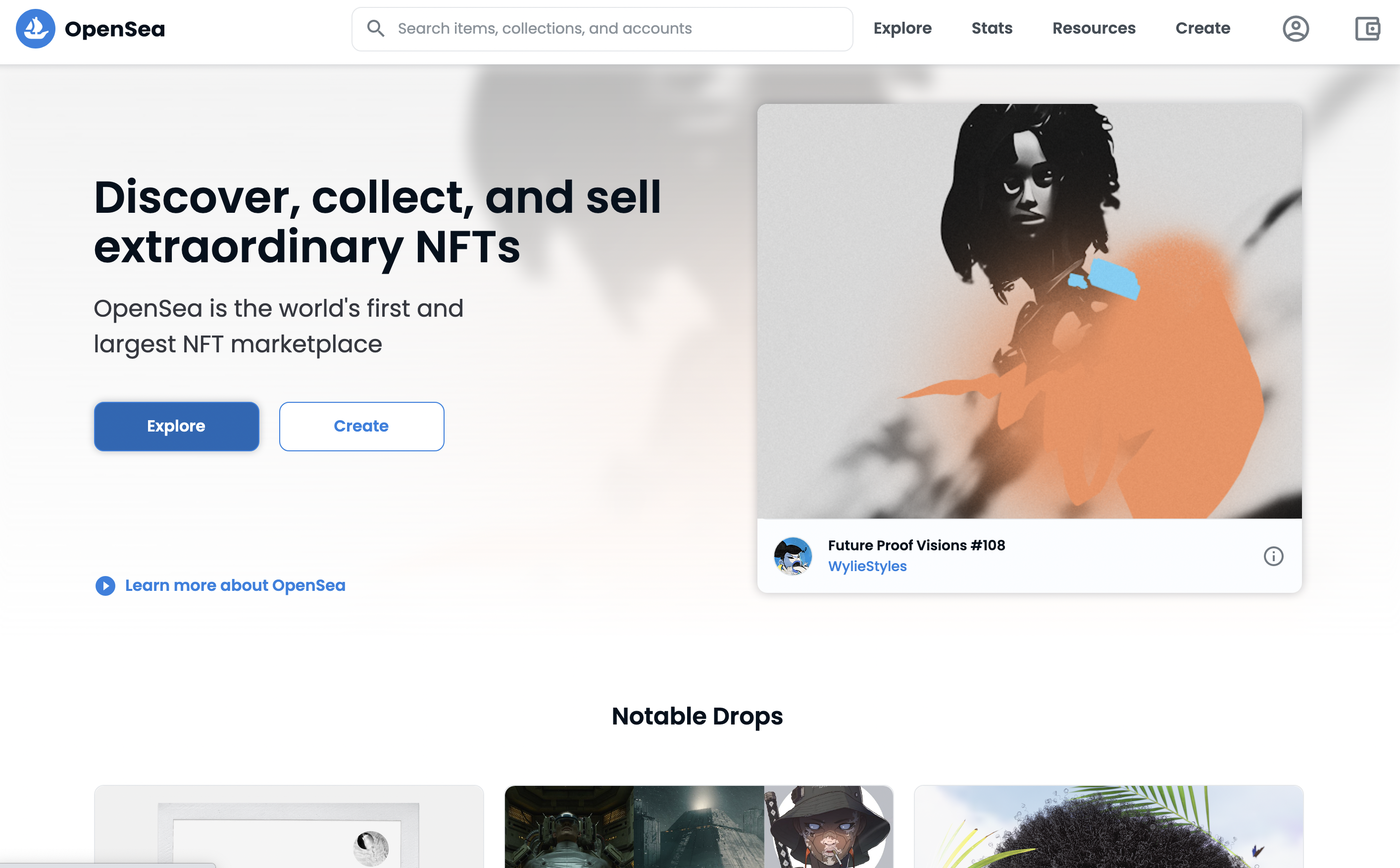 NFTs (non-fungible tokens) are unique digital assets. You can think of them as the digital version of an original painting while other digital files are only prints.
The market for these items is just taking off, which means that investors are willing to pay large sums of money for the most exclusive items.
You can make money by trading NFTs just as you can with cryptocurrencies, but if you're creative, you can actually create and sell your own NFTs.
New creators might start out selling NFTs for less than $100, but if their work takes off, it can end up being worth thousands or even millions.
How to get started:
Create a uniqe digital asset. This could be something like an image, video, or audio file.
Upload your work to an NFT marketplace like OpenSea.
Set the price for your work and wait for someone to buy it.
You can also buy NFTs from other creators and sell them once their value has increase.
31. PPC Marketing
PPC (pay per click) marketing is a method of making money by promoting products through different ad platforms.
With traditional affiliate marketing, you use methods like SEO and social media to drive traffic to a product.
PPC marketing uses a similar idea, but instead of relying on these free methods to drive traffic to your affiliate offers, you pay for ads on Google, Facebook, and other platforms.
When someone clicks one of your ads, they're taken to a landing page for a product you're promoting. If you've done a good job at targeting ads to the right audience and optimizing your landing page for conversions, some of those users will go ahead and buy the product.
You'll pay every time someone clicks one of your ads, but if your conversion rate is high and the commission is generous, you can make a lot of money.
If this sounds complicated, that's because it is. PPC is more technical than other marketing methods, and you'll need to invest money to get started, so there is some risk involved.
But there are lots of courses out there to walk you step-by-step through the process. And if you have a head for figures and statistics and a knack for writing engaging ads and landing page copy,  you'll be off to a great start.
How to get started:
Choose a product to promote. You can find products to promote in a number of ways, but the best way is to find high-converting offers in your niche.
Sign up for an ad platform like Google Ads or Facebook Ads.
Create ads and landing pages that are compelling and relevant to your target audience. You'll need to set a budget for your ad spend, and it's best to be conservative with this while you're learning the ropes.
Track your success and make changes to optimize your ads and landing pages. You'll need to be patient as it can take a while for the money you put into PPC marketing campaigns to pay off, but once they do, you could see big returns.
32. Work From Home With a Remote Job/Telecommuting
If you've read through this list and you're a bit intimidated by the idea of starting your own business, or you don't have any money to invest in a new project, there's still hope.
You can also make money online by working from home but doing a more traditional job that allows for remote working.
These jobs allow you to work from wherever you choose while still earning a steady salary and benefits and having an employer.
You might be surprised by how many companies offer remote job opportunities. The high demand for skilled labor in certain industries means employers are often willing to hire people who work remotely if they have the right skills.
Some companies are also "remote first", which means the majority of their team work remotely. Seeking out these companies is a great way to find online work.
How to get started:
Use job boards like Flexjobs and We Work Remotely to find remote jobs in your field or industry.
Search through job ads on traditional job sites like Indeed, or Monster to find work-from-home opportunities.
Look for current vacancies offered by remote-first companies like Stripe, DropBox, and Buffer.
Consider asking your current employer if it's possible for you to work online. More and more companies are offering this option in the wake of the COVID-19 pandemic.
33. Video Game Live Streaming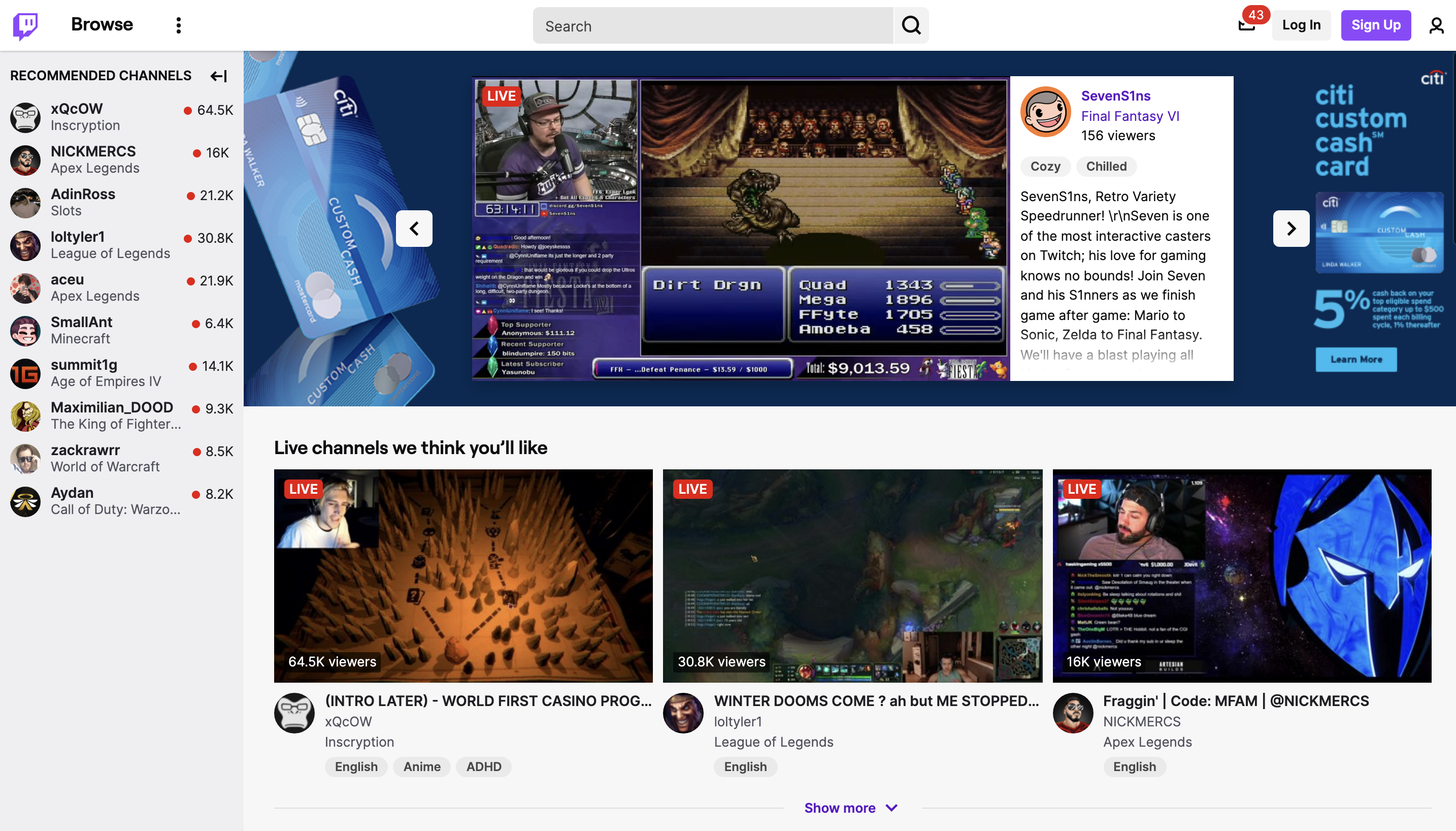 Ever wish you could stay at home playing video games all day and make a living?
While that may seem like an impossible dream, it's reality for some. You can absolutely earn money by playing video games and streaming them live on the internet for other people to watch.
Streaming sites like Twitch can be extremely lucrative for the most popular streamers. Some streamers even go on to become famous celebrities in their own right, raking in millions of dollars every year.
You can monetize your streams in a variety of ways, including through donations from viewers, subscriptions, sponsorships, and merchandise.
How to get started:
Get set up with a streaming platform like Twitch or YouTube Gaming.
Make sure you have a decent gaming headset, webcam, and a fast and reliable internet connection.
Start streaming your favorite video games and building up an audience.
Engage with your viewers and put on a great show for them.
34. Outsource the work to someone else
Finally, if you're looking for a more passive way to make money online, almost all of the above ideas will work just as well if you get someone else to do the actual work for you.
For this to be worth the hassle, you'll have to make sure you can hire someone willing to work for less than you're getting paid for a job. For example, you could be employed to write an article for $200 and outsource the work for $50.
Outsourcing also means you can scale up your productivity and make a lot more money than if you're working on your own, even though you don't get to keep all the money you're paid.
Say it takes you one day to write that article. Assuming you work five days a week for the same rate, you'd be able to make $1,000 a week if you did all the writing yourself. However, if you had a team of three writers, you could triple your capacity and net $2,250 a week without doing any writing yourself.
Outsourcing doesn't mean you don't have to work at all – you'll still have to manage your team and ensure that deliverables are high quality.  But once you've nailed down an efficient workflow and processes, outsourcing can be a very effective way to get more work done and make more money.
How to get started:
Check out websites like UpWork and Fiverr to find qualified professionals willing to work for less than you charge.
Set up job specs and guidelines for the work you want to be done, and make sure everyone is clear on what's expected of them.
Review deliverables regularly to ensure quality control.
Get Ready to Make This Year Your Most Profitable Yet
There are many ways to make money online, and this list is by no means comprehensive. We're currently in a golden age of opportunity, with new technologies,  platforms, and ideas emerging every day.
So whatever your skills or interests may be, there's almost certainly a way to make money doing it online. So get out there and start hustling! You never know where the next great opportunity will come from.
Keep reading the article at WPKube. The article was originally written by Editorial Staff on 2022-10-24 01:19:00.

The article was hand-picked and curated for you by the Editorial Team of WP Archives.