If taking astounding photos with your smartphone is kind of your thing, then you might want to look into some of the best collage apps available out there. Those are really cool, and they can give you great results with relatively little work.
Due to the easy-to-use interfaces of these apps, they let you compile multiple photos into one frame. You can choose from dozens of layouts, turn your images into posters or cards, and share them with family and friends through your social media accounts. And, to make it even more interesting, some of these apps allow you to add custom animation, background music, and video.
You're going to find free options out there, plus a nice range of premium apps as well. There are also solutions that sit somewhere in the middle by offering in-app purchases letting you unlock extra features.
In general, you'll find these features in most photo collage apps shown in this article:
Ready-made templates for inspiration.
Grids and patterns to create your own layouts.
The possibility to add backgrounds, animations, text, videos, and music.
Sharing options and direct integrations with social media.
Photo editing tools to tune up your images.
Support for all popular image formats.
Access to a collection of stock pictures and stickers.
The app's own variation on the camera app to take photos without leaving the app's interface.
Best collage apps in 2022
Adobe Creative Cloud Express
? Pricing:
A free plan that includes core features. Monthly plans at $9.99 and Annual plans at $99.90 with a 30-day free trial.
? System: Web, Android, iOS.
? Key features:
Thousands of ready-made templates.
Access to Adobe Stock royalty free photo collection (with Creative Cloud membership).
Easy-to-apply effects, filters, textures and overlays.
Cut out backgrounds effortlessly.
Add design elements like icons and backgrounds.
Instantly resize and re-flow content.
Easily trim, crop, resize and convert videos.
18,000+ fonts from the Adobe Fonts library.
Add brand logo to any element with a tap.
Customize pre-designed graphics and text.
Visit Here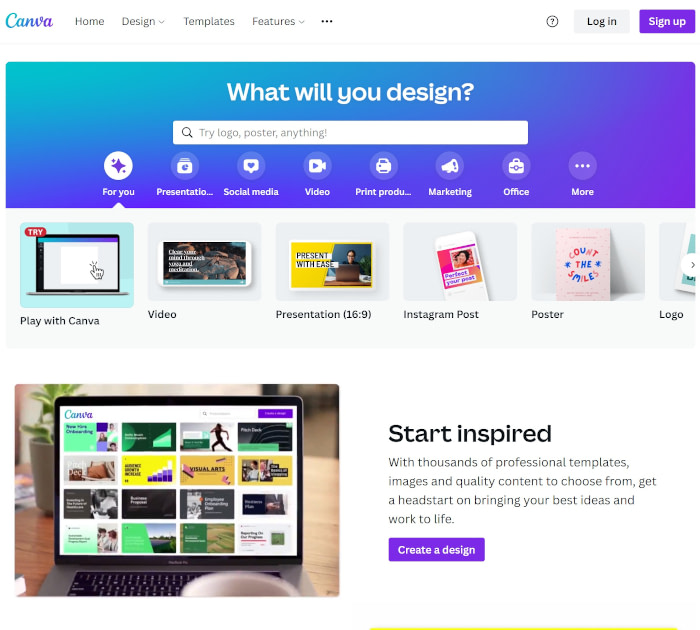 ? Pricing:
Free for individuals and for registered non-profits. Other plans include Pro and Enterprise at $499/mo and $2200/mo respectively.
? System: Web, Android, iOS.
? Key features:
Record videos right from the Canva dashboard.
Seamlessly splice and split video clips.
Resize videos in a few clicks.
Access to pre-licensed and free stock videos from the Canva video editor.
Live presentation sessions to improve audience participation.
Edit and convert PDFs into online designs.
Apply texture to design.
Dynamic text animations to cause text to flow.
Shape text into arcs or circles.
Crete and collaborate with your team on Canva.
Visit Here
? Pricing:
Free app with filters, overlays and editing tools. Premium at $4.99/mo.
? System: Android, iOS.
? Key features:
Add 130+ filters to videos and photos.
Create layers to photos and videos.
Format content for social media channels.
Add vintage effects.
Access millions of stock photos.
Choose from hundreds of unique backgrounds.
Add text to photos and videos.
Automatically widen backgrounds on narrow photos.
Retouch photos with beauty tools.
Unique audience with Instasize web stories.
Visit Here
? Pricing:
Free
? System: Android, iOS.
? Key features:
Remix up to nine photos to create personalized layouts.
Use Faces tab to find photos with people in them.
Capture moments in Photo Booth with spontaneous shots.
Save layouts you create to a gallery.
Share collages seamlessly over social media channels.
Tap on Recent tab to view the last 30 photos.
Match your layouts and collages with Instagram's filters and creative tools.
Resize Images
Mirror, flip or replace images.
No signup or account required.
Visit Here
? Pricing:
Free. Premium VIP plan at $35.99/year removes ads and watermark.
? System: Android, iOS.
? Key features:
Free stickers, templates, fonts and backgrounds.
Multiple layouts and grids.
Blank canvas option to create your own space.
Snip photos by tracing outlines with your finger.
Auto cutout options.
Doodle on collage to highlight or write text.
Helpful editing tools.
Premium VIP subscription offers access to exclusive fonts and templates.
New stickers and backgrounds every week.
Free to download and edit; Free seven day trial for premium features.
Visit Here
? Pricing:
Free. Premium subscription available – in-app products $60-$899 per item.
? System: Android, iOS.
? Key features:
Professional photo editor with beauty camera.
180 filters in 12 themes.
Text function with 300+ fonts.
560 stickers, 92 background patterns.
135 popular magazine style layouts.
Replace pre-typed texts on magazine layouts with your own words.
Beauty tools for slim face, large eyes, smooth skin.
Motion graphics video camera.
Live video filters.
Freely adjust collage aspect ratio.
Visit Here
? Pricing:
Free for up to five projects.Premium at $6.99/mo with a 14 day free trial.
? System: Web, Android, iOS.
? Key features:
Essential editing tools such as crop, resize, adjust exposure, rotate included.
Can edit entire grid or individual photos in grid.
Text tool with over 100 hand-picked fonts.
Text effects like stroke, shadow, transparency, color and flip.
Multiple filters included.
Touch up effects with fine tune controls.
Erase tool to erase all layers and effects.
Many unique frames like postage stamp and mirrored frame.
Import or export directly from Drive, Facebook, Instagram and Gallery.
Clone to copy one part of an image to another.
Visit Here
? Pricing:
Free standard photo and video editing tools. $154.16/mo for access to premium editing tools. $210/mo for Teams to collaborate.
? System: Web, Android, iOS.
? Key features:
Number of free and premium templates.
Use grids or frames to make collages. Or go freestyle.
Use up to ten images in the freestyle option.
Templates for almost every occasion.
Collection of free-to-edit stickers and images.
Create stickers from your own photos.
Free photo editor to add photos, text, stickers to any shot.
Share collages on social media.
Create your brand with colors, logos and fonts.
Save photos and videos in high resolution.
Visit Here
? Pricing:
Basic photo collage is free for use. Many in-app purchases including PhotoGrid Premium ($33.99/mo).
? System: Web, Android, iOS.
? Key features:
Add up to nine videos in video grid maker.
Synchronize video clips to the same moment in time.
Customize your own logo and watermark.
Add Instagram, Facebook and WhatsApp logo easily with your name.
Many popular ratios like Facebook cover, Apple Watch, A4 and A3 sizes and more.
Add beautiful curved text to photo.
20,000+ different collage templates.
Powerful photo editor to crop, resize, rotate and more.
Convert raw photos into powerful images.
Create video grids up to 15 minutes long with premium plans.
Visit Here
? Pricing:
Free. In app products $3.99 to $24.99 per item.
? System: Android, iOS.
? Key features:
300+ collage layouts, 10+ border packs.
20+ filter packs,15 different photo aspect ratios optimized for sharing.
Powerful photo editing tool to pan, rotate, flip, mirror and zoom.
High resolution export.
Meme editor to turn your photo into a meme.
Text, audio and drawing editor.
Add stickers and music.
Quick enhance feature for high definition resolution and night photography.
Add overlay and effects.
Add your brand logo or create custom watermark.
Visit Here
? Pricing:
Basic app is free with a $9.99/mo monthly subscription for the Pro package.
? System: Web, Android, iOS.
? Key features:
Basic and advanced tools for editing.
Hundreds of fonts, thousands of stickers and borders.
Fab filters and effects.
Easy to use – point, click and add photos.
Creative shapes and seasonal layouts.
Touch up and photo retouching.
1.8 million royalty free stock images.
100+ photo filters and effects.
Adjust colors and tones.
Print ready layouts.
Visit Here
? Pricing:
Free, offers in-app purchases from $65 – $2200 per item.
? System: Android.
? Key features:
Combine up to 20 pictures to make a collage.
300+ layouts or grids to choose from.
Add text to pictures and create and share memes.
Large number of backgrounds, stickers and fonts to choose from.
Doodle or import your own fonts.
Square photo with blur background for Instagram.
Save photos in high resolution.
Change ratio of collage and edit border of collage.
Use grid style or free style to make a collage.
Customize collages for every occasion, including Before and After.
Visit Here
? Pricing:
Free to use, plus a Pro version is available.
? System: Android.
? Key features:
120+ layouts or frames to choose from.
Easy to change border colors, background and patterns.
Simple touch gestures to rotate or resize.
A number of backgrounds and stickers to choose from.
Easy to add stickers or text.
Full featured photo editor included.
Amazing photo filters.
Share to social network.
Adjust zoom intensity for all your photos.
Easy to use UI.
Visit Here
? Pricing:
Free to use.In-app purchases at $70 to $1,900 per item.
? System: Android.
? Key features:
Remix up to 20 photos.
Create a photo slideshow easily.
Photo editing tools that change the sharpness and round up the corners.
37 unique effects.
Add abundant effects to video.
Import your own music or use the built-in local music.
Control the material timeline as you like.
300+ stickers and various fonts available.
Emojis and tags to make photos stylish.
100+ popular design templates.
Visit Here
Or start the conversation in our Facebook group for WordPress professionals. Find answers, share tips, and get help from other WordPress experts. Join now (it's free)!
Keep reading the article at CodeinWP. The article was originally written by Priya on 2022-02-21 04:47:14.

The article was hand-picked and curated for you by the Editorial Team of WP Archives.