Affiliate marketing is popular for ONE big reason: it helps you make passive income.
That means you make money even while you sleep. Although there are a ton of ways to make money online, affiliate marketing always stays on top of the charts for the same reason.
But here's the thing: NOT all affiliate programs are the same. Some offer you recurring commissions while most others offer one-time commissions.
If you're looking to generate thousands of dollars every month from affiliate marketing, promoting recurring affiliate programs is the BEST option.
So in this detailed post, let's talk about 50 best recurring payment affiliate programs that can help you earn recurring commissions for a lifetime. Let's get started without much ado.
Top 50 Handpicked List of Best Recurring Income Affiliate Programs for 2020
What Are Recurring Commissions?
Before diving into details, we'll briefly discuss recurring income affiliate programs so you can better understand. Recurring affiliate programs pay you commissions for as long as your referrals make payments.
For example, BeRush (affiliate program of SEMrush) will pay up to a 40% commission for the life of a customer.
That means, recurring affiliate programs help you earn commission for every purchase one of your referrals makes, not just on their first purchase. So you'll earn money as long as your referrals remain a paying customer.
Here's a nice illustration of the difference between one time affiliate sale vs recurring sales (image credit).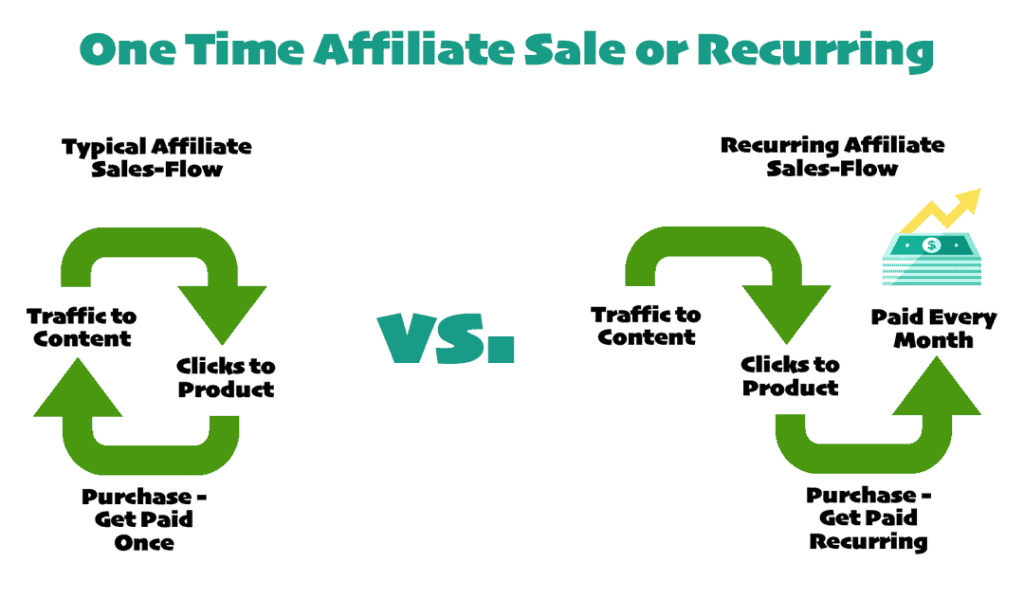 The main difference between promoting normal affiliate products and recurring income affiliate programs is that you can generate residual income for many years, not just once!
Enough said, let's find out the top affiliate programs that provide you recurring commissions.
Web Hosting Recurring Affiliate Programs
Web hosting is an extremely competitive industry and there are hundreds of options available for users to host their sites. That's why web hosting platforms often pay their affiliates well.
But there are a very few hosting companies that actually offer
[…]
This article was written by Anil Agarwal and originally published on BloggersPassion: Learn SEO Blogging with An Expert.