One simple and interesting feature of the Divi Blog module is the ability to show blog posts based on categories. This opens lots of design possibilities such as creating custom templates for your categories or showing a specific category on a certain page. In this article, we'll see how to show blog posts per category using Divi's Blog module. We'll also create a few examples along the way.
Let's get started.
Why Display Specific Categories?
Before we see how to show blog posts per category, let's explore what this means, why we'd want to show them by category, and where we'd show them.
Showing posts by category filters all categories except what's selected to display. You can select the categories manually or have Divi select them automatically based on the circumstances.
For example, if a user selects a category link on your pages, that link could display a list of blog posts of that category. This works for a blog feed for archive pages. In this case, you'd use the Divi Theme Builder to create those category pages and assign them appropriately.
You could also manually display posts from certain categories within your pages. For example, if you offered a service and you have blog posts that focus heavily on that category, you could show a blog module that displayed only those posts on that service page.
Let's see how to create all of these options using the Divi Blog module.
Divi's Blog Post Category Options
Divi has category options within the Blog module. It works the same on blog pages and blog templates. Within the Content settings, you have the option to choose the categories. Options include All Categories, Current Category, and each category. You can select multiple categories.
This option allows us to display specific categories on pages and within Theme Builder templates. Let's look at several ways we can use these category options and see when to use each.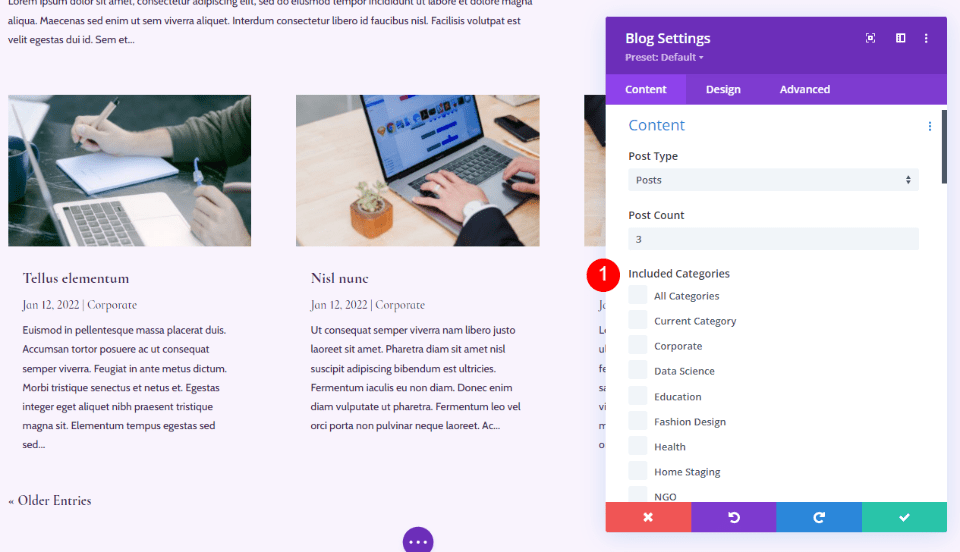 Show Blog Posts per Category in the Divi Theme Builder
The Divi Theme Builder lets us create archive page templates. When a user selects a category, we could have Divi display a template in place of the standard WordPress search results. This gives us more control over our website's design and keeps the site more consistent. We could create one archive page for all categories or create an archive page to display the feed for the specific category.
The Divi Theme Builder gives us several options to display posts based on their category. To show posts per category on your page templates, go to Divi > Theme Builder in the WordPress dashboard. If you don't have an archive template, click Add New Template.
[…]
This article was written by Randy A. Brown and originally published on Elegant Themes Blog.