Divi's built-in condition options make it really easy to hide or show any element based on a number of conditions, including the user's logged-in status. A really useful application of this conditional functionality is to create member-exclusive blog posts. The idea is to show non-members (or logged-out users) a brief excerpt of the post content along with a call to action to sign up or log in to see the full article. Then, for members (or logged-in users), you show the full post with all the content.
In this tutorial, we are going to show you how to create member-exclusive blog posts by using Divi's theme builder and Divi's new condition options.  Once done, you will have a dynamic blog post template that will incentivize users to become a member of your site to view the full content of each post.
Let's get started!
Sneak Peek
Here is a quick look at the design we'll build in this tutorial.
Here is a blog post showing only the post excerpt and a CTA overlay inviting users to become a member or log in to view the full article.
Once you log in using the login form, you will be redirected to the same post showing all of the post content.
Download The Member-Exclusive Blog Post Template For FREE
To lay your hands on the free Member-Exclusive Blog Post Template from this tutorial, you will first need to download it using the button below. To gain access to the download you will need to subscribe to our Divi Daily email list by using the form below. As a new subscriber, you will receive even more Divi goodness and a free Divi Layout pack every Monday! If you're already on the list, simply enter your email address below and click download. You will not be "resubscribed" or receive extra emails.
How to Upload The Template
Go to Divi Theme Builder
To upload the template, do the following:
Navigate to the Divi Theme Builder in the backend of your WordPress website.
Then, in the top right corner, you'll see an icon with two arrows. Click on the icon.
In the portability popup, select the import tab
Upload the JSON file that you could download in this post
Click on 'Import Divi Theme Builder Templates'.
Save Changes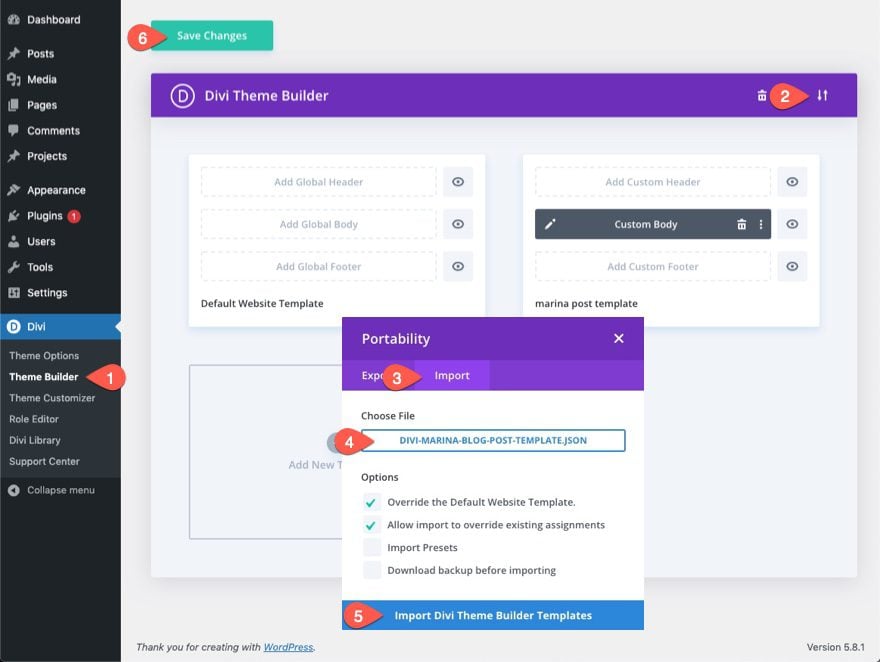 How to Create Member-Exclusive Blog Posts with Divi's Condition Options
Part 1: Uploading the Blog Post Template
For this tutorial, we are going to create member-exclusive blog posts by adding condition options
[…]
This article was written by Jason Champagne and originally published on Elegant Themes Blog.