Home /
Hosting /
DreamHost vs SiteGround WordPress Hosting Comparison – Is It Worth Paying Extra?
By Joe Fylan
January 10, 2021
If you're looking for a new home for your existing website, or you're planning to start a new site, DreamHost and SiteGround are two hosts that deserve a place on your shortlist, especially if you're looking for a great value yet high performance shared hosting plan.
However, while the shared hosting plans DreamHost and SiteGround have quite a few things in common, they also have some notable differences, not least their prices.
So to help you decide which shared hosting plan is best for you, we've explored the main features of both hosts, used paid tools to measure the performance of their shared hosting plans, and dug into the technical details to give you a clear picture of exactly what you'll get with each company.
If it's time to start a new website or change the host of your existing site, by the end of this comparison, you'll know whether SiteGround or DreamHost is the best option to sign up with, or if your search continues.
Let's begin…
About DreamHost and SiteGround
DreamHost have been in business since 1996, making them one of the most well-established web hosts in operation today. They offer a wide range of hosting plans, including their DreamPress managed WordPress hosting service, dedicated server hosting, and the low-cost shared service we're looking at in this comparison.
Although SiteGround have "only" been around since 2004, they have built up a great reputation, especially among WordPress users, thanks to their fast servers, professional support, and useful features. This all makes SiteGround a safe choice for anyone looking for high-quality shared hosting.
However, the SiteGround plans are quite expensive compared to some other well-known shared hosting providers. DreamHost, on the other hand, have some of the cheapest plans around.
So is it worth paying extra for SiteGround hosting, and do the low-price DreamHost shared plans cut too many corners? By the time you've finished this DreamHost vs SiteGround comparison, you'll know which one is the best option for your website.
DreamHost and SiteGround Shared Hosting Plan Details
Before we explore the main features of DreamHost and SiteGround and see the results from our speed and load handling tests, here's a quick overview of their shared hosting plans.
DreamHost Shared Hosting Plans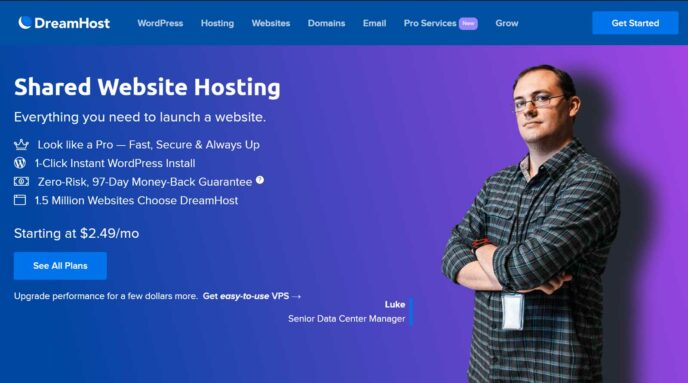 DreamHost keep things simple with just two shared hosting plans for you to choose from:
[…]
This article was written by Joe Fylan and originally published on WinningWP.