Home /
Hosting /
Top 4 Best WordPress Hosting for Designers and Agencies (Providing Hosting for Client Websites) – Compared (2021)
By Colin Newcomer
April 2, 2021
Searching for the best WordPress hosting for agencies to host your clients' websites?
If you want to build recurring revenue for your agency, it's a great idea to set up ongoing agreements to host your clients' sites, rather than just turning over their sites and ending the relationships right there.
But that adds another important decision to your plate — how do you find the right hosting solution for your client websites?
There are some important hosting features that apply to both individuals and agencies. No matter if you're hosting your own websites or your clients' sites, you want a host that offers fast performance, reliable uptime, quality support, etc. Those are no-brainers in any hosting comparison.
But if you're an agency, you'll also be looking for other features to make your life easier and maybe even earn some extra money. For example, you might want easy billing transfer/management, granular site access controls to only give clients access to their own sites, a friendly billing structure for hosting lots of websites, special agency commissions, and more.
In this post, I've collected the best WordPress hosts targeted towards those needs. That is, these hosts don't just offer quality hosting products, but they also offer features and options well-suited to WordPress agencies or freelancers building client sites.
For each host, I'll try to highlight what makes them uniquely well-suited to agencies who are hosting client websites.
Let's dig in…
1. Flywheel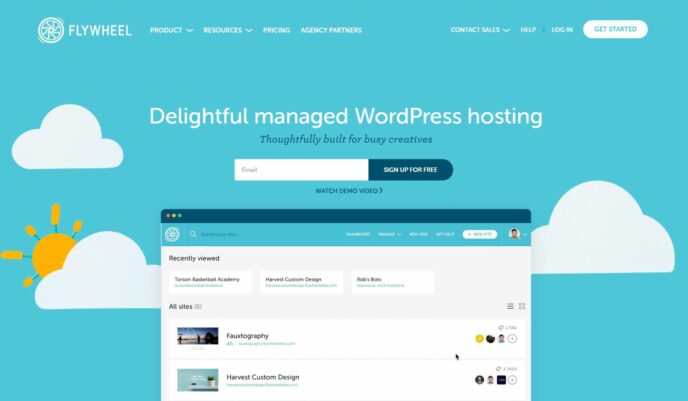 Flywheel are a popular managed WordPress host that made their name as a WordPress hosting solution for agencies and creative freelancers.
Since their launch, they've always marketed themselves more towards freelancers and agencies than individual WordPress users. More important than the marketing copy, they've also built a bunch of unique features designed to make agencies' lives easier, which I'll cover below.
In a nutshell, I don't think you'll find any other managed WordPress host that offers as many agency-specific features as Flywheel, which is why Flywheel are taking the first spot on this list.
But before I get to the features, I want to share a quick note:
Flywheel were acquired by WP Engine in 2019. Since that acquisition, their
[…]
This article was written by Colin Newcomer and originally published on WinningWP.