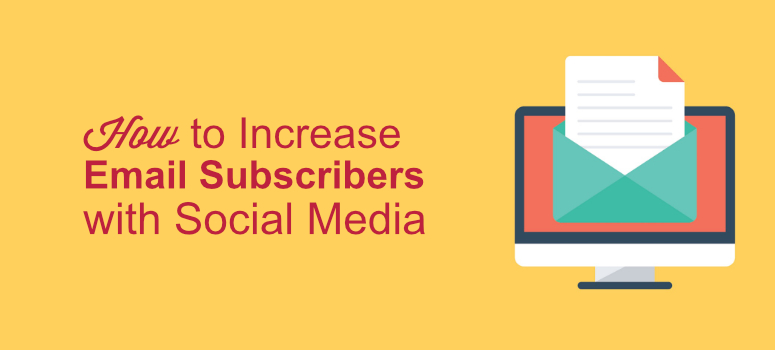 Want some quick and easy ways to increase your email subscribers using social media?
Social media is one of the most amazing platforms to attract visitors and convert them into followers and subscribers. If you still haven't used social media as part of your list building strategy, you're seriously missing out on a lot.
This article shows you a solid list of ways to grow your email list using your social media profiles.
Social Media vs. Email List – Which One is Best?
There's no denial about the fact that social platforms are way more engaging and interactive than any other platform available. But no matter how powerful these platforms appear to be, nothing can beat the power of your email list. There are several reasons for that.
Better ROI
Email marketing is extremely cost-effective. For every $1 spent, email marketing generates $38 in return. This is not the case with social media. More than half of the marketers who use social media as part of their marketing strategy believe that no matter how much you spend on your marketing efforts in these platforms, the return is almost next to nothing.
Ownership
You and only you own your email list. On social media, on the other hand, all your contacts might just disappear if there's a change in policy. Besides, these platforms reserve the right to delete or suspend your account without any prior notice.
The good news is that you can build a really powerful and long email list by using social media platforms. But to do that you will essentially require 3 things:
A website or a blog
An email marketing software
A lead generation software
If you haven't started a blog or a website yet, here's how you can do it. For email marketing software, we recommend setting up Constant Contact.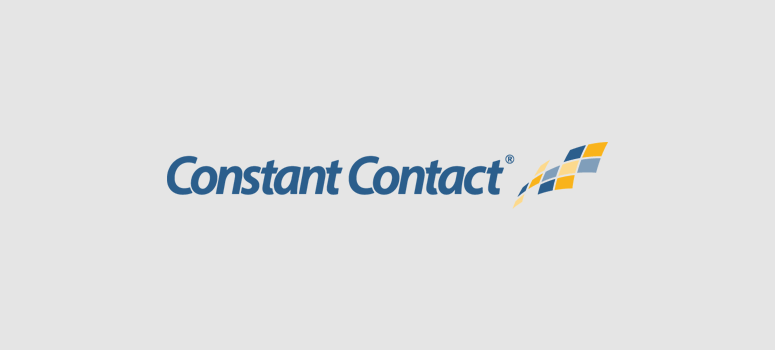 It's one of the most popular email marketing services perfect for beginners. If you want more options check out our list of the best email marketing services here.
Once you have set up a website and integrated an email marketing software with it, its time to connect your site with a lead generation software. The best option for that is OptinMonster.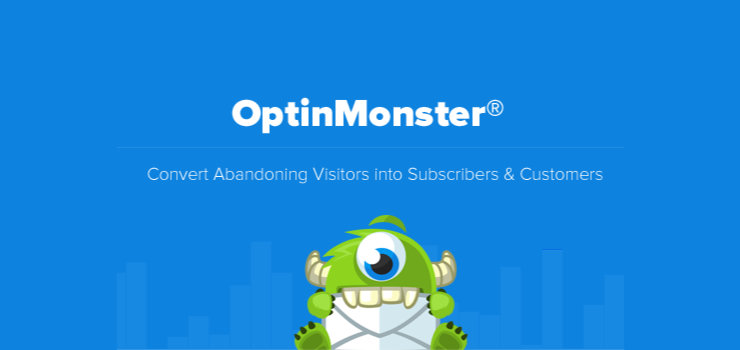 OptinMonster's a user-friendly lead generation software that lets you create different kinds of popups for your website to convert your visitors into leads. Here's how you can use OptinMonster to boost your sales.
Now that everything is set up, let's check out how to use social media to grow your email list.
1. Use Facebook Ads to Promote Your List With Special Offers
Generally, users don't prefer sharing their email addresses unless you offer them something of value in exchange. This exchange acts as an incentive that you offer to potential clients in exchange for their email addresses.
In marketing terms, they are known as lead magnets. They usually are in the form of digital downloads. It can be a PDF, an eBook, whitepaper, videos, or anything similar.
The trick here is to reach out to a targeted audience who are willing to respond to your lead magnet. This increases the possibility of having a more solid and powerful list. To obtain the best results, you can create a landing page or blog post on your website that features your lead magnet using OptinMonster.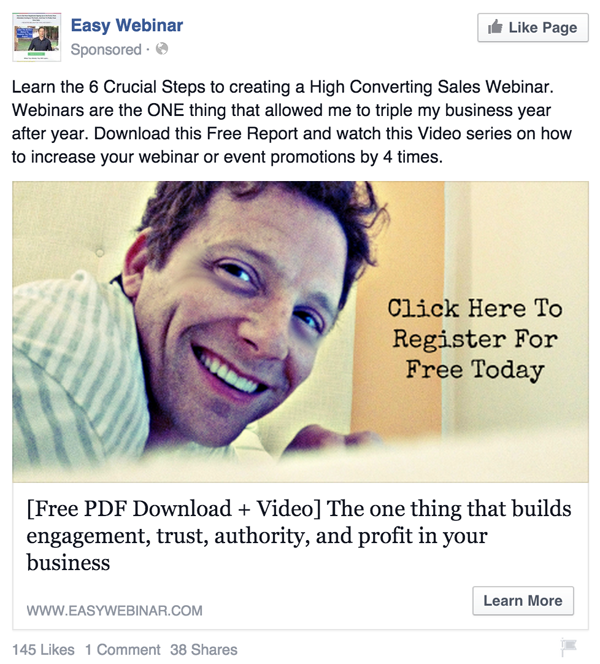 Once done create an ad on Facebook and display your offer. Link your ad to the landing page that you created. So when users will click on the ad, they'll automatically be directed to your landing page where they can download the file by submitting their email address.
2. Promote Gated Content Through Medium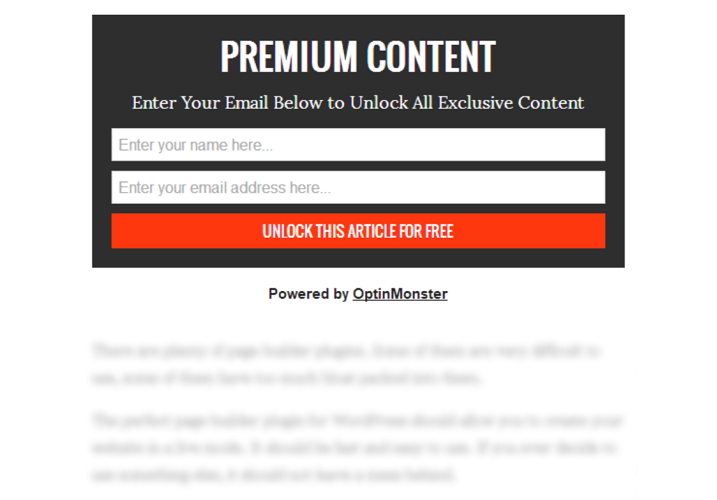 If you've used Medium before, you'll know that it's a writing platform where you can share your content. It's a great platform to use if you want to direct some of your followers to your own website.
Basically you publish just the introduction of your post on Medium and then leave a link to your website for users who want to read the entire post. Interested users will use the link to reach the source where the entire article is originally published.
You can then use a lead capturing form on your site asking your users to submit their email addresses if they want to gain access to the entire post.
3. Run Giveaways on Your Website
If you want your email list to grow at an exponential rate, try running a giveaway on your site. People love free stuff and knowing that you are running a giveaway, will definitely attract people right away. And they surely won't mind exchanging their email addresses for a free gift.

The best resource to help you run a successful giveaway is RafflePress. It's one of the most amazing products that let you run giveaways easily so that you can grow your traffic, increase your email list, and boost your conversion rates.
The best part is that RafflePress lets you share your blog post on your social media account. It automates word of mouth marketing by incentivizing users to share the content on social media and exchange their email address.
4. Add Cards to Your YouTube Channel
If you have a YouTube channel, you can add hyperlinked end cards to your videos. Here's an example of what it looks like.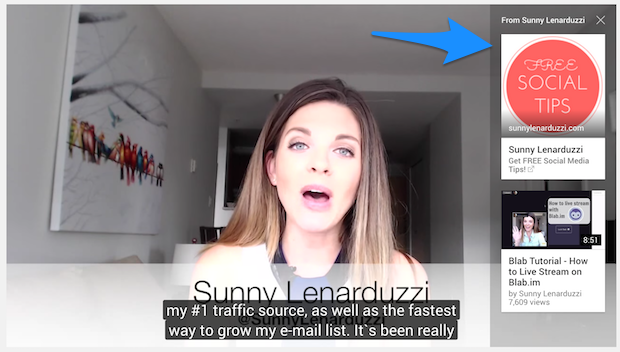 Your viewers will see an option to click on your promo item. By clicking on this link, they can be redirected to a new destination where they can submit their email address to subscribe to your email list.
5. Go Live on Instagram
If you have an Instagram account why not use it to get some more email addresses on your list. The best way to do that is to go live on Instagram. When you do that, your videos also appear on your stories and your followers can interact with you in real-time. But these stories disappear after 24 hours and are not available for visitors anymore.
This is Instagram's way of creating a sense of urgency for their videos. Wherever you go live, all your followers will be notified instantly and they can join in to see what you're broadcasting.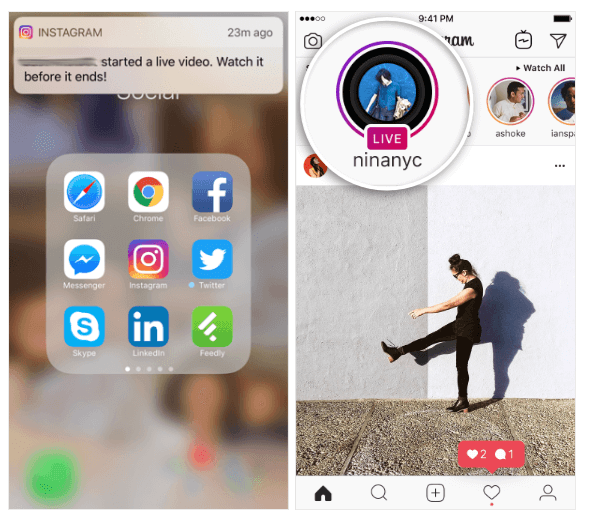 So you can use these stories for:
big announcements
social contests
Q&As
To use these stories to grow your email list, don't forget to include a call to action ("link in bio," anyone?), encouraging people to act immediately. You can then connect your CTA to a landing page where you can collect their email addresses.
6. Collaborate With Social Media Influencers
A social media influencer is someone who has established credibility on social media for their knowledge and expertise in a particular industry. They generally have a huge fan following (audience) and they can easily persuade others to take action based on their credibility and reach.
So, collaborate with social influencers and ask them to promote your business. While doing so you can ask them to add a link to your landing page that needs users to submit their email addresses.
7. Run Twitter Ads Campaign
Twitter is a great platform to build and grow your professional network. And if used properly it can be an amazing platform for generating leads as well.
Considering Twitter to supplement your organic efforts with some paid promotion can be a brilliant idea to grow your email list quickly. By creating Twitter ads, you can easily make your Tweets visible to users who don't follow you.
This is a very helpful way to promote your business if you're trying to generate leads for your freshly started business. To make it easy to share your content on Twitter, you can add click to tweet boxes in your WordPress posts and pages.
8. Optimize Your Twitter Bios
Create a lead generating bio on your twitter profile. A good bio can instantly attract people and take them from your Twitter profile right to your business website. But the question is, what makes a good twitter bio?
To create a strong Twitter bio, you need to:
introduce yourself
show some personality
include the right keywords
call followers to action
add links to your other accounts or websites
add strong hashtag
Learn more about optimizing your Twitter handle.
9. Use Facebook Retargeting/Remarketing Pixel
The Facebook retargeting pixel adds a cookie to your visitors' browser as they land on your site. When this user is on Facebook, you can target those users with a customized ad.
You can do that by installing Facebook Remarketing/Retargeting Pixel in your WordPress site. Once done you can start optimizing your Facebook ads to generate leads.
10. Pin your Lead Magnet on Twitter
Twitter offers the option to pin a tweet to your profile. By pinning your tweet, you let it stick to the top of your profile. So anyone who visits your profile will see that particular tweet first.
You can use your lead magnet for this purpose. Just tweet about it with a link to a landing page that requires your users to signup and then pin it to your profile. These pinned tweets have higher visibility, which ultimately grows your email list.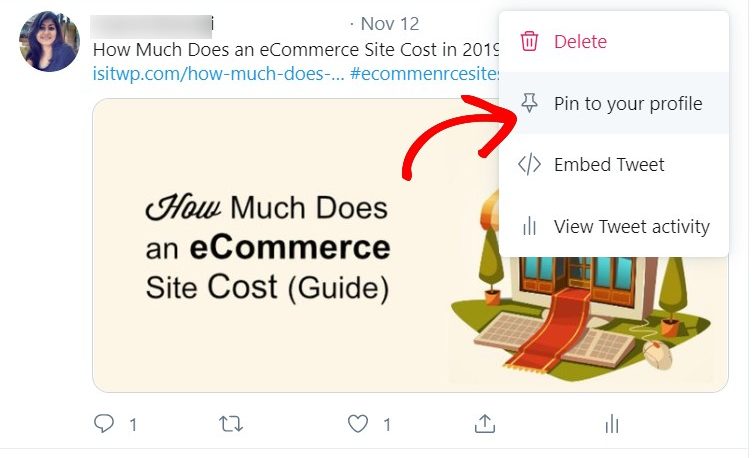 To pin your tweet you simply need to click on the 3 dots » more options » pin to profile under your tweet.
11. Visually Highlight Your Lead Magnet in Your Twitter Header
Although Twitter has a limited character policy, there's no limit to the number of words you use in the header image. Create a catchy header image to highlight your lead magnet and drive your visitors to take action on your site.
Also, add the URL to the landing page that has the optin form collecting email addresses. So whenever someone visits your profile, they will instantly notice your header and will probably put in some efforts to visit your site.
12. Host Facebook Live Shows
Just like your Instagram stories, Facebook also lets you post stories and interact with your viewers in real-time. You can host a show for your users and then pitch about your product that's going to be live soon. In the description box, leave a link to a landing page which can be a coming soon page. On the landing page, add a signup form where users can subscribe to the list.
So that's about using social media to grow your email subscribers. We hope this article was helpful to you. If it was, then you might also want to learn how to add social proof to your WordPress site.
Keep reading the article at IsItWP – Free WordPress Theme Detector. The article was originally written by Editorial Team on 2020-01-17 00:39:41.

The article was hand-picked and curated for you by the Editorial Team of WP Archives.