Today, we'll take a look at the 3CX Live Chat WordPress Plugin and go over all of the features and enhancements that make it stand out.
Whatever type of business you run, you will ultimately understand that one of the most crucial components of the consumer experience is customer service. As a result, customer service has undergone a significant transformation for the better.
As a result of continual thought, creativity, and iteration, innovation in the shape of a live chat option was born. Furthermore, allowing various enterprises to engage their audiences in real-time and improve the overall experience.
Slowly but steadily, the new approach of aiding clients became the new standard. Now, millions of websites use live chat WordPress plugins to provide the live chat feature on their WordPress sites, fulfilling two primary goals. Uplifting your branding and giving better customer support.
Furthermore, the audience became accustomed to chatting with the company via the internet on their website. They also began to favor live chat over other traditional ways of communicating with the company, such as email.
You could wonder why this happened. Live chat is convenient, quick, and efficient. Also, it can be done in real-time while recording the dialogue to assist with the inquiry after the chat session has concluded.
There are many WordPress live chat plugins available out there. And it is vital to point out that they offer reasonable prices and functionality, but 3CX Live Chat is the best so far.
What is 3CX Live Chat?
3CX Live Chat is a WordPress live chat solution that gives you a lot of control over building up your chat system. But it is also sophisticated support for phone calls and video chats if you need them. Also, these features put this plugin on a much higher level.
Key features:
All offline messages have their storage system
You can add surveys and polls to the chatbox
Easily save talks in a database
All players, including the admin, salespeople, and consumers, have a fundamental user interface
You can customize the chatbox
Create as many agents as you like to handle live chats and phone calls
Supported animations
Accepting and declining conversations
This blog post will teach you how to utilize this free live chat plugin. So you can start chatting with your customers in this hands-on 3CX Live Chat and boost up your web space experience.
Setup the Plugin
The ease with which you can install the 3CX plugin is dependent on how you plan to use it.
You first have to go to your WordPress dashboard > Plugins and search for "3CX Live Chat". After that, as usual, install and activate it.
Select Channel
The first thing you come across when you activate it is selecting a channel.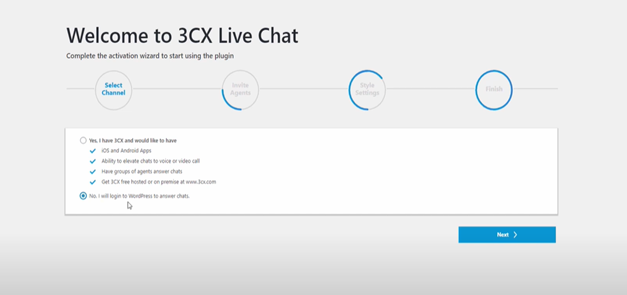 […]
This article was written by Sara Peksin and originally published on WP Pluginsify.