No matter what kind of business you own, excellent customer service is one of the essential things. If your customer is in any shape or form experiencing troubles with your product, and can't reach you directly, then you will have a problem. The customer experience will be terrible, and we all know that you do not want that. We all want to provide our users with excellent products and excellent support for them!
Thus, numerous types of support systems have been created throughout the years, but one that stands out the most is the live chat option. That option has made clients feel seen and heard in the exact moment, and the customer experience drastically changed. Nobody likes to write an email and wait for 2-3 business days to get a mail-back.
Now, millions of sites are using the live chat option to provide excellent support to their users. Which, in the end, gave them satisfied customers, new clients and uplifted their branding. The sites offering live support have put the bar so high that websites that don't have that are experiencing unsatisfied customers and angry emails.
People don't like the traditional way of communicating with companies, such as phone support or email.  And we all know why it is that. It is because live chat is quick, efficient, and is done in real-time, which is something everyone loves!
Moreover, we all wanted help the moment everything crumbled because being in limbo is frustrating and exhausting. Therefore, there are many plugins for WordPress that will give you the option to have a live chat, but one sticks out, and we are here to present it to you!
Without further ado, let's jump in and review the fantastic plugin by the name of 3CX Live Chat.
About 3CX Live Chat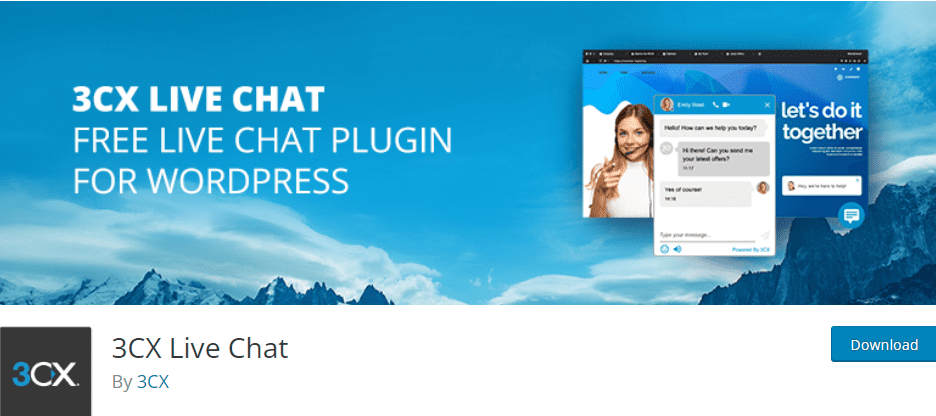 The handsome devil that will help you bring your customer support to the next level is the 3CX Live Chat. It is a WordPress plugin that allows you to have complete control over building your chat system. One of the fantastic things is that this plugin will allow you to support via phone calls and video chats.
So, if your customers want to describe the problem in the smallest detail live, they will have the option to video call or a regular call. This option is something that differents this plugin from the rest of their kind. However, it is no secret that it has many other vital features such as the offline messages having their storage system, you can add polls or surveys to the chatbox, and all talks are saved in a database.
It also gives a basic user interface to all its players, including salespeople, admins, and consumers, plus you can customize the chatbox however you want it to be. Besides, you can create as many agents as you want for handling phone calls or live chats. You can accept and decline conversations, and it supports animations.
Now,
[…]
This article was written by Asmir Karailo and originally published on WP Newsify.