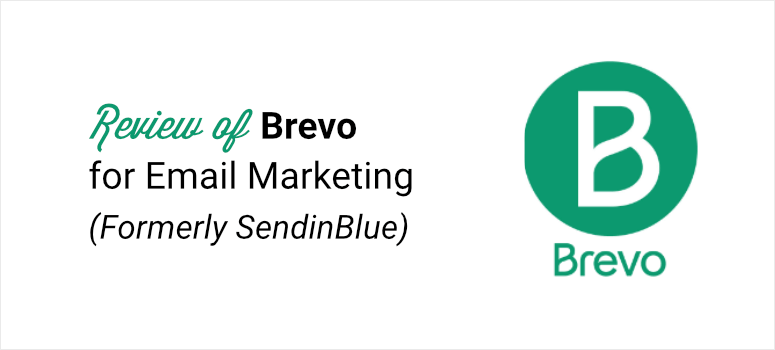 Are you wondering if Brevo, formerly Sendinblue, is the best free email marketing service? If you're just starting out building a website or a blog, you want an affordable email marketing service. So, you might be wondering if Brevo is a good choice for you.
In this Brevo review, we'll go over the features, pricing, and support to determine whether it offers everything you need to create awesome email marketing campaigns for your customers and subscribers.
Let's get started.

Brevo (Sendinblue) is one of the most popular email marketing and lead generation services available. It's built for small and medium businesses, and everything about its features, support, and pricing is designed with them in mind.
Because Brevo is designed for simplicity, even email marketing beginners can use this software to easily create amazing email marketing campaigns.
Like we mentioned, Brevo's pricing is great for small businesses and website owners who are just starting out, and it's what really sets them apart from their competition. They offer a totally free email marketing plan that's perfect for beginners looking to grow their businesses and save money.
Aside from email marketing, Brevo also offers SMS marketing. SMS credits are available to purchase separately, with no expiry date.
With Brevo, you can get amazing marketing email ideas from the templates, create and send personalized email campaigns, manage your contacts, make sure your emails reach inboxes with their deliverability test, get real-time statistics, and more.
Brevo Review: Best Features
Brevo offers a number of cool features to help you build powerful email marketing campaigns. We'll go over a few of the top features that you get when you sign up with Brevo.
1. Drag and Drop Email Designer
Brevo's drag and drop email designer makes it super easy for anyone, even beginners, to create beautiful email newsletters without having to know a thing about code.
You can choose to build your email with its drag and drop editor, rich text editor, or by copying and pasting your own HTML code. With its drag and drop editor, in just a few simple steps, you can create a great-looking email.
The Brevo email designer provides a predesigned email layout that you can start with. Simply drag and drop the email elements to rearrange them, or you can delete elements and add your own from the options on the left. You can match your emails to your brand easily by adding your own photos, logo, and text with the click of a button.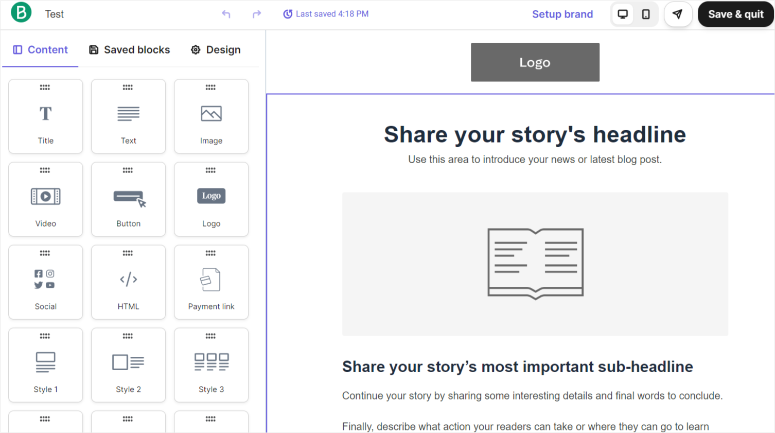 Brevo also offers a number of gorgeous templates to pick from that will help you build a stunning email even faster.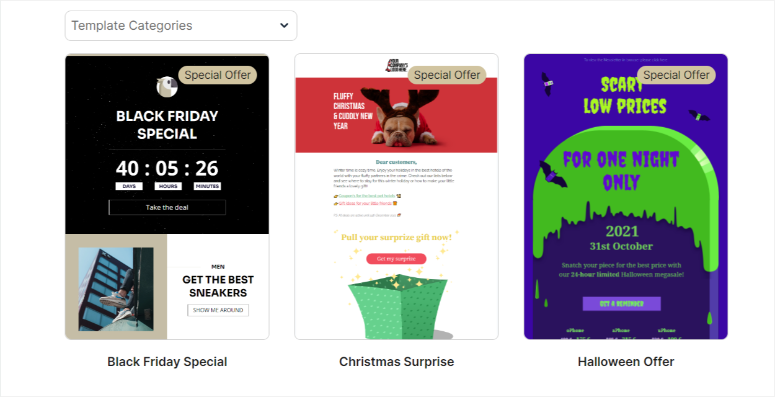 You can choose templates designed especially for email newsletters, contests, holidays, shipping deadlines, sales, and more.
2. Marketing Automation
With Brevo you also get access to some awesome WordPress email marketing automation features, even with a free account. Marketing automation helps you send smarter emails with little effort on your part.
Through Brevo's email marketing funnels, you can welcome new subscribers with a series of messages, retarget users who open or click specific emails, and more. You can even track specific actions on your website. For instance, if a user visits a certain page of your website, a targeted email can be automatically sent to them.
You can easily set up powerful marketing automation using Brevo. You can choose a premade automation like an Anniversary Date or Product Purchase, or you can create your own custom workflow depending on your needs.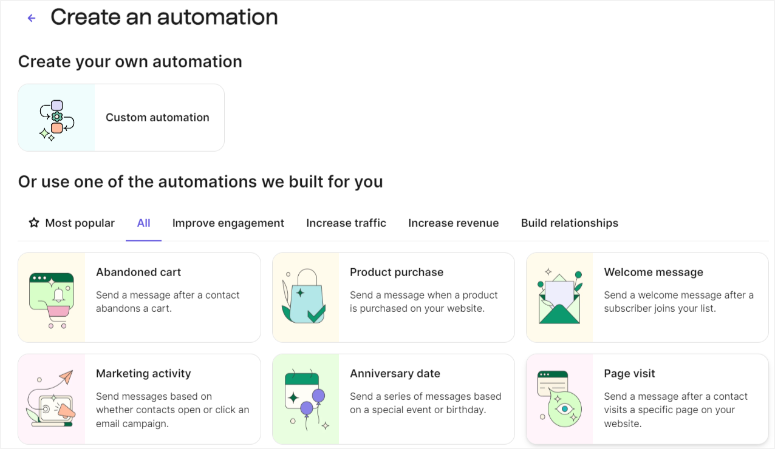 Creating a marketing automation workflow isn't difficult either. Brevo's user interface makes it super easy with its step-by-step process.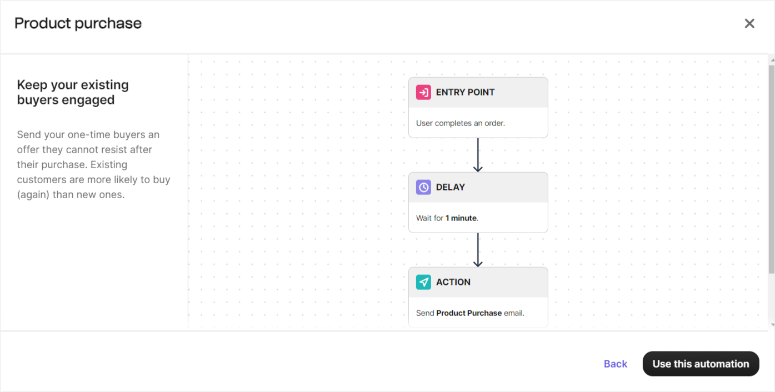 These email marketing funnels and automation features from Brevo can save you a ton of time, help you create more personalized messages that your subscribers will enjoy, and increase your conversions.
3. Transactional Email Features
Another exciting feature that Brevo offers is its transactional email features. With Brevo, you can easily create a number of different types of transactional emails for your website. For instance, anytime someone purchases a product, they can get an order confirmation email right away. And when their order ships, they can get an email informing them of that too.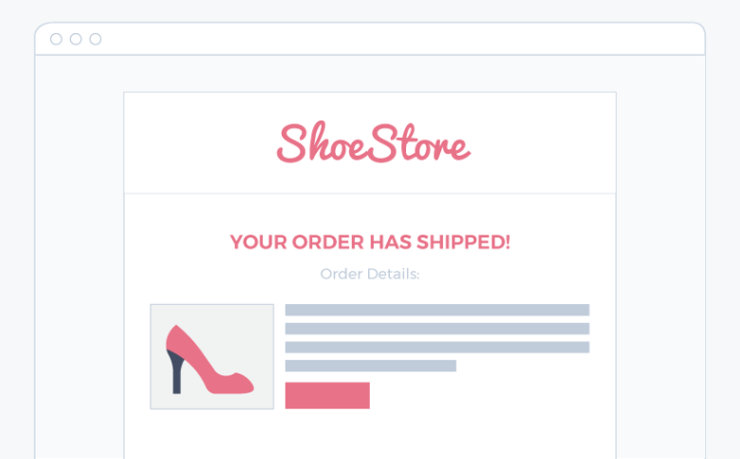 The ability to automatically send transactional emails will allow you to give your customers exactly what they need at the right time, which goes a long way toward building trust with your website.
Plus, transactional emails have a much higher open rate than any other type of email, making them key emails in your email marketing campaign.
These are just some of the top features that you get from Brevo. They also have great contact management features, contact segmentation, A/B testing, open and click-through reports, and much more. The features you have access to on a free plan are stacked when compared to other free email marketing services.
Pricing for Brevo
Brevo offers 4 different pricing plans. You can choose from the following plans: Free, Starter, Business, and BrevoPlus. They range in price from $0/month – to $65/month, the price for the BrevoPlus plan is custom and not specified, making it one of the cheapest email marketing tools.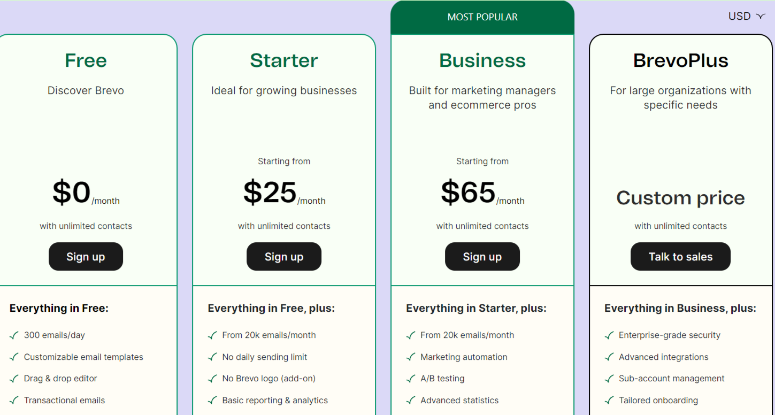 As we mentioned previously, the Free version of Brevo is pretty stacked with features, and you can store an unlimited number of contacts.
You don't even need to provide your credit card information to sign up for a free account either, unlike many other email marketing services. It's definitely a suitable plan for businesses and website owners who are just starting out building a website.
You are, however, limited to sending only 300 emails per day. But that's plenty for users who are new to email marketing. Plus, if you want no daily sending limit, you only have to upgrade to the Lite plan.
As your email marketing needs grow, you can easily upgrade your account depending on the number of emails you want to be able to send.
With the Free and Starter plan your emails will also include Brevo branding. If you want to remove the Brevo branding, you have to upgrade to the Bronze plan.
If you want to get access to the most powerful Brevo features such as send time optimization, landing page builder, and unlimited automation workflows, you need to opt for one of the more expensive plans like Premium or Enterprise.
Support for Brevo
When you sign up with Brevo, you get plenty of support. First, they offer email support with all plans. You get phone and chat support with the Free and Starter plan for the first 60 days, with the other 2 plans phone and chat support is unlimited.
They also offer a loaded Resources page with information to help you on issues like email and SMS marketing campaigns, transactional emails, and more.
Along with the Resources page, they also have a helpful blog and a tutorials section where you can find a ton of useful tips and tricks.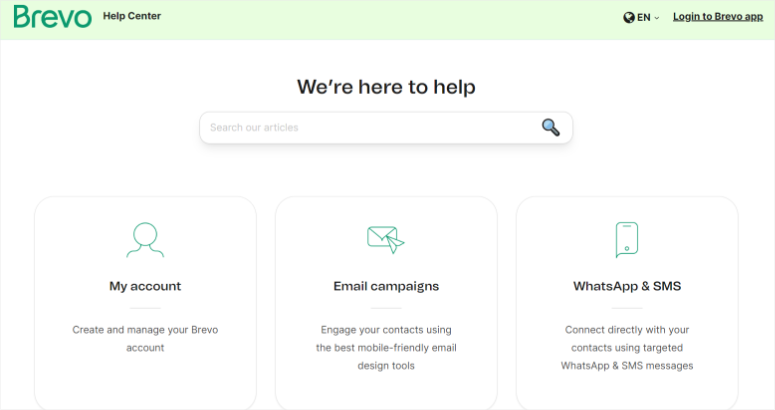 Brevo also has a convenient chatbot feature that will help guide you through building your first email campaigns.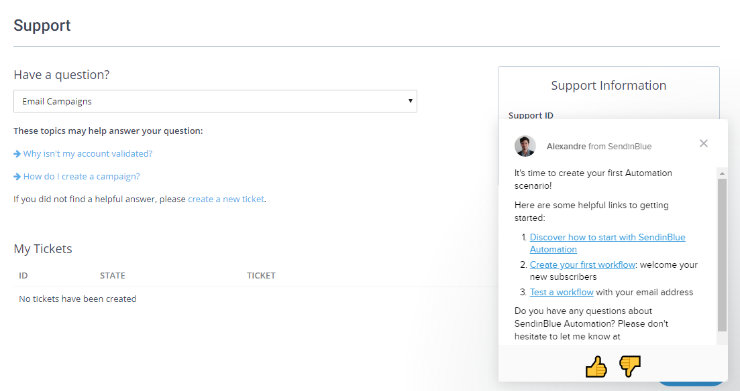 Plus, if you end up signing up for the most expensive plan, Enterprise, you get a dedicated account manager that can assist you in creating campaigns, analyzing campaign metrics, and more.
Grow Your Email List with Brevo + OptinMonster
Brevo also offers the ability to create forms to grow your email list and increase your leads.
Brevo has a basic popup form builder. You can customize the text and add your own photo, as well as other elements.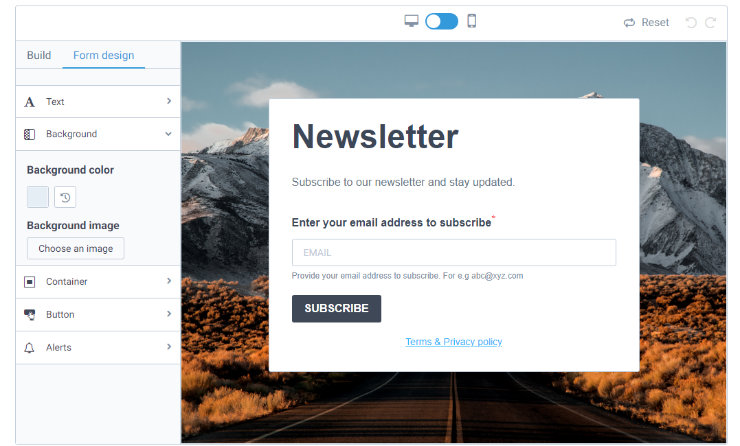 But if you really want to skyrocket your conversions, we recommend you use Brevo with OptinMonster.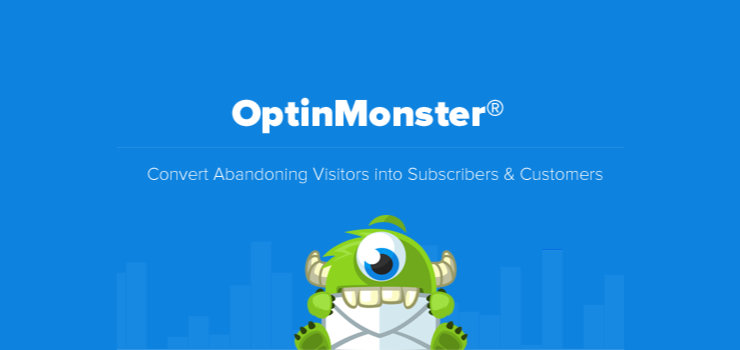 OptinMonster is a powerful and easy-to-use lead generation tool for your website that comes with a number of effective popup features that Brevo doesn't provide.
First, with OptinMonster you can choose from a number of different popup templates depending on your needs. This optin email marketing tool has templates specifically designed for abandoning checkouts, coupons, case studies, holidays, and more.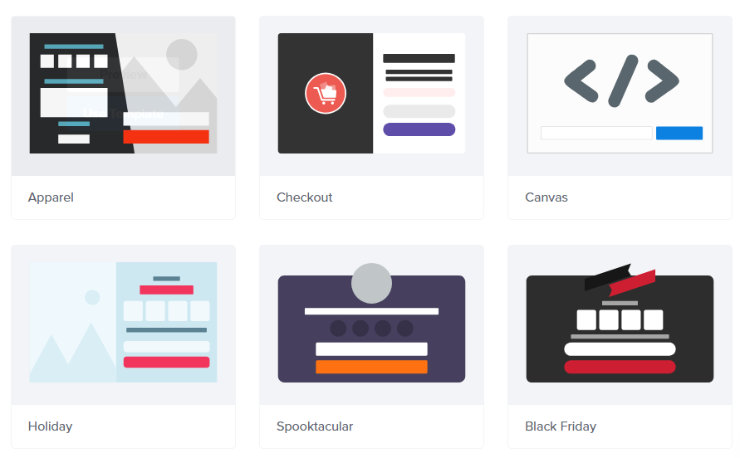 Plus, with OptinMonster optin campaigns, you have a number of options for how your popup will appear on your website including exit-intent.
Did you know that over 70% of website visitors who leave will never return? Exit-intent popups can stop those users in their tracks and get them to convert before you lose them for good.
Exit-intent popups track when a user is about to leave your site and send them a targeted popup at exactly the right time.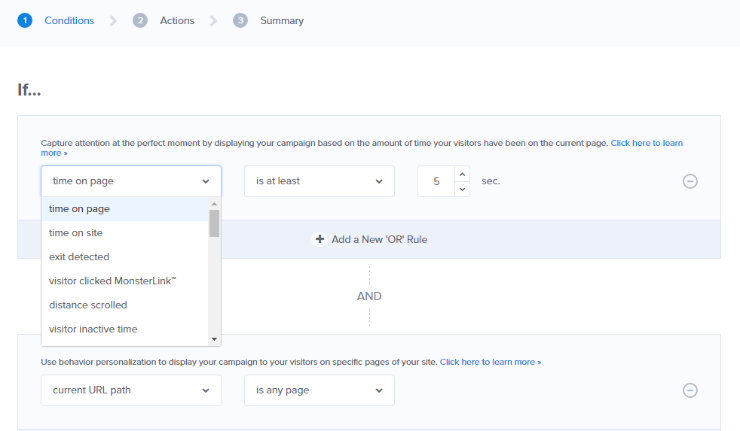 You can also choose from a number of other display rules such as the amount of time on a page or site, distance scrolled, visitor inactive time, and more. Using Brevo along with OptinMonster will allow you to get the most out of your lead generation efforts.
Check out our other post for detailed instructions on how to create a popup form in WordPress.
Our Verdict on Using Brevo for Email Marketing
Brevo is a great email marketing service for beginners.
A free Brevo plan will allow you to get started with email marketing and provide you with enough features to keep you going until your business starts to grow.
Plus, when you're ready, you can easily upgrade your account to get access to more advanced features.
You'll be a pro at email marketing in no time using Brevo, and you don't have to break the bank to do it.
We hope this article was helpful and that you now know if Brevo is the right option for you. You may also want to see alternatives here: 8 Best Email Marketing Services for Small Business.
Next, we answer commonly asked questions about Brevo.
FAQs on Brevo (Sendinblue)
How is Brevo different from Mailchimp's email marketing?
Brevo and Mailchimp both serve as email marketing platforms, but there are a few differences. Brevo is known for its affordability, making it a good choice for anyone seeking cost-effective email marketing solutions. On the other hand, Mailchimp offers more comprehensive features designed for experienced users and comes with higher prices.
Is Brevo (formerly Sendinblue) primarily a CRM or an email marketing tool?
Brevo, formerly known as Sendinblue, primarily functions as an email marketing tool with features for contact management and campaign creation. While it offers some CRM-like capabilities, it is not a full-fledged CRM system.
Was Sendinblue acquired by Brevo?
No, Sendinblue did not undergo acquisition by Brevo. Instead, it underwent a rebranding and is now operating under the name Brevo. Essentially, it remains the same service with a new identity.
Can Brevo be effectively used for B2B email marketing?
Yes! Brevo, formerly Sendinblue, is a versatile platform suitable for email marketing in both B2B and B2C contexts. It offers a range of features conducive to creating and managing email marketing campaigns for businesses targeting other businesses.
What are some alternatives to Brevo?
If you're exploring alternatives to Brevo, consider platforms such as Mailchimp, Constant Contact, and GetResponse. Each of these alternatives offers its unique features and pricing structures, allowing you to choose the one that best suits your email marketing needs.
If you enjoyed this post or still want to take a look at some other email marketing services, consider checking out our Constant Contact Review, AWeber Review, and MailPoet Review.
You may also be interested in these posts:
The first two articles will help you with outbound marketing tactics, i.e., emails and SMS marketing. At the same time, the last article will help you decide on the best SEO plugin, i.e., inbound marketing.
Keep reading the article at IsItWP – Free WordPress Theme Detector. The article was originally written by Editorial Team on 2023-10-04 07:15:19.

The article was hand-picked and curated for you by the Editorial Team of WP Archives.