Many people think that presenting your sports club on a pitch is the most important thing. But that's so wrong because of many reasons. The first reason for having a website for a sports club, besides performing well on the pitch, is to connect and bring your team, players, and fans together in one place.
Building and expanding your fan base is as important as building your team base. One of the goals is always to make a noticeable brand from your sports club and monetize it in the best way.
A website allows your fans to stay updated on all club information, player profiles, upcoming events and game details, a leaderboard, and other club-related information.
How to Find the Perfect WordPress Theme for Your Sports Club
While planning to purchase the best WP theme for your sports club, paying attention to these things is essential.
The theme should have an about page to introduce visitors to the club's history, background information, club owners, trophies, etc.
Besides the about page, there should also be a contact form or section that would display all the ways your fans and visitors can contact you to ask a question or leave some feedback.
To present the club's players, we recommend you to have a players listing page. On that page, visitors can have a complete detailed list of all the players. But also, information about their background and performance in the club.
You can also dedicate a page where you will list all the upcoming matches and a leaderboard. It can represent a chart that will show how many points your club has, including other teams' points.
You can include a slider or a gallery on the front page (landing page) to display images from the most recent club events or matches.
When it comes to monetization, having your brand is crucial. It would help if you considered creating merchandise that you can sell to generate new revenue for your club. You can sell it via WooCommerce, so if that's your plan, you should choose the theme that can integrate with WooCommerce.
Finally, the most challenging aspect is pricing. When choosing a theme for a sports club, one of the deciding factors should be the price.
The Best WordPress Themes For Your Sports Club
Finding a theme that suits your club the best can be a challenging task. For that reason, we have decided to save you the struggle and make a list of some of the best WordPress themes for a sports club.
Take a look and find one that you like the most.
Splash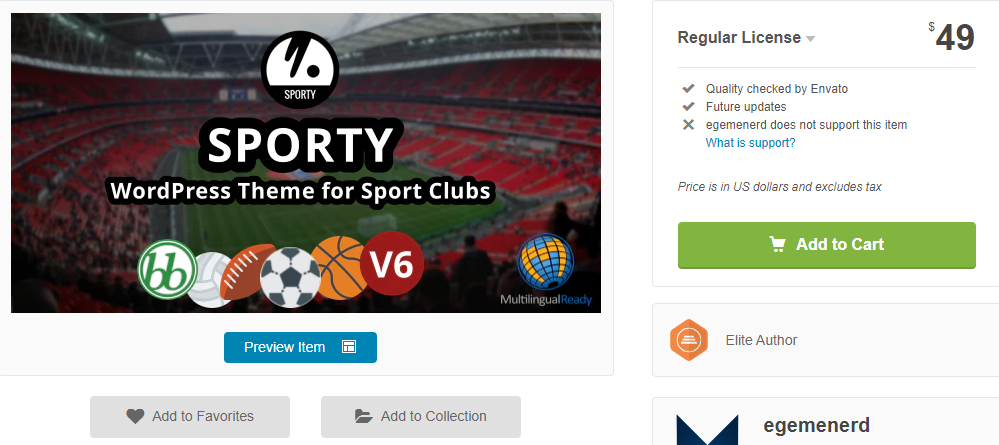 Splash comes with 13 fully designed templates, one for each sport. It has pretty much anything you need, and it can be easily customized for other sports, as well. There is a player profile page with photos, player stats, and additional information.
Also, there is a
[…]
This article was written by Salko Balic and originally published on WP Pluginsify.