Video Sliders are great for showcasing a collection of videos for a course, a recipe page, or tutorials. They are also a good candidate for showcasing premium content for members or subscribers to your site. For example, a visitor could land on a recipe page and only see instructions in text format only. However, once they become a registered user, they would see a video slider on that same page as premium content. In this tutorial, we're going to show you how easy it is to hide/show a video slider based on logged-in status with Divi. This allows you to give video content to logged-in users as a premium feature.
Let's dive in!
Sneak Peek
Here is a quick look at the design we'll build in this tutorial. Notice how the video slider is hidden from users until they log in using the login form.
Download the Layout for FREE
To lay your hands on the designs from this tutorial, you will first need to download it using the button below. To gain access to the download you will need to subscribe to our Divi Daily email list by using the form below. As a new subscriber, you will receive even more Divi goodness and a free Divi Layout pack every Monday! If you're already on the list, simply enter your email address below and click download. You will not be "resubscribed" or receive extra emails.
To import the section layout to your Divi Library, navigate to the Divi Library.
Click the Import button.
In the portability popup, select the import tab and choose the download file from your computer.
Then click the import button.
Once done, the section layout will be available in the Divi Builder.
Let's get to the tutorial, shall we?
Showing/Hiding a Video Slider Based on Logged In Status with Divi
Create a New Page with a Premade Layout
Let's get started with our tutorial by getting a new page up and running with one of our premade layouts.
Here's how to do it:
Create a new page and give it a title
Click to use the Divi Builder (on the front end)
Select to use a premade layout
Search for and select the dietitian recipe page layout.
To load the layout to the page, simply click the "Use this Layout" button.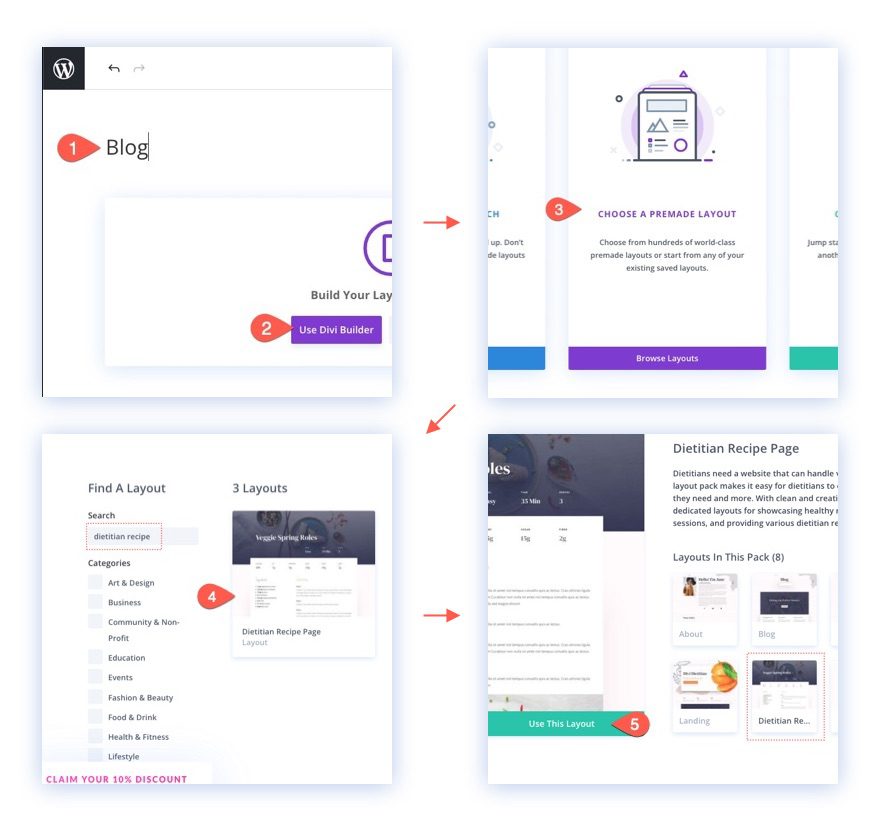 Once the layout has loaded to the page, you are ready to add the sticky video slider to the page.
Adding the Video Slider to the Page
On the recipe page, you will see a full-width video in a row just under the row with the ingredients and instructions. We are going to replace the video with a video slider module.
[…]
This article was written by Jason Champagne and originally published on Elegant Themes Blog.