Running a business is a lot of work. There are thousands of things to keep track of, more if you're managing a team of employees, too. Project management software makes it easier, but there are dozens of options to choose from, and finding the right one can be difficult. This guide to Trello vs Todoist aims to make the decision easier for you.
To accomplish this, we'll explore both programs and evaluate them in four categories:
At the end of this article, I'll share my thoughts on the best purpose for each program.
But first, let's take a quick look at the basic premise of each tool:
Trello vs Todoist: an introduction
Trello
Trello is a visual project management tool that uses a pinboard-style display to organize tasks. Cards, the digital equivalent of sticky notes, are used to display and describe individual tasks, which can then be moved from one area to another using drag-and-drop functionality.
Trello also offers some impressive automation options, including both pre-made automations and the ability to create your own automation rules, all of which are included on the free plan (note that there is a limit to the number of automations free users can set up). This is a nice bonus that you won't get with every project management software, and, moreover, when it is offered, it's usually not on the free plan.
Todoist
Todoist is a list-style planning tool designed to help with every aspect of your life. You can create tasks, assign them to various projects, and set deadlines for them. You can also set priority levels for tasks, making it easier to sort out what you should do first when starting your day.
Todoist also has a Goals system where you can create productivity goals and have the app track your progress. Meeting these goals earns you "Karma," and you can watch your Karma level increase over time. This is a great way to gamify progress when you're working on a difficult project.
Trello vs Todoist: features
Now that you've got an idea of what each tool does, it's time to take a closer look at the features they offer. Specifically, we're going to take a look at the features associated with the free plan for each tool. If you want to know more about the premium plans, you can head to the pricing section of this article.
Trello
Up to 10 boards
Unlimited users on a workspace/individual boards
Unlimited task cards
Unlimited storage (10MB/file)
Unlimited Power Ups (add-ons)
Unlimited activity log
250 Workspace automated commands per month
Two-factor authentication
iOS and Android apps
Customizable background & colors
Todoist
Up to 5 active projects
Up to 5 users on each project
File uploads of up to 5MB/file
Priority levels
Calendar view
Productivity tracking
iOS and Android apps
? The winner
Trello is the clear winner here. Trello's free plan offers some automation, and there are several proprietary Power Ups that can make Trello more powerful. I also like being able to customize the appearance of the workspace, although that's a relatively minor feature.
Trello vs Todoist: the interface
Trello
To start using Trello, you need to set up a Workspace. Think of this as a company hub where you can view all of your projects. You can also invite team members to join your Workspace here. Note that adding team members to a free Workspace gives all of those members the ability to add new members and change existing members' permissions. If you want to let team members view the Workspace without this ability, you'll need to upgrade to one of the paid plans.
You can also edit various settings of your Workspace, including whether or not the Workspace is publicly viewable, and connect your Workspace to a company Slack here.
If you sign up for the Premium plan, you'll also be able to access Workspace tables, which lets you view tasks from multiple Boards in one place.
Trello Boards
Each Trello Workspace is divided into Boards. These are visual displays with columns for different task lists. You can customize the names of the columns to suit your purposes. For example, if you're creating a Trello Board for a multi-author blog, you might create a separate column for each writer you work with. You could also use each column to list blog posts at a certain part of the publishing process, such as "In Drafting," "Scheduled," etc.

When your columns are set up, you can start adding tasks in the form of cards. You start by adding just the title, then click on the title to see the full card view and add more details, including assigning teammates and setting a due date. You can also add a checklist for larger tasks. If you opt for a paid plan, you'll also get the ability to add custom fields, like target word counts for articles.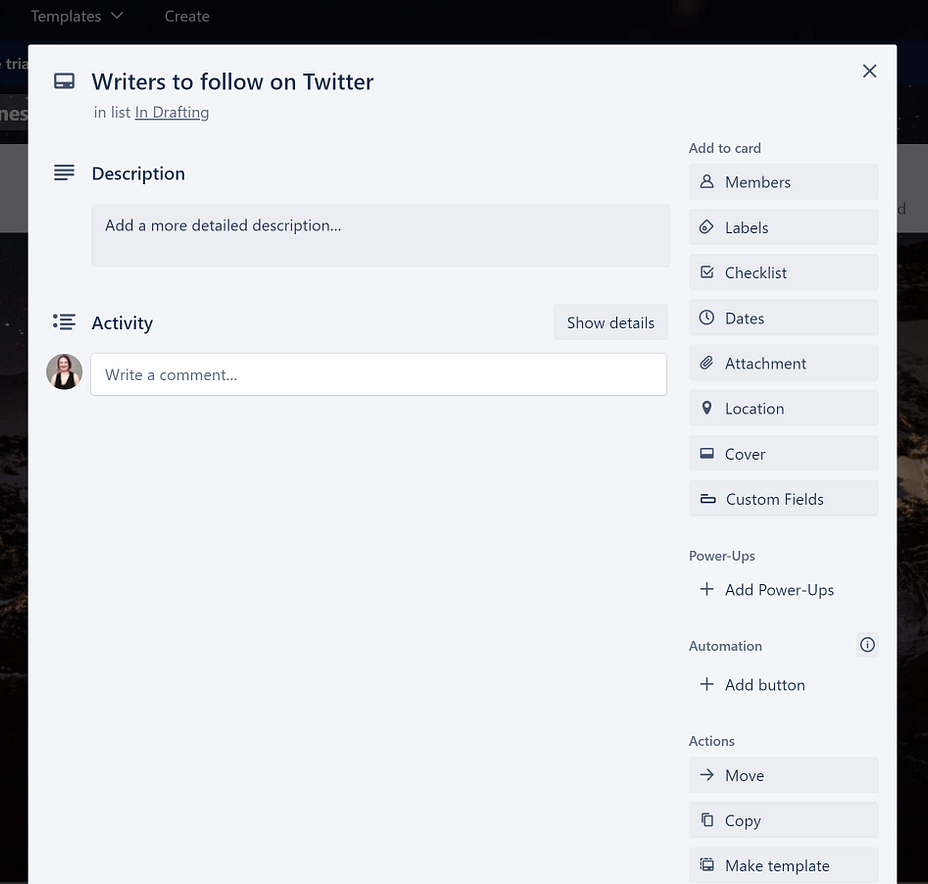 Automation
The final aspect of Trello that I wanted to look at for my analysis of Trello vs Todoist is the automation options.
The main way to automate your Trello Workspace is by creating "Rules." These rules dictate what happens when people take a specific action. For example, if you're running a blog and a card in the "In Editing" area is marked as complete, you might have it automatically moved to a "Ready to Schedule" column.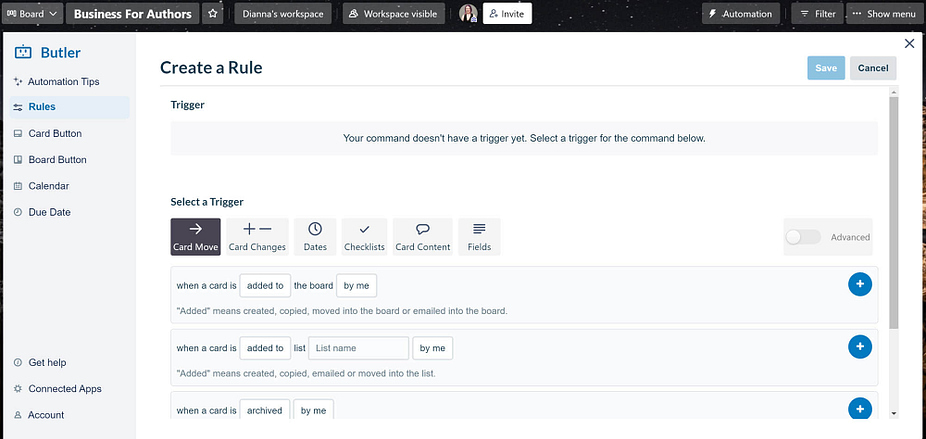 As a free user, you can automate up to 250 actions per month. If you want to set up more extensive automation, you'll need to spring for one of the paid plans.
Todoist
Now that we've looked at the Trello interface, it's time to look at the Todoist interface.
The first thing you see when you open Todoist is your to-do list for today. You can add tasks to the list by clicking the "+Add Tasks" link, which opens a text box at the bottom of the page. This area also lets you set a due date for the task and a priority level. Tasks will then be listed in order of priority.

One thing I really like about Todoist is the ability to set recurring tasks. You can do this by typing in a frequency, such as "every two days," or recurring time like "Mondays at 8AM" into the task name area. When the task is completed, the due date will reset, automatically placing that task on the appropriate day. Note that you can only see one instance of a recurring task at a time.
The other thing to note about due dates in Todoist is that they're really "To-do" dates. If you set a future due date for a task, that task will automatically be moved to the list for that day. This makes it essential to break down projects into their smallest parts, so you can work on them consistently.
You can view future to-do lists at any time by going to the "Upcoming" area. You can also move tasks to new dates here.

Projects
Anything that requires you to complete more than one task can be turned into a Project. These are essentially folders where you can create and manage related tasks, but they also provide some interesting features you can't use with regular tasks:
Sharing with up to five people per project on the free plan (more on paid plans; see the Pricing section of this article).
Subtasks allowing you to break up one to-do item into smaller tasks.
Comments so people involved in a task can discuss it.
These functions are helpful for organizing more complex projects and collaborating with other members of your team.
? The winner
The winner in this category really depends on what you want to do. Trello is slightly more complex and feels more like a business management tool, with a variety of collaboration options and automation tools. Todoist is more streamlined, but it feels more like a personal task management tool – with a homepage devoted to your personal to-do list and collaboration options limited to Projects.
Trello vs Todoist: Add-ons and integrations
Trello
Trello offers dozens of Power Ups that can expand the functionality of your boards and cards. These can be used to add things like Pomodoro set tracking, advanced file management tools, and more collaboration tools to your existing boards. They can also be used to connect your Trello Boards to popular tools like Google Drive, HelpScout, and Zapier. You can use as many Power Ups as you want, regardless of the plan you're on.
Note that all Power Ups are available for users on all plans, but some third-party Power Ups may charge a separate subscription fee.
Todoist
Todoist has a smaller range of integrations, but it does connect to a variety of time tracking tools and communication tools. You can also connect it to Zapier for automation options.
? The winner
Trello is the clear winner here. It connects to a much wider range of tools, including tools for sales and customer relationship management, and the Power Ups are also remarkably easy to add to your Boards.
One interesting thing to note here is that you can also integrate Todoist with Trello. This lets you use Trello as your business management tool and Todoist as your personal to-do list.
Trello vs Todoist: pricing
Trello
There are four Trello plans:
Free. This is the plan I covered in the features area of the article. You'll get the ability to invite unlimited users to your Workspace, up to 10 boards, 250 automations/month, assignee and due dates, unlimited storage, and access to the iOS and Android apps.
Standard. Available for $5 per user per month, billed annually ($6/month if billed monthly). Includes everything in the Free plan + unlimited boards, advanced checklists, custom fields, 1,000 automations/month, single-board guests, and saved searches.
Premium. Available for $10 per user per month, billed annually ($12.50/month if billed monthly). Includes everything in the Standard plan + dashboard view, timeline view, calendar view, Workspace calendar view, unlimited automations, Workspace-level templates, and a variety of administrative and security features.
Enterprise. This pricing plan works on a sliding scale, with the cost per individual user decreasing as the number of users goes up. It starts at $17.50 per user per month, billed annually (no monthly version available). You'll get everything from the Premium plan + unlimited Workspaces, organization-wide boards, organization-wide permissions, multi-board guests, public board management, attachment permissions, Power Ups administration, and free SSO and user processing.
Note that all Workspace members and Multi-board guests count toward the billing cost, but you won't be charged for single-board guests.
Todoist
Todoist offers three pricing plans:
Free. This is the plan I looked at in the features section of this article. You'll get access to the core functionality of Todoist, five projects, five collaborators per project, 5MB file uploads, three filters, and one-week activity history.
Pro. Available for $3/month, billed annually ($4/month when billed monthly). You'll get everything in the Free plan + up to 300 active projects, 25 collaborators per project, 100MB file uploads, 150 filters, reminders, unlimited activity history, themes, and auto-backups.
Business. Available for $5 per user per month, billed annually ($6/month when billed monthly). You'll get everything in the Pro plan + 500 active projects per user, 50 people per project, team inbox, team billing, admin & member roles, and priority support.
You can see full details on the Todoist pricing page.
? The winner
At first glance, Todoist seems like the clear winner, and if you're talking purely about cost, then Todoist plans are more affordable. However, when you consider the range of features offered by Trello, the reason for the higher costs becomes apparent: Trello simply does more, and it connects with more business-oriented tools.
Trello vs Todoist: the verdict
Trello and Todoist are both excellent tools, with some overlap in features. In the end, the best project management tool for you depends on what you're trying to achieve:
If you want to manage complex collaborative projects or integrate your project management tool with other business tools, Trello is the best option for you.
If you're looking for a personal task management solution or you're planning simple collaborative projects, Todoist is the better option.
? In some instances you might even want to use both tools. For example, you may want to track group projects and assign tasks to team members in Trello, then use Todoist to import the tasks you've assigned to yourself into your upcoming to-do lists.
What do you think of these tools? Which is the better option for you personally, Trello or Todoist?
Free guide
5 Essential Tips to Speed Up
Your WordPress Site
Reduce your loading time by even 50-80%
just by following simple tips.
Keep reading the article at ThemeIsle Blog. The article was originally written by Dianna Gunn on 2022-03-18 05:33:42.

The article was hand-picked and curated for you by the Editorial Team of WP Archives.