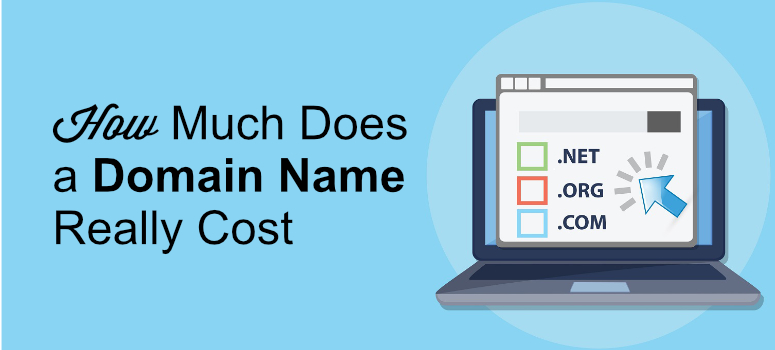 Looking to register a domain name but not sure how much it costs?
A domain name is the address of your website on the internet, like Google.com, IsItWP.com. If you've ever tried registering a domain name, you must have noticed the wide variation in its pricing.
Why domain names cost varies? How much does a .com domain cost? What is the best domain name extension?
To shed some light on these questions, let's take a deeper look at different domain names and their pricing.
Types of Domain Names
There are a few different types of domain name extensions, such as .com, .org, .net, .tv, .info, .io, and so on. The most popular one amongst them is the .com extension. Depending on which extension you choose, your domain name will fall under one of the following categories.
Top Level Domain (TLD): Top-level domain names are listed at the highest level in terms of DNS or domain name structure. There are hundreds of TLDs, but most popular ones are .com, .org, and .net.
Country Code Top Level Domain (ccTLD): These are country specific domain names that end with the country code extension. For example, .in for India, .uk for the United Kingdom, etc.
Sponsored Top Level Domain (sTLD): sTLDs are specialized domain extensions that have a sponsor behind them that represents a specific community that the domain will serve. Examples of such domain names are .gov for government organizations, .edu for educational organizations etc.
The Best Place to Buy Domain Names
You can buy a domain name through a domain name registrar. A domain name registrar is a service you can use to register a business name for your online representation. There're hundreds of domain providers in the world with different prices and features.
Check out some of the best domain name registrars:
For more details, check out our complete list of popular domain name registrars.
Factors Affecting the Cost of a Domain Name
Ideally, a domain name can cost you anywhere between $9 to $14.99 per year.
But if you want to register a premium domain name, that might cost you even more. Premium domains are pre-registered domain names that are short, brandable and easy to remember. Domain name investors buy these domain names for a low price only for reselling them at a much higher price than what they paid.
The prices will also vary depending on several other important factors like:
Domain extension: Depending on your domain extension, your domain price may vary widely.
Domain registrar you choose: Different domain registrars will offer different domain pricing. For
[…]
This article was written by Editorial Team and originally published on IsItWP – Free WordPress Theme Detector.