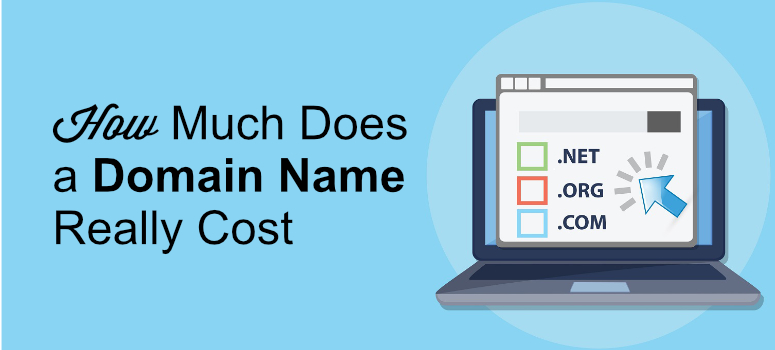 Looking to register a domain name but not sure how much it costs?
A domain name is the address of your website on the internet, like Google.com, IsItWP.com. If you've ever tried registering a domain name, you must have noticed the wide variation in its pricing.
Why domain names cost varies? How much does a .com domain cost? What is the best domain name extension?
To shed some light on these questions, let's take a deeper look at different domain names and their pricing.
Types of Domain Names
There are a few different types of domain name extensions, such as .com, .org, .net, .tv, .info, .io, and so on. The most popular one amongst them is the .com extension. Depending on which extension you choose, your domain name will fall under one of the following categories.
Top Level Domain (TLD): Top-level domain names are listed at the highest level in terms of DNS or domain name structure. There are hundreds of TLDs, but most popular ones are .com, .org, and .net.
Country Code Top Level Domain (ccTLD): These are country specific domain names that end with the country code extension. For example, .in for India, .uk for the United Kingdom, etc.
Sponsored Top Level Domain (sTLD): sTLDs are specialized domain extensions that have a sponsor behind them that represents a specific community that the domain will serve. Examples of such domain names are .gov for government organizations, .edu for educational organizations etc.
The Best Place to Buy Domain Names
You can buy a domain name through a domain name registrar. A domain name registrar is a service you can use to register a business name for your online representation. There're hundreds of domain providers in the world with different prices and features.
Check out some of the best domain name registrars:
For more details, check out our complete list of popular domain name registrars.
Factors Affecting the Cost of a Domain Name
Ideally, a domain name can cost you anywhere between $9 to $14.99 per year.
But if you want to register a premium domain name, that might cost you even more. Premium domains are pre-registered domain names that are short, brandable and easy to remember. Domain name investors buy these domain names for a low price only for reselling them at a much higher price than what they paid.
The prices will also vary depending on several other important factors like:
Domain extension: Depending on your domain extension, your domain price may vary widely.
Domain registrar you choose: Different domain registrars will offer different domain pricing. For example, the starting price of a .org domain is $8.99/year if you buy it from Bluehost while it's $9.99 if you buy it from GoDaddy.
Availability: If your domain name is available, you might get it at a lesser price. But if it's not then you'll have to negotiate with its owner.
While there are a few different factors that affect the domain name cost, generally speaking, you can purchase a top level domain by paying anything between $8.99 – $14.99.
Hidden Cost for Domain Names
Don't be fooled by the low domain name registration price offered by domain registrars because you might end up paying more down the line. Let's take a look at some of the hidden costs of domain names.
1. Yearly Renewals
Once you purchase a domain name, you have to renew it on a yearly basis. Most registrars only offer a discount for the first year when you register a domain name. You'll have to pay a much higher price when you review your domain names.
2. Domain Privacy
Many domain registrars and hosting providers sell an addon called Domain privacy to secure your contact details. While it's not mandatory to purchase the domain privacy addon, it protects your contact details, which in turn reduces the number of spam emails you receive.
3. Business Emails
Domain registrars also sell an addon called Business emails. You can skip this addon because most hosting companies offer at least one free business email address with its hosting plan. For more details, check out the best email hosting providers.
Cost of an Expired Domain Name
Expired domain names are domains that were previously owned by someone but got expired because the registration was not renewed by the owner.
When a domain name's registration expires, it goes back to the registry. But before a domain name expires, registrars used to sell the domain name through an auction, so interested buyers can bid for it and own it.
GoDaddy Auction is the best place to buy expired domain names.
The cost of an expired domain name will vary based on its bids.
How to Waive Off the Domain Name Cost? (100% Free Domains!)
It's real! You can completely waive off the domain name registration cost. Want to know how?
Some hosting companies offer free domain names if you host your website with them. No additional cost!
When you register a domain name, you'll also need to choose a hosting company to host your domain. So why not opt for one that offers a free domain with its hosting plan
Popular Hosting Companies that Offer Free Domain Names
1. Bluehost

Bluehost is a popular hosting service that offers a free domain name. This option is available with all its cheap hosting plans.
Once you select your hosting plan, it will take you to a new screen where you can either look for a new domain or use your own existing domain name.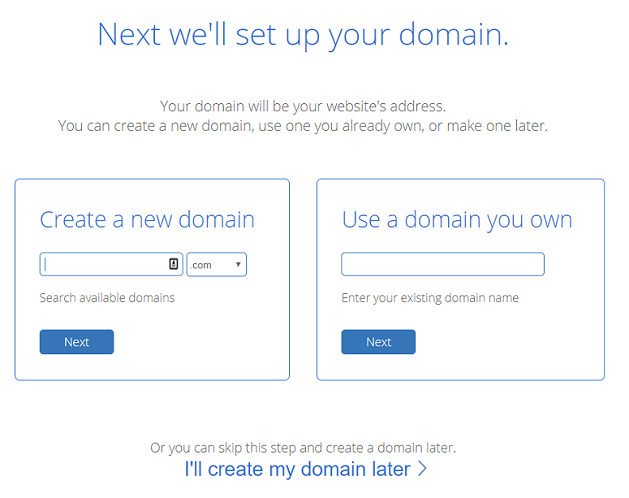 Check out our Bluehost review.
2. HostGator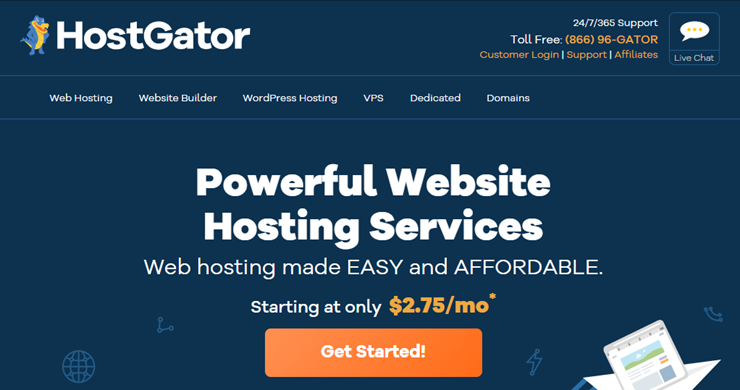 HostGator is another web hosting service provider that offers free domain name if you select its annual plans. Just like Bluehost, you can look for a new name or use your own domain after you choose your hosting plan.
If you want to look for a new domain use the Register a New Domain tab. For using your own domain, you can use the I Already Own this Domaintab after entering your domain name in the given field.

Check out HostGator review.
3. GreenGeeks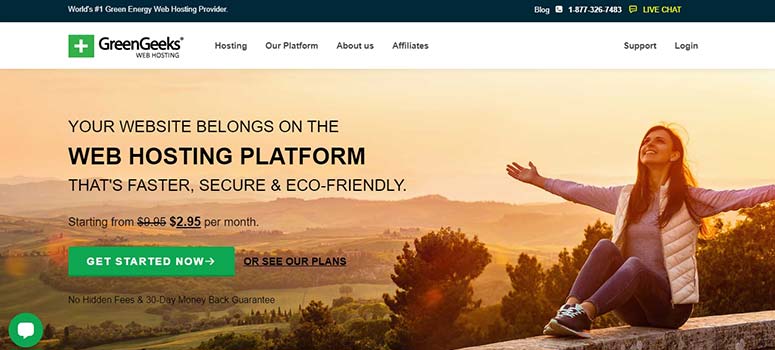 GreenGeeks is another hosting company that offers a free domain name with its hosting plans.
You can look for a new domain if you don't have one or use an existing domain name after selecting your plan.
Unlike other hosting companies listed here, GreenGeeks is the #1 green hosting company that has a commitment to reduce carbon footprint.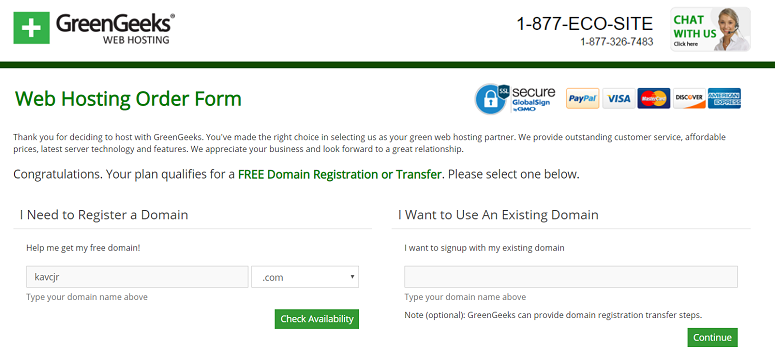 Check out GreenGeeks review.
Frequently Asked Questions About Domain Names
Q1. What's the Best Domain Registrar?
Domain.com is the best domain registrar that lets you register a domain name for as low as $2.99 per year.
Q2. Can domain names be bought permanently?
No, you can't buy a domain name permanently. You'll have to review your domain name registrations every year. But you can pay your annual renewal fee in advance for up to 10 years.
Q3. Is it mandatory to have a domain name and a web hosting to build a website?
Yes, to build a website, you'll need both – a domain name and web hosting.
That's it. We hope you find this article helpful. If you like this post, you might also like our article on how to choose a domain name.
Keep reading the article at IsItWP – Free WordPress Theme Detector. The article was originally written by Editorial Team on 2020-02-25 13:15:46.

The article was hand-picked and curated for you by the Editorial Team of WP Archives.