Considering using MainWP to manage your WordPress sites? In our hands-on MainWP review, we'll help you decide if it's the right tool for your needs.
If you have a lot of WordPress sites, logging into all of those separate dashboards to keep up with day-to-day tasks and general maintenance can be a huge pain.
MainWP helps you manage everything from one central dashboard – and you can do it while still keeping everything self-hosted.
To help you decide if MainWP is right for you, I went hands-on with the plugin. Below, I'm going to cover seven areas in this review:
MainWP Review: A Look at the Features
To kick off our MainWP review, let's take a hands-on look at some of the most notable features.
If you're reading a review of MainWP, you probably already have at least a basic understanding of what it does.
If not, the basic idea is that MainWP gives you one unified dashboard where you can manage all of your websites including their updates, plugins/themes, content, comments, users, backups, security, uptime, and so on.
As I dig into some of the biggest features, you should get a pretty good understanding of what MainWP does.
One Dashboard to Rule Them All
With MainWP, you'll get one unified dashboard where you can see a bird's eye view of all your connected sites.
The main dashboard gives you a high-level look at what's happening when it comes to updates and recently published content: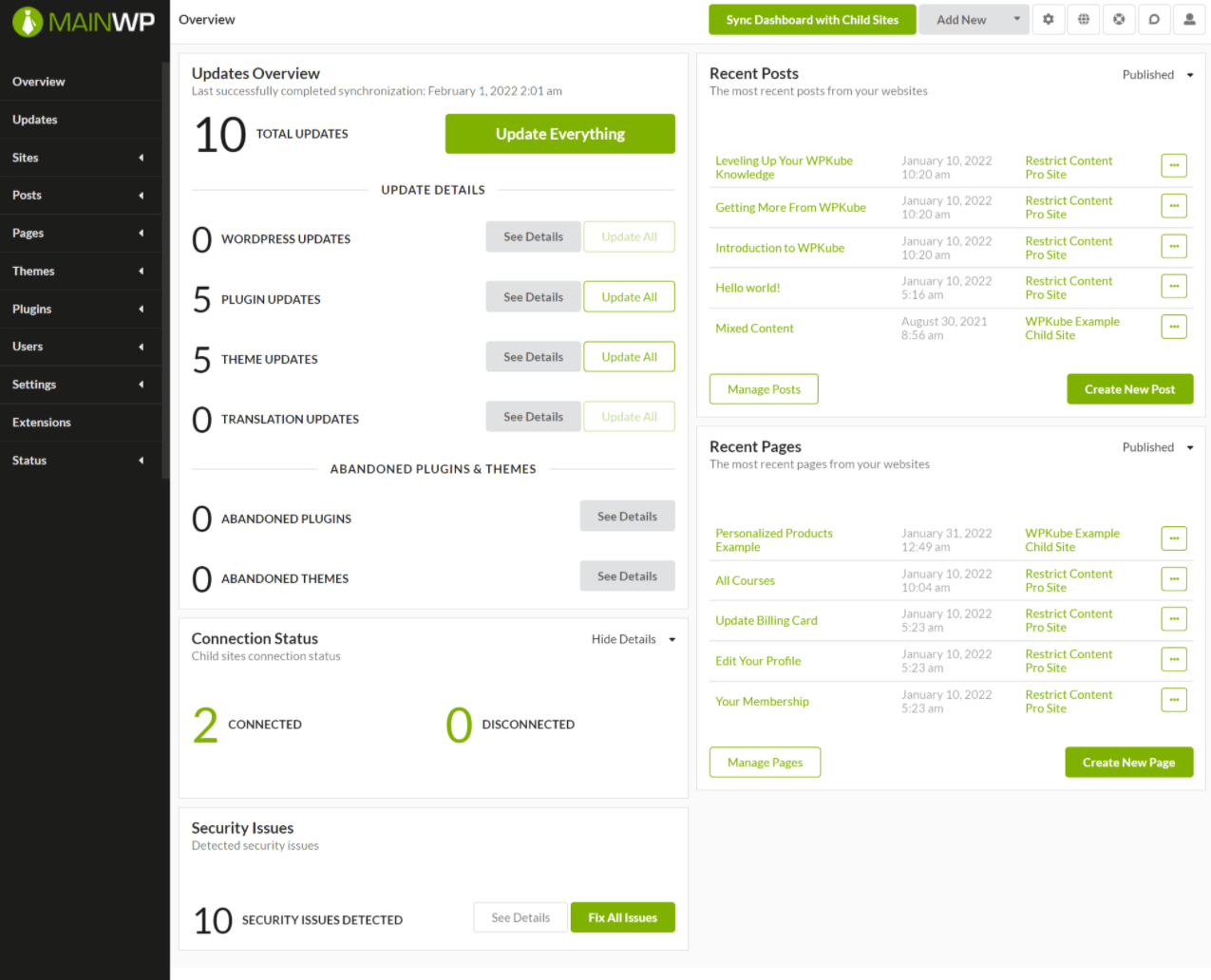 To dig into certain areas in more detail, you can use the sidebar.
Easy Updates
MainWP makes it easy to manage and apply core, theme, and plugin updates for all of your sites from one spot.
To quickly see the updates for each site, you can go to the Site list. You'll see the overall number as well as a breakdown by the type of extension: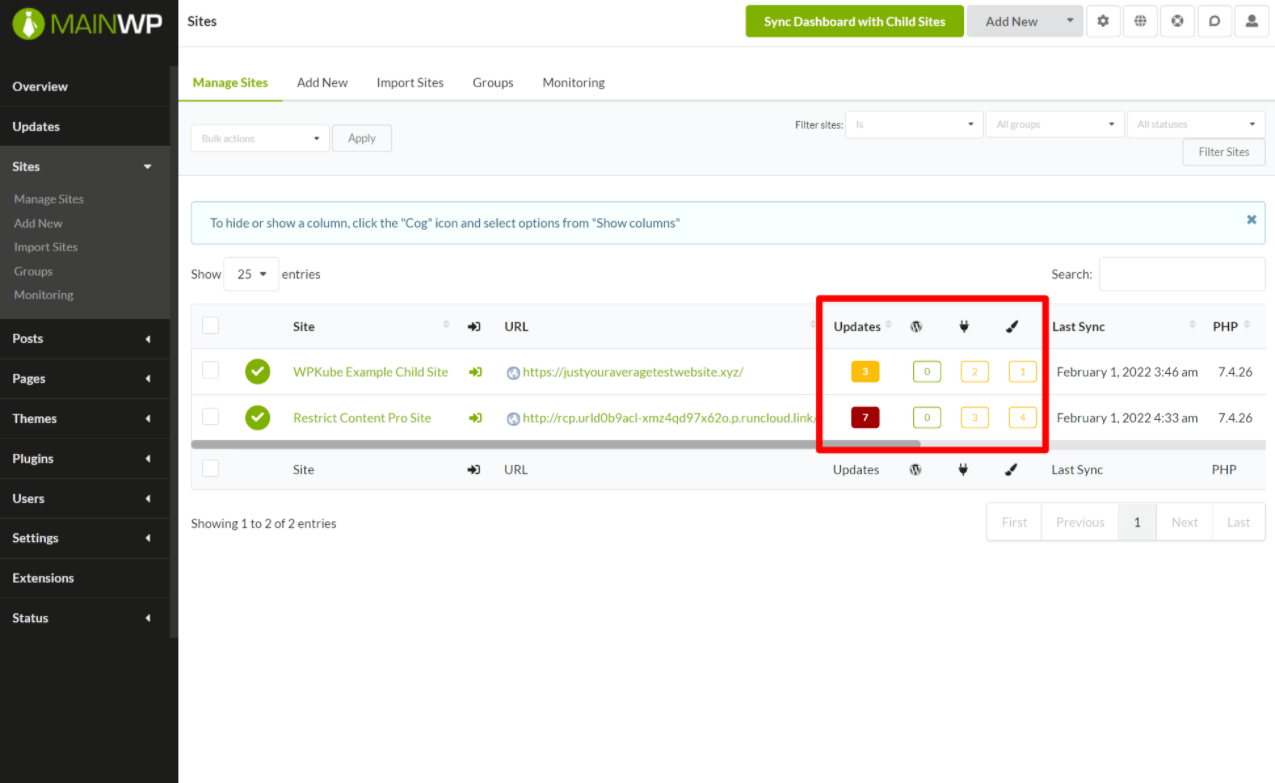 For more details, you can select the site. You can also choose to update an extension without leaving MainWP or ignore the update: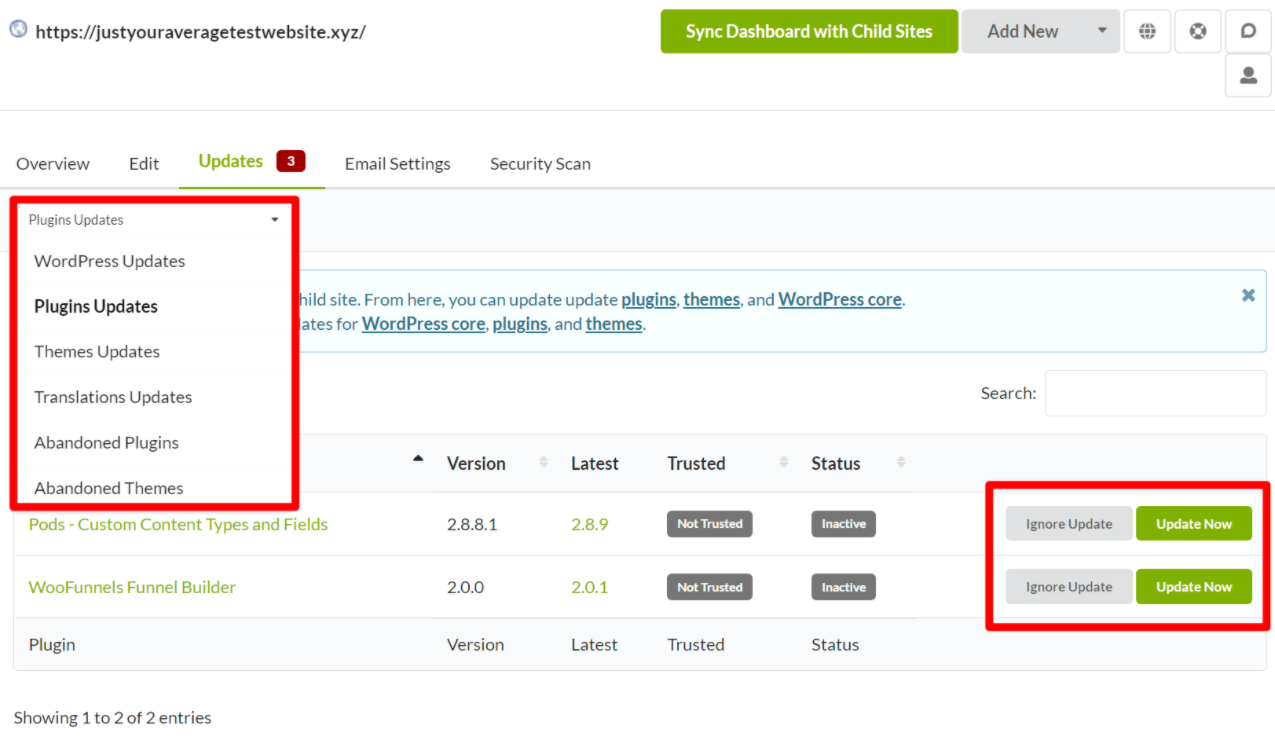 Theme and Plugin Management
You get bulk management for themes and plugins so that you can easily install, deactivate, or delete extensions across one or more sites: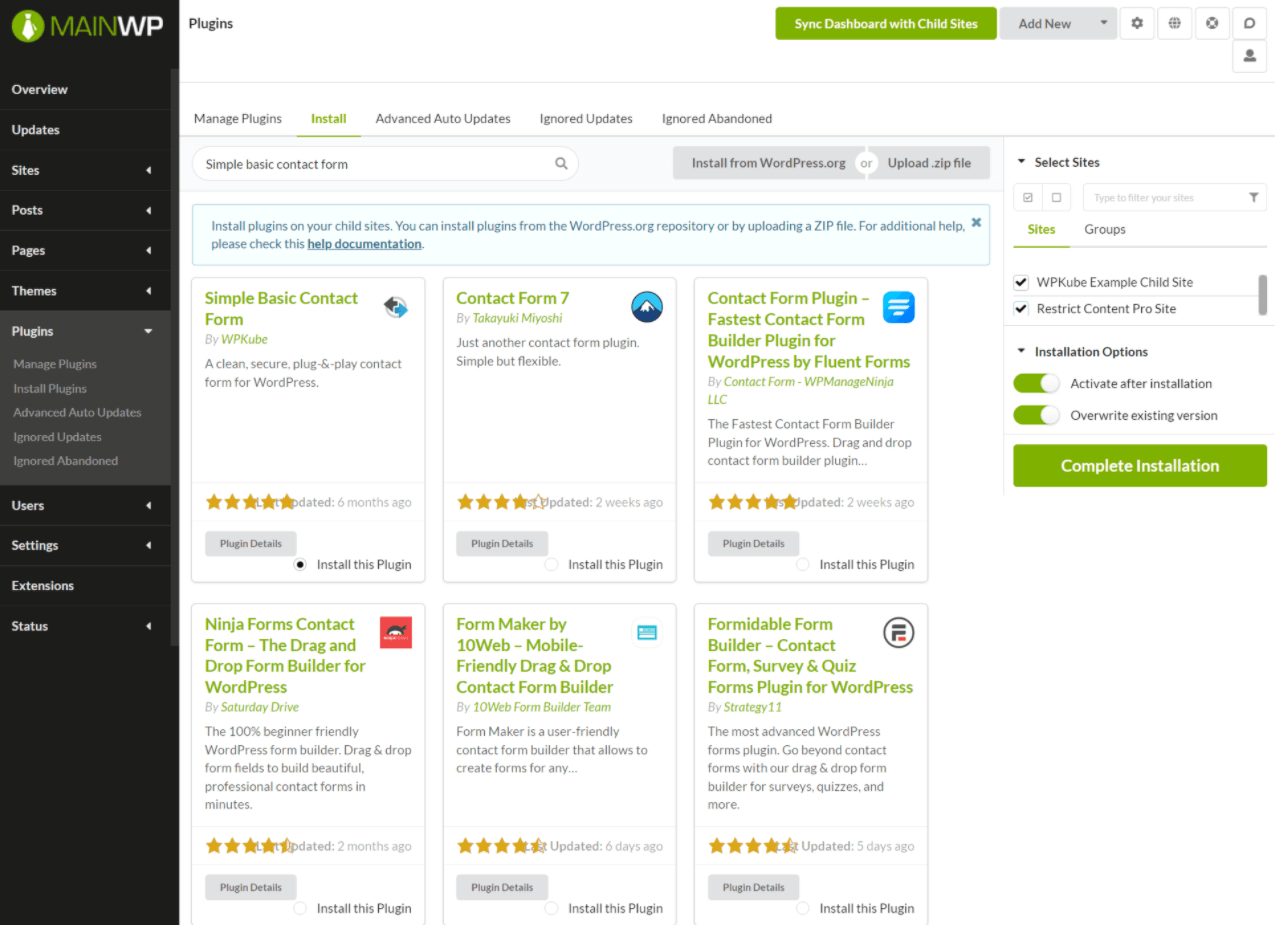 Content Management
You can also easily manage content across all of your sites, including posts, pages, and custom post types.
You can search for existing content and get a link that takes you straight to the editor on that site. Or, you can bulk create content and publish it on one or more sites: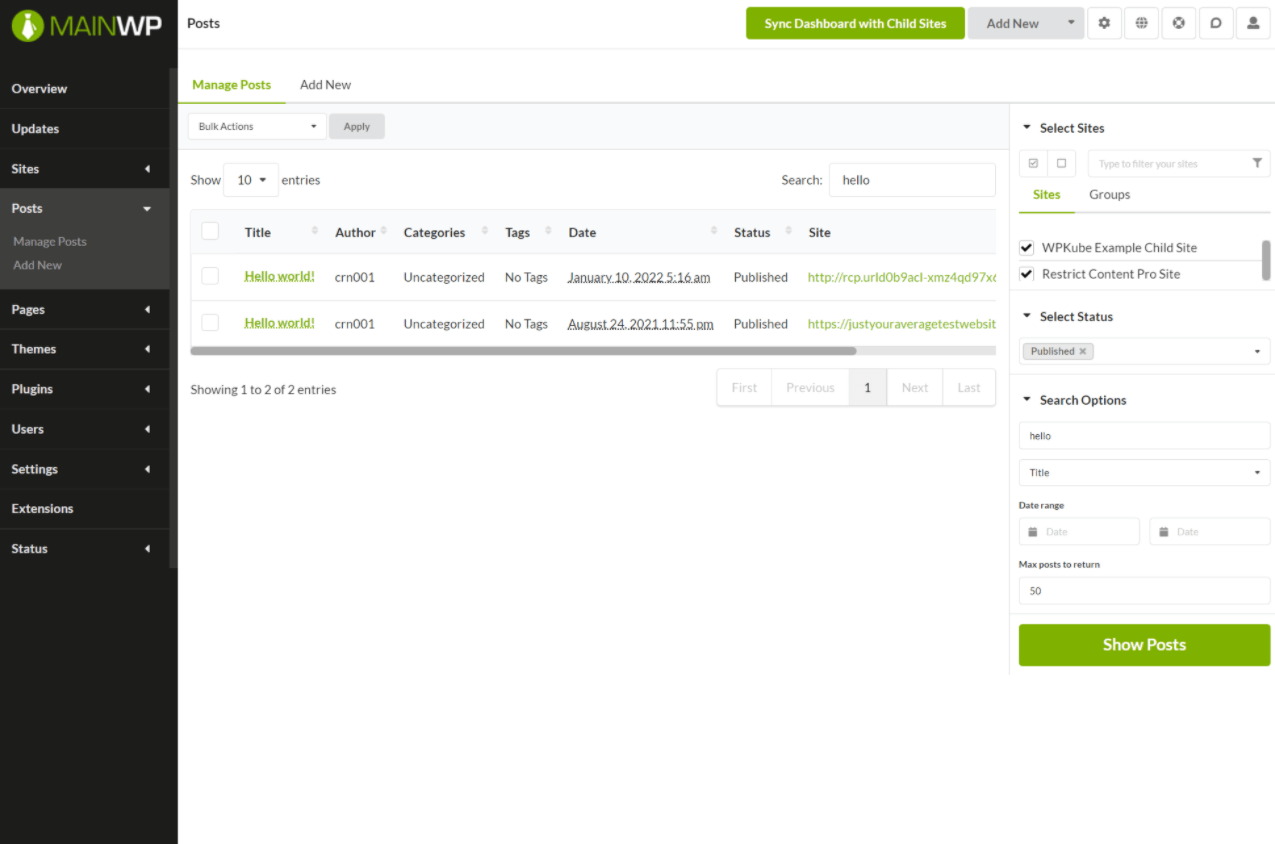 User Management
Similarly, you can also manage users across multiple sites, including creating or importing new users on as many sites as needed: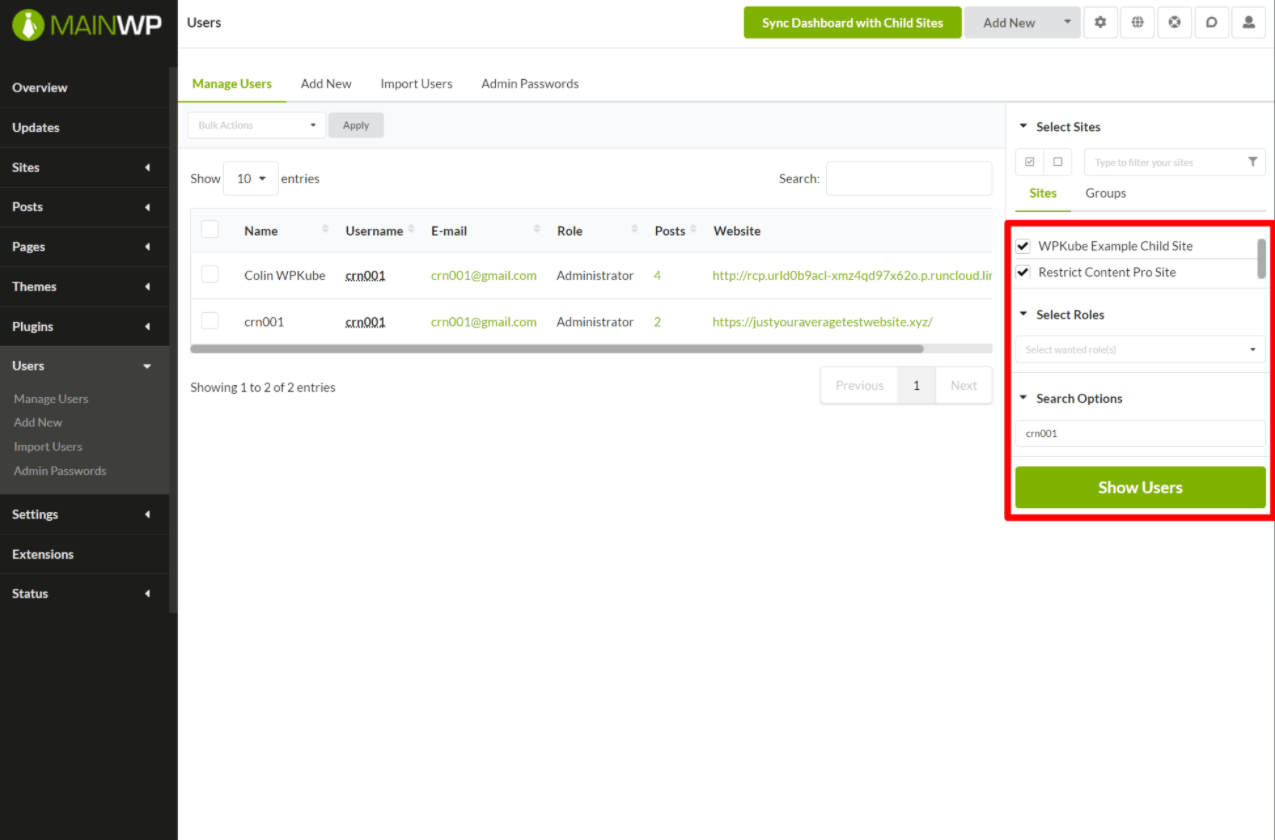 Backups Via Your Favorite Backup Plugin
MainWP does not include its own backup functionality. Instead, it provides a bunch of official extensions to integrate with your favorite WordPress backup plugins.
You'll still be able to manage the backups for all your sites from your one MainWP dashboard. But the actual backups themselves will be powered by your chosen plugin.
Currently, MainWP has extensions for the following backup plugins:
For example, with UpdraftPlus, you get an area to manage backups for individual sites as well as a global dashboard that shows all existing and scheduled backups across all of your sites: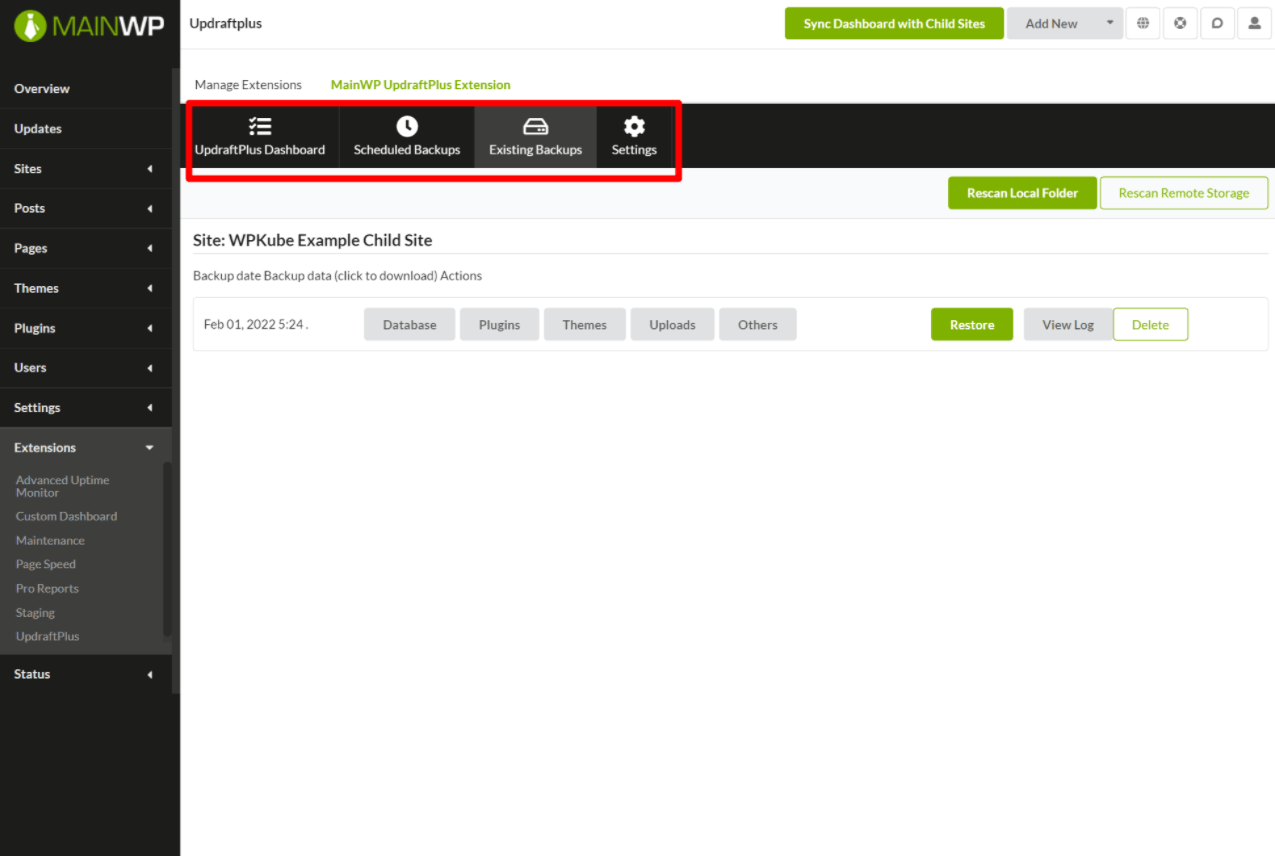 You can also bulk change UpdraftPlus settings, such as configuring off-site storage.
Personally, I like this approach. I've already built my own backup workflows around UpdraftPlus, so I like that I'm able to continue using UpdraftPlus while getting a centralized dashboard in MainWP to manage all my different sites.
Security Via Your Favorite Security Plugin
MainWP mostly handles security just like backups in that it helps you connect to your favorite security plugin. It does also have a few dedicated security features, though.
In terms of integrating with security plugins, it supports the following:
It also has two other useful extensions:
Virusdie – scan your sites with Virusdie.
Vulnerability Checker – automatically scan plugins against various vulnerability checkers, including WPVulnDB.
Uptime and Performance Monitoring
To monitor uptime and performance, I recommend using third-party services, which MainWP makes easy to do.
For uptime monitoring, you can connect to the following services:
Those services will be able to detect if a site goes down and then you'll be able to monitor that information from MainWP.
For performance monitoring, you can integrate with the PageSpeed Insights plugin. Or, there's also a Lighthouse integration that lets you run reports over the Google PageSpeed Insights API.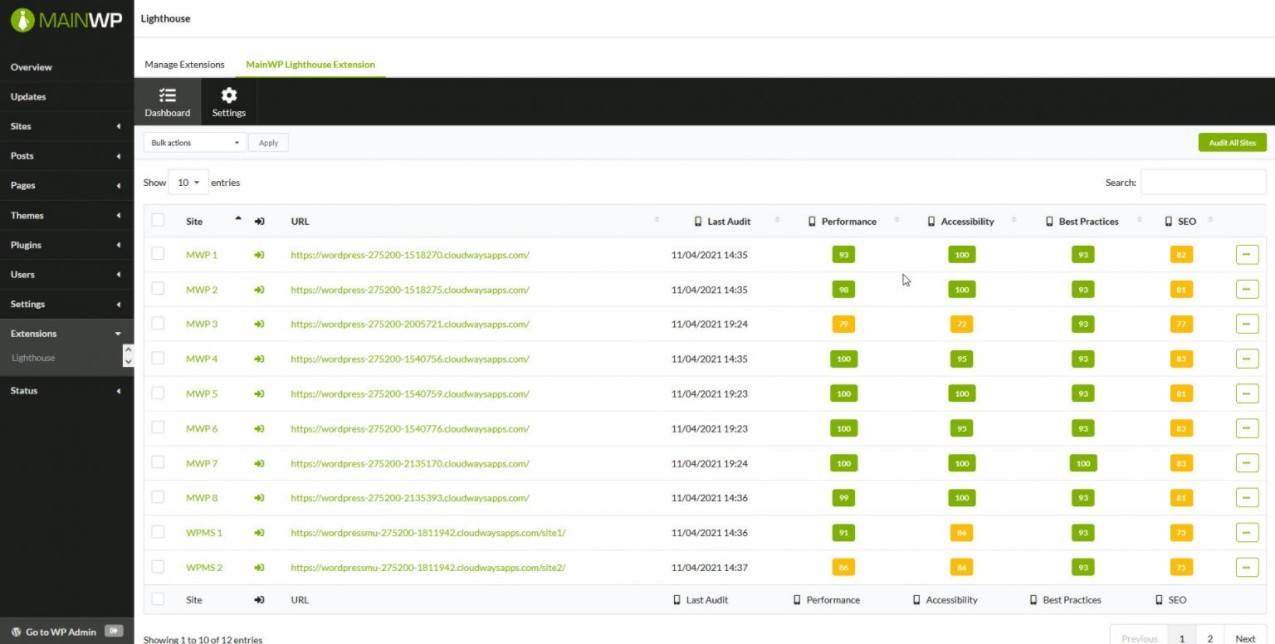 Staging Sites
To create and manage staging sites, MainWP integrates with the WP Staging plugin. From the MainWP dashboard, you'll be able to easily create and manage staging sites for every child site that has the WP Staging plugin installed.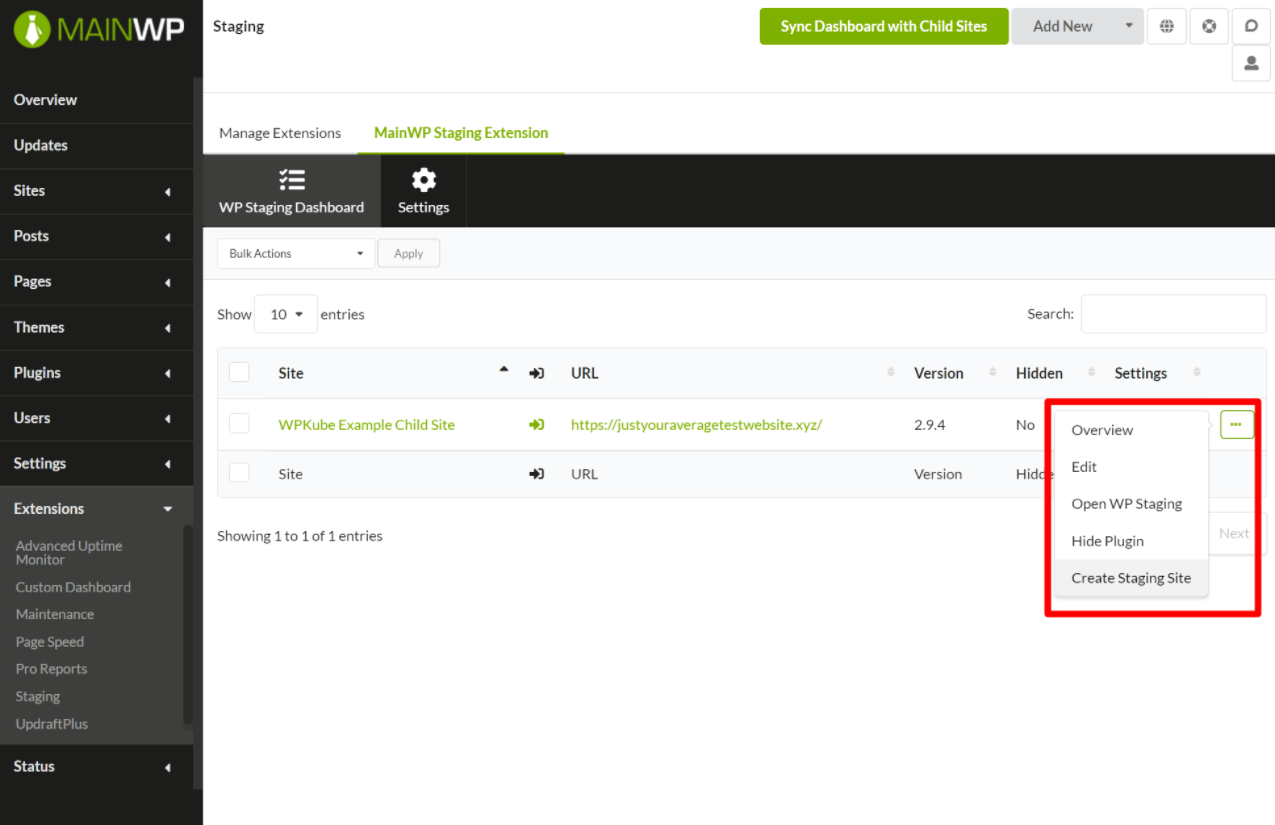 There's Lots More
There's no way I can show you every single feature in MainWP, so here's a quick rundown of everything else that you get…
Database maintenance – clean your sites' databases of junk revisions, spam, etc.
Comments – moderate and manage comments on all your sites from MainWP.
WooCommerce – get WooCommerce status updates and shortcuts to streamline managing stores.
Team control – give other users access to the MainWP dashboard and control what functions and websites they're able to interact with.
Analytics integration – connect with Google Analytics or Matomo (Piwik) to view web analytics for all your sites.
Client reports – generate simple or advanced reports to deliver to clients, including white-labeled branding.
Code snippets – easily manage custom code snippets and apply them to some/all of your sites.
Bulk settings updates – easily update settings for the core, themes, and plugins across as many sites as needed.
What's Unique About MainWP vs Other Similar Tools
Because managing multiple WordPress sites from one dashboard is such a popular need, there are a number of services that offer this functionality. 
The most popular name is probably ManageWP, which was acquired by GoDaddy back in 2016.
So – what's unique about MainWP, and why might you want to use MainWP over the competition?
100% Self-Hosted and GPL Licensed
One of the biggest differences between MainWP vs ManageWP (and other similar tools) is that MainWP is 100% self-hosted instead of a SaaS tool like ManageWP. 
Every piece of data and detail stays exclusively on your own servers, whereas ManageWP has you manage your sites from ManageWP's cloud dashboard.
To accomplish this, you'll create a dedicated WordPress install to act as your site manager. Then, you'll install the MainWP parent plugin on that install and do everything from that WordPress dashboard. More on this later.
MainWP is also 100% GPL licensed, which means, in part, that it's open-source and you get full access to the underlying code.
Free Core Version / Unlimited Usage
I'll talk about MainWP pricing later on, but one notable detail is that the core MainWP plugin is 100% free and available at WordPress.org.
With just the core plugin, you get a really useful multiple-site management tool. Then, there are also 13+ free extensions that add even more functionality.
You'll only need to pay if you need the functionality from some of the 28+ premium extensions.
Even if you do need the Pro extensions, you'll pay one flat fee for unlimited usage. This offers much better value than a SaaS tool that will typically charge you per website and/or per feature.
For example, while I think ManageWP is a great tool, its billing model will make it significantly more expensive than MainWP if you have a lot of sites and need the premium upgrades: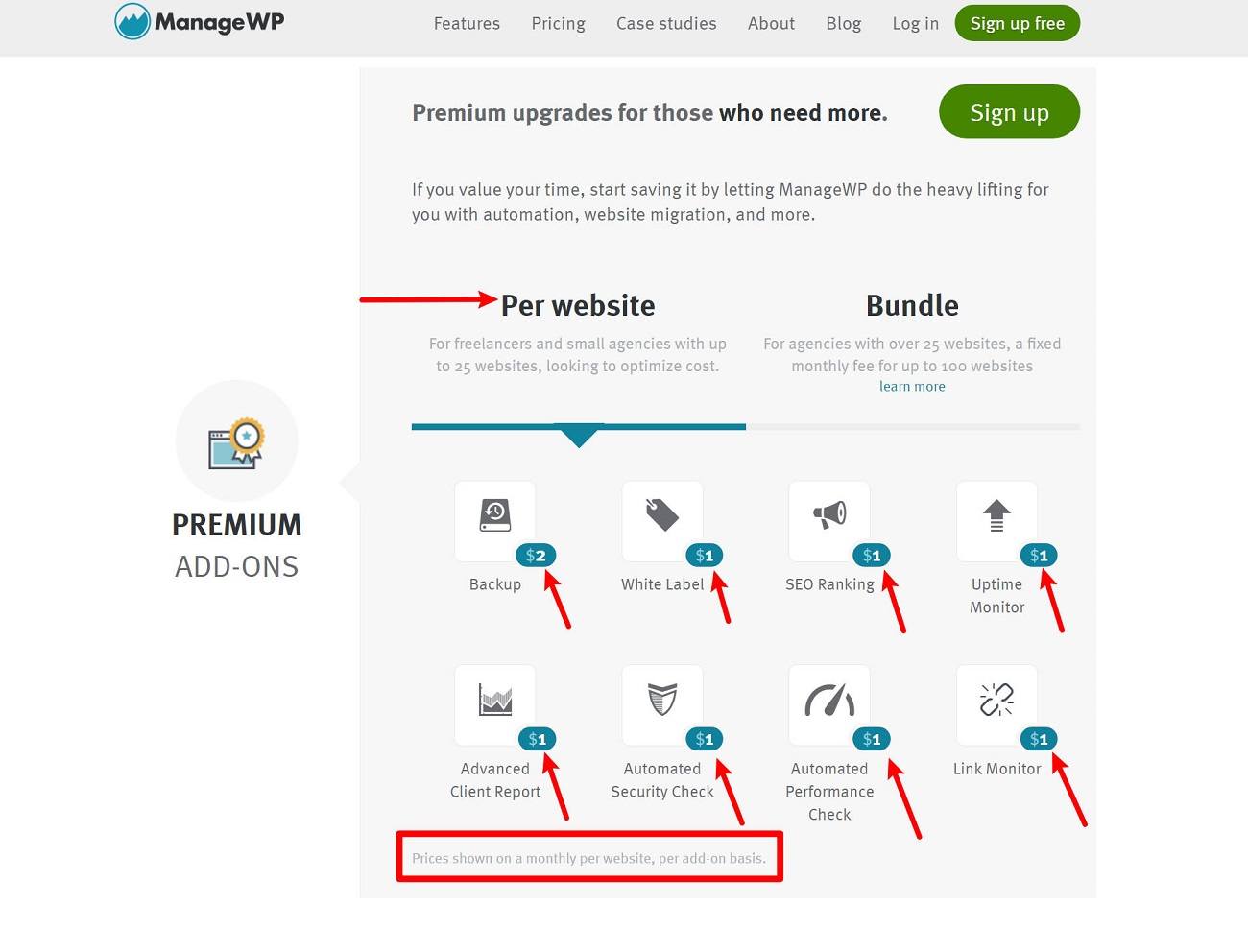 Use Your Existing Plugins/Tools
Another notable detail of MainWP is that it lets you continue using some of the existing tools that you might be familiar with.
The big example here is backups. Instead of trying to build its own custom backup tool, MainWP just has you use one of the dedicated backup plugins, which typically gives you a lot more flexibility than you'd probably get with a custom tool.
Similarly, there are other integrations to connect with the following:
WP Rocket for performance optimization.
Various security plugins including Wordfence, iThemes Security, and Sucuri.
Yoast SEO for SEO optimization.
WooCommerce.
Some other plugins also offer their own dedicated third-party integrations. For example:
WP Activity Log for activity logging.
WP Compress for image optimization.
Termageddon for legal pages (e.g. privacy policy).
Depending on your personal preferences, I think this could be either a pro or a con of MainWP. If you don't want to use a bunch of separate tools, you might actually prefer ManageWP.
How to Use MainWP to Manage Your WordPress Sites From One Dashboard
Now that we've covered the main features in MainWP, let's take our MainWP review even more hands-on and go into what it's like to set up MainWP on your sites.
The basic process works like this…
Create a dedicated WordPress install to act as your MainWP dashboard. This is the dashboard from which you'll manage all of your sites.
Install the MainWP Child plugin on each site that you want to control and connect it to the parent dashboard site.
Let's look at it in more detail…
1. Create a Fresh WordPress install
To get started, you'll want to create a fresh WordPress install that you'll use as your MainWP dashboard. 
While you can technically install the MainWP dashboard on an existing WordPress site, I think the best approach is to create a new install that's 100% dedicated to just MainWP.
That way, your site management dashboard will be completely separate from your actual websites.
If you want to make it even more private, you can consider adding an extra username/password with .htaccess or other strategies to lock down the install.
2. Install the MainWP Dashboard Plugin
Once you've set up your fresh WordPress install, you'll install and activate the free MainWP Dashboard plugin from WordPress.org. Make sure to install the "dashboard" version of the plugin and not the "child" version.
Activating the plugin should automatically launch the MainWP Quick Setup Wizard. Click the Let's Go button to get started: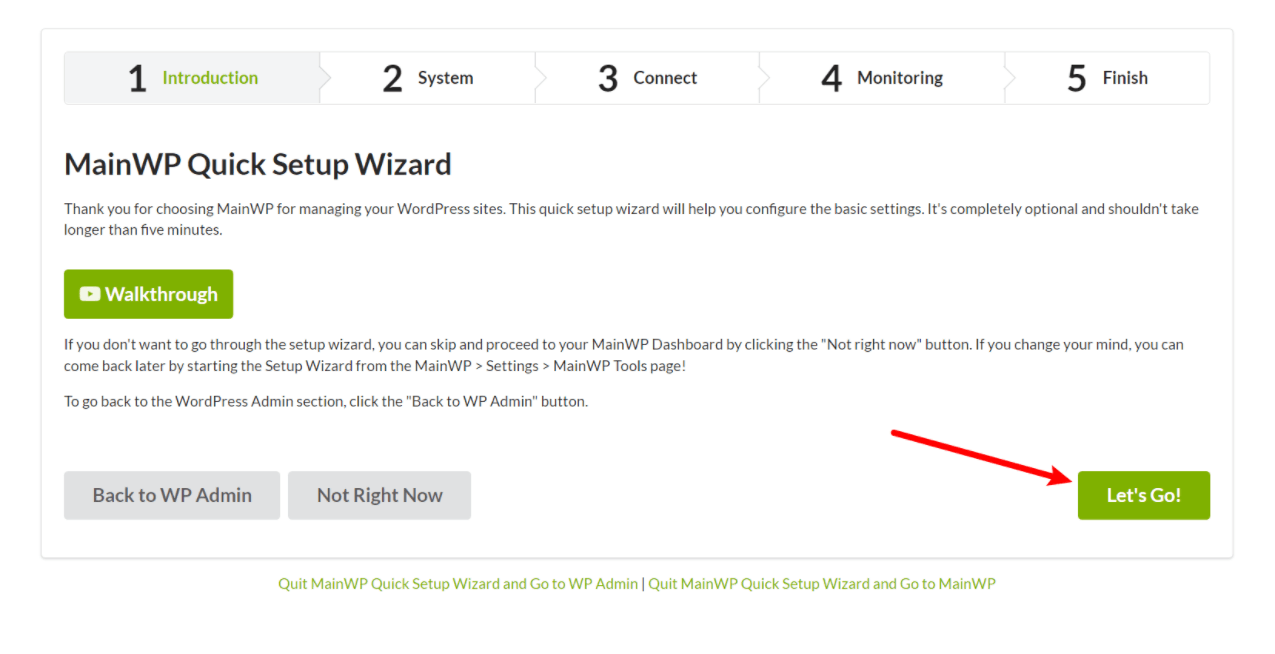 On the first screen, MainWP will run some basic checks to make sure your site is capable of running the software.
Just click Continue to advance (as long as you pass all the checks):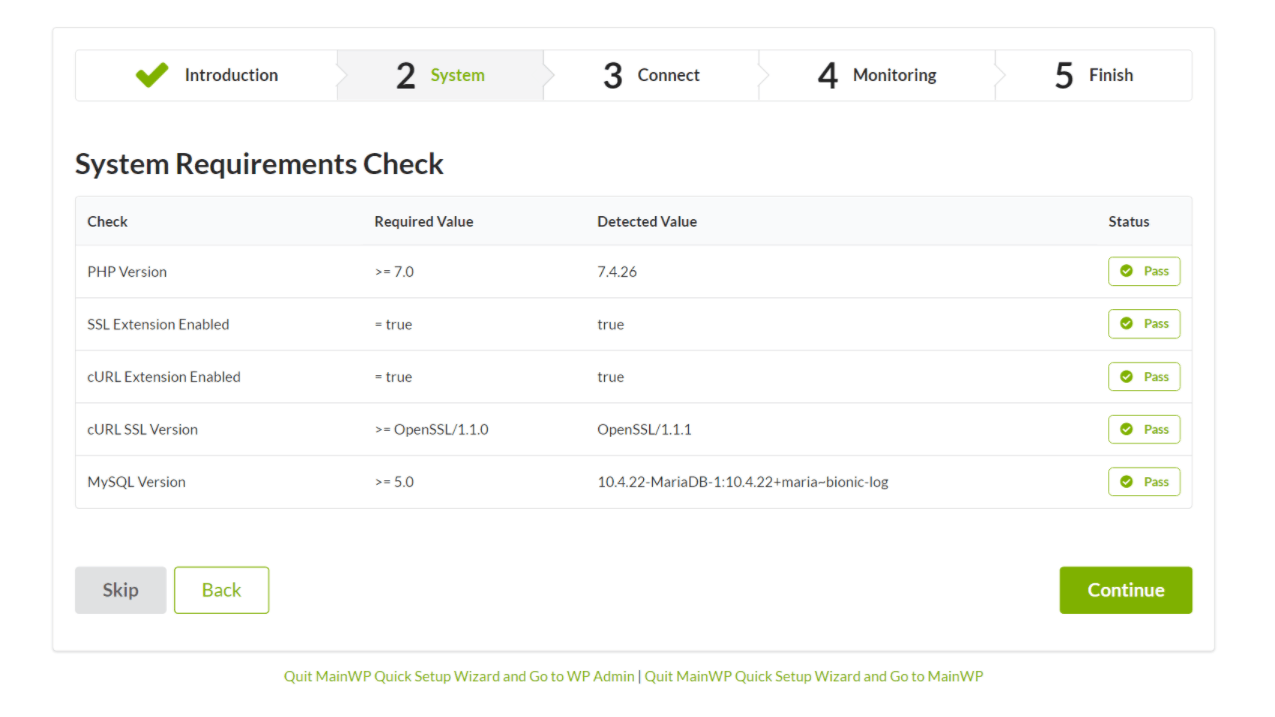 3. Add Your First Child Site
You'll next be prompted to connect your first child site: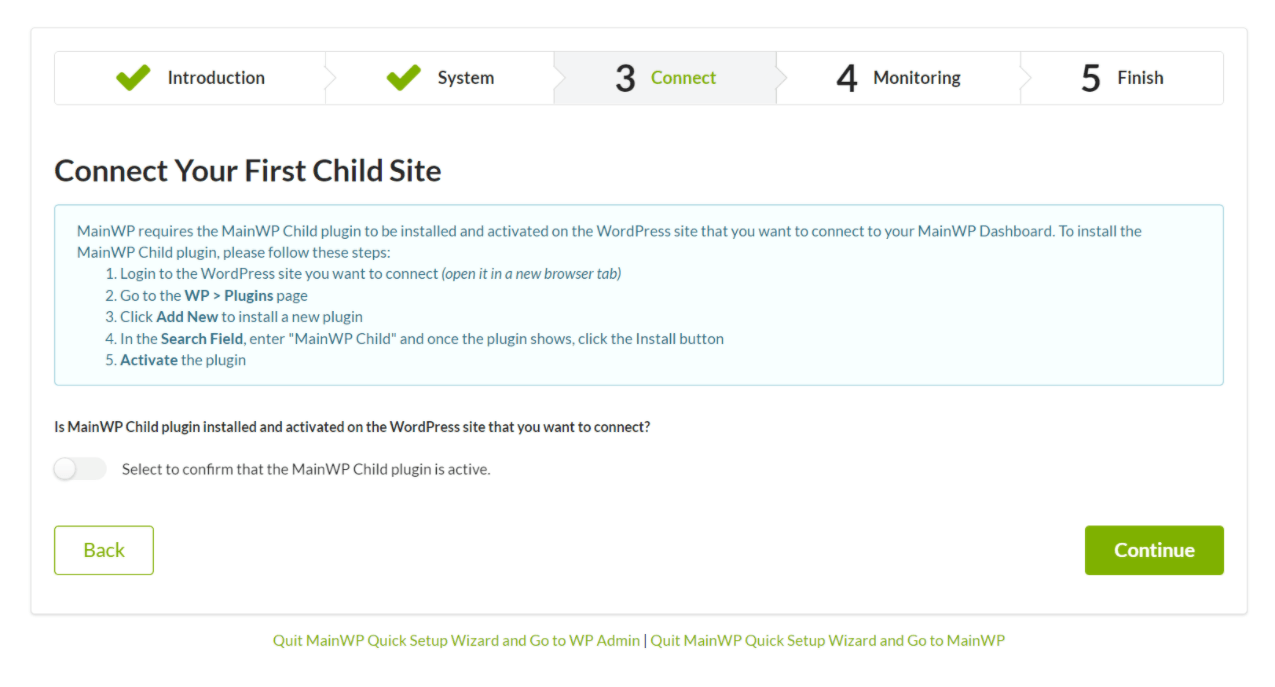 Keep this tab open because you'll need it. Then, open a new tab and go to the dashboard for one of the live WordPress sites that you want to manage with MainWP.
On that site, install and activate the MainWP Child plugin from WordPress.org. Make sure you're installing the "child" version and not the "dashboard" version.
Once you've activated the MainWP Child plugin, go back to the setup wizard (there's no need to configure anything in the child plugin's settings):
Select the toggle to confirm the plugin is active.
Enter the site's URL and your admin username.
Click Connect Site.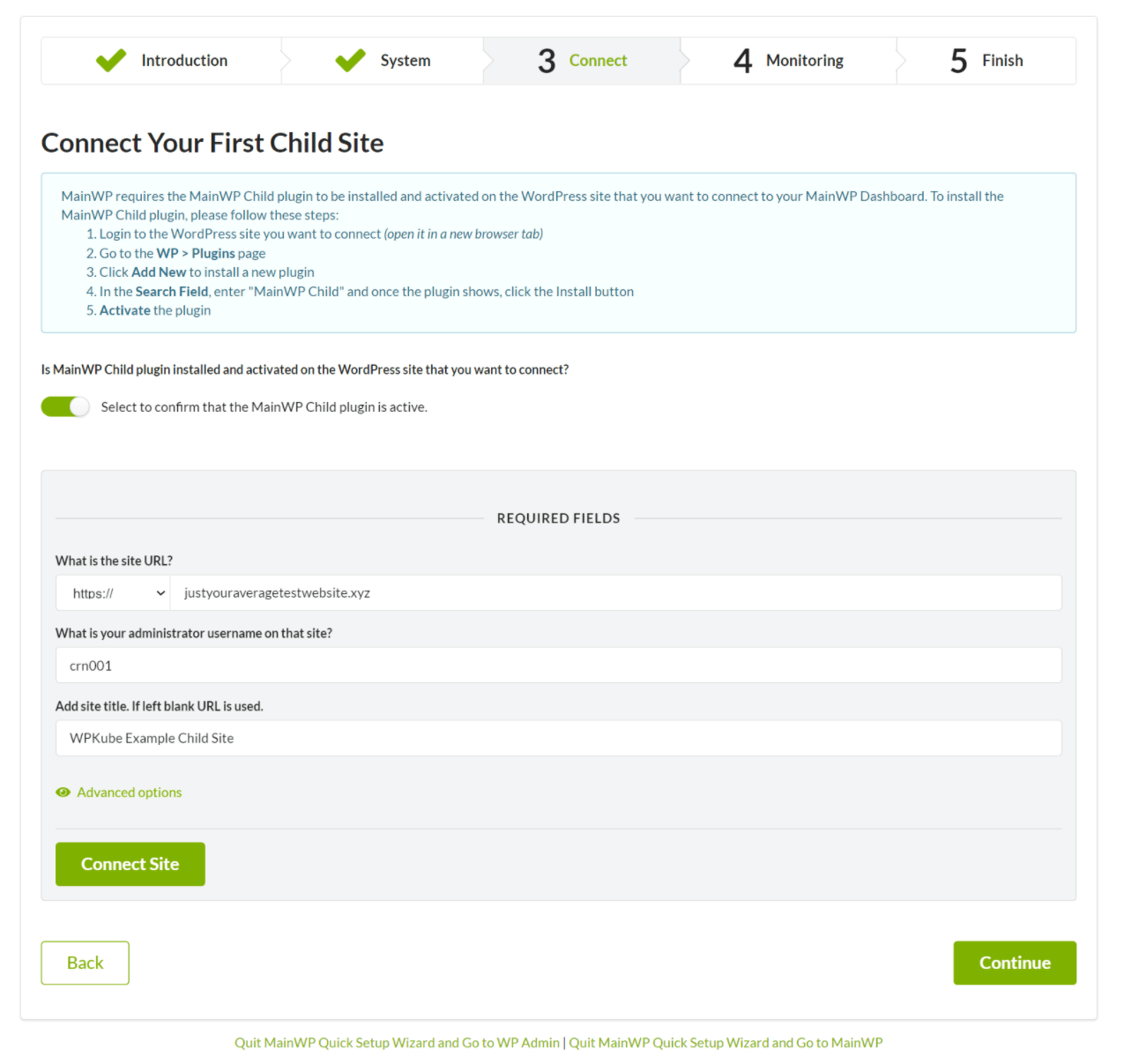 You should then see a success message. You can repeat the process to add more sites or click Continue to advance in the wizard: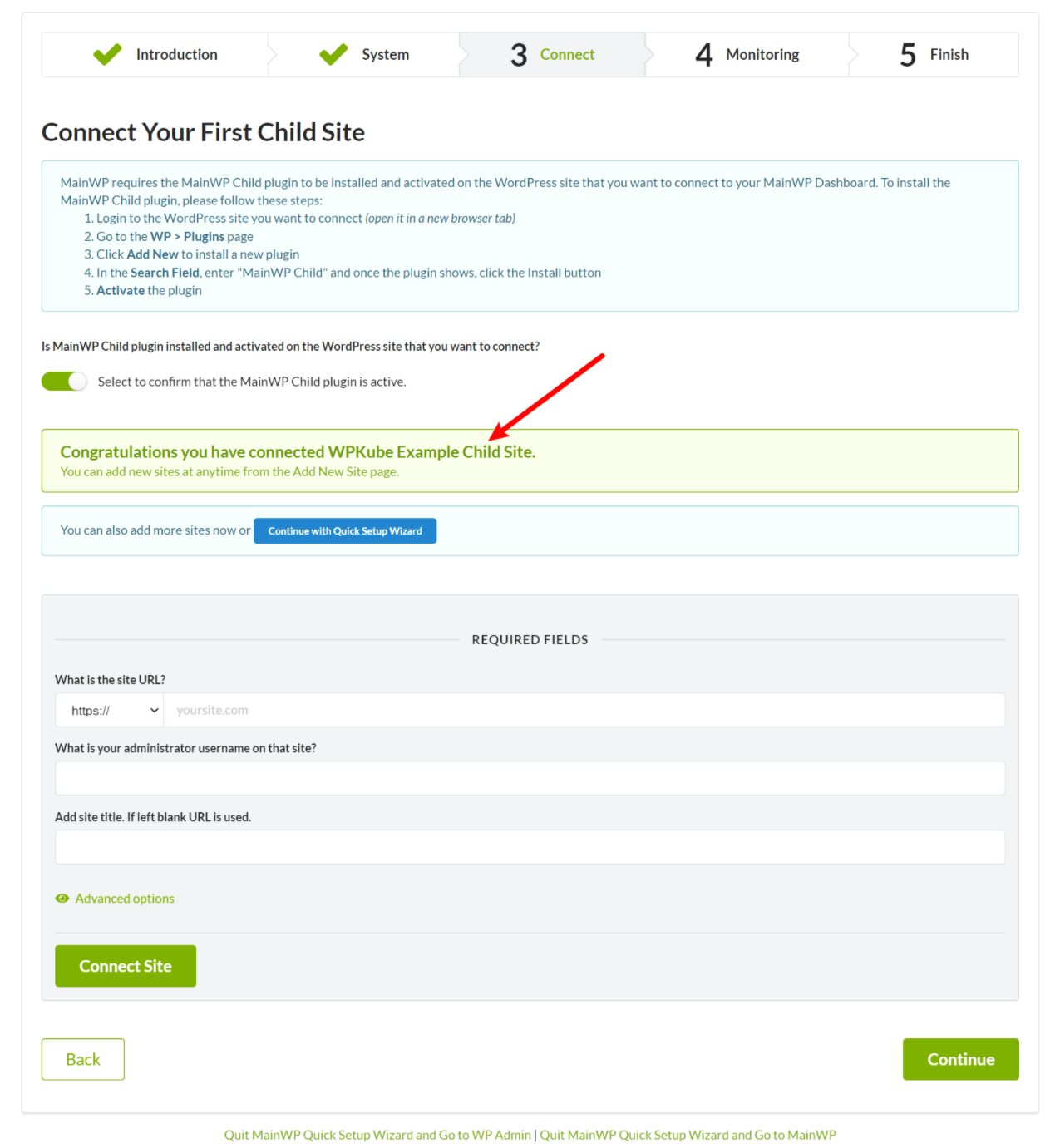 On the next screen, you can set up some basic monitoring features. Then, you're finished with the setup wizard and ready to start managing your sites.
How to Access the MainWP Dashboard
To access your MainWP dashboard, you just need to log in to your dedicated WordPress install and click the MainWP option: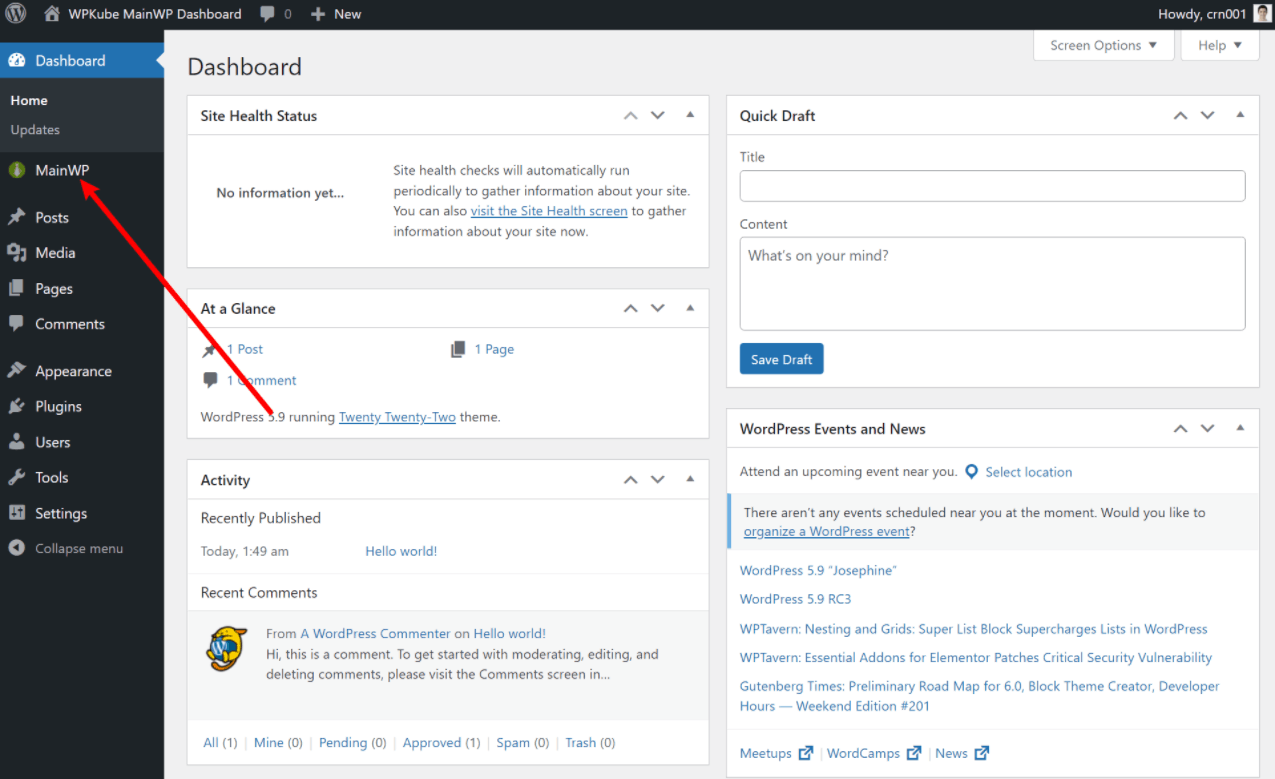 How to Add More Sites
To add more sites to MainWP in the future, you can click the Add New button in the top-right corner: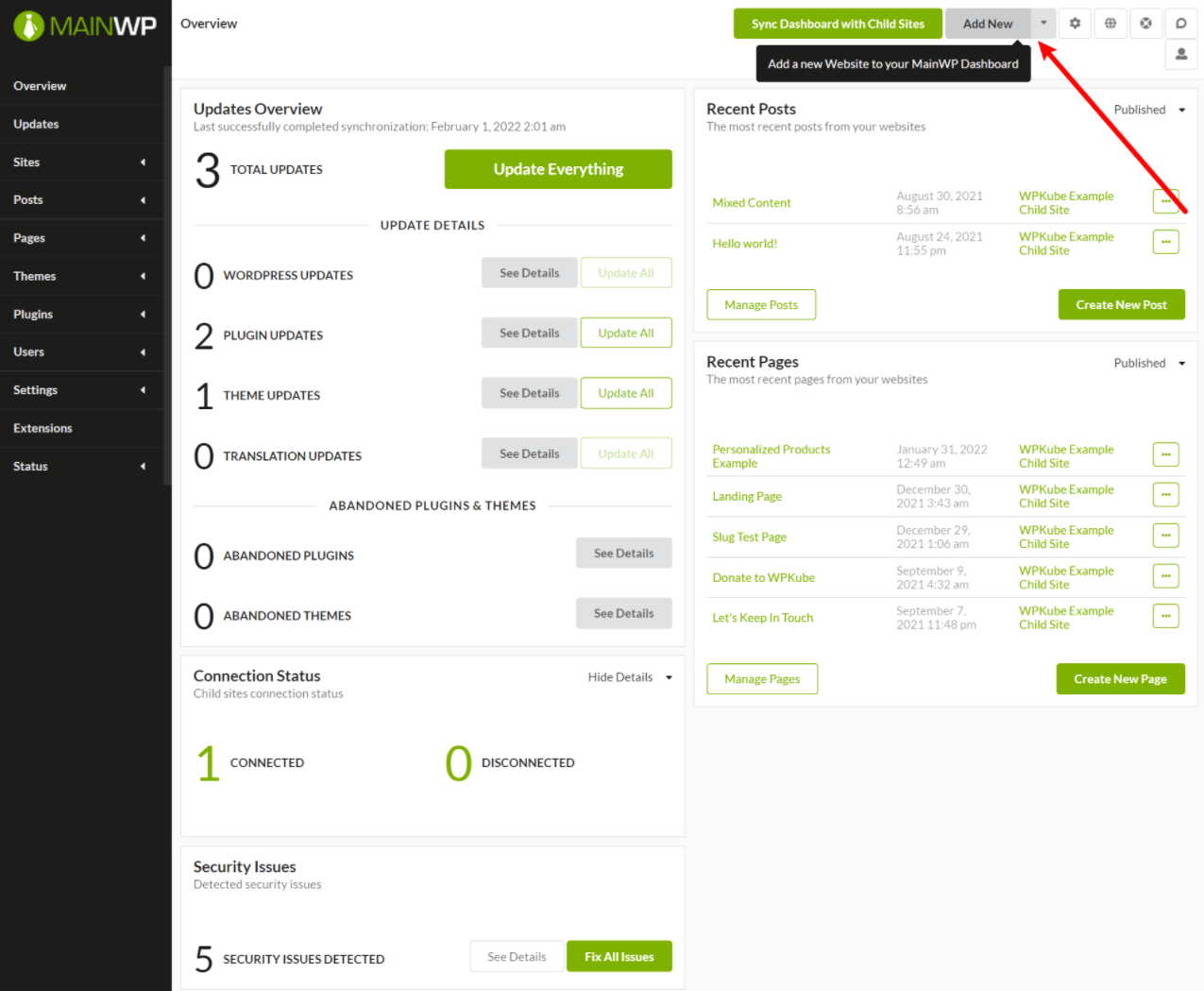 You just need to install the child plugin on those sites and then verify the connection like you did in the setup wizard.
MainWP Pricing
As I mentioned earlier, the core MainWP plugin is 100% free and GPL licensed.
If you want to further extend the core plugin, there are 13+ free extensions and 28+ premium extensions at the time that I'm writing our MainWP review.
You can get access to all premium extensions by purchasing MainWP Pro. There's no option to purchase individual extensions.
There are three different pricing plans to access MainWP Pro. All of them have the exact same features and support managing unlimited sites – the only difference is the billing term.
Monthly – $29 per month.
Yearly – $249 per year (which works out to $20.75 per month)
Lifetime – $399 one-time fee.
You'll get access to support, updates, and new extensions as long as your license is active. With the lifetime deal, you'll obviously get lifetime access to support, updates, and any new extensions that MainWP publishes.
One nice thing is that there's a 90-day upgrade policy for moving from monthly to lifetime.
That is, you can start by signing up for the monthly plan to see how it goes. If it's working well, you can then upgrade to lifetime and MainWP will credit you up to three months of payments towards the lifetime plan.
To help you save money, we also negotiated an exclusive MainWP coupon code that will get you 15% off the lifetime package.
MainWP Review: Pros and Cons
Let's recap some of the pros and cons of using MainWP to manage multiple WordPress sites from one dashboard.
Pros:
Self-hosted. MainWP is 100% self-hosted and all of your data stays on your own servers, which a lot of WordPress users will appreciate.
Free. The MainWP free version and free extensions are already pretty functional.
Keep using your existing plugin workflows. If you already have built your workflows on certain plugins (e.g. backups and security), you can keep using those tools while easily managing everything from MainWP.
Lifetime plan. If you do need the premium extensions, there's a lifetime pricing plan. This offers huge value for agencies or freelancers (or just regular users with a lot of sites).
No per-site billing. Even if you need the Pro extensions, you'll only pay a flat fee for unlimited usage. This is different than a tool like ManageWP, which has per-website billing for its premium upgrades.
Cons:
MainWP relies on other plugins. While I personally like this (which is why it's also in the pro section), I think some people could easily view this as a con because some of MainWP's key features are reliant on third-party plugins. With something like ManageWP, all of these features are built into the SaaS offering.
Not a SaaS. This is another "con" that can also be a pro depending on your preferences. Personally, I like the self-hosted approach, but I know some users prefer the simplicity and hands-off nature of a SaaS tool like ManageWP.
The user interface could be improved. The MainWP interface is totally functional, but there are a few UX quirks and the design isn't as slick as a SaaS tool. For example, I don't like that all of the extensions are hidden in an "Extensions" sub-menu even though some of the extension features are more important than the high-level menu items (e.g. backups).
MainWP Review: FAQs
To finish out our MainWP review, let's talk about some common questions you might have about MainWP.
Is MainWP secure?
Yes, MainWP is secure. It encrypts all of your data using OpenSSL and you never need to enter or store passwords. Your real sites will only ever respond to requests from the single MainWP dashboard that you've connected them to.
MainWP also has a bug bounty program via HackerOne and, to my knowledge, MainWP hasn't had any major security issues in the 8+ years that it's been in business.
How reliable is MainWP?
MainWP has been in business for 8+ years (since 2014). Collectively, MainWP users manage over 500,000 sites and there are 10,000+ people using the MainWP Dashboard plugin.
The MainWP Dashboard plugin has a near-perfect 4.9-star rating on over 2,150 reviews.
So yeah…MainWP is pretty reliable in this space.
Is MainWP free?
The core MainWP dashboard plugin is 100% free and available at WordPress.org. The free plugin alone already gives you a lot of functionality, but there are also 28+ premium extensions to give you access to certain features or help you integrate with certain plugins.
How does MainWP work?
You create a fresh WordPress install and add the MainWP Dashboard plugin to act as your site management dashboard. Then, you install the MainWP Child plugin on each live site to connect that site to your MainWP dashboard.
Final Thoughts on MainWP
Now for the most important question of our MainWP review – should you use MainWP to manage all of your WordPress sites?
As far as plugin decisions go, this is probably one of the bigger ones, so you'll want to get things right.
Overall, going with the self-hosted approach (MainWP) has both pros and cons over the SaaS approach (e.g. ManageWP), which I tried to highlight in the pros and cons section above.
However, I think a lot of people in the WordPress space prefer the self-hosted, open-source option over the proprietary tool. After all, we're all using WordPress and not Wix or Squarespace.
When it comes to self-hosted tools to manage multiple WordPress sites, MainWP is undoubtedly the biggest name in the game.
The core free version by itself is pretty functional. And with the free and paid extensions, you can add tons of useful features and integrations.
One thing to note is that MainWP is reliant on third-party plugins or services for features like backups and staging. Again, I think that can be both a pro or a con depending on your personal preferences.
I personally like it because I can stick with my existing workflows, but you might prefer the simplicity of a more all-in-one SaaS tool like ManageWP (though you'll probably pay more because of the per-website/feature billing model).
Overall, if you want to manage multiple WordPress sites from one dashboard and you want to keep your setup self-hosted and/or you want to keep your costs down, I think MainWP is definitely the best option in the space, which is backed up by the stellar reviews and popularity.
If you want to get started, you can click the button below. And make sure to use our exclusive MainWP coupon code to save 15% on your purchase if you need the Pro version:
Go to MainWP
If you're interested in other options, check out our post on the best tools to manage multiple WordPress sites from one dashboard.
Still have any questions about MainWP or our MainWP review? Let us know in the comments!
Keep reading the article at WPKube. The article was originally written by Colin Newcomer on 2022-04-14 06:41:00.

The article was hand-picked and curated for you by the Editorial Team of WP Archives.