Camille Cunningham
Camille is content manager at Yoast. She writes and optimizes blog posts and enjoys creating content that helps people master SEO.
There was quite a bit of discussion about a study that said that nearly 65% of Google searches in 2020 did not result in a click. This is one of the topics that our resident SEO experts Joost de Valk and Jono Alderson talked about in this month's webinar. Want to know what they had to say about this study and other SEO news this month? You can watch the March 2021 edition of our SEO news webinar or read all about the highlights right here. Enjoy!
Watch the March 2021 SEO news webinar
In this post, you can read all about the SEO news that Joost de Valk and Jono Alderson discussed during our latest SEO news webinar. If you'd rather (re)watch the webinar, you can find the video right here:
Google news
A study on Google's zero-click searches, a few permanent changes due to the pandemic, new Schema markup and lots more! Read on to find out what Google has been up to the last few weeks.
Zero-click searches rose to nearly 65% last year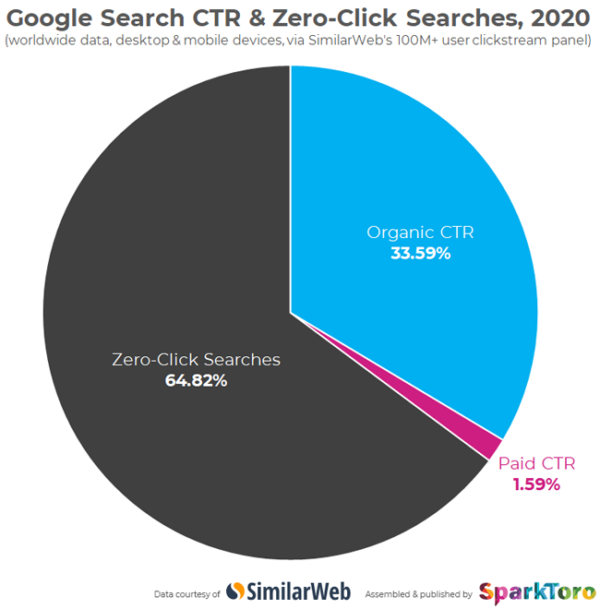 Let's kick off with some news that caused some commotion in the last couple of weeks. Rand Fishkin published a study that says that nearly 65% of Google searches in 2020 did not result in a click. Now, this may sound like something to worry about, but it's not. Think of it from a user's perspective: when they're looking for information about a meta description and see a featured snippet that explains what it is without having to click through, this is a perfect user experience. Having to click through and scroll down the page for an answer, is not. When your company name is in this featured snippet, and you're giving users valuable information, this has a positive impact on your brand.
It's understandable that you're worried about your page visits, but focusing solely on getting clicks to hopefully make some money off of it isn't the way to go. Keep in mind that Google's objective isn't to send traffic to your site. It's to solve the problems of their users in the best way possible. The online landscape is changing and your business model needs to change with it. So instead of focusing on clicks, focus on finding ways to generate value for people that are searching for solutions in your field. This is harder, as it asks for a long-term and brand-oriented strategy, but it is the way forward. Not just when it comes
[…]
This article was written by Camille Cunningham and originally published on SEO blog • Yoast.