Edwin Toonen
Edwin is a strategic content specialist. Before joining Yoast, he spent years honing his skill at The Netherlands' leading web design magazine.
On-SERP SEO is the process of fully optimizing the first page of a search engine to maximize the visibility of your brand. On-SERP SEO is a tool you can use to battle the increase of so-called zero-click searches. Find out all about on-SERP SEO in this article.
Rise of the zero-click search
Rand Fishkin of SparkToro has been tracking developments in Google for a long time. One of his works is researching the changes in how people search and where the clicks go, based on data by an analytics firm. From his recent reports emerges an interesting trend: less than 50% of all the searches lead to a click! These are the so-called zero-click searches.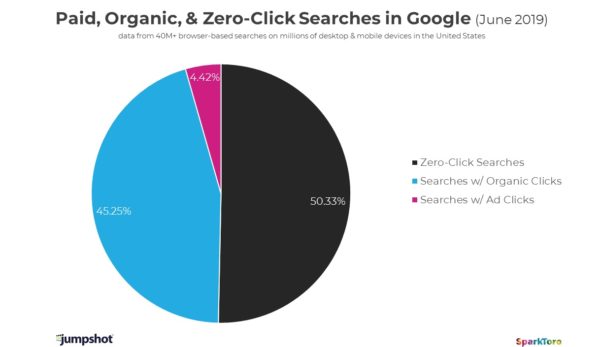 Of course, the decline of the click can partly be attributed to the rise in rich results. For many queries, these results — like featured snippets, answer boxes and knowledge graphs — tend to answer the exact question a searcher has. Often, leaving the searcher without the need to click on to a full article. Since Google is working hard to understand languages, entities, and intents better, it is no surprise that it manages to answer an increasing number and ever harder set of questions right there.
In addition to upping their skills, Google is also expanding its own properties in search. For industries such as travel, you can almost book a complete trip without ever leaving Google. It won't be long before that last hurdle will be gone as well. Of course, end-users love interacting with rich results as they often solve their needs immediately.
These developments are Google helping win an enormous amount of traffic to its own properties, from YouTube to Flights and Jobs to Events, leaving regular companies and individuals struggling to find room to shine in the SERPs. One of the means you could turn to combat this is called on-SERP SEO.
What is on-SERP SEO?
With on-SERP SEO, you try to get as much exposure for a query — or your brand — on Google's front page as possible. That doesn't mean you should write ten articles on your main topic in the hopes of them all showing up on page one of Google because that's a pipe dream. No, it's about owning all the areas where it counts: 
[…]
This article was written by Edwin Toonen and originally published on Yoast • SEO for everyone.