When it comes to hosting your website, SiteGround is a competitive service that offers a ton of potential advantages. However, committing to one of its plans isn't always easy. The wide variety of available SiteGround pricing options can make picking the right one a real challenge.
Fortunately, you don't need to spend hours carefully analyzing each option. By understanding the key differences in cost and features, you can choose the best SiteGround pricing plan for your website.
In this article, we'll introduce you to SiteGround's services and a few of its hosting plans. Then, we'll walk you through five of your options to help you find the perfect fit. Let's get started!
An introduction to SiteGround
No matter what content management system (CMS) you choose, chances are that it has unique needs when it comes to hosting. WordPress is no different. Plenty of hosts offer optimized services that cater to this powerful software, including SiteGround:
SiteGround can be a formidable option if you value stellar support and impressive load times. As such, many users favor its service compared to options like Bluehost. For a more in-depth look at its features, you can check out our full SiteGround review for WordPress sites.
SiteGround pricing is also notable for its wealth of choices. You have a variety of potential plans at your fingertips, including:
Each of these options makes use of SiteGround's performance-optimized hardware, which is powered by Google Cloud. Nevertheless, there are significant differences among them. As such, you might find that finding your perfect match is harder than it looks.
That's why we've put together this guide. We analyzed each plan and broke them down to their essentials. Armed with this information, you can go forth and pick a plan with confidence.
SiteGround pricing explained: How to pick the best option for you
In this section, we'll walk you through five popular SiteGround pricing plans. The first three are shared hosting options with distinct features. The last two serve more specific hosting needs. We encourage you to read through each review and explore all of your options.
But first, let's quickly talk about one key detail that you'll see on the SiteGround pricing plans.
How SiteGround handles visit "limits" – they aren't limits
If you've searched around the managed WordPress hosting space, you might've noticed that a lot of managed WordPress hosts limit the number of visits your site can receive in a month. If you go over your visit limits, you'll need to pay an overage fee.
If you look at SiteGround's shared plans, you'll see that SiteGround also lists visit numbers for its plans: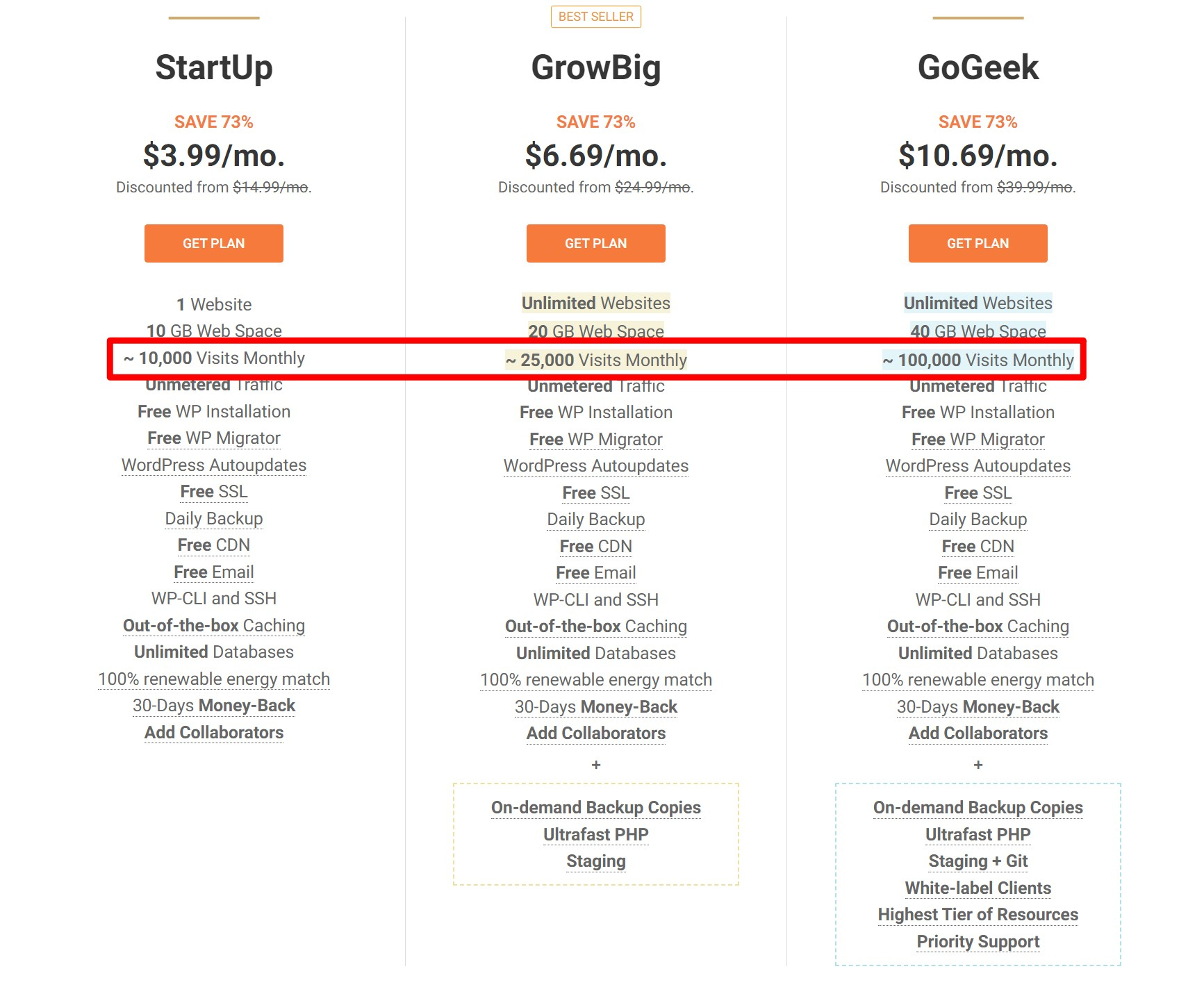 ℹ️ However, these visit numbers are not an actual limit like many other WordPress hosts implement.
SiteGround does not have actual visit limits. Instead, SiteGround limits its plans by very technical details such as CPU executions, server memory per process, and inodes.
If you're not a developer, it can be tough to understand how those technical limits apply to a real-world site. This is why SiteGround provides the estimated visits number on its pricing page. It's not a limit – it's just a guide to help you understand roughly how many visitors that plan will support. As SiteGround says, "It is merely a point of reference, rather than restriction".
If your site doesn't use a lot of resources and you're implementing performance optimization tactics such as caching, you can easily exceed SiteGround's estimated visit numbers.
1. StartUp plan
Let's start with the cheapest option available: the StartUp plan. As the lowest tier SiteGround pricing plan, you'll be getting basic hosting services to cover the essentials.
For example, the StartUp plan can only support a single website and the storage space is also a bit limited at 10 GB. SiteGround estimates that this plan can handle around 10,000 monthly visits, which is equal to around ~330 visits per day.
In addition to these allotments, you'll have access to a few other hosting features. These include, but are not limited to:
A free SSL certificate.
24/7 technical support available via a phone call, email ticket, and chat
Automated daily backups and proactive security patches
StartUp is far from the most powerful plan on this list. For example, you're limited to 1,000 program and script executions per hour, meaning it's unlikely to meet any high CPU needs. This plan will definitely cover the basics, but it doesn't expand very much beyond them.
Nevertheless, there are advantages to choosing a basic SiteGround pricing plan. For instance, StartUp plans can be a useful tool if you're not quite sure about the company's services yet. The affordable entry point can be less intimidating, and you can always scale up later. The 30-day money-back guarantee doesn't hurt, either.
Finally, let's talk about that affordable pricing. StartUp plans begin at $3.99 per month. This rate will apply for a full year of service. After that, you can choose to renew your plan for $19.99 per month.
However, that second price point isn't necessarily set in stone. SiteGround has offered discounts for renewing users in the past. As such, we recommend you keep a careful eye on potential sales.
2. GrowBig plan
If you're looking for a more advanced option, a GrowBig plan is definitely worth your consideration. For just a modest price increase, this hosting service offers a significant upgrade from the StartUp plan in terms of capability.
With a GrowBig plan, you can host unlimited sites and you double your storage to 20 GB. Moreover, program and script executions are double what they are for the StartUp plan, clocking in at 2,000 per hour. Thanks to these higher resource limits, SiteGround estimates that this plan can collectively support around 25,000 visits per month.
In addition to all the features of the StartUp plan, the GrowBig plan will provide you with:
On-demand site backups for more granular record control. This can be useful because it lets you manually back up before making big changes.
A staging site to help with any changes or transfers. This helps you update or redesign your site in a safe sandbox before making your changes live.
Ultrafast PHP functionality to decrease load times.
We recommend GrowBig plans if you're looking for speed at an affordable price. This is largely thanks to that last feature we mentioned, Ultrafast PHP:
Ultrafast PHP boosts your site speed by eliminating unnecessary loading and boosting your server resources. That means your site can process more visits at a faster pace.
Let's wrap up with a look at GrowBig pricing. These plans start at $6.69 per month, a rate that will last for a year. Renewal prices then increase to $29.99 per month. However, just like with the StartUp plans, these rates are subject to change depending on promotions.
3. GoGeek plan
In terms of the shared hosting plans, GoGeek is the most powerful SiteGround pricing option. Both server limits and advanced features scale up impressively, giving it a distinct advantage over both of the previous plans.
This becomes apparent when you look at the limits: GoGeek offers you unlimited websites, enough resources for roughly 100,000 monthly visits, and 40 GB of storage space. However, this isn't the only area where you can expect improvements. Additional premium features include:
Git integration to create repositories of your website
The ability to white-label the SiteGround backend for clients
Priority support to help you quickly address any technical issues
If you're running an agency or otherwise building websites for clients, GoGeek plans might be your perfect match. White labeling can be a critical way to provide consistent branding and keep site settings consistent. Pairing this built-in feature with a white label plugin can help you maintain ultimate control.
Another way that GoGeek can help your agency manage its sites is with granular ownership transfer settings:
If you plan to hand control of a site over to a client, you can grant them full access to everything they might need. They'll be able to administrate email accounts, domains, and other hosting settings without your help.
On the other hand, you might want to still have access in case your clients need some help. In that case, you can choose to retain some control as a secondary collaborator. GoGeek can help you apply these settings to each individual site.
As for GoGeek pricing, plans start at $10.69 per month. After the first year, renewals jump to $44.99 per month. However, if you're committed to SiteGround for the long term, you can access reduced monthly rates by signing up for a longer-term pricing plan.
4. Managed cloud hosting
Now, let's shift gears away from shared hosting. SiteGround also offers managed cloud hosting for your WordPress website. Managed hosting is a system where IT experts take care of most technical server aspects so you don't have to.
In addition to less work, you'll get more power from the cloud servers. That's because you'll get dedicated virtual resources that you don't have to share with anyone else.
This is why managed cloud hosting is usually where you'll upgrade to once you've outgrown SiteGround's cheaper shared hosting plans.
Given both of these factors, managed cloud hosting tends to be a pricier option. Nevertheless, you might find that it's worth the cost. Practical features and services include:
Technicians that can take full control of PHP versions, MySQL, and CentOS
Scaling functionality that can automatically increase CPU and RAM when it detects a traffic spike
The opportunity to create unique client roles for tailored site access
If your website needs more power than SiteGround's shared plans can offer, the managed cloud hosting option might be your best bet. You get all the power you need to support a complex website without having to worry about optimizing it yourself.
Another reason you might choose the managed cloud hosting plan is flexibility. You can choose from four existing SiteGround pricing plans or build your own plan to meet your exact needs:
As for standard pricing, the lowest tier plan in this category is Jump Start at $100 per month. This will give you 4 CPU cores, 8 GB of memory, and 40 GB SSD storage.
5. Reseller hosting
Reseller hosting is the process of purchasing a host's services and then selling them to other users, such as your clients. You can either do this alone or bundle them with other services, such as large-scale WordPress development. As such, reseller hosting can be valuable if you run an agency.
There are three SiteGround pricing plans available in this category. Each option offers different levels of storage, white labeling capabilities, and client-specific settings. However, all of them will provide you with the following:
Daily and on-demand backups for an unlimited number of websites
Out-of-the-box caching for the highest possible speeds
Easy staging sites that multiple collaborators can use
As you might expect, we recommend reseller hosting plans largely for agencies. If you're not planning on reselling any server space, it won't make much sense to invest in this option.
However, if you are selling, you're likely to find the price points accessible. Plans scale from simple and affordable to advanced and premium. That means you can find the right fit whether you're a seasoned salesperson or new to the development game.
Let's wrap up with a look at the reseller hosting prices. These start as low as $6.69 per month with the GrowBig plan. That'll provide you with 20 GB of web space. At the other end of the scale, you can pay for the premium $100 per month plan for over 40 GB of web space, customized access options, and granular control over each site's resource use.
Get started with SiteGround today
SiteGround pricing isn't always the easiest to understand. Nuanced features and different monthly costs can seem a bit like a mystery. Fortunately, this doesn't have to get in the way of finding the perfect hosting plan. By understanding the essential difference between plans, you can select the best option for your website.
To recap, here's how to choose the best SiteGround pricing plan for your needs:
StartUp – choose this if you have a single, low-traffic WordPress site and don't need staging sites or on-demand backups.
GrowBig – this is the best starting plan for most people. You get support for unlimited websites, more resources, better performance thanks to Ultrafast PHP, and useful tools like staging sites and on-demand backups.
GoGeek – there are two main reasons to choose this plan over GrowBig. First, if you need the higher resources to account for high-traffic websites. Second, if you build client websites and want the useful agency-focused features such as white labeling.
Most people should choose one of those three pricing plans. However, in some situations, you might be better off going with one of the other options:
Managed cloud hosting – choose this if you've outgrown SiteGround's shared plans or if you need more flexibility in configuring your hosting resources.
Reseller hosting – choose this if you want to resell hosting to your clients or other people.
If you're still on the fence about SiteGround, read our full SiteGround review for deeper thoughts. We also have posts comparing SiteGround versus other popular hosting providers:
Do you have any questions about how to pick the best SiteGround pricing option? Let us know in the comments section below!
Free guide
5 Essential Tips to Speed Up
Your WordPress Site
Reduce your loading time by even 50-80%
just by following simple tips.
Keep reading the article at ThemeIsle Blog. The article was originally written by John Hughes on 2021-10-11 04:37:40.

The article was hand-picked and curated for you by the Editorial Team of WP Archives.