When you embed a YouTube video in WordPress content, it can help to engage your readers, increase time spent on the page, and provide a better experience for users.
There are several ways you can embed videos into content in WordPress. In this step-by-step tutorial, we'll take you through each method. By the end of the guide, you'll know how exactly to include YouTube videos in your WordPress posts and pages and how to get them looking and working the way you want.
Method 1: Using Cut and Paste to Embed YouTube Videos
We'll start with the simplest method, which involves simply pasting the YouTube video URL into your content.
If you're using the WordPress block editor, it will automatically detect that you've pasted in a video link and will convert it into the appropriate block.
Step 1: Copy the video URL
The easiest way to do this is by selecting the entire URL in your browser address bar and pressing CTRL+C on a PC or Command+C on a Mac (or by right-clicking/clicking with 2 fingers to bring up the contextual menu and selecting "Copy".
You can also scroll down to just under the video and click the "Share" link. A pop-up will appear with the URL and links for sharing on social media. There's also an "Embed" option but you can ignore this for now.
How to Embed a YouTube Video in WordPress Starting at a Specific Time
Handy tip: if you use the link from the YouTube Share pop-up, you can choose to start your embedded YouTube video at a particular timestamp.
Just pause the video at the place you want it to start before you click the Share link to bring up a pop-up with sharing options. Then tick the box next to "Start at 2:18" (or whatever time you paused the video) before you click "COPY" to copy the link. This will add a parameter to the URL to start it at the time you're paused at.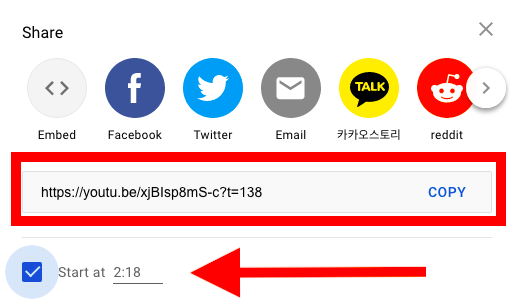 Step 2: Paste the URL into your content
Once you've copied the video URL, it's simply a case of pasting it into your content. Click where it says "Start writing or type / to choose a block" and press CTRL-P/Command-P or right-click and select "Paste".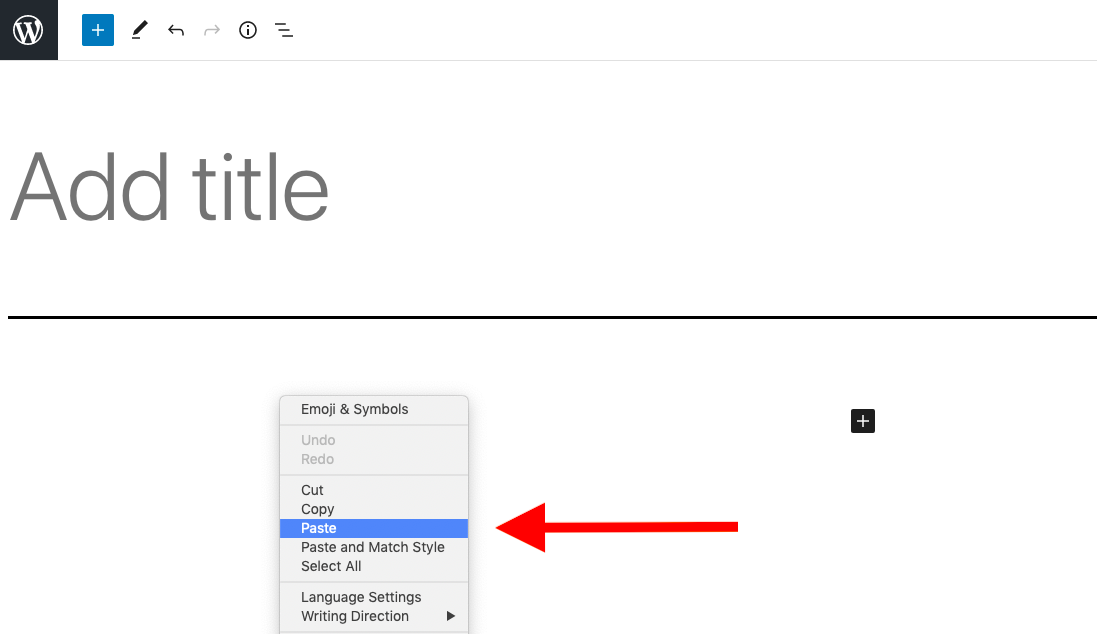 WordPress will detect that you've pasted in a YouTube video link and will automatically convert it into a YouTube block.