Home /
Hosting /
Top 5 Best Kinsta Alternatives: For Either Better Or Cheaper WordPress Hosting?
By Colin Newcomer
September 5, 2020
Searching for a Kinsta alternative? Kinsta are a great WordPress host and they consistently rank as one of the best options in the managed WordPress hosting space when you look at third-party opinion aggregators. However, that doesn't necessarily mean they're the right host for everyone.
You might be getting sticker shock when you look at the prices, you could want a little more flexibility, or maybe you just didn't have a great experience with Kinsta for some reason.
No matter why you're searching for other choices, there are plenty of great WordPress hosting options that might offer a better place for your site(s) than Kinsta. In this post, we'll share five of the best options, including hosts that are both cheaper than Kinsta and that are more expensive, but with stronger features in some areas.
Let's dig in…
Why Look for an Alternative to Kinsta?
The biggest reason you might be looking for an alternative is price. While Kinsta are competitively priced for the "premium" managed WordPress hosting space, the $30 entry-level plan for a single site is still a tough pill to swallow for a lot of webmasters. That pill gets even tougher if you need to host multiple websites or have a lot of traffic, as your next cheapest options are $60 for two websites or $100 for five websites.
You can definitely find cheaper alternatives that still offer a very good quality product. They might not be quite as good as Kinsta in every single way, but they can be a lot cheaper and still offer fast performance and useful features.
The other reason might be you're unhappy with the features that Kinsta offer for some specific reason. For example, maybe you want to use a high-availability setup or you want full root access to customize things. Kinsta don't offer those features so you would need to go with an alternative if they're important to you.
With those reasons out of the way, let's get into the best alternatives…
1. Flywheel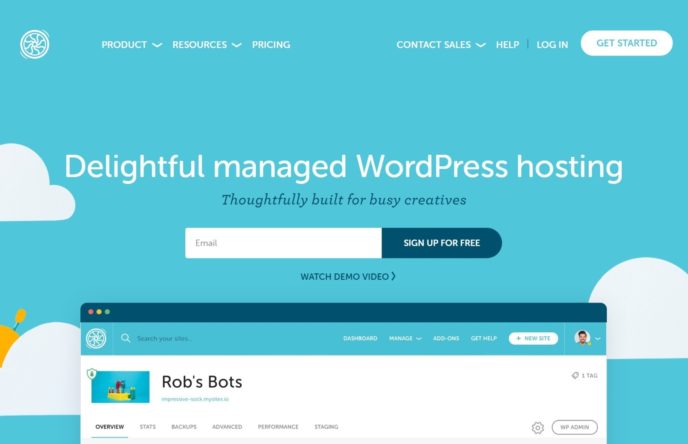 Flywheel are another popular managed WordPress hosting service. Beyond being popular with others, they're also the very service that we use here at WinningWP.
In terms of what you get, Flywheel share a lot of high-level similarities with Kinsta. You get the following features:
User-friendly custom hosting dashboard
Google Cloud infrastructure just like Kinsta
Automatic daily backups
Easy one-click staging sites
Free one-click
[…]
This article was written by Colin Newcomer and originally published on WinningWP.