Today you can hardly succeed if you do not use social media platforms as a way of advertisement. Social media platforms will allow you to advertise yourself, your product, your services. But once you start using social media platforms, it will be hard to keep up with people and their needs.
Furthermore, you will need to plan everything from how many letters your post will have to what you're going to post on holiday coming in two months away.
But no need to panic with the right tools. You can solve all your problems.
Today we have prepared for you a list of five social media management tools that will help you
1. Hootsuite
Hootsuite will help you manage all of your social media from one place. Connect your social media platform and get started.
If Twitter is the connected platform, add board Twitter in the main dashboard and organize it by adding a few streams. For example, add hashtags or mention streams to know what your followers want, like, and need.
Features
Manage multiple platforms from one place
Interact with followers by swiftly responding to incoming messages
Stay on top of your game by constantly analyzing and improving your performance
Post even when you're not around with scheduled posts
Optimize your ads
Measure your social ROI
Pricing
Hootsuite provides you with four different pricing plans.
Professional
$19 /mo
One user
Team
$99 /mo
Three users
Business
$599 /mo
Five users
Enterprise
Custom Solutions
Unlimited users
2. Sprout Social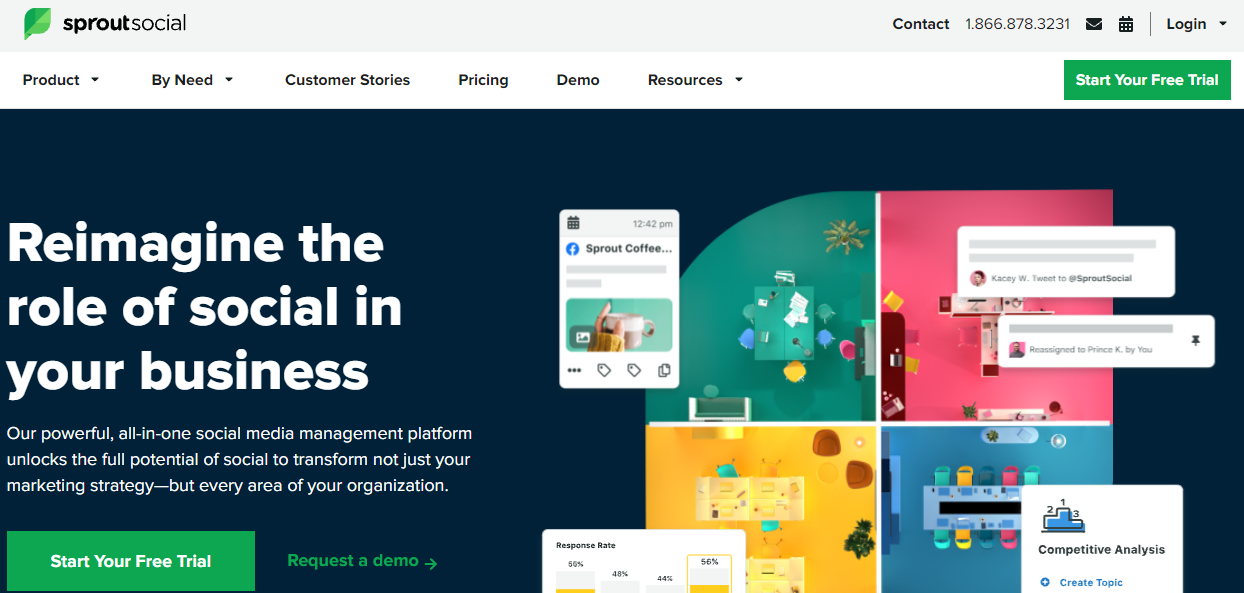 Sprout Social will help you stay organized and up to date with your posts. Also, this tool is easy to use. Once you purchase Sprout Social, you can choose which social platform you want to connect to this tool. Then you'll see a dashboard with different choices that will help you organize your posts. The messages tool is an inbox that will show all the changes from your social media profile. It will even provide you with information such as who started following you, etc. Tasks tool, you'll be able to give and receive tasks here. Depending on which social platform you connect to, you'll be able to see that feed. The publishing tool will show you the calendar of your scheduled posts. Reports tool will show you social media platform overview.
Features
Engagement
Publishing and scheduling
Analytics
Listening
Pricing
Sprout Social comes with three different pricing plans.
Standard
$99 per user/month
Five social profiles
Professional
$169 per user/month
Ten social profiles
It comes with everything that the Standard plan
[…]
This article was written by Jasmina Halilovic and originally published on WP Pluginsify.