Want to check your Analytics stats right from your WordPress dashboard?
Having your Google Analytics dashboard within your WordPress admin makes it easy to monitor your traffic, so you don't always have to log into your Google Analytics account for tracking. Based on these reports. you'll get insights into how to optimize your content for boosting your sales and conversions.
Most of you must already be using Google Analytics to keep an eye on how your site's performing. In this article, we'll show you how to check your site stats right from your dashboard by adding Google Analytics dashboard.
If you're one of them, then stop worrying right now. In today's article, we'll show you how to check your site stats right from your dashboard without logging into any other website or tool.
Check Website Stats Right From Your WordPress Dashboard

The easiest way to add stats to your dashboard is to add a plugin, such as MonsterInsights.
MonsterInsights is the best Google Analytics plugin for WordPress. Not only it allows you to add statistics to your site, but it also lets you enable advanced analytics reports, such as eCommerce tracking, downloads tracking, and more without the need to touch a line of code.
To know more about this plugin check out our detailed MonsterInsights review.
Let's check out how to use this plugin to add the stats dashboard to your WordPress.
Step 1: Adding Google Analytics Dashboard to WordPress Admin
The first step is to install the MonsterInsights plugin on your WordPress dashboard.
For more deails, check out how to install a WordPress plugin.
Once MonsterInsights is installed and activated, go to your dashboard and click on Insights » Settings. Here you can enter your MonsterInsights license key that is available in your MonsterInsights account.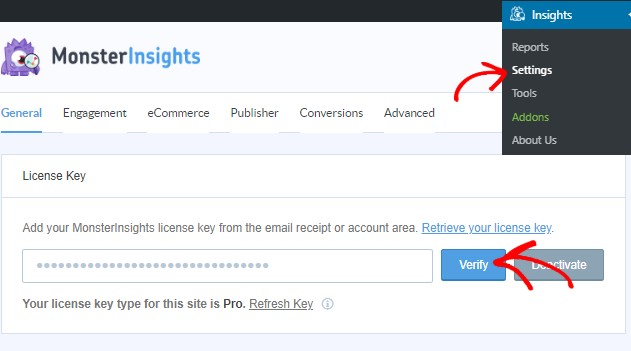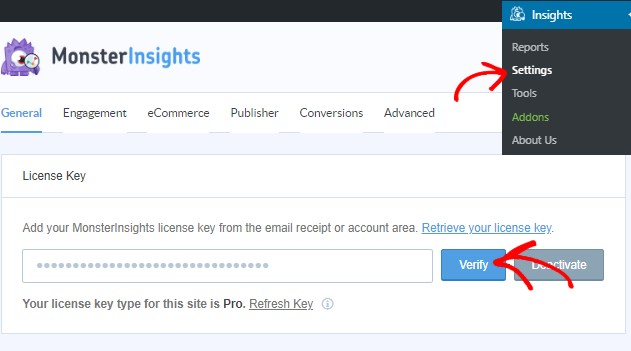 Now click on the Verify key button. Once done you have
[…]
This article was written by Editorial Team and originally published on IsItWP – Free WordPress Theme Detector.