Do you need to quickly set up a relatively simple call center for your remote team, or are you may be looking to improve customer service by making it more user-friendly, personalized, well equipped? There's a call center solution (or two) tailored to your specific requirements, whatever the case may be.
It's a challenge to figure out which one works best without testing all of them. This article will briefly introduce you to some of the call center software according to users and their own experience with the software in question.
1. Zendesk
Zendesk is a customer service platform. It provides a robust, integrated speech system that meets all of the essential requirements of modern call center teams. Through integrations and apps, it offers a variety of ready-to-use customization choices. It's a modern system designed to fit virtually any business due to its high customization abilities.
One of the main reasons for its popularity is its superior ticketing system and its native integration with your CRM and hundreds of other apps that allow you to expand its capabilities even further. But if you don't want to mess about with a system too much, you'll be glad to hear that it works superbly straight out of the box as well. It truly is one of the best solutions on the market as it allows for easy communication both with the customers and among you and your team.
Moreover, Zendesk's superior ticketing system and automation, such as macros, triggers, ticket routing, and automated replies, are also popular among teams. When support, sales, marketing, and product teams want to exchange knowledge and collaborate on customer concerns, they opt for Zendesk.
2. Freshworks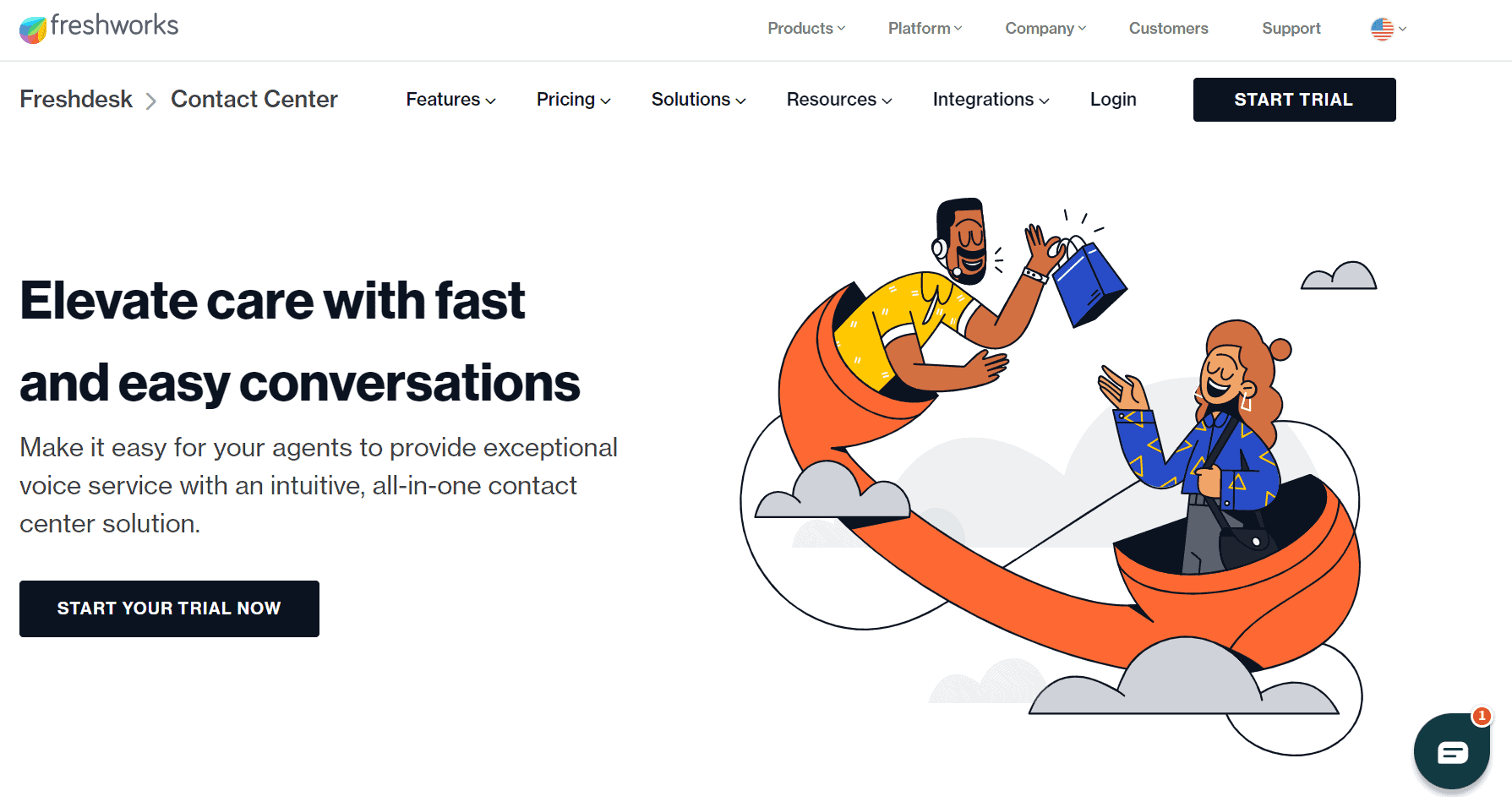 Freshworks is a super simple cloud-based, all-in-one call center software that will delight many business owners. There is only one dashboard, and everything is controlled directly through it – even phone calls can be made with a single click.
This software is probably best suited for small or medium-sized businesses because it doesn't require hardware. However, it still offers a lot of functions, including call masking, routing, recording/monitoring, forwarding, and conferencing calling. You can use this system globally; however, local numbers must be purchased through Freshworks' management inventory.
Overall, it's a decent platform for integrating calls, and the fact that it's web-based makes it both accessible and economical. The basic plan is free to use for an infinite number of agents, with call charges being the only fee. There are subscription versions available, with more advanced features such as call routing beyond business hours and metrics and monitoring and even omnichannel routing, available in the more expensive choices.
So, if you're looking for something
[…]
This article was written by Ivana Banić and originally published on WP Newsify.