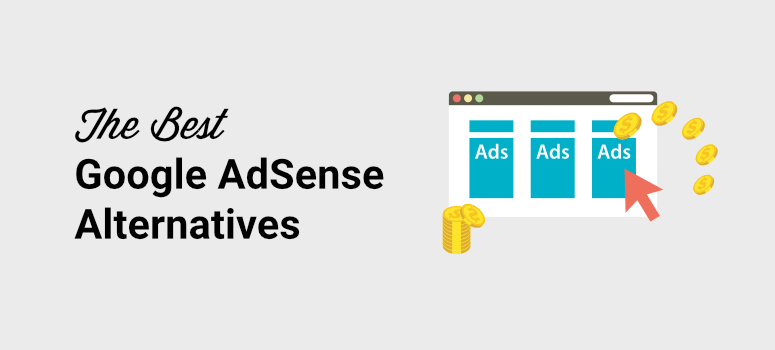 Are you looking for the best Google AdSense alternatives to monetize your website?
AdSense is the most popular advertising service in the world for earning money from ads. Site owners from around the world can sign up for free to start using the platform. However, if you feel AdSense isn't right for you, there are plenty of other options out there.
In this article, we'll share 9 of the best Google AdSense alternatives you can use.
How to Choose the Right AdSense Alternatives
Google AdSense is the #1 advertising network for publishers and site owners to make money through their content online.
It's so easy to set up and start earning from AdSense. All you have to do is to place the AdSense code on your blog and ads will show up once your account is approved. You can display responsive native ads, text ads, and image formats on your site.
However, there are many reasons to look for a reliable Google AdSense alternative.
Perhaps you've had a hard time getting approved for an AdSense account, or maybe your AdSense account's been banned.
You may also want to explore more ways to earn money alongside the Google AdSense ads program.
Whatever your reason is, there are 2 ways to monetize your blog with an AdSense alternative:
By choosing an alternative ad network
By choosing an affiliate network
Choosing an alternative ad network is the best choice if you want an easy way to place ads on your site that will drive income.
Choosing an affiliate network would be a better option if you want to diversify your income by actively promoting third-party products in your content. You'll get a commission for every sale you make. For more on that, see how to start affiliate marketing.
Keep in mind that when you choose an alternative, one of the most important factors to look at is the CPC (cost per click) CPA (cost per action), and CPM (cost per thousand impressions) pricing models. Some ad services offer a flat fee payout, some take a commission, while others let you earn based on the number of impressions and clicks you get on the ads displayed.
In this list, we'll cover both kinds of Google AdSense alternatives we just mentioned. We'll also tell you how each platform pays you for displaying ads on your site.
Let's get started right away so that you can get to earning money faster.
Best Google AdSense Alternatives – Ad Networks
Below are the best ad platforms you can use to display ads on your site.
1. Media.net