In the past, scheduling a doctor's appointment or reserving a room at a hotel was a long waiting process.
Clients had to look up for a phone number and speak to a representative, or contact them via email and wait for a response, or worst still, visit their offices in person to book an appointment.
Today, booking and placing reservations for your customers doesn't have to be a complicated process, especially if your website runs on the WordPress platform, thanks to the numerous WordPress booking plugins available in the WordPress plugin directory.
These plugins offer an all-in-one solution that allows your clients to reserve and schedule appointments straight from your website without the need to call, send emails, or visit your office.
These powerful tools ensure that everything is kept in order and prevent the chaos associated with too much paperwork. Apart from that, most of these tools integrate with payment gateways allowing you to charge fees and collect payments directly through your website.
So, does your website run on the WordPress platform? Do you run an online business that relies on reserving client's bookings? If your answer is YES, then this post is for you.
Check out the 18 best WordPress booking and reservation plugins you can install on your website to help you take your business to the next level as well as make it look more professional.
But before we dive in, let's have a quick look at some pointers.
WordPress Booking and Reservation Plugin: What to Look For
As aforementioned, WordPress offers a handful of booking and reservation plugins in its directory- both free and premium. However, all of them do not offer the same features. As such, you need to consider your business model.
For instance, an optician's office may need to disclose the various services offered as well as the specific times. A gym, on the other hand, might have more than one trainer. As such, each trainer's schedule must be correctly listed on the site.
That said, it's vital to consider each of the plugin's features as well as how its functionality will benefit your business.
Here are some features to look out for.
Customizability: Ensure that the calendar you choose can easily be placed wherever you want it on your website.
Mobile-friendliness: We live in an age where people access the internet via smartphones. For this reason, your calendar choice must be responsive. What this means is that it must be capable of loading or adapting to different screen sizes presented to it.
Payment integration: If you plan on accepting payments for appointments via your website, it's necessary for you to look for a plugin that integrates with different payment gateways such as PayPal, Stripe, etc.
Email confirmations and reminders: Confirmation emails are sent for the sole purpose of confirming that a particular online booking has been confirmed and that the process is complete. Reminders, on the other hand, provide multiple opportunities to remind your customers of their appointments. Reminders help reduce no-shows. They can as well decide to cancel or reschedule their appointment if the need arises. Look for a plugin that offers these features.
Filterable and searchable: Consider installing a booking plugin that allows you to filter events and has a search function that allows your customers to find events in a hurry.
Service provider support for multiple employees: If you run a gym where you have more than one instructor, for instance, it's ideal to have a plugin that enables you to display the instructors' profile as well as their calendar schedule.
Edit bookings: Another important feature to consider is the capability for your clients to view and edit their bookings.
There are numerous other features to look out for. We recommend that you choose the features based on your business needs.
Reasons Why You Might Need a WordPress Booking and Reservations Plugin
There are different situations when you might need to install a booking plugin on your website. We have sampled a few situations and listed them below.
If you run a practice such as a dental or law practice, you can install a booking plugin to make it easy for your clients to book appointments with you.
If you assist people to book accommodation in hotels or reserve rooms.
If you run a travel agency where you assist people to make travel plans.
If you assist people with booking flights.
If you run a car hire service or taxi business.
Having said that, now let's look at the various booking and reservation plugins.
Best WordPress Booking and Reservation Plugins – Detailed Reviews
1 Amelia
Apart from being popular, Amelia is one of the most powerful WordPress plugins ever designed. With this plugin, you do not need sticky notes. The reason being, it gives your clients a chance to book your services at any time of day. Simply put, the Amelia plugin is simple, flexible, and manageable.
Offered in both free and premium versions, the plugin embeds cutting-edge software architecture to ensure that your appointment bookings are fully automated.
All elements from backend API and UX to the user interface are professionally designed to ensure that the plugin works across various enterprise platforms – big or small. So, regardless of whether you run a salon, spa, or dental practice, Amelia will most likely work for you.
The plugin includes easy to use features that simplify the process of creating appointment booking forms and include various built-in functions such as support for multiple employees that enable you to add specific services, hours available, and time-off for each employee.
Along with that, the plugin allows you to send email and SMS notifications to remind your clients and employees of their appointment.
Additionally, it integrates with various payment gateways for onsite payments and syncs with Google Calendar making it easy for your clients to keep track of their appointments.
2 Booknetic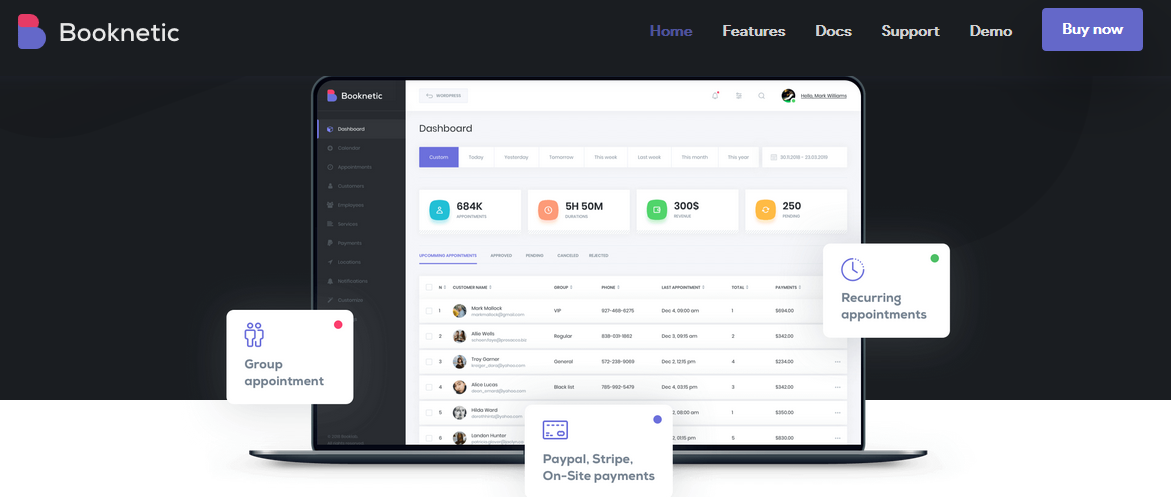 Booknetic is another powerful and premium WordPress booking and reservation plugin. Featuring a modern and responsive design, the Booknetic plugin presents you with a simple way to build a perfectly tailored booking and appointment forms for your business.
But that's not all, the plugin's modern and elegant UX is both intuitive and attractive to ensure improved user experience.
Just like Amelia, this powerful plugin allows you to completely automate your booking process and customize it for your users.
For example, you can add booking steps for your clients as well as add bookings to employees' calendars automatically. You can also use other built-in options in the live form builder to add locations, customize the overall design, and change the color schemes to your liking.
What's more, the plugin integrates with various online payment gateways such as PayPal and Stripe. It also integrates seamlessly with WooCommerce, which enables you to add other payment options.
Other amazing features include built-in support for email and SMS notifications, Google Calendar synchronization, and the option for users to make one-time, recurring, or group appointments.
3 WooCommerce Bookings and Appointments

Developed by PluginHive, the WooCommerce Bookings and Appointments plugin is an end-to-end WordPress booking and reservations plugin designed for business owners.
The plugin integrates well with any type of business that needs a booking system.
With this plugin, you can convert any existing WooCommerce product or service into a bookable resource. You can also sell products and take bookings for other products or services.
Along with that, you can offer appointments in fixed time slots based on your liking.
For example, you can configure bookings duration in minutes, hours, or months. You can also configure bookings for a range of days to allow multiple day bookings for your clients.
What's more, the calendar has a booking cost feature that allows you to set the booking cost in order to set different prices for different appointments or bookings. For example, the plugin's Dynamic Total Booking Cost clientele allows your team to charge appointments based on their expertise.
The plugin also allows options for email notifications, Google calendar synchronization, multi-lingual support, file attachments, and is compatible with WPML. The plugin is offered in both free and paid versions.
4 Bookly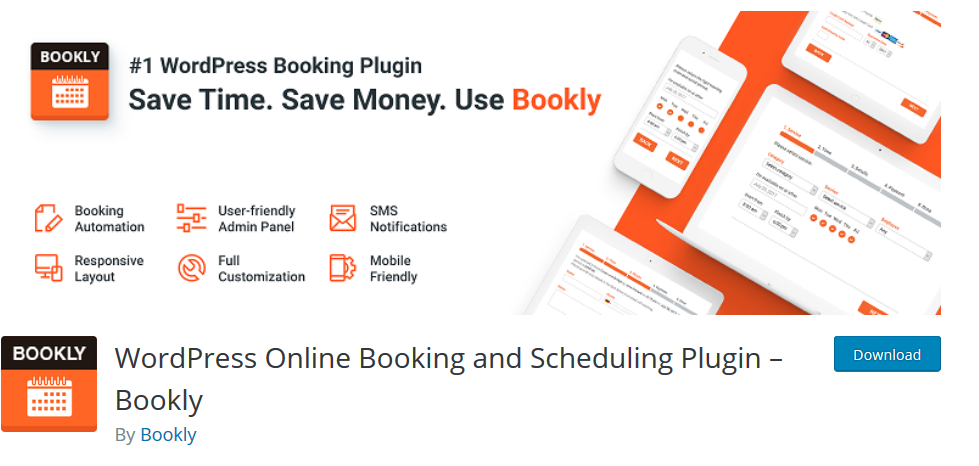 Bookly is another WordPress booking and reservation plugin that offers lots of fantastic features coupled with an intuitive interface. It's a great option for users who do not want to custom code.
Offered in both free and paid plans, this modernized plugin is fully customizable and mobile responsive, which makes it easy for users to book and make appointments while on the go.
The plugin offers support for online payments and gives you the option to set different prices, where each team member can create unique pricing and availabilities. For example, if you run a gym and have multiple instructors.
Moreover, the plugin integrates seamlessly with WooCommerce for more payment options and Google Calendar, making it easy for your customers to keep track of their appointments.
Notably, you can send both email and SMS confirmations via this plugin as well as import and export your client list. Overall, Bookly is a total steal, especially for small businesses looking to add the booking functionality on their website.
5 Gravity Forms
Developed by Rocketgenius, the Gravity Forms plugin is a flexible online WordPress booking system designed for businesses. It is a fully customizable booking form thanks to its advanced drag-and-drop interface.
The plugin features a responsive design that allows your clients to book appointments from any device. Speaking of mobile, the plugin also supports SMS notifications.
What's more, GF's front end management allows both the client and the service provider to view their appointments on the front-end. It also supports different payment gateways such as PayPal, Stripe, and others.
Other notable features include endless color schemes, multi-lingual support, as well as a personalized schedule that allows you to customize your work schedule, including holidays and breaks.
6 Book an Appointment Online Pro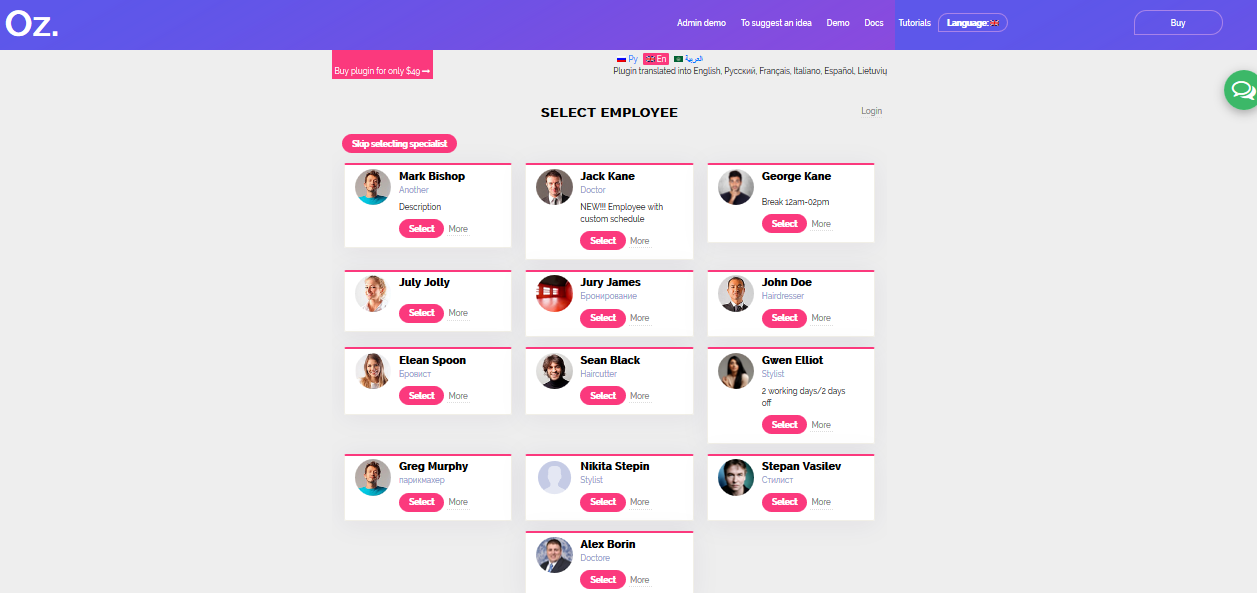 If you are looking for an online booking system that makes it a breeze to create and manage online appointments on your WordPress site, then the Book an Appointment Online Pro is worth a shot.
The plugin allows you to display your services all in one place. In addition, it comes with numerous premium features such as Google Maps integration, sign up forms, email notifications, and ten different booking modes.
Besides that, this plugin comes with an in-built feature that helps prevent overbooking from customers by only displaying the available slots.
It also allows payment collection from customers via WooCommerce payment gateways such as Stripe, 2checkout, PayPal, etc.
As aforementioned, the plugin allows you to display your services in 10 different ways, which allows your clients to have multiple booking choices.
For example, they can make a single day booking, single day and time booking, time range with single day booking, continuous day bookings, round trip booking, and many more options.
Like most premium booking plugins, the Book an Appointment Online Pro plugin allows you to assign staff members to any available appointments.
Last but not least, the plugin is fully compatible with GDPR compliance and is fully translation ready. You can do translations via WPML and Polylang or via PoEdit.
7 Bookme Pro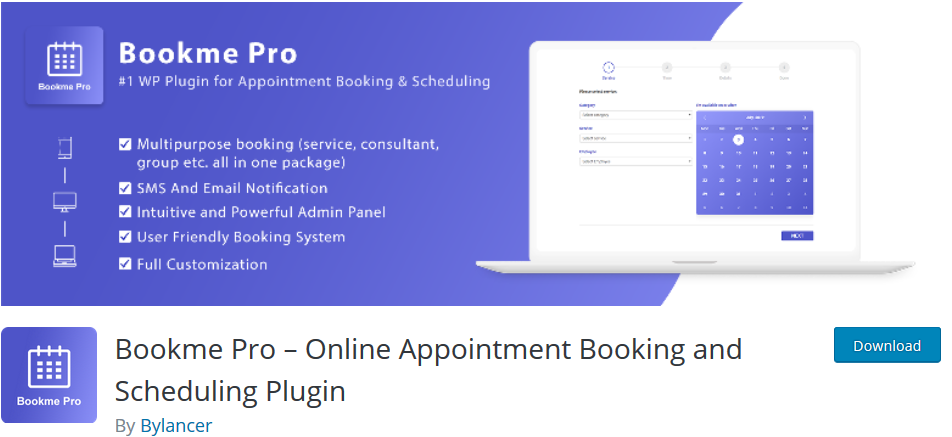 Developed by Bylancer, Bookme Pro is a powerful WordPress booking and scheduling tool. It's easy to use and makes it super easy to manage your clientele regardless of the kind of business you run.
It's an ideal choice for individuals who run clinics, spas, institutions, and other types of businesses that rely on their websites to make reservations.
It has an intuitive and powerful admin panel that allows you to have full control and manage your client's appointments.
In addition, it has a fully responsive front-end design that allows your customers to make appointments, whether on mobile devices or computers.
When it comes to customization, the plugin allows you to show or hide any fields on the booking form as well as add as many booking forms as you require.
Along with that, you can manage bookings in either daily, weekly, or monthly formats, add client time zones, and configure schedules and time-offs.
What's more, you can send SMS notifications to your customers to alert them about their appointment. The plugin is offered as a free version, but you can also unlock more advanced features by paying for the full version.
Some of the advanced features you'll get with the premium version include Google Calendar integration, payment gateways, an unlimited number of staff members etc.
8 Vik Appointments
Vik Appointments is an online WordPress booking system that allows you to create and schedule appointments for your customers.
Packed with a plethora of features, this plugin presents a powerful solution to cater for your business booking needs.
To begin with, the plugin allows you to manage bookings of various services or employees, add time slots, pricing, event capacity, and service or employee availability.
This makes it easy for your clients to book appointments with ease, regardless of whether it a doctor's appointment or a consultation with your therapist.
Moreover, the plugin allows you to offer reservation discount coupons as well as generate invoices for your customers. It also has options for setting up automatic email and SMS notifications for confirmation of new bookings, cancellation, or follow up with reminders.
The plugin also integrates with various payment gateways allowing you to accept online payments. However, you have to upgrade to the pro version to enjoy these features.
9 Appointment Booking Calendar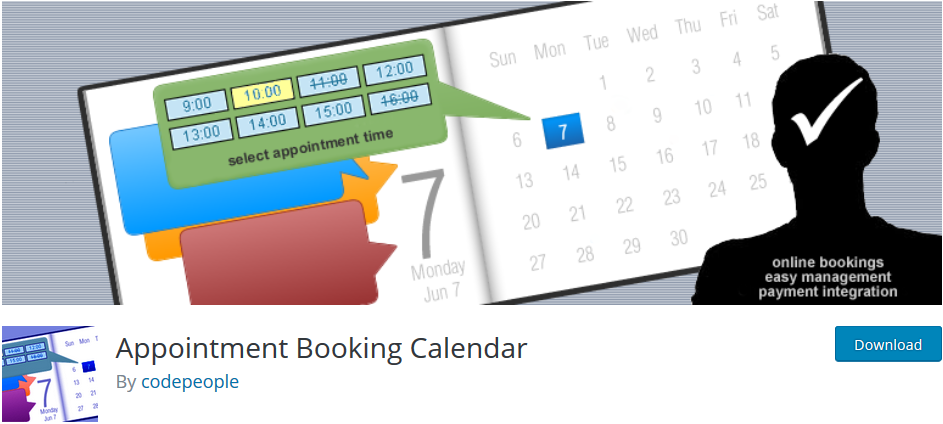 The Appointment Booking Calendar is a simple WordPress plugin ideal for business owners or individuals with basic booking needs that are not worth paying for.
This free plugin brings with it greater functionality than you would get from most free versions.
Some outstanding features that come with this plugin include email notifications, bookable time slots, Google Drive exports, ability to print booking lists, and captchas.
You can also customize availability as well to freeze how many times your customers can book for appointments.
However, if you intend to charge your users for booking appointments, you'll need to opt for the premium version. This is because the free version doesn't support payment gateway integrations.
10 Webba Booking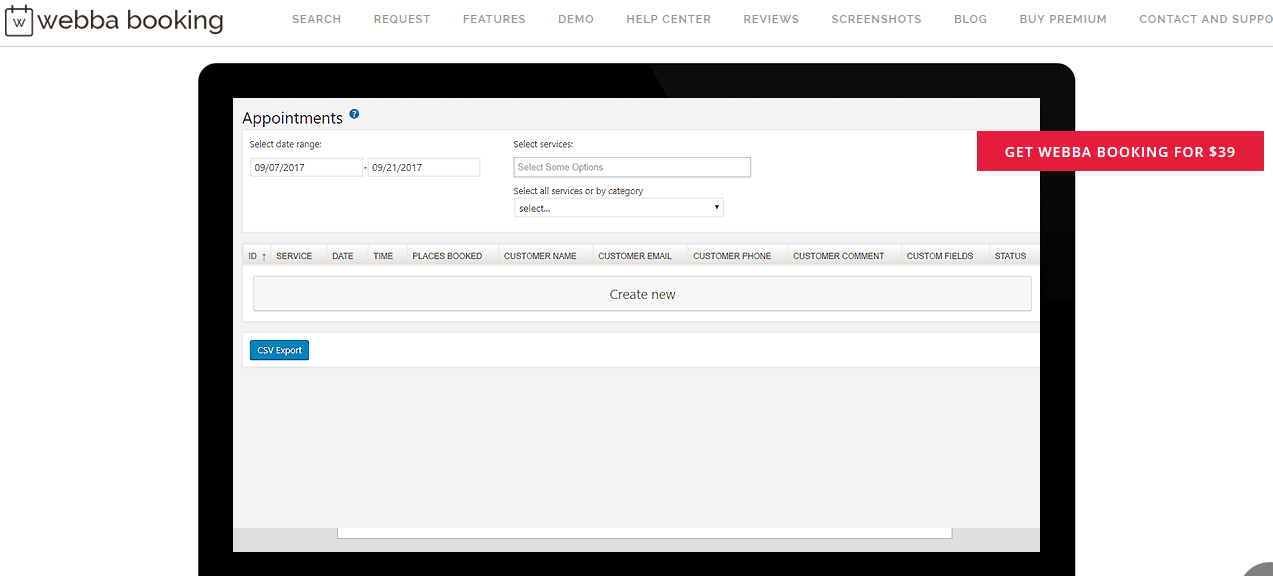 The Webba Booking plugin is an online booking and appointment system with numerous incredible features that you need to streamline your business.
Not only does it offer a comfortable booking solution, but it also creates a satisfying experience for customers with the intent of scheduling your services.
But, what does this plugin offer?
Like most premium plugins, this plugin is fully customizable to fit in with your website's design. It comes with 79 presets that you can use or further develop. Along with that, the Webba Booking plugin has an option that allows you to add custom fields to the booking form.
What's more, the plugin integrates seamlessly with Google calendar allowing you to send appointment notifications to your clients. Receiving online payments through your website is also a breeze because it supports PayPal payments.
The plugin also allows you to send notifications and reminders automatically. For those who would like to print appointments, it's good to know the plugin also supports CSV exports.
11 Booki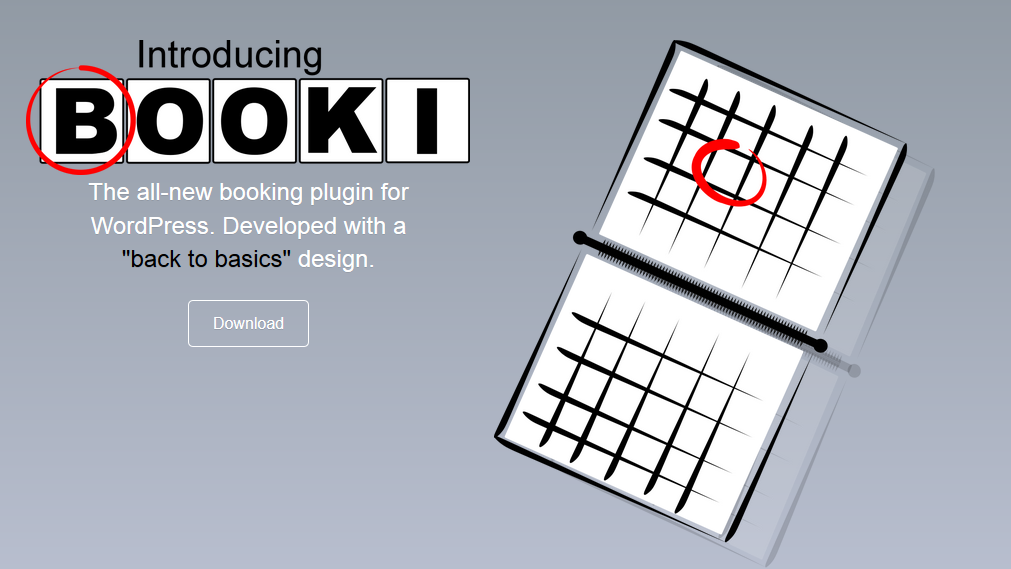 If you are looking for a feature-rich WordPress plugin for creating and managing online reservations and appointments, the Booki plugin is worth a shot.
Developed by Typps, an app development company, this plugin is an ideal choice for scheduling accommodation, taxi, meeting, gym, and spa appointments. It simply supports both appointment and reservation-based bookings.
What's more, it integrates seamlessly with PayPal allowing your clients to make payments.
It also has a cart system that enables the purchasing of multiple bookings. As if that's not enough, the plugin integrates with Mailchimp allowing you to offer discounts via coupons.
12 Calendarista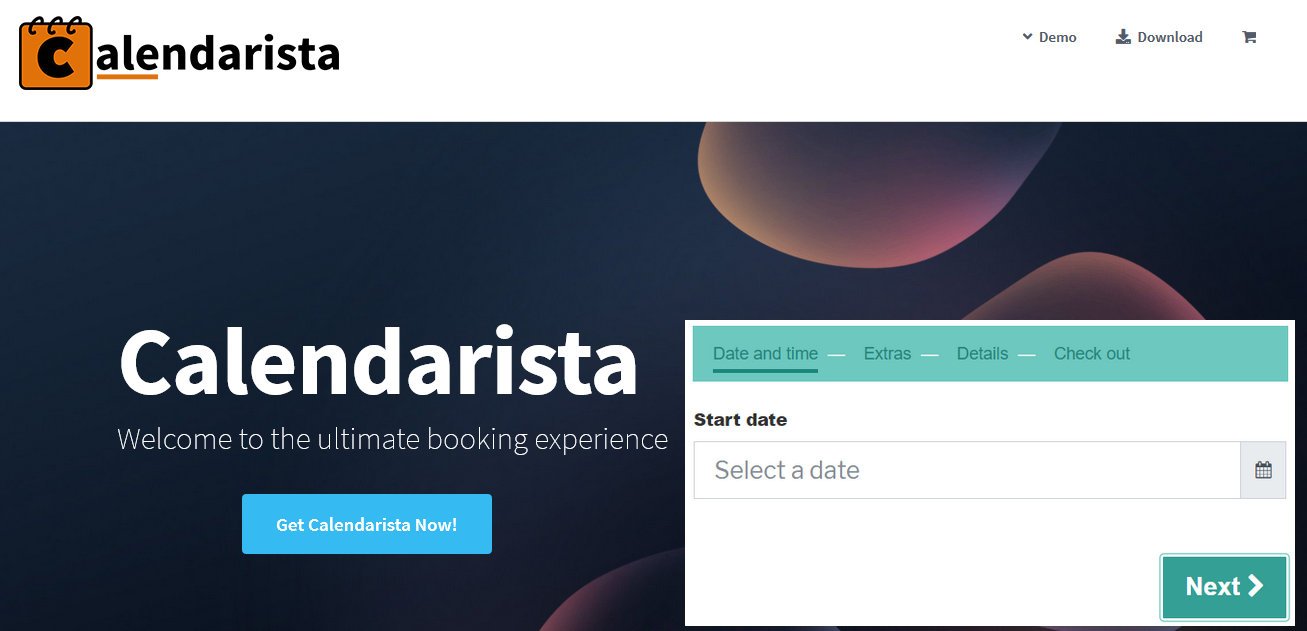 Developed and maintained by Typps, the team behind Booki, Calendarista is an all-inclusive WordPress booking and reservation system. Its design enables businesses and individuals to schedule and accept online appointments.
The system can be used to make reservations in spas, restaurants, clinics, and more. Some notable features include WooCommerce support, three payment gateways, form builder, and Google maps integration.
The plugin comes with a backend calendar view to enable easy scheduling and booking. You can also print appointments since the plugin supports CSV exports.
13 MotoPress Hotel Booking Plugin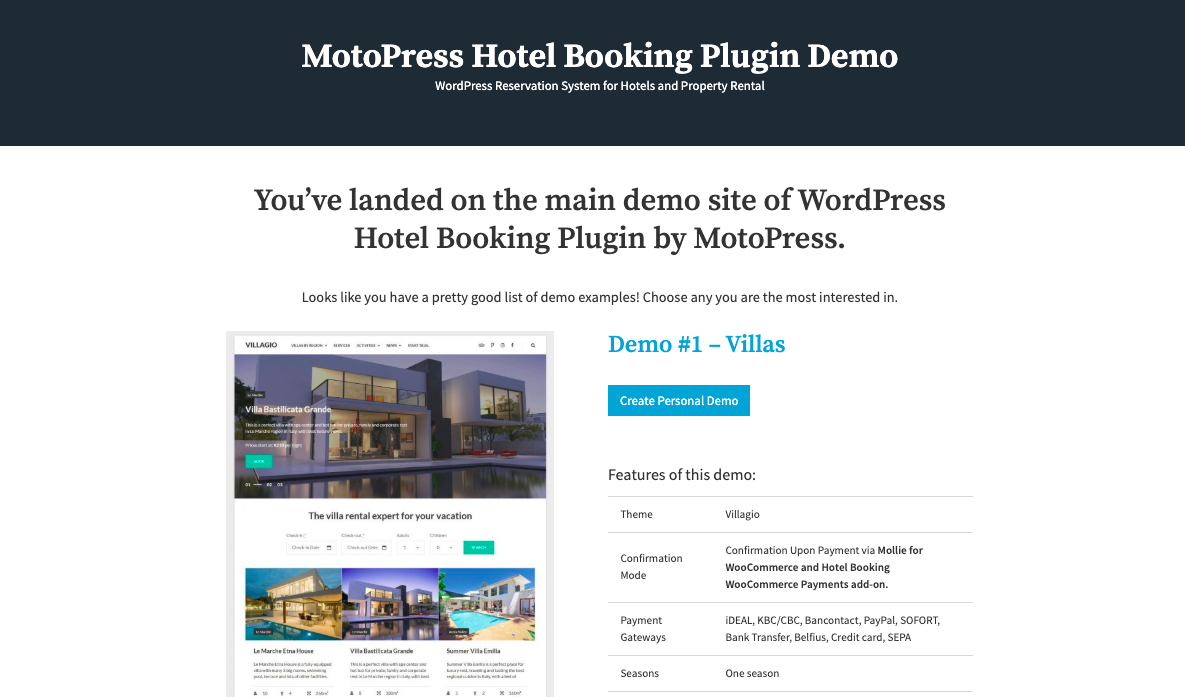 The MotoPress Hotel Booking is an ultimate and comprehensive booking system specifically designed for individuals who run hotels, lodgings, apartments, and other similar establishments.
This standalone plugin integrates seamlessly with any WordPress theme and allows you to make online reservations. Along with that, the plugin supports automatic synchronization with popular OTAs such as AirBnB via iCal format.
What more, you do not need to add or customize any shortcodes for you to use it, making it an easy to use tool even for non-techy business owners.
It offers options such as flexible booking rules, automatic inventory control, email confirmations, seasonal pricing and rates, discount coupons, and more.
The system also integrates with various payment gateways such as PayPal, Stripe, 2Checkout, and other payment systems offered by the WooCommerce add-on.
Overall, the MotoPress Hotel Booking plugin is a comprehensive system that you'll want to add to your WordPress site if you run either of the above business establishments.
14 Easy Appointments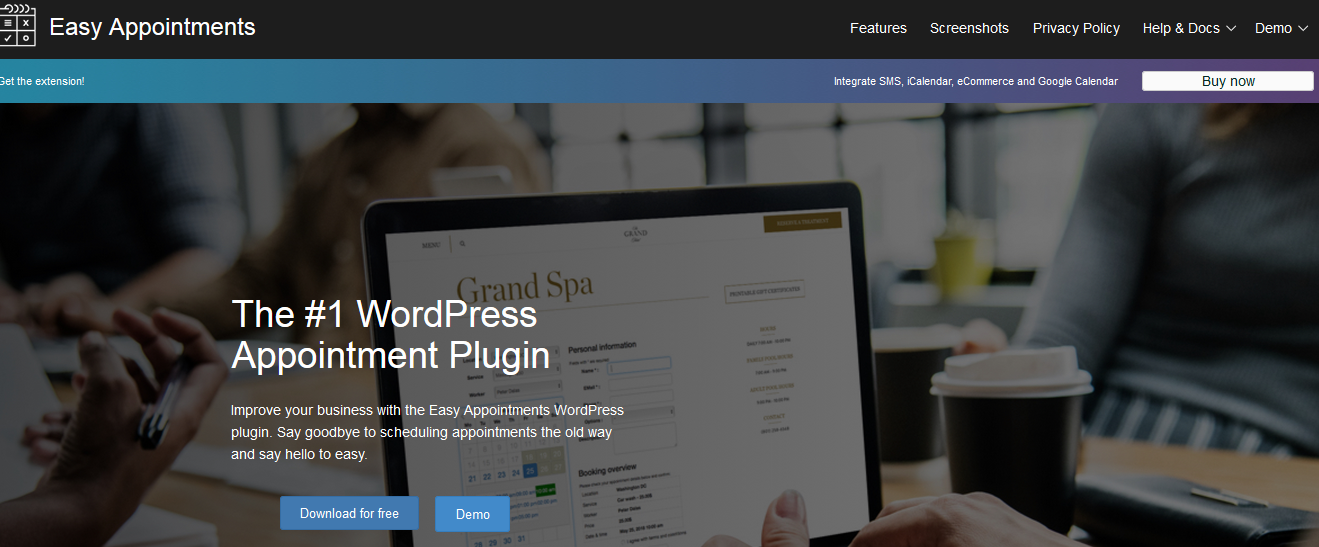 Just like the name suggests, Easy Appointments is an easy and simple way to facilitate the booking of appointments on your WordPress site.
To begin with, the plugin comes with an incredibly intuitive user interface that makes it easy to create booking forms. It supports multiple services, staff members, and locations.
Its timetable is superbly flexible, allowing you to create advanced timetable options. Moreover, it includes the option to send customizable emails to your clients once an appointment is confirmed.
Other features include the option to add labels or prices, add custom form fields, bulk custom builders, and localize the date picker.
15 Booking Calendar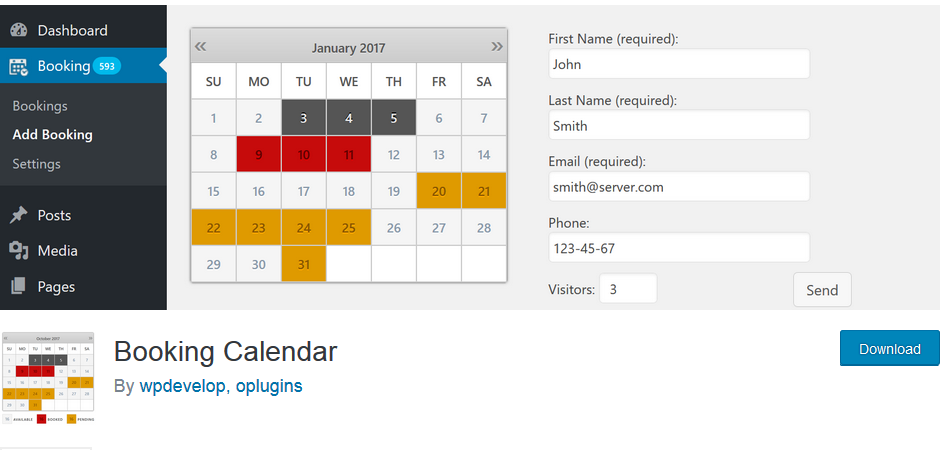 Booking Calendar is probably the oldest and a well-known WordPress booking plugin. It's a great choice for most businesses and offers unpatrolled flexibility when it comes to booking appointments.
It's customizable and sleek design makes it blend well with your website's design. Moreover, it's fully responsive. This means that every user can make an appointment from any mobile device or computer since it adapts to different screen sizes.
In addition, all the bookings are stored in your database, so you do not need to have third-party accounts. This ensures that you have a full summary of the bookings by day, week, or month.
The import of events from Google Calendar is also possible via Booking Calendar's Booking Manager.
16 Sagenda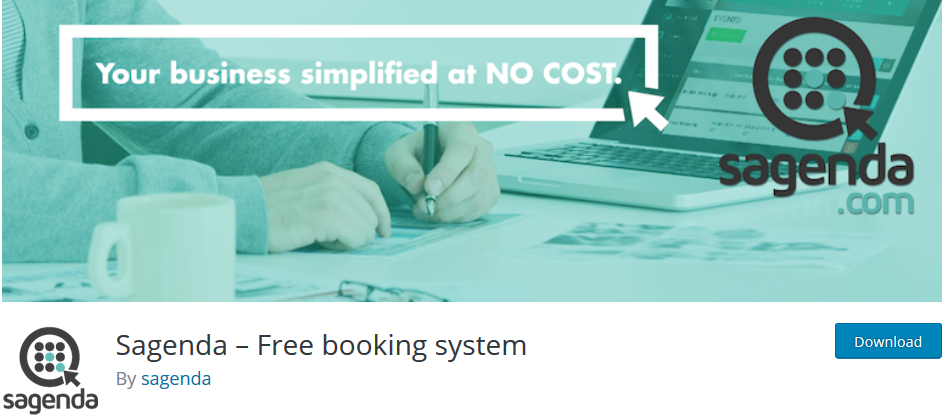 Sagenda is an online reservation solution designed for freelancers and project owners working with clients. Offered for free, this plugin allows your clients to books appointments at no extra cost.
One feature that makes it so unique is that there is no limit to the number of bookings. To use the plugin, you must first create an account after which an authentication code for verifying the plugin is sent. You can then install the plugin to allow your clients to make appointments.
Unlike most free plugins, Sagenda integrates with PayPal and credit cards, allowing your clients to make payments. It also supports numerous languages such as Spanish, French, Hindu, Russian, etc.
Wrapping Up
As you can see, there are numerous plugins that you can use to automate the booking and reservation process on your website. However, you should keep in mind that the need for every business is different. As such, select one that you feel will work for your situation.
Do share your views about this post in the comments below.
Keep reading the article at Blog – MyThemeShop. The article was originally written by MyThemeShop Editorial Team on 2020-02-23 07:04:42.

The article was hand-picked and curated for you by the Editorial Team of WP Archives.