It seems that today almost everything can be bought and sold electronically. Search for a product on the Internet – buy the product – the product is delivered to your address. From the warmth of your home, we get to the desired products or services in a few clicks.
Since this way saves a lot of valuable time, many users choose this method of shopping. Let's remember how often we wandered around shopping malls or shops unnecessarily, yet we didn't find what we were looking for. Many times, right?
Given our limited ability to visit all the stores that could potentially have our desired product, this way of shopping is undoubtedly becoming an outdated method and less and less present today. We would instead go on a search through the Internet and choose the colors, looks, quantities of the required product, and similar from the comfort of our home.
Given that this way of supply and demand, shopping, and delivery is proving every day to take precedence over others in the future, service and product providers are undoubtedly pleased about this. Namely, there are several reasons for that, and one of the basic ones is that suppliers can reach any client on any side of the world in this way.
When running an eCommerce store, you need to have all the data in one place, and everything works perfectly. To enable that, you need to add adequate functionalities to your site so that everything can work flawlessly, especially in orders and shipping. Through this article, we will show you more on the part where service and product providers need adequate tools for delivery or shipping.
Before we present our two selections of shipping plugins, as the best among the best, let us scratch on WooCommerce through a few sentences. WooCommerce is certainly considered to be the most popular open-source eCommerce platform today.
With the ability to easily integrate with WordPress, they make the perfect combination and today cover over 42% of pages on the Internet. We are sure that this number will grow over time and that we will reach the number that half of the pages on the Internet were created precisely like this.
Add the right functionality to your site by choosing the best plugins and achieving the results you dream of. Whether you have a large number of products or just a few of them, ensure the quality and efficiency of the site. Accordingly, we present you the two plugins: Table Rate Shipping Pro and Order Export Pro.
WooCommerce Table Rate Shipping PRO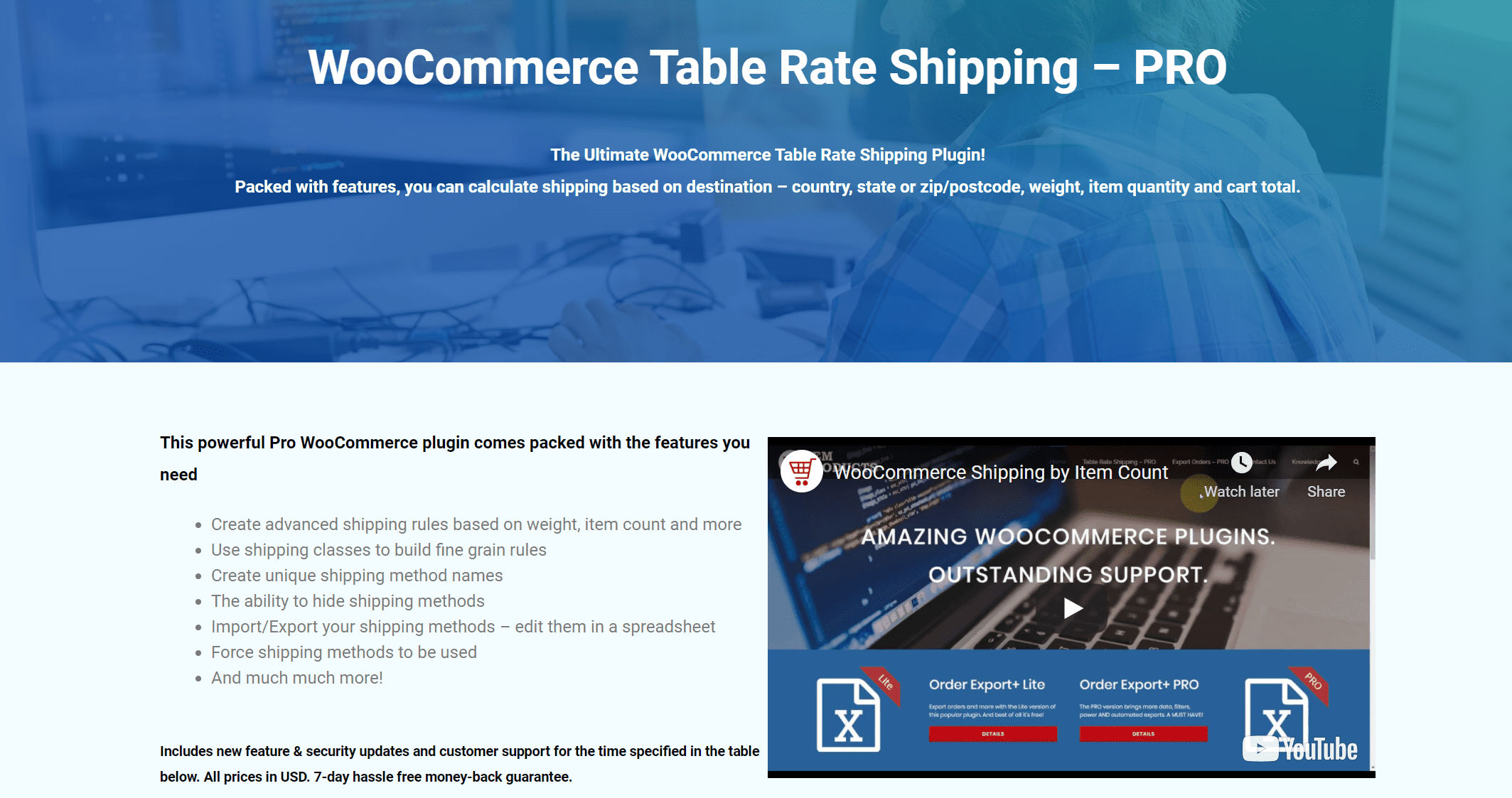 Valid for an easy-to-use plugin and a plugin with very seductive features. Namely, Table Rate Shipping PRO allows you to guide the delivery rate by country, state, zip code, calculate delivery based on the number of items in the basket, and provide unlimited delivery services and much more.
Another feature we will mention about this plugin is that it allows you to calculate shipping costs based on total price or weight and supports WooCommerce's built-in delivery classes and handling fees for each order.
This plugin is a premium plugin designed to give you as many shipping options as possible. When we have introduced you to the plugin and its basic characteristics, let us take a closer look in this article at its ability to calculate delivery based on the number of items in the cart. We will try to explain to you the advantages of using it and how to use them all in the best possible way.
So let's get started. By clicking on the WooCommerce store, the Settings, and the Shipping option, we get a nice window of possibilities. Shipping zone is what we recommend you start with. Set the shipping zone for the area of ​​interest, i.e., the area where the shipping costs will be calculated for the marked products based on the number of items in the basket. In this way, any rules that will be further adjusted will be binding and applicable to the country you have chosen.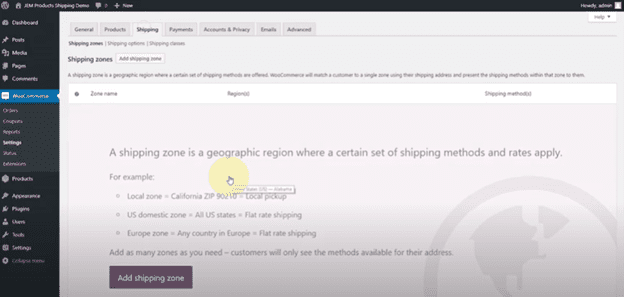 We will present you with a couple of options that we think are very important. Select the Table Rate Shipping – PRO plugin in the Add shipping method section. After that, get ready to dive into the capabilities of this plugin.
Go to the Add New Shipping Rule option and add the Method Title. In the drop-down menu, select the one that suits you. Also, if you want to choose the options Handling Fees, feel free to do so. So, as you can see, create the rules that work best for you and your business.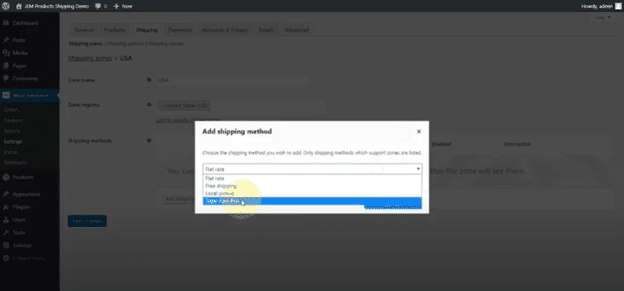 Table Rates offers you a wide range of options. From choosing whether you want to make a selection by special classes or not, then to the Conditions option where you select "Item Count" So, in this way, your plugin to make a setup based on the number of items in the cart.
Apply this rule to all products in the cart from number zero to infinity. Enter zero in the "Min Value" field and an asterisk in the "Max Value" field (* – represent infinity, or as many products as you would, possible, wanted). Then it's time to set prices, and by clicking on the "Save Changes" button, you are done with this part. In the picture below, you can see the plugin in action.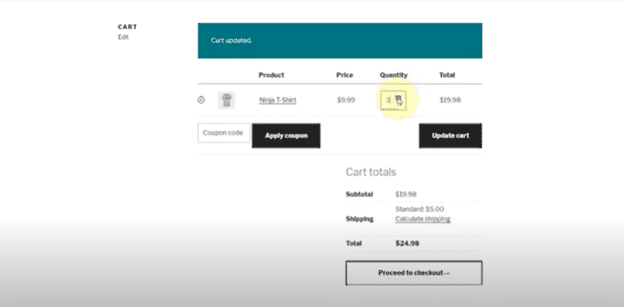 Try this plugin and make sure this short article is just part of what this add-on has to offer.
WooCommerce Order Export Pro
Another plugin we want to present to you is WooCommerce Order Export – PRO. From a group of different data export formats from CSV, XLS, XML to JSON, select the one you want and export the order data you need.
We want to emphasize another feature of this plugin, i.e., automated exports delivered to your inbox or FFTP, perfect for dropshippers. We recommend you try this plugin as well.
Conclusion
Creating an eCommerce store is not easy, especially creating and running a successful store to achieve customer satisfaction and reliability and create a group of loyal and ed customers. Because of all this, you must try all the tools that could help you.
We recommend these two tools, and we are sure that the results will certainly not be missed with their use. You will save valuable time and invest it in further improvements of your idea, brand, product, and the like. In addition, you will have greater visibility and know at all times what is happening.
Latest posts by Admira Keric (see all)
Where Should We Send
Your WordPress Deals & Discounts?
Subscribe to Our Newsletter and Get Your First Deal Delivered Instant to Your Email Inbox.
Thank you for subscribing.
Something went wrong.
Keep reading the article at WP Newsify. The article was originally written by Admira Keric on 2022-02-06 07:02:34.

The article was hand-picked and curated for you by the Editorial Team of WP Archives.