Comments on your WordPress posts can maximize user engagement and boost your search engine rankings. However, it can be difficult to deal with spammers. Additionally, you might struggle to find the time to respond to every commenter.
As a website owner, you can use a few strategies to monitor comments. You can create a credible discussion section that people trust and want to use by removing spam comments and responding to legitimate ones. 
In this post, we'll discuss why you should consider managing your website's comments section. Then, we'll show you how to monitor comments in WordPress using three methods. Let's get started!
Why it's important to manage WordPress comments
After creating your first WordPress post, comments will be enabled by default. Underneath your article, you'll see a section where visitors can share their thoughts:
Using this comments section, you can discuss various topics with your audience. You can form closer relationships with your readers and build a loyal community by responding to every commenter.
Often, readers will ask questions about your content. When you provide detailed answers, you can establish credibility in your topic niche.
Here are a few other ways comments can benefit your website:
Let visitors know your blog is active
Boost user engagement
Build an ongoing dialogue with your existing audience
Increase loyalty to your website
You can also improve your website's Search Engine Optimization (SEO) efforts when you gain high-quality comments. A comments section can extend your content and even provide Latent Semantic Indexing (LSI) keywords.
However, many WordPress websites receive spam posts and inappropriate language or bullying. This is why it's important to moderate your comments section.
By monitoring comments, you can remove spam that includes dangerous links. You can also ensure that every conversation is appropriate and productive. This way, your website can maintain its credibility and professionalism.
How to effectively manage WordPress comments (3 tips)
Your website's comments section can be the key to growing your platform and developing a loyal following. Let's discuss how to manage WordPress comments so that you can maximize these benefits!
1. Delete spam comments
Unfortunately, virtually every website receives spam comments. They come from spambots or real users who respond to your post with unrelated content.
Sometimes, website owners create spam comments to increase the number of backlinks to their content. They can (unfairly) improve their search engine rankings by link spamming.
When your comments section has spam, it can:
Link to malicious malware
Make it harder for legitimate users to ask questions
Hurt your credibility
Harm your search engine rankings
Impact loading times
Since spam comments can cause significant issues, it's essential to prevent them before they happen. To save time on this process, consider installing an anti-spam plugin.
However, you may still need to eliminate spam. This process involves moderating comments and only approving ones left by legitimate users.
To turn on comment moderation, head to Settings > Discussion in your WordPress dashboard: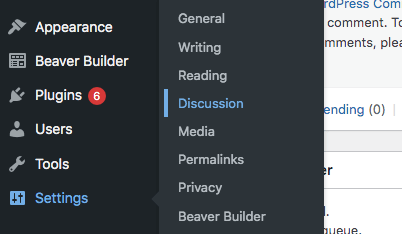 On this settings page, you can customize your comments section. To prevent spam, consider only allowing comments from registered and logged-in users. It might also help to restrict comments to authors who fill out their names and email addresses: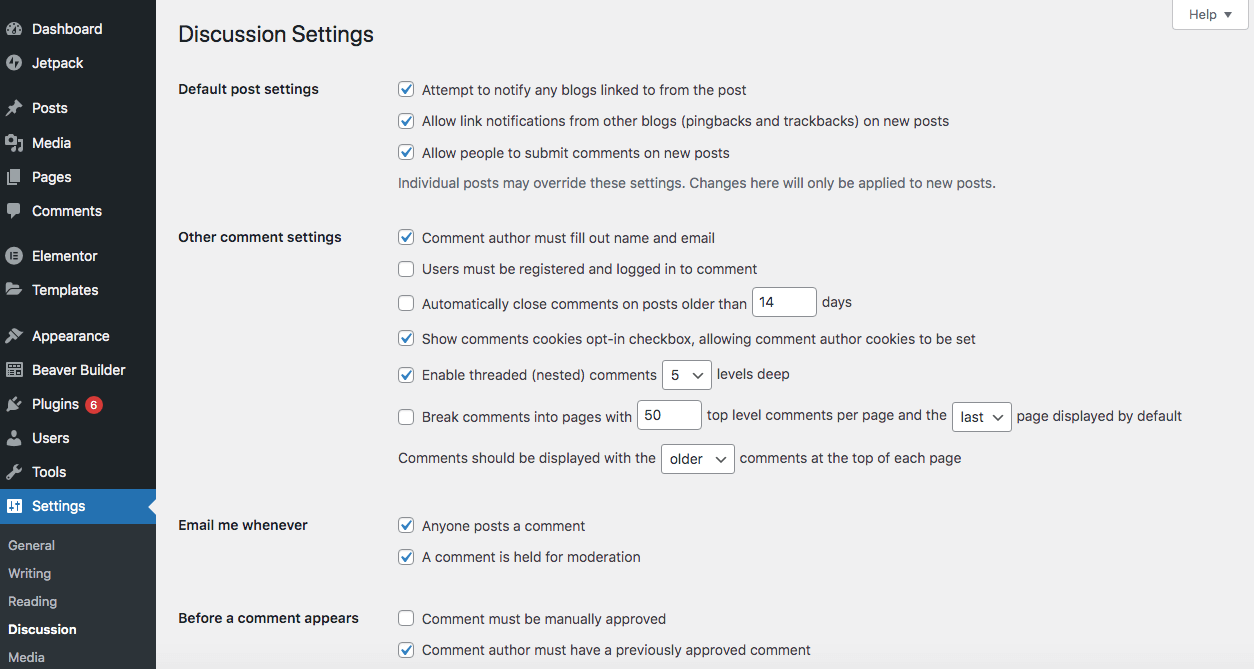 You could also consider additional restrictions such as:
Creating blacklisted words or phrases
Banning links from comments
Disabling comments on individual posts
Disabling all comments (although we don't recommend this)
However, monitoring comments across different WordPress dashboards can quickly become overwhelming with multiple websites. Therefore, we recommend using our ManageWP tool to manage comments from a single dashboard.
To do that, open one of your websites and scroll to the bottom of the ManageWP dashboard to view the comments widget. This helpful tool is a free add-on for all your websites:
By hovering over each comment, you can approve it, mark it as spam, or delete it. Alternatively, you can either click on Spam all or Approve all.
2. Quickly respond to comments
If your posts have many unanswered comments, it can make your website seem inactive. This is why it's crucial to engage with commenters regularly.
Responding to comments enables you to:
Interact with visitors
Answer any questions and establish your credibility
Double the number of comments
Especially if you have a larger following, responding to comments can become time-consuming. Consider delegating this task to one of your team members and asking them to moderate discussions.
Fortunately, moderating comments isn't a complicated process. As a website owner, you can easily do this in your WordPress dashboard.
First, go to Settings > Discussion and find the section Before a comment appears:

Then, check the box next to Comment must be manually approved. When you do this, comments will only be publicly visible after you've reviewed them. This setting gives you enough time to view each comment, publish valid ones, and write your responses.
When you're finished, click on Save Changes. Once you get a new comment, you'll receive a notification. Then, head to the Comments tab in your dashboard:

Here, you can view the new comment and decide whether it's spam. If it's from a valid user, click on Approve. For spam comments, click on Spam. Remember that you can also do this from your ManageWP dashboard.
Next to each comment, you'll also see a Reply button. Click on this to open a text box: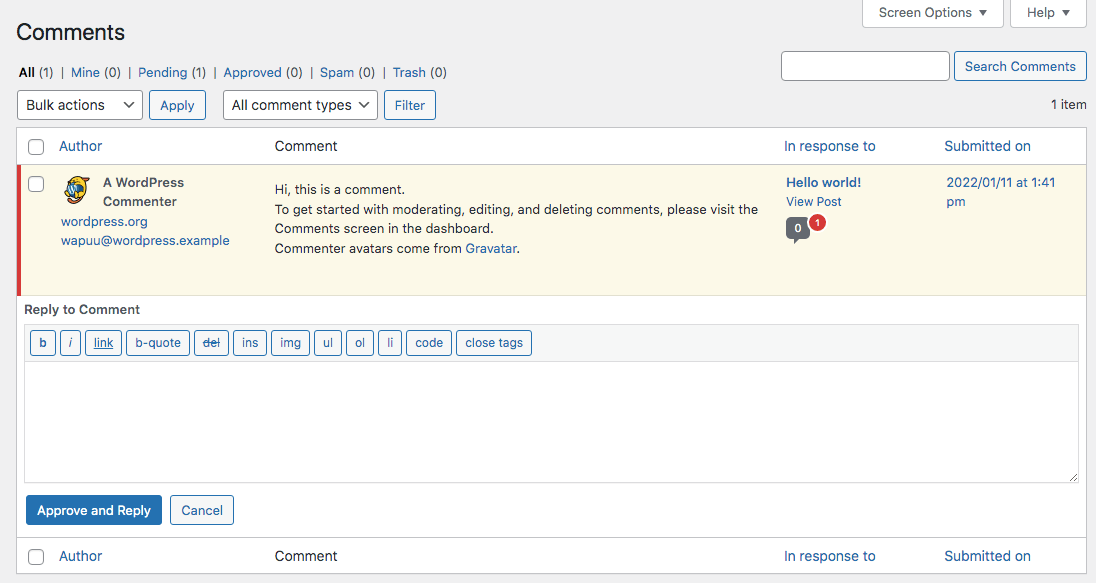 Here, you can type a response to the comment. After you're finished, click on Approve and Reply. 
3. Create a comments policy
Since your WordPress website is available to the public, you might receive comments that don't align with your values. To define the best practices for your comments section, consider creating a clear policy.
A comments policy is a simple message that tells your readers what you will or won't allow in your comments section. When writing this document, you can clarify that you will delete certain content: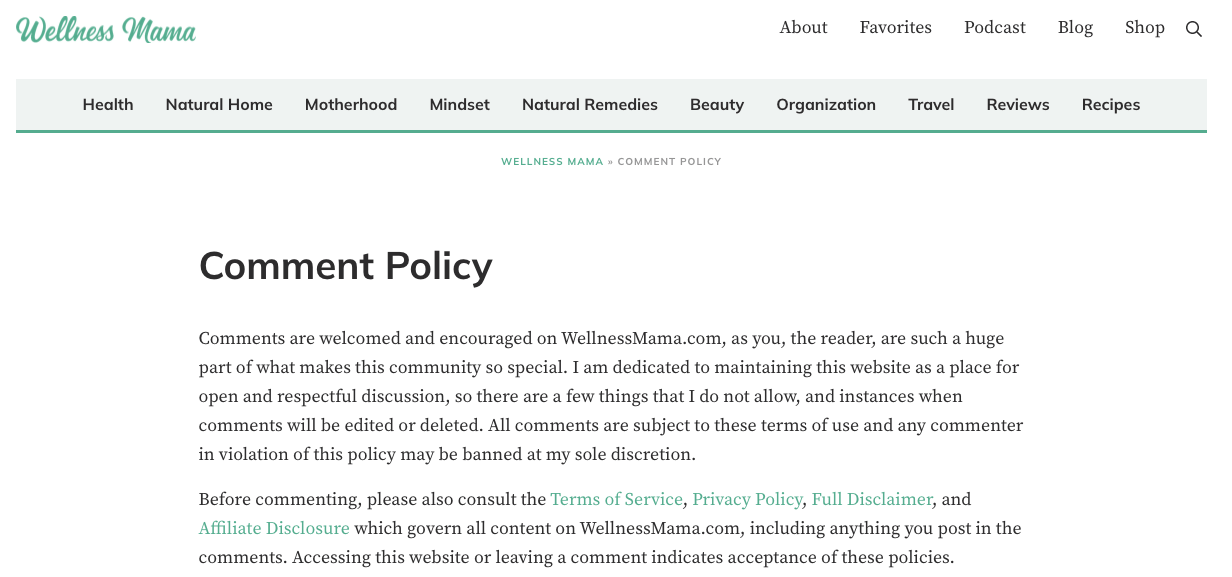 Here are some things you might want to prohibit in your comments policy:
Spam
Graphic or explicit content
Disrespectful or offensive language
Harassment or bullying
Once you decide to create a comments policy, you'll need to find a place to feature it. You can make a new post or page, or simply add a brief message to your custom comments form.
If you choose to create a comments policy page, make sure it is visible on your website. You could add it to your main menu or footer:

Ultimately, you'll want your comments section to be a friendly, respectful place where visitors can have productive conversations. By creating a comments policy, you can provide an inclusive environment for your followers.
Conclusion
Although you might be tempted to delete your website's comments section due to spam, this can make visitors feel like they can't communicate with you. Instead, consider customizing your comment settings and adding a policy. Using tools such as ManageWP, you can also scan for spam and keep your website credible, appropriate, and safe.
To recap, here are the best ways to manage comments on your WordPress website:
Delete spam comments.
Quickly respond to comments.
Create a comments policy.
Do you have any questions about monitoring your WordPress comments? Let us know in the comments section below! 
Image credit: Pixabay
Keep reading the article at ManageWP. The article was originally written by Will Morris on 2022-03-08 11:00:36.

The article was hand-picked and curated for you by the Editorial Team of WP Archives.