Marieke van de Rakt
Marieke van de Rakt is the founder of Yoast SEO Academy and CEO of Yoast. Her favorite SEO topics are SEO copywriting and site structure.
Our green bullets are addictive. We get that. While these green bullets help people to optimize their texts for the search engines, we don't want people chasing only our bullets and losing track of their texts. We do want to nudge them and help them get that text as SEO-friendly as possible. In this blog post, I'll tell you about the most pressing frustration that our customers experience and the solution we developed for that problem.
"Yoast SEO does not recognize my focus keyphrase"
Imagine this: You're trying to optimize your post for the term [guinea pig]. In your text, you'll probably use guinea pig (singular) and guinea pigs (plural). However, if your focus keyword is the singular [guinea pig], the keyword density check does not recognize your plurals and will punish you with a red bullet! That's so annoying and unfair!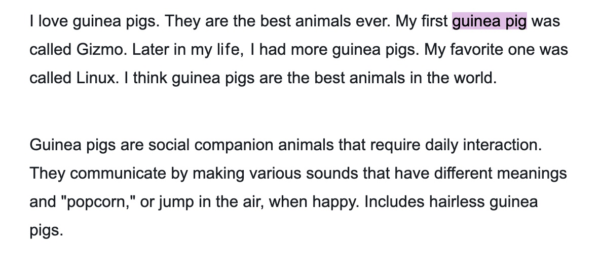 Yoast SEO Premium analysis
In the premium analysis, plurals and past tense are recognized as the same keyword and treated as such in our analysis. Also, when you use your keywords in a different order, like ballet shoes and shoes for ballet, our analysis still recognizes them as well. In the premium analysis, both guinea pigs and guinea pigs are highlighted: