SEO (Search Engine Optimization) is the process of maximizing a website for search engines, which entails a collection of tactics targeted at organically boosting the traffic to a website while also enhancing the site's effectiveness.
Search engines are used by people to find information or answers to questions they are interested in. Your website must contain relevant, detailed, and valuable content for the keywords you want to appear in search results since this will improve page traffic and, as a result, the popularity or relevance of your website on search engines.
Therefore, Websiteseostats is a platform that can help you get an in-depth analysis of your website. Perform as many analyses as you want on their most web hardware. It's simple to see how far you've come and work you've done in the past, thanks to reports that have been saved.
In addition, a great part of having a successful website, is having amazing hosting provider that gives you what you need. One thing that sets WPMU DEV's hosting platform apart, is that as well as having all the hosting features you'd expect – it also comes built-in with 7 pro WP plugins – covering performance, security, backups, and more. Get 20% off any of their plans here.
Title Tags, Meta Description, Meta Keywords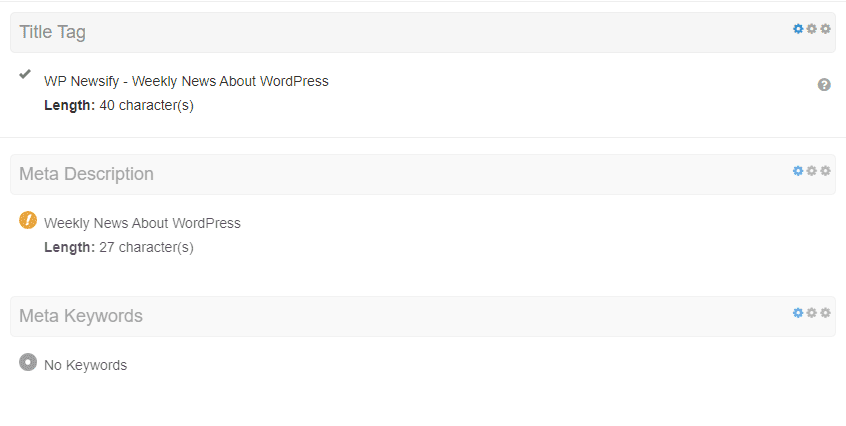 Your title tag should ideally be between 10 and 70 characters long, including spaces. Make sure your title is clear and includes your primary keywords. Also, make sure each page has its title. Between 100 and 300 characters are included in meta descriptions, giving you control over how your web pages are represented and shown in search results.
Furthermore, make sure each of your web pages has a meta description that is explicit and includes your most relevant keywords. Employ an engaging message with a clear call to action in your meta description to increase click-through rate.
So, meta keywords are a form of the meta tag. They appear in the HTML code of a website page. Their mission is to help search engines understand the page's topic. However, Google is unable to make use of meta keywords.
Keywords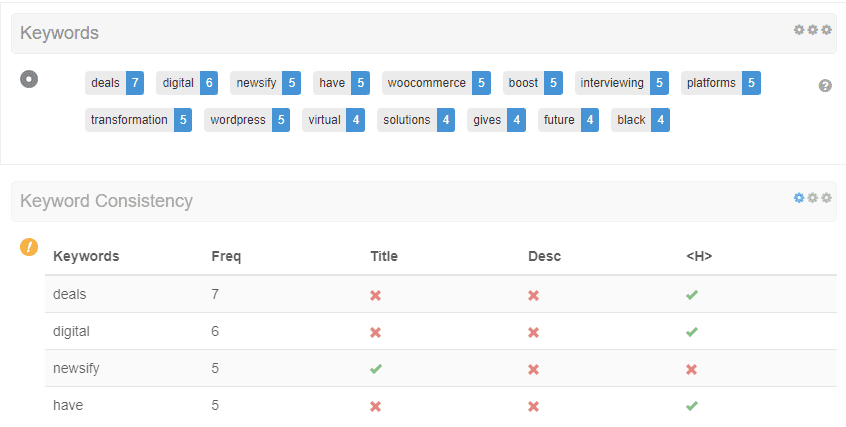 This Keyword Cloud indicates the frequency ofof keywords on the page. It is critical to conduct keyword research to better grasp the terms that your target audience uses. Also, a variety of keyword research tools are accessible online to assist you in determining which keywords to focus on.
Moreover, the Keyword Consistency chart emphasizes the necessity of maintaining consistency in your keyword usage. Make sure to include
[…]
This article was written by Antonia Zivcic and originally published on WP Newsify.