Wondering if the Genesis Theme Framework is something that you should have?
Genesis is the flagship theme framework by StudioPress, one of the most leading WordPress theme hubs in the world. Genesis works perfectly fine on its own, but if you want to make wonders with Genesis, you got to use it with a child theme on your website.
Confused? Don't worry.
In this article, we'll show you everything you need to know about the Genesis Framework and if it's the best WordPress theme for your site.
About Genesis Theme Framework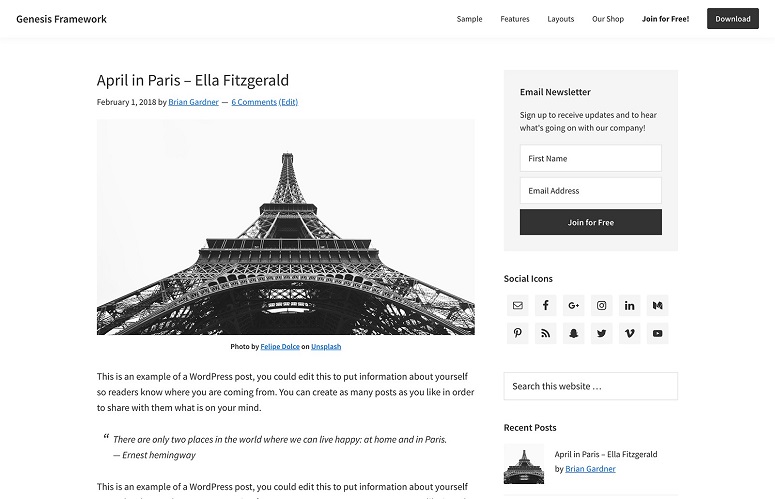 Genesis is one of the best WordPress theme framework. It's originally released by StudioPress theme, a theme hub run by CopyBlogger Media.
In 2018, StudioPress was acquired by WP Engine, a renowned managed WordPress hosting service provider.
A WordPress theme framework is a centralized location where all the primary theme functions are hosted. On top of the framework, you can install a child theme to add custom styling to your website while all of the core functionality of your framework remain untouched.
While a framework works perfectly fine on its own out of the box, it works best when used alongside a child theme.
Since core functionalities are hosted in the framework, whenever a function is deprecated or a bug is fixed in your framework, you can easily push out an update with your framework without having to worry about losing your customization in the child theme.
Who Should Use Genesis Theme Framework and Why?
Ideally, the Genesis theme framework is a great option for anyone who wanted to run a website.
WordPress beginners: One of the common traits of WordPress beginners is that they often change the appearance of their site by constantly switching to different themes. This also means that when you switch to a new theme, your site features may also disappear or change.
With the Genesis framework, you can rest assured that your core functionalities remain intact even when you update your existing child theme or switch to a new one.
Developers: You can build your client site on top of Genesis. This can drastically reduce your development time and make things easier over the long run.
StudioPress also offers around 35 Genesis child themes. Since Genesis's a well-known framework, several third-party developers also release Genesis child themes.
What Does It
[…]
This article was written by Kaveri Bharali and originally published on IsItWP – Free WordPress Theme Detector.