Every day, Google identifies thousands of unsafe websites. If your site appears on Google's blacklist, then it can have a devastating impact on your traffic, conversions, and Search Engine Optimization (SEO). It can also destroy your brand's reputation, as loyal visitors may suddenly start to view your website as dangerous.
If Google blacklists your site, then it's vital you fix this problem as quickly as possible. Thankfully, there are tools that can notify you if this becomes the case. You can then take steps to remove the malware, spam, or any other issues that are causing Google to flag your website.
In this article, we'll explore what Google's blacklist is, and the consequences of being blacklisted. We'll then share a four-step plan to fix the issue, request a review, and get your website back on track. Let's jump in!
An introduction to Google's blacklist (and why it's important)
As one of the most used search engines in the world, Google has invested significant resources into keeping its users safe. This includes identifying malicious websites and adding them to a blacklist.
This blacklist includes many legitimate websites that have been compromised by hackers. Malicious parties frequently target sites and modify them to include unauthorized redirects or malware.
If Google blacklists your website, it will be removed from the search engine's index. Furthermore, users may be advised by their browsers to avoid your pages, especially if they use Google Chrome:
This helps Google keep its users safe, but it can have a devastating impact on your website. In particular, you should expect a dramatic drop in your website traffic and conversion rate.
Signs that your website might on Google's blacklist
There are a number of common indicators that your website has been blacklisted. When you try to visit a blacklisted website, you'll typically receive a Google Safe browsing warning like the one shown above.
These warnings can vary depending on your web browser and the issue that's impacting your website. If you're a Chrome user, you can preview Google's various Safe Browsing warnings by entering chrome://interstitials/ into your address bar: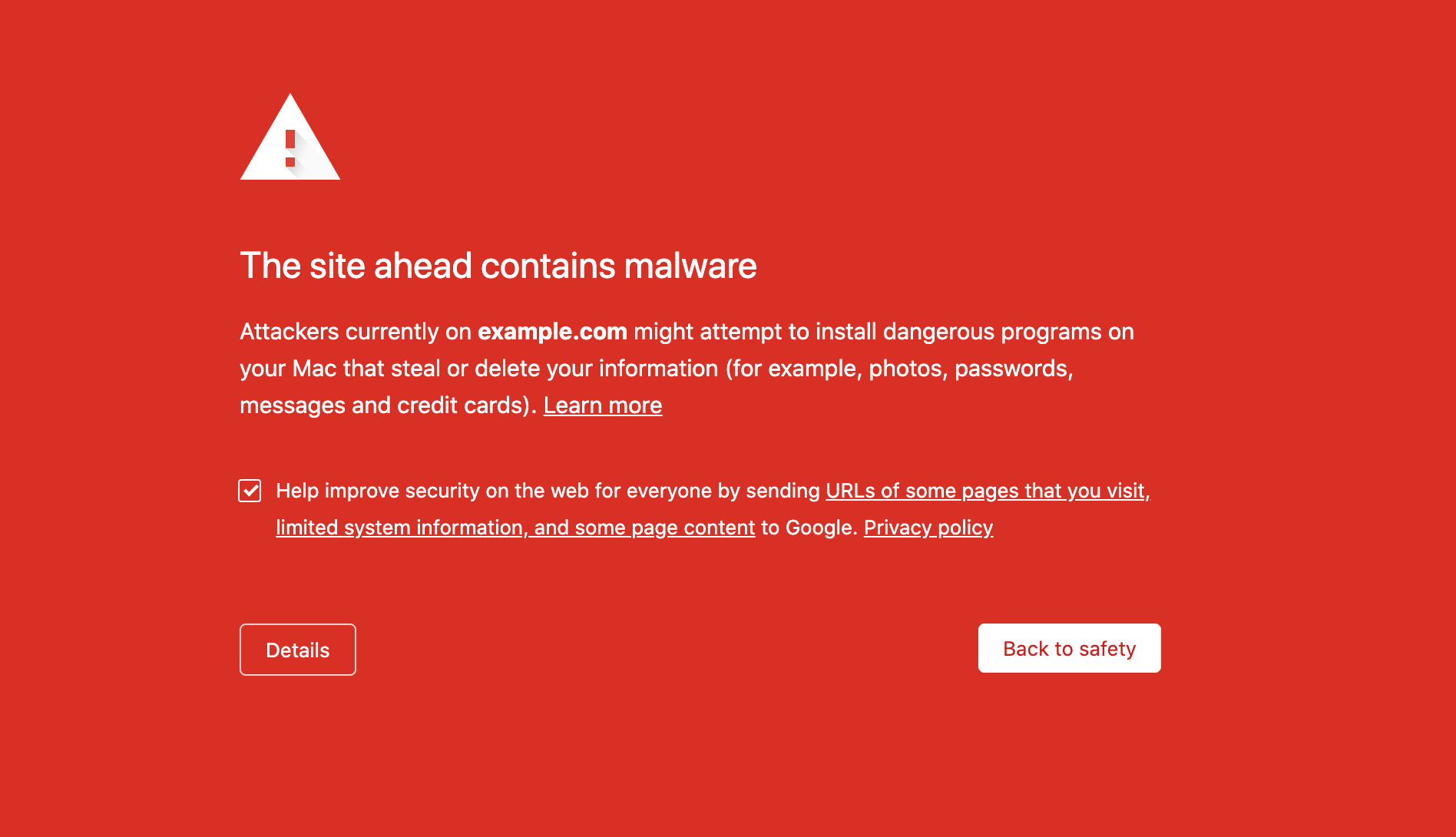 If you encounter any of these warnings, then there's a chance your site's been blacklisted.
Malicious websites can sometimes trigger anti-virus or anti-malware software on your computer. If you encounter any security warnings when visiting your own website, then this is another indication that your site has been compromised.
When Safe Browsing identifies a site as potentially harmful, Google displays a warning alongside that website in its search results. If your site ever appears on Search Engine Results Pages (SERPs)
[…]
This article was written by Will Morris and originally published on ManageWP.