Edwin Toonen
Edwin is a strategic content specialist. Before joining Yoast, he spent years honing his skill at The Netherlands' leading web design magazine.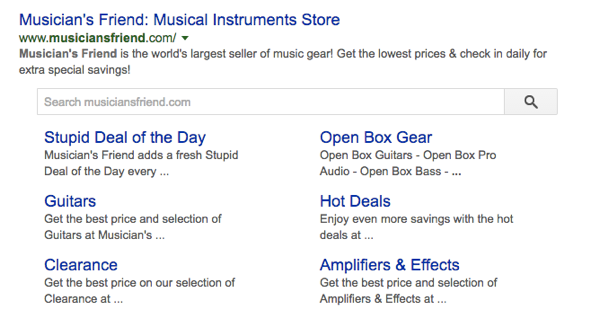 A couple of years ago, Google introduced the Sitelinks Searchbox. When activated, this search box appears under the main URL for a given brand in the search results, above its sitelinks, hence the name. When you search for that brand in Google, you can directly use the site's search engine. The results will be presented on the search results page of the relevant site.
How to add a Sitelinks Searchbox to your site
It's not that difficult to make your site eligible for a Sitelinks Searchbox. The process consists of just three steps, and if you are a Yoast SEO user, it is even easier. This process takes care of the technical side, but, in the end, Google determines if your site gets a Searchbox. To be honest: Google does not show this Sitelinks Searchbox for most sites. So, let's run through the required steps:
Verify you have a functioning search engine

For 99.5% of WordPress sites, this one is simple: you type example.com/?s=query (replacing example.com with your site's URL), and you should see search results. If you don't see search, and you've not made a conscious decision to move your search engine elsewhere, you might need to fix your theme.

Add the necessary markup

Adding the markup is simple if you're on WordPress and use Yoast SEO. It could be that you don't use the default search engine, in that case, you'll need to change the URL using the built-in filter. If you don't have a search engine: why not?

If you don't use Yoast SEO, you can add the necessary code by hand via an individual block of Schema.org code for structured data. Here's a piece of example code from Google's documentation, in this same document you'll also find the requirements for a valid technical implementation. This uses JSON-LD to mark up the code in an efficient and readable way.

Set up a preferred canonical URL for your homepage

Step three, and again, this one is easy. When you use Yoast SEO, this has
[…]
This article was written by Edwin Toonen and originally published on Yoast • SEO for everyone.