We've got some fantastic news to share with you. We've integrated GA4 support into our Google Analytics widget and client reports. It took longer than we anticipated, but we promise it's worth the wait. We wanted to bring you more than just a run-of-the-mill upgrade – we aimed to expand functionality and give you a highly customizable analytics experience. So, without further ado, let's dive into our exciting improvements.
Reconnecting Google Analytics
But first things first, to ensure seamless integration and access to GA4 data, it is essential to first reconnect your Google Analytics account within ManageWP. Once reconnected, you can see and analyze your GA4 data directly from the ManageWP platform. It's a breeze, and you'll be up and running in no time. Here's what you need to do:
Head over to your profile.
Click on "Settings."
Find the "3rd Party Integrations" section and select "Google Analytics."
Follow the prompts and log into your Google account.
Automatic Property Matching
Once you've reconnected your GA account, leave the property matching to us. We'll handle the heavy lifting behind the scenes and automatically match the properties to your websites in ManageWP. It's a seamless process that ensures you have access to the correct data without any extra hassle.
Discover the Show GA Connection Summary Button
To ensure we've covered all bases, we've added a nifty little feature called the "Show GA Connection Summary" button. It's located in the 3rd party integration section. Just click your profile image in the upper right-hand corner, go to Settings, 3rd Party Services, scroll down to your connected accounts, and voila! 
Clicking this button will display a list of websites that don't have GA4 properties attached to them. With a simple click on each URL, you can choose the correct property from the list associated with your connected GA account. We've centralized the effort, saving you precious time and effort.

*To ensure your list is up to date, you must reload the dashboard.
Personalize Your Dashboard Metrics
We've also revamped the website settings to allow you to handpick the top four metrics you want to see on your single-site dashboard. No more one-size-fits-all approach. You can choose any of the metrics available in your Google Analytics account. It's all about tailoring your dashboard to your specific monitoring preferences. 
To select your preferred metrics, click the website settings button below the website thumbnail, then head to the Google Analytics tab.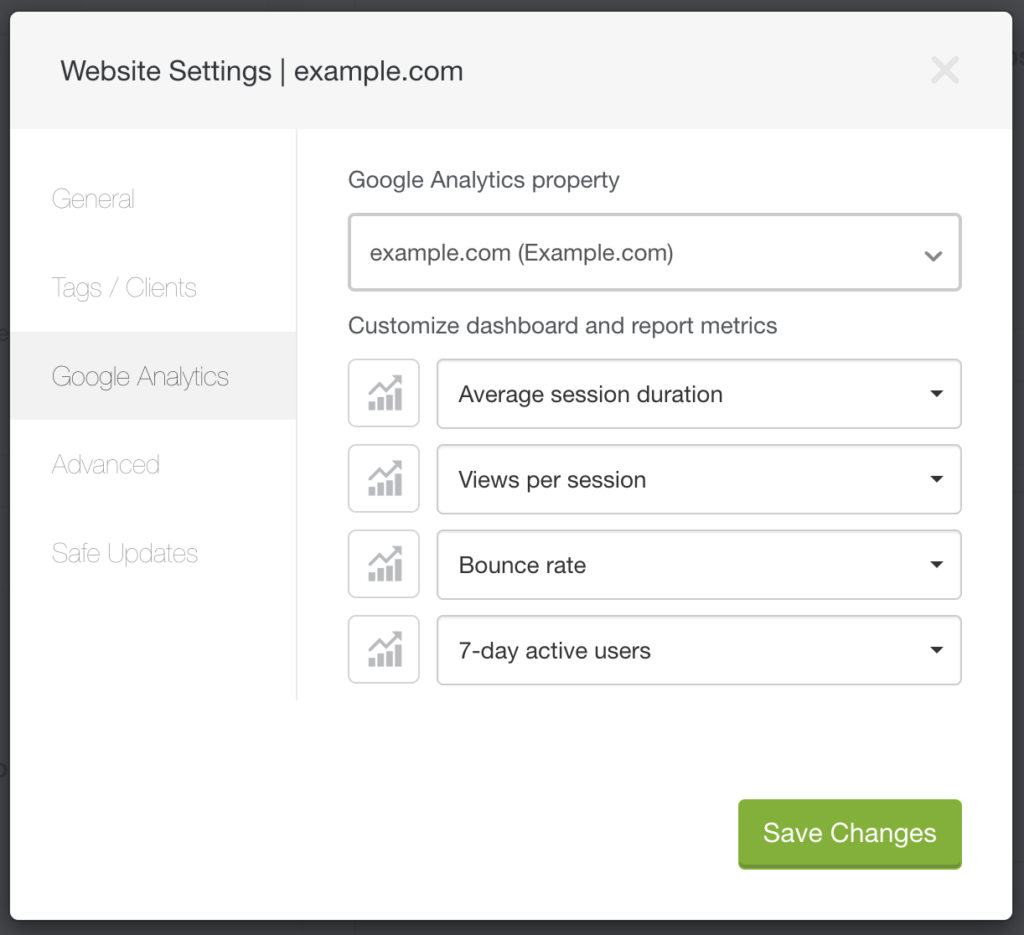 Enhanced Client Reporting
We know how important it is to impress your clients with meaningful data. That's why we've taken the liberty of including all four customizable metrics in our client reports. No additional setup is required. The metrics you selected in the GA widget will automatically make their way into your client reports, offering a personalized and valuable overview. Your clients will be blown away by the insights you provide.
When you generate a client report, your clients will receive a comprehensive overview of their website's performance, featuring the specific metrics you handpicked for each website. From traffic statistics to conversion rates, the report will present the key data your clients find most valuable, empowering them with actionable insights to make informed decisions about their online presence.
For those who use the New Client Report design, we've added four graphs that visually represent the selected metrics, offering a clear and intuitive way to understand website performance at a glance.
However, we assure you that the older client report design continues to fully support GA4 data. You'll still be able to view metrics and indicators that indicate growth or drops compared to the previous month. Although the older design does not include graphs, it remains a reliable option for monitoring and reporting on website performance.
With this versatility, you can choose between the new client report design, which offers the visual impact of graphs, or the older design, which focuses on providing essential metrics and trend indicators. Whatever design you prefer, ManageWP ensures you have the tools to effectively communicate performance insights to your clients.
Embrace the Future
As we bid farewell to Universal Analytics, we encourage you to set up the GA4 integration before July 1st. It's a significant step as Universal Analytics becomes a part of history and GA4 takes center stage. We apologize for the extended wait but rest assured, we wanted to deliver an experience beyond expectations. We aimed to provide expanded functionality and unrivaled customization options, empowering you with deeper insights.
We hope you're as thrilled as we are about these game-changing improvements. Our knowledgeable support team is here for you, ready to assist with any questions or issues you may encounter during the setup process or beyond. Your feedback is precious to us as we continue refining and enhancing ManageWP. So, don't hesitate to reach out; we're always here to help. 
Together, let's embrace this new era of analytics and unlock the true potential of your websites. Stay tuned for more exciting updates, and remember, great things come to those who wait (with a sprinkle of humor). Happy tracking with GA4 in ManageWP!
Keep reading the article at ManageWP. The article was originally written by Predrag Zdravkovic on 2023-06-20 04:00:03.

The article was hand-picked and curated for you by the Editorial Team of WP Archives.