To run a successful eCommerce business you are going to need to have a brilliant eCommerce SEO strategy in place.
You may have brilliant products and fantastic deals but if you aren't taking SEO seriously a big piece of the puzzle is missing.
This is the difference between an online business that has a steady amount of traffic and an online business that consistently attracts new visitors with significant year on year growth.
So if you are ready to join the big leagues, take a look at the 4 key stages to successful eCommerce SEO…
Stage 1: Ecommerce SEO Audit
The first stage of any eCommerce SEO strategy should be to get your site audited.
It makes sense that before you do anything else… you fix the problems and issues that may be lurking on your site, and you might be surprised by what you find.
These are some of the more common problems eCommerce stores face:
Duplicate content
Missing alt tags
Missing canonical tags
Duplicate or missing title tags
Duplicate or missing meta descriptions
Deindexed pages
404 errors
302 redirects
Broken links
You can carry out the audit by using an auditing tool that scans your store and will show you exactly what the problems are.
Here are some of the top tools you should consider using:
Screaming Frog
SEMrush
Ahrefs
Simply pick your tool, run the audit, fix the problems and put a date in your calendar to rerun this audit every 6 months.
Stage 2: Keyword Research
When performing keyword research for an eCommerce store there are a few different factors you need to consider to attract the right kind of visitor to your store.
In order to attract qualified traffic, you need to keep these points in mind:
Search Volume
Relevance
Competition
Intent
And once you have chosen a keyword that ticks all these boxes you then need to optimize them naturally on your page.
Here is a quick glance at where you need to be optimizing your keywords.
The page title
Headers
Subheaders
Product descriptions
Meta title
Meta description
Image file names
Image alt tags
URL
Keyword research is made easy by using keyword research tools such as:
SEMrush
Ahrefs
Let's take a quick look at how you can use SEMrush to perform keyword research…
SEMrush has a cool little feature within their keyword research tool called Keyword Difficulty.
You can use this to view the 10 pages that are currently ranking in the top positions for a specific keyword. You can view each page's domain strength and the keyword difficulty percentage.
Just enter your preferred keyword into the search bar:

Go to 'Keyword Difficulty' and to get the top 10 pages just click the percentage: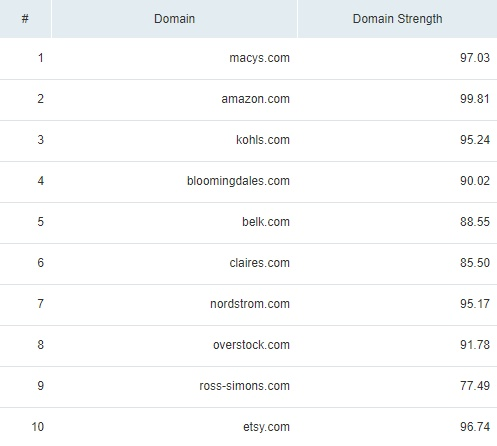 From here you can decide whether you should compete with these pages for your specific keyword or whether you should look for lower competition keywords.
If you decide on the latter, you can then use SEMrush to find more keyword ideas with their Phrase Match Keywords & Related Keywords suggestions.

Then repeat the process to see whether these keywords have lower competition levels which you can rank for.
Stage 3: On-Page SEO
On-page SEO is an important part of any eCommerce strategy.
You need to set up your pages correctly in order to make them easy for search engines to crawl and understand. Not to mention the benefits it provides to your visitors.
Here are the most important things to focus on when creating an eCommerce SEO strategy:
Your Title Tags
This is one of the strongest signals you can send, by optimizing your title tag with your keyword, search engines can understand your topic much quicker.
Meta Descriptions
These appear in the SERPs so you need to use this space to attract people to click on your result and it is a great opportunity to add some extra keywords.
Headings and Subheadings (H1, H2)
You can use your headings and subheading to further clarify your product and they are a good opportunity for LSI keywords.
Images
You can even optimize your images by using keywords in the filename and alt tags. Keep them sounding natural and use different tags for each image to make the most of LSI keywords.
Schema Data
Integrating schema data will give you extra visibility within the SERPs which are becoming more and more competitive.
Internal Links
Internal linking gives you full control of the direction of your traffic. You can use them to point search engines to your new pages and to point your visitors to your high converting pages.
High-Quality Pictures
As you cannot touch and feel products when buying online, it is crucial that you can represent the quality of your product with lots of high-quality pictures.
Product Descriptions
A product description is your chance to show exactly why your product is worth buying. Always start with the benefits your product will give and keep every description unique.
Testimonials (or customer reviews)
Testimonials are the bread and butter of any successful business. People believe people, so including testimonials helps build trust with your product.
Stage 4: Link Building
Link building plays a huge role in any successful SEO strategy and is no less important when it comes to eCommerce SEO.
There are a number of methods that work well but we are going to take a look at the most effective…
Stealing Competitor Backlinks
If done right, this is perhaps the most effective link building strategy you can use to build authority links to your site.
The principal is quite simple:
Take a look at your competitor's backlink profile.
Find out who has placed links to them.
Figure out how they built that link.
Replicate it.
So you might find they have provided a guest post to obtain the link or perhaps they wrote a testimonial which got published or they simply contributed to a forum thread.
There are lots of ways you can build links and once you figure out how each link was gained, you stand a much higher chance of replicating it.
Let's take a quick look at this in action:
Enter your keyword into a Google search and make a note of the top 10 organic results.
Enter the first URL into a backlink checker tool such as Ahrefs and you can see all the websites (referring page) that have a link pointing to that page.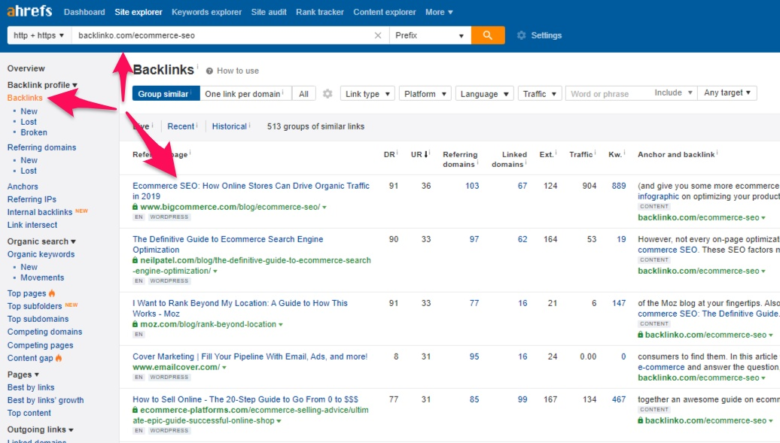 Then you need to analyze these results. You can use the filters within the tool to prioritize the high authority links that are going to be of the most value.
Figure out how each link was built and make a list of links to go after and the method you should use. Here are some of the more common methods you'll come across.
Guest posting
Blog comments
Testimonials
Forums
Resource pages
Roundups
Repeat this process for all the URLs you pulled from the SERPs and then you can move onto to other keywords.
That's A Wrap
Ecommerce SEO can be broken down into four stages:
SEO Audit
Keyword Research
On-Page SEO
Link Building
Each stage, although common practice within SEO, needs to be tailored slightly when it comes to an eCommerce store. You can find more details on each stage within this ultimate guide to eCommerce SEO.
Keep reading the article at WPArena. The article was originally written by Matthew Woodward on 2019-12-30 06:06:18.

The article was hand-picked and curated for you by the Editorial Team of WP Archives.