A
re you looking for landing page optimization tips? If you want to get more conversions from your landing page, then you're in the right place!
If you have a blog, you're likely looking for ways to get more email subscribers, generate leads, or even boost sales. And landing pages are great for that!
A landing page is a standalone page on your website that is specifically designed to convert visitors into leads.
But, what if your landing page isn't working?
In this article, we'll share some easy landing page optimization tips and tools that will help you boost conversions.
Okay, let's get started. 
What is Landing Page Optimization?
Landing page optimization is the process of improving all of the different elements of your landing page in order to increase your conversions.
So, if your landing page is low-converting, you can change specific elements on the page so that you're able to get a higher conversion rate.
Even the smallest of changes can result in a dramatic boost in conversions!
But how do you optimize your landing page? How do you know which elements to add or improve?
Next, we'll share landing page optimization best practices so that you know exactly how to optimize your landing page.
20 Landing Page Optimization Tips and Tools
1. Make Your Landing Page Offer Clear
Successful landing pages offer something valuable to the visitor in exchange for the action you want them to take, whether it's signing up for your email newsletter, registering for your webinar, or buying a product.
Because they're getting something in return, visitors are more likely to convert.
So, you need to make sure your offer is clear.
The easiest way to do this is with your landing page headline.
Take a look at this example from Taboola: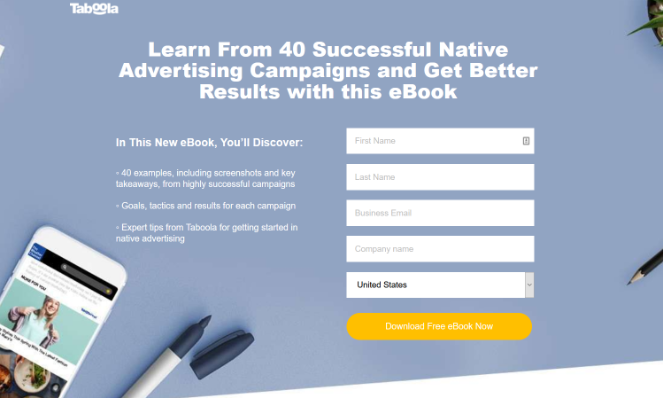 The headline stands out at the top of the page and clearly tells readers what the offer is—an eBook that will teach them how to get better results for their native advertising campaigns.
Because Taboola is a native advertising company, this headline also addresses the target customer's goal. Visitors can tell by reading the landing page headline that Taboola can help them with their needs. 
2. Use a Simple Landing Page Design
When designing your landing page, it's best to keep it simple and to-the-point. A cluttered landing page will only distract people from what you want them to do.
Here's a great example of a simple landing page design: