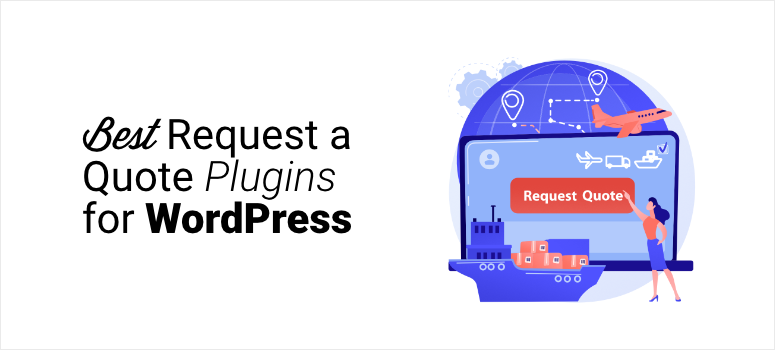 Are you looking for the best "request a quote" plugin for your WordPress website?
For service-based businesses, it's crucial to send potential customers quotes for your services. For custom requests, you need to make sure you're charging the appropriate amount and communicating that cost to your customers quickly and efficiently.
In this article, we'll dive into the best "request a quote" plugins you can use to boost conversions for your online store.
But first, why should you use a request a quote plugin?
Why Use a Request a Quote Plugin for WordPress?
Not all products and services have the same value or can be offered at the same price. For certain projects, you need the participation of the client to add customizations.
Because customers may want different things or have different requirements, having them request a quote before the project starts is essential. It eliminates any confusion between business and customers, so you can provide your excellent services to your audience.
For example, if you run an online print shop, you'd need the customer's details and specifications to create exactly what they want. Without their input, you can't guarantee that your product or service will match their needs and expectations.
Your prices will also change depending on the size of the project, the time it takes to complete, and other contributing factors.
Some challenges your business faces without a request form include:
Disorganized Data Collection: If customers need to call or email to request a quote, there's no organized way to store that data. This could end up hurting your conversions and costing you money.
Limited Communication: To ensure you create a product or provide a service that customers love, you need clear communication from both sides. A request a quote plugin lets visitors be as detailed and specific as they want so you can exceed their expectations.
Restricted Availability: Unless you work around the clock, then you won't be able to fulfill customers' requests 24/7. Adding a request a quote form to your website ensures that you receive every single request from users and boost sales.
Some businesses urge their customers to email them to discuss details. Other companies post complex pricing charts on their website.
But neither of these options are convenient for your site visitors, which is why adding a request a quote plugin can improve the user experience (UX) and increase your conversions.
Now that we know why they're useful to add to your website, let's look at the 7 best request a quote plugins for WordPress.
1. WPForms
[…]
This article was written by Editorial Team and originally published on IsItWP – Free WordPress Theme Detector.