A
re you looking for free images for your blog? This post is a complete guide on where to look for free blog images and how to use them effectively.
When you start a blog, you can't give your readers blog posts that are walls of text—that's boring! You need to add images to your blog posts. Adding images will make your blog posts more visually appealing for readers.
Plus, adding images to your blog posts will make your blog more successful overall; you'll attract more readers to your blog, increase your subscribers, and generate more leads.
How? According to OptinMonster, content with images get more views and shares, and can even increase your conversions over 300%.
Adding images to your blog is a must!
In this article, we'll share the best sites to find free images for your blog. Plus, we'll go over other topics like copyright restrictions, choosing images that fit your brand, and sizing, editing, and optimizing images for the web.
Let's dive in!
Where to Find Photos and Images for Your Blog
First, let's go through and look at all the different options available for your blog images. 
Take Your Own Photos
If you're a good photographer and own a camera or a decent modern smartphone, consider taking your own photos for your blog.
For example, a lot of food bloggers, like the Minimalist Baker, take their own photos: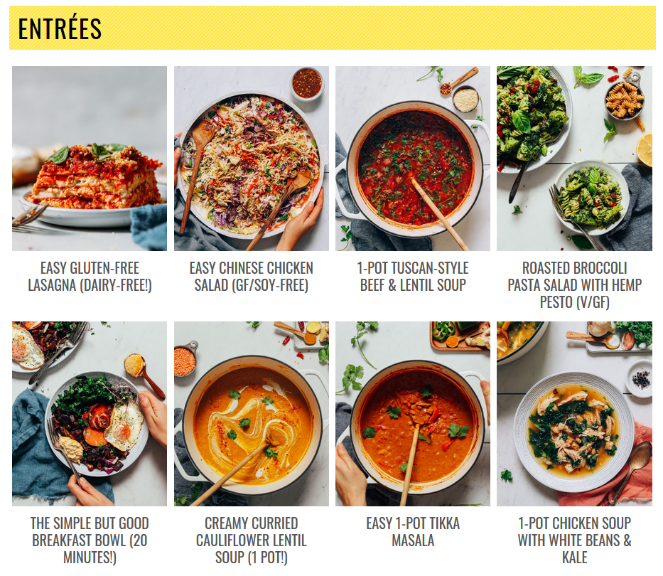 Taking your own photos means that every image you take is your own property and is a unique piece of content for SEO purposes.
Check out some of the other benefits of taking your own photos:
Decreased costs
If you don't already own a camera, of course, it will cost a bit of money upfront to start taking your own photos. But, you'll save money over time, as you aren't paying for each shot that you want to use on your blog or marketing materials.
Increased brand presence
If you take good photos people will share them around. It will enhance your blog and take it to the next level. Many successful fashion blogs take all of their own photos and become known for their unique style. 
More content
Photos are content too. If you are putting your own photos online you are adding to the amount of places that people can find you and your work. That's a good thing right?
Good on social networking sites
Photos work. They get attention. Even if you are just
[…]
This article was written by Ramsay and originally published on Blog Tyrant.