A
re you looking for free images for your blog? This post is a complete guide on where to look for free blog images and how to use them effectively.
When you start a blog, you can't give your readers blog posts that are walls of text—that's boring! You need to add images to your blog posts. Adding images will make your blog posts more visually appealing for readers.
Plus, adding images to your blog posts will make your blog more successful overall; you'll attract more readers to your blog, increase your subscribers, and generate more leads.
How? According to OptinMonster, content with images get more views and shares, and can even increase your conversions over 300%.
Adding images to your blog is a must!
In this article, we'll share the best sites to find free images for your blog. Plus, we'll go over other topics like copyright restrictions, choosing images that fit your brand, and sizing, editing, and optimizing images for the web.
Let's dive in!
Where to Find Photos and Images for Your Blog
First, let's go through and look at all the different options available for your blog images. 
Take Your Own Photos
If you're a good photographer and own a camera or a decent modern smartphone, consider taking your own photos for your blog.
For example, a lot of food bloggers, like the Minimalist Baker, take their own photos: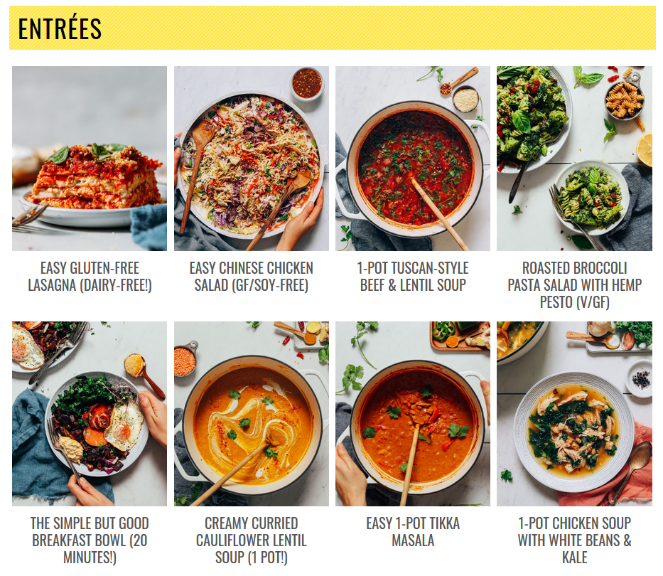 Taking your own photos means that every image you take is your own property and is a unique piece of content for SEO purposes.
Check out some of the other benefits of taking your own photos:
Decreased costs
If you don't already own a camera, of course, it will cost a bit of money upfront to start taking your own photos. But, you'll save money over time, as you aren't paying for each shot that you want to use on your blog or marketing materials.
Increased brand presence
If you take good photos people will share them around. It will enhance your blog and take it to the next level. Many successful fashion blogs take all of their own photos and become known for their unique style. 
More content
Photos are content too. If you are putting your own photos online you are adding to the amount of places that people can find you and your work. That's a good thing right?
Good on social networking sites
Photos work. They get attention. Even if you are just using a high quality smartphone camera with a funky filter, you are likely to attract new blog readers on social media. 
No copyright headaches
Can bloggers use copyrighted images? Can you use that image you bought in your logo? Can you sell it? If you took the photo (provided it's not a photo of something dodgy) then you can do whatever you want with it. Easy.
You can make extra money
Put your photos up on a site like Dreamstime and if people buy them you earn a commission. It's not a lot of money but if you are good at it and take a lot of photos it might add up.
Remember, you can also take really good photos with your iPhone if you spend a bit of time researching how to compose a good photo.
Commission New Images
If you're not interested in taking your own photos, you can commission an artist to create unique, new images for your blog.
In this case, you can use a site like 99designs that allows you to create a job and have different designers, artists and creatives work for a solution.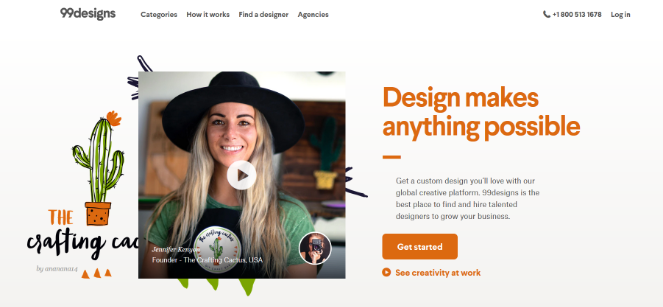 It's a buzzing community and there are a lot of talented people working there which means you get access to a large variety of styles.
Commissioning original artwork and images for your blog will make sure your blog stands out from the crowd.
What if I don't want to take photos or make my images?
Let's be honest—we don't all have the time, money, or inclination to take photos or commission new graphics for every blog post that we do. Sometimes you just want to go on to a website and find the right photo and publish as soon as possible.
Which brings us to the next option…
Use Stock Images From a Photo Download Website
Luckily, there are a ton of websites that offer free photos for blogs. 

And of course, we'll share a list of those awesome sites with you later on in this article.
On many of these photo download sites, you can simply search for an image for your blog, download it, add it to your site, and voila! Now your blog looks awesome!
But, it's important to remember that you can't just use any photo you find on the web and there are certain conditions you need to keep in mind when using stock photos.
Let's take a closer look at using photos and images on your blog—legally. 
Legally Using Photos and Images on Your Blog
When you run a blog you have to actually know quite a few legal concepts. For example, you can't write libelous statements about people, you can't plagiarize other author's works, and you also can't just use any photo that you find.
What follows is an overview of the main concepts and traps that you need to be aware of when using images on your blog. 
Navigating Photo Licenses
When you're talking about the legal aspects of photos and images the main thing you are doing is navigating the varying licenses that are attached to the images. Each photo could be different, each photographer is different, and the consequences of getting it wrong can be bad.
It basically works like this in most places around the world: when a photo is taken the person who took the photo owns the copyright to that photo. There are some exceptions (like journalistic photographers who are employed) but mainly it's the gal or guy who took the shot that owns the rights.
That photographer can then grant licenses where other people can use that photo in certain circumstances and under certain conditions.
Bloggers are essentially looking for one of three to choose from which are Royalty Free, Creative Commons and Public Domain. However, each of those have their own restrictions and conditions:
Royalty Free
This is what you find on most stock photo websites. Some require you to pay a fee and others offer royalty free blog images for free. You still can't sell it and there are things like not using it as part of your branding that you need to be mindful of.
Creative Commons
Creative Commons is actually a non-profit organization that has come up with certain licenses that enable photographers to put their material out there and have it used without people making money off of it. There are several different licenses (Attribution, Non Commercial, etc.) and the photographer can pick one or more. Flickr has a really good summary about it all.
Public Domain
This is where there is essentially no copyright because it has expired or wasn't eligible for copyright in the first place. A lot of these photos are related to the Government use. Interestingly, attribution is often still required.
There are many other types of licenses out there. 
Figuring out which license a photo is under can be tricky and that's why it's important to get your photos from sources that you trust where you are sure that you know what is going on.
What Can Happen If You Don't Get It Right
Many new bloggers ask: Is it OK to use Google Images on a blog?
The answer is no. Please don't just take images from Google Images and assume it will be okay. It might not be okay and, honestly speaking, it's not very fair to take a photographer's work and use it without compensating them.
Sadly, some photographers make their money through lawsuits. They spend their time searching for improper uses of their images and then use lawyer's letters to get money out of website owners – sometimes it's upwards of $5,000 per image!
Other photographers will ask you to give a credit or request that you take the image down, which is a much kinder route for bloggers who may not be aware. But, all of this means that it's best not to use an image unless you are sure that you can, and make sure you give a credit where you're supposed to.
How to Be Safe
This is one of those situations where it is better to be safe than sorry. 
Don't use an image unless you know its license, and always give a credit by default.
It's important to try and get your head around the different options as best as you can and make sure that your own specific country or state doesn't have different laws.
And again, if you want to be super safe then make your own images, take your own photos or have someone make them for you using a site like 99designs.
Now that you're up-to-speed on the legal aspects of using free images on your blog, let's discuss how to choose the best images for your blog. 
Picking Images That Fit Your Brand
When choosing images for your blog, don't just choose any old image. You need to pick images that fit your brand. 
But what is a brand?
David Ogilvy defines it as:
The intangible sum of a product's attributes: its name, packaging, and price, its history, its reputation, and the way it's advertised.
As soon as someone lands on your blog they will get a particular feeling and impression that has a big impact on how much they will interact with your content, whether they will subscribe to your mailing list, and so on. Photos play a big role in this.
The first thing you want to do is avoid stock photos that everyone can tell are from a stock photography site and feel cold, clinical, and quite dull.
For example, avoid choosing a dull, obvious stock image like this: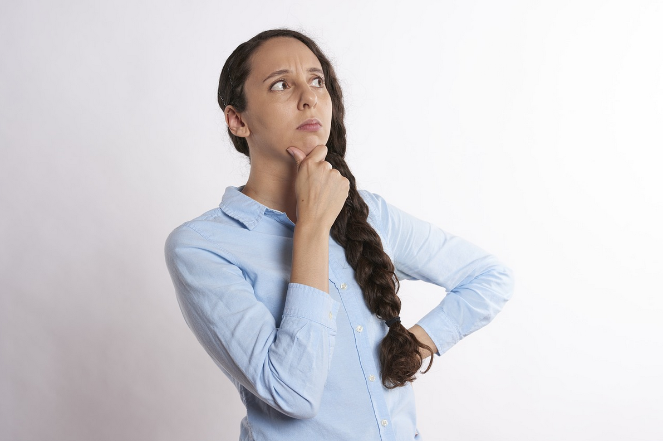 Instead, go for an image that's more interesting and engaging, like this: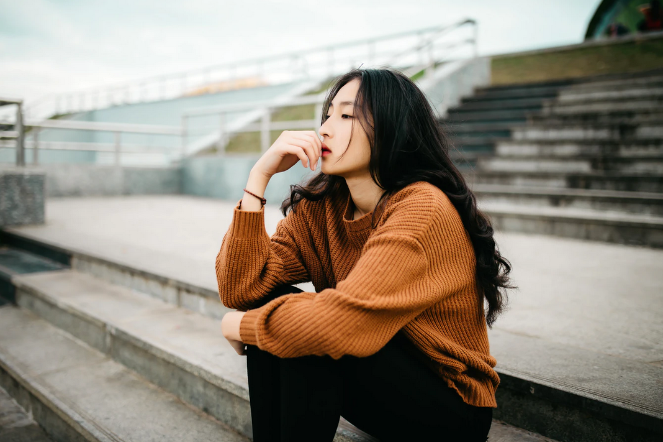 Next, be sure to pick photos that reflect your brand and your blog content.
To define your brand, think about what you want readers to think of or feel when they visit your website. Is your blog playful and fun? Or is it informative and serious? Then, choose blog images that represent those feelings.
The popular blog, Tiny Buddha, is all about spreading good vibes and focuses heavily on mindfulness, happiness, spirituality, and more.
And as you can see, their blog images reflect that: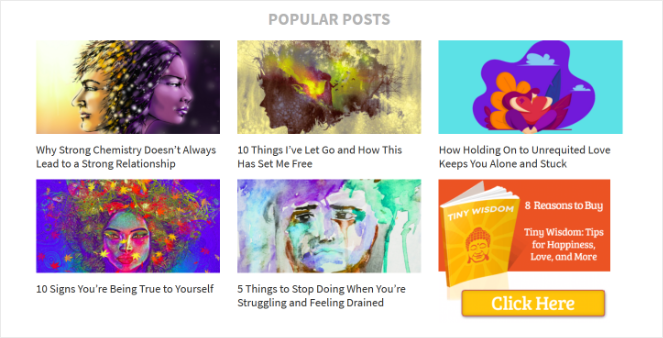 On the other hand, The Penny Hoarder is an informative blog that offers financial advice for people and their families. Take a look at how their blog images fit their brand: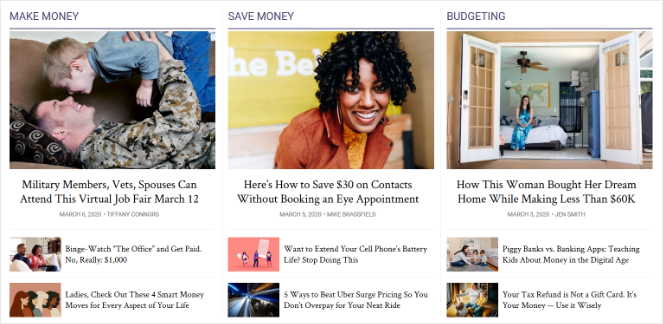 Try to plan out what you want to communicate with your photos.
Choosing blog images that represent your brand will make your blog look more cohesive and inspire trust with your readers.
Now, are you ready to find some awesome images for your blog?
Here are some websites you can use to find free blog images!
15 Best Sites to Find Free Images for Your Blog
1. FreeImages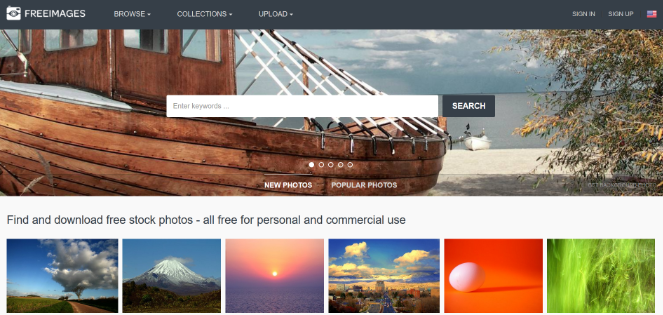 On FreeImages, formerly known as stock.xchng, you can browse over 300,000 free stock photos and quickly find high-quality, royalty free images for your blog.
You can search FreeImages by keyword or browse through their collections to find the perfect image. Collections include food and drink, business and finance, landscapes, transportation, sports and fitness, and much more. 
2. Unsplash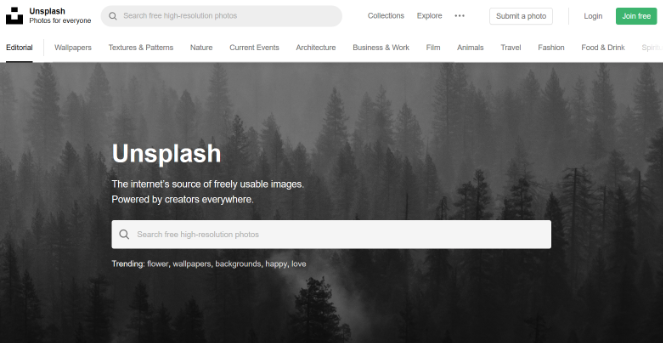 The images on Unsplash are so beautiful, people often wonder, is Unsplash really free? It is!
Unsplash is a great place to find free blog images that are creative commons licensed or public domain. They offer a wide variety of free stunning photos that you can download and use for any project, including your blog.
They have built up a library of over 1 million stock photos and they add 10 new images to the site every day. 
3. Pixabay

Pixabay has over 1.620752 million royalty free images, free of charge that you can use on your blog. Aside from stock photos, they also offer illustrations, vectors, and videos. 
You can easily find the exact type of blog image you're looking for with a simple keyword search. Plus, Pixabay lets you filter the image results by orientation (horizontal or vertical), size, and even color. 
4. PicJumbo

PicJumbo has 1000s of beautiful, free blog images to download. All of the images on this photo download website are royalty free and have no watermarks.
You can search for an image by keyword or browse through their image categories like business, abstract, traveling, flatlay, people, and more. 
5. Gratisography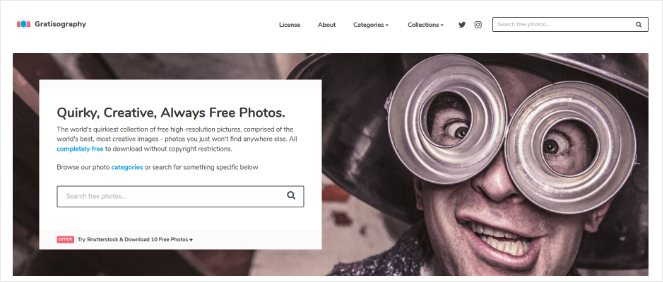 Want to find some really quirky images that will make your blog stand out from the crowd? Check out Gratisography. Some of the quirky images you can find on this site include photos of garden gnomes, people making funny faces, a cool teddy bear wearing sunglasses, and more.
All of the photos are totally free to download, without any copyright restrictions. You can also subscribe to their weekly email newsletter to receive updates about new free image downloads.  
6. Pexels

Want free images, no copyright restrictions? On Pexels, you can find loads of free stock photos that you can use anywhere. They're free for commercial use and no attribution is required.
Finding the perfect image is a breeze on Pexels. You can search by keyword or browse through specific photo collections like "Cacti," "Back to School," "Tasty Tea," and more. You can even browse photographs by color if you have a particular color scheme for your blog. 
7. PhotoPin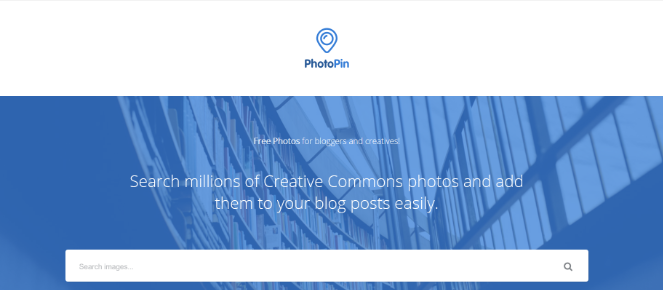 PhotoPin is an awesome photo download site for bloggers. They have millions of high-quality, creative commons photos that you can add to your blog posts easily.
PhotoPin uses the Flickr API to search the web for creative commons licensed photographs. Simply type a keyword into the image search bar and in an instant, PhotoPin will provide you with a ton of relevant images you can use. Most photos you find on PhotoPin do require attribution. 
8. StockSnap.io

The StockSnap.io website has hundreds of beautiful free images for your blog that you can download, all free from copyright restrictions.
Hundreds of new images are added to StockSnap.io weekly. Plus, it's really easy to find the exact type of image you're looking for because StockSnap.io has highly-specific categories like love, sad, beach, family, kitchen, yoga, and more. 
9. LibreShot

LibreShot is a website that offers free blog images for download. All of the photographs are taken by Martin Vorel and can be used for commercial use, they have no watermark, and require no attribution. 
The majority of the images on LibreShot are landscapes, architecture, animals, and nature-shots, which is perfect for travel blogs. 
10. Skitterphoto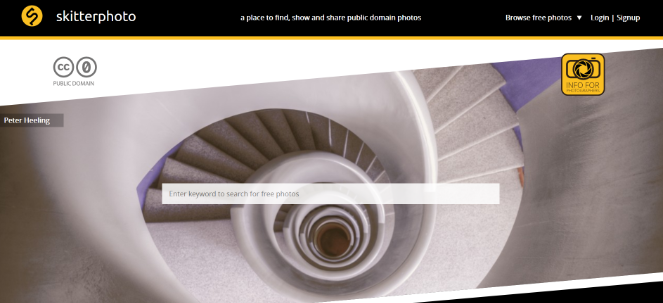 Skitterphoto is another great site to download public domain images for free.
Skitterphoto was launched in 2014 by a group of photographers. They upload their own work onto the site so you'll find free images here that you won't find on other free picture databases. 
11. SplitShire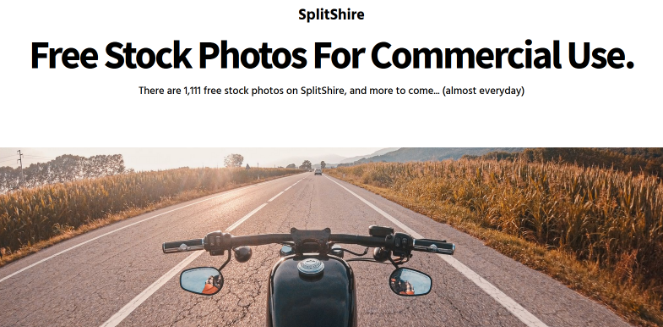 On SplitShire, you can find amazing royalty free photos for your blog. Currently, there are 1,111 free stock photos you can download on the site and more are added nearly every day.
These high-quality photographs are by Daniel Nanescu and they're released under the creative commons license. Categories include animals, fashion, automotive, wedding, landscapes, and much more. 
12. Pickup Image

Pickup Image offers a ton of royalty free images, free of charge, on their website. You can copy, modify, and add these free images to your blog, you can even use them for commercial purposes, all without asking for permission.
Simply type in relevant keywords to find the images you want and Pickup Image will show you high-quality images that match your search. 
13. Foodiesfeed

Foodiesfeed is a goldmine of delicious-looking, free blog images for people that have a food blog. All of the images are free to download for personal and commercial use.
They offer over 1500 free food photos on the site. You can search by keyword or explore popular tags like coffee, pizza, cake, healthy, and others. 
14. New Old Stock

New Old Stock is a bit different from the other free photo download websites on this list because they offer vintage photos—it's like looking into the past. If you have a history blog, or your blog has a vintage-feel, this stock photo website is a great choice for you.
These photos are public domain images, free of known copyright restrictions.
15. Wikimedia Commons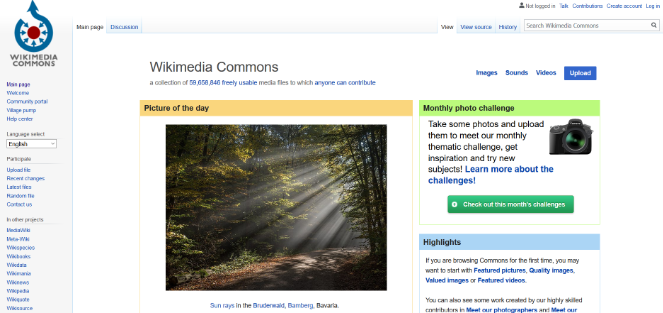 Wikimedia Commons, which is a project of the Wikimedia Foundation, is a free pictures database you can use to easily find free images for your blog.
On Wikimedia Commons, you can also find sounds and videos. According to the site, they currently have a collection of 59,658,846 freely usable media files you can browse.
Be sure to check the information underneath each photo to find out if the image is public domain or if they require attribution. 
Bonus: ShutterStock

Is ShutterStock free to use? Sadly, no, it's not. But ShutterStock is definitely worth a mention on this list.
ShutterStock has some of the highest-quality stock photos you'll find on the web. Aside from stock photographs, they also offer illustrations, vectors, music, video footage, and more.
Here at Blog Tyrant, we use ShutterStock to find illustrations for our blog posts' featured images.
Worried about the cost? Luckily, ShutterStock offers a 1-month free trial so you can test out the site to see if you like it.
That's it! Those are our top picks for the best sites to find free images for your blog.
But, wait.
Once you find some great free blog images to download, your job isn't over. It's important that you edit, size, and optimize your blog images for the web.
Let's take a closer look at that in the next section. 
Resizing, Editing, and Optimizing Your Blog Images
Okay, now we are going to get into the stuff that a lot of people might think is boring, but is actually really important when it comes to using images and photos successfully. 
Resizing, editing, and optimizing your blog images is important and it will help: 
Make your blog images look good to readers
Improve the performance of your website
Increase your SEO rankings and get more traffic
First, let's start with the basics. 
Types of Image Files That Bloggers Should Use
The first thing we need to talk about is the file type itself. When you create an image you obviously need to save it so you can upload it and use it on the web. There are really only three file types that are relevant for bloggers and that's the PNG, JPEG and GIF.
Here's a little graphic made that you can Pin if you like it: 
Resizing Your Blog Images
The next thing you want to think about is the size of your blog images. There are 2 types of images you want to add to your blog posts: 
A featured image – The featured image typically appears at the top of your blog posts and acts as a teaser for the content that follows. 
Images within the post – Images within your blog posts break up the text and can be used to demonstrate concepts in a visual way. 
When you download free blog images from stock photo websites like the ones listed above, the file sizes are usually very large. These large images can slow down your website and take up space on your website's hosting server. So, you need to resize them. 
But, make sure all of your blog images are the same size. 
Using different sized images can really ruin the visual appeal of your blog and make it look scattered and messy. Where possible you should try to keep all your images the same dimensions so that your layouts are clean and become easily recognizable.
Luckily, WordPress makes resizing your images easy. Simply upload your stock photo, click Edit Image, and choose your new dimensions.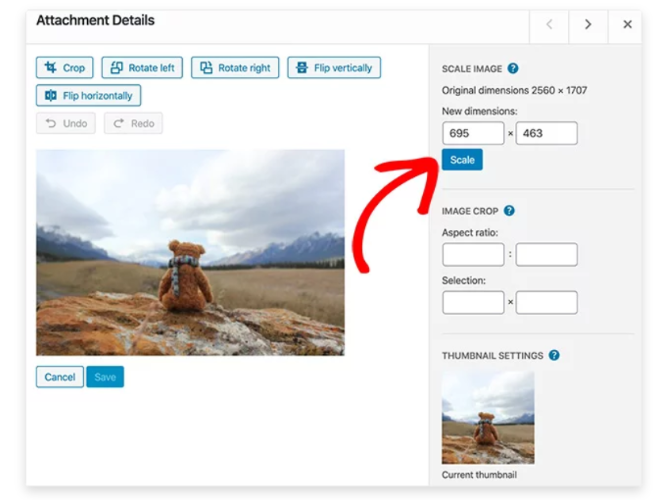 You can also resize your images before you upload them to your WordPress site using a tool like Adobe Photoshop, GIMP, or another image editing software on your computer. 
Editing Your Blog Images
You can also take the stock images you download and edit them. This will help you transform stock photos into unique images that fit your blog's brand perfectly. 
Editing your images, like adding text or your logo, will also help your content stand out on social media platforms like Facebook, Instagram, and Pinterest. This is important because sharing your content on social media is a great way to promote your blog. 
For example, take a look at how the blog, Not Quite an Adult, adds the title of their blog post as well as their blog name to this stock photo: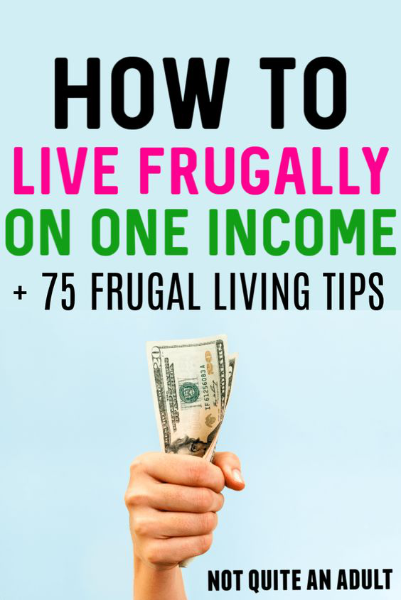 And don't worry, you don't need to be an expert graphic designer to edit your images like this. 
You can use a tool like Canva to easily add text or other elements over top of your blog images.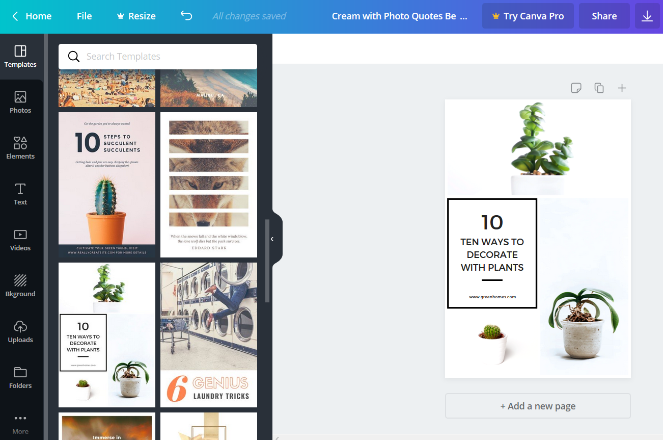 They also have pre-made templates so you can create blog images like the one above in minutes. 
Aside from Canva, there are a ton of other online tools you can use to edit your blog images. 
Check out this list of tools to create better images for your blog posts. 
Optimizing the Images on Your Blog
We know how important speed is for a successful blog. So, aside from resizing your images, you should also optimize your images. This involves compressing your images and reducing their file size. 
Optimizing your images will not only help improve your site speed but it will also improve your SEO as well. 
Take a look at these image optimization plugins for WordPress that will optimize and compress your images with 1-click, without sacrificing the quality of your images.
Speaking of SEO, don't forget about using the alt text on images. 
When you upload an image to your blog, it's good to add alt text to help Google know what the image is about. This is an important SEO factor for photos and images.
Don't worry, you don't need to know anything about code to add alt text to your images.
When you upload a photo to WordPress, simply type in the alt text description for the image on the right side of the screen: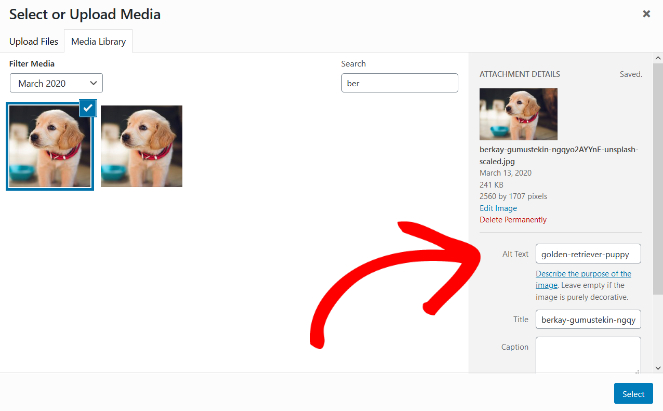 That's a wrap! Now you know where to find free images for your blog and how to use them effectively. 
Enjoy your beautiful-looking blog and all of the new, happy readers that are sure to come. 
With all of those new readers, it might be time to start an email newsletter. So, check out our step-by-step guide on how to create an email newsletter. 
Want more blogging guides like these? Make sure to subscribe to our email newsletter so you can get the expert advice you need to grow your blog.
Keep reading the article at Blog Tyrant. The article was originally written by Ramsay on 2020-03-18 08:00:04.

The article was hand-picked and curated for you by the Editorial Team of WP Archives.