WooCommerce is the pinnacle of WordPress eCommerce plugins. WooCommerce includes all of the necessary tools for setting up a store and adding products. But we all know that any good platform requires some help. That is why it is beneficial to use its extensions to ease shop administration.
An eCommerce entrepreneur must monitor each order methodically to provide the most pleasing experience for clients. When you receive an order, as the owner, you must ensure that every stage of the fulfillment process is handled.
Also, this will be difficult if you have a large number of orders. It's a good idea to invest in specific solutions that will help you ensure efficient order administration.
There are several responsibilities that WooCommerce shop administrators must manage when it comes to ordering management. They are exhausting, time-consuming, and stressful.
Nonetheless, given the vast number of WooCommerce extensions available, there are several that can make the job of a Woo-store administrator a little easier.
Luckily, there are loads of amazing plugins that you can integrate with WooCommerce to help you efficiently manage your orders. This article will list you some incredible WooCommerce order Management Plugins.
1. WooCommerce Order Export
WooCommerce Order Export, as the name implies, is a plugin that allows you to export orders from your shop simply. It supports all data types and will enable you to export information from any theme or plugin. You may also tweak the columns and fields before shipping, filter what you want to ship, and do a lot more.
Features of free version:
Drag and Drop Export Content Customization
Customizations for Order Export Columns
Order Exports Made Simple with Filtering
You may export data from WooCommerce in CSV format.
With a simple click, you can download your WooCommerce data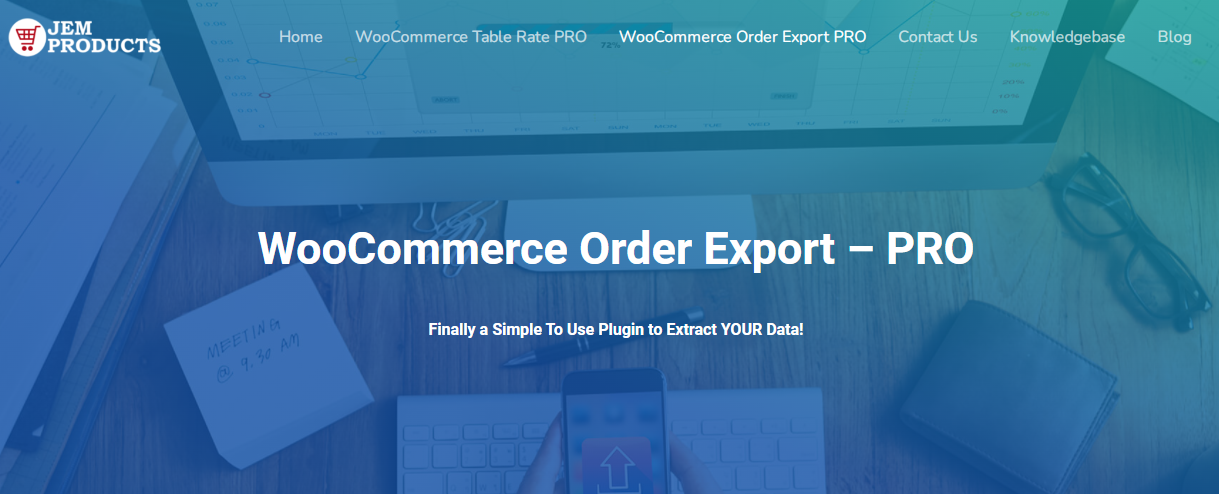 This high-quality plugin also includes a premium edition that lets you export data from your WooCommerce store, including orders, customers, coupons, and more.
You can also export data as CSV files and view them in Excel or Google Sheets. Use the excellent filter feature of this plugin to ensure that you only export the required data. Another paid feature not available in the free version is scheduled exports.
The plugin uses this functionality to deliver the export files to the selected mailbox on a predefined schedule.
Features of PRO version:
Plan your exports.
Scheduled exports may be sent via email or accessed directly from your WooCommerce store.
Export Shipping Information
Coupon Data Export
Tags for Export
Data Export by Category
2. Autocomplete Woocommerce Orders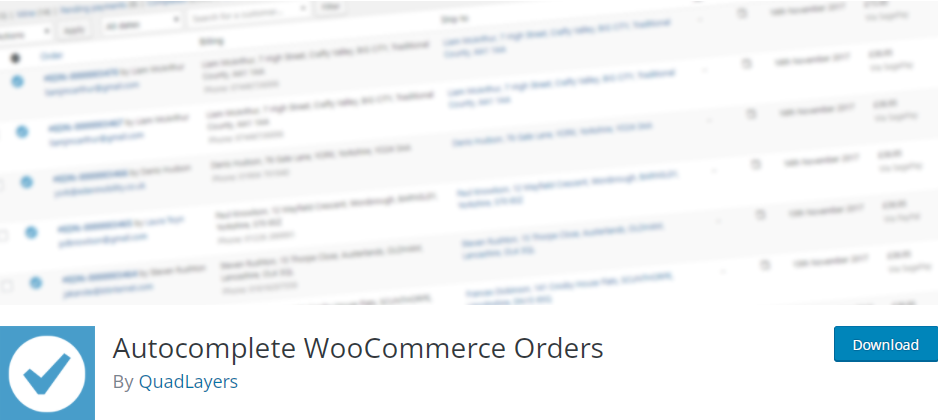 Autocomplete WooCommerce Orders is a free WooCommerce order status manager that can fulfill your WooCommerce orders automatically.
You may be wondering why you should get and install this plugin. Because the standard WooCommerce order status can only mark orders as Completed if they only contain downloaded or virtual items. Otherwise, as long as your order includes a tangible or purchased item, this functionality will not function.
Autocomplete WooCommerce Orders was created to assist you with this problem since you don't want to lose time doing it. It means that your order will remain in the "Processing" status until you manually change it to "Completed" or your payment is successfully processed.
As previously said, Autocomplete WooCommerce Orders will assist you in automatically changing all orders to "Completed." You'll save a lot of time, and your consumers won't have to wait for confirmation for the things they've ordered.
You can also connect Autocomplete WooCommerce Orders with Paypal. Furthermore, PayPal allows customers to pay securely and sellers to receive funds quickly.
3. Sequential Order Numbers PRO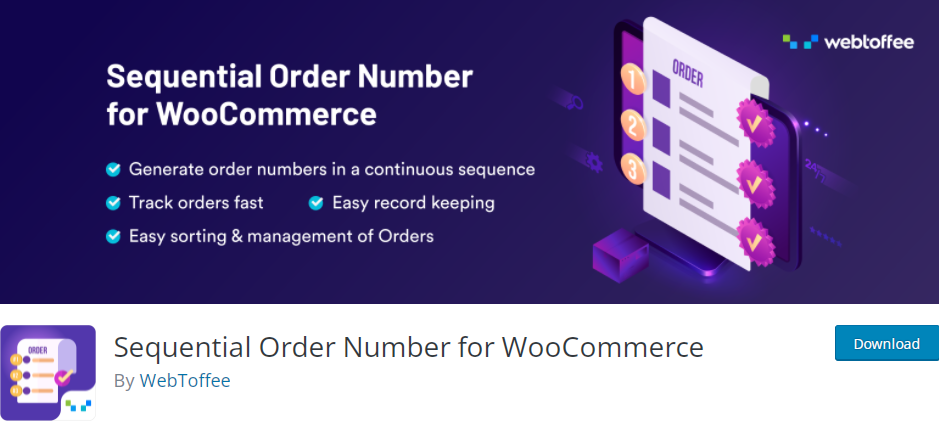 Order organization is an essential part of order management. Sequential Order Numbers PRO will let you assign order numbers to your WooCommerce store in a sequential manner.
Furthermore, you may personalize the order number by choosing a beginning number or adding prefixes and suffixes. You can select the length of the order number if you want. If your company is currently receiving orders, you can use this plugin to track that trend.
Lastly, we also have to mention that it offers a great variety of features that will help you. Some are setting length for order numbers, following the existing patterns of numbering on your store, etc.
4. Purchased Items Column for WooCommerce Orders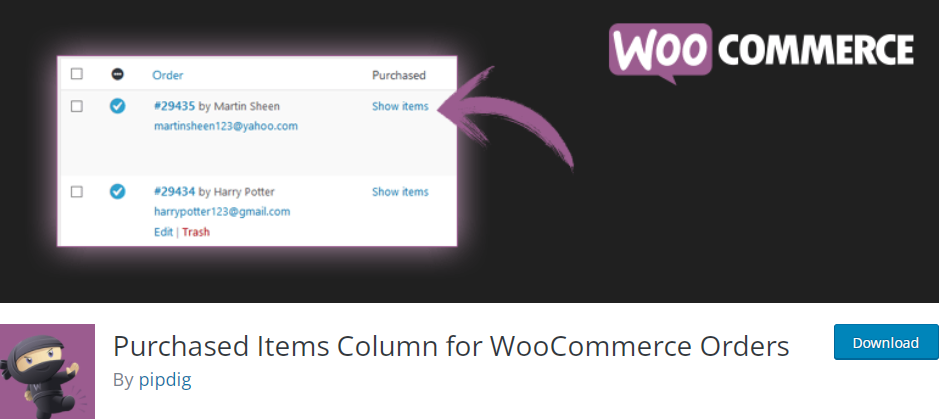 When the 3.0 version of WooCommerce came out, the one thing that was entirely removed was the column "Purchased Items."
To address this issue, a team of developers developed the Purchased Items Column for WooCommerce Orders that only requests the order data when you click the "View Products" button. When you press that button, specific information such as the product name and amount will appear.
If you are a developer, here is a piece of great information for you. It is open-source software, which means that you can contribute to this plugin's further development and improvement.
5. WooCommerce Order Navigation

WooCommerce Order Navigation is a. incredible plugin. It gives administrators and store managers a simple way to navigate WooCommerce Orders within the order edit panel. It eliminates the need to return to the order listing screen in this manner. This also helps you save a lot of time.
It is one of the best plugins that will help you be time-efficient.
Assume you have a few hundred orders to process at the end of the day. And you need to keep track of the order you just processed in your head, so you know which order to change when you return to the order's listing screen. Is that easy? Well, not really.
That is the time when this plugin comes to save you. With just two buttons, "Previous Order" and "Next order," you will have more spare time to do other tasks.
Conclusion
If you want the plugin that will bring you the most functionalities for your WooCommerce store and help you save time, you should check out WooCommerce Order Export, especially their PRO version.
We hope this blog post was informative and that it helped you realize why order management is essential and how to improve it and provide the best service for your customers.
Keep reading the article at WP Pluginsify. The article was originally written by Sara Peksin on 2022-01-09 10:00:26.

The article was hand-picked and curated for you by the Editorial Team of WP Archives.