Camille Cunningham
Camille is content manager at Yoast. She writes and optimizes blog posts and enjoys creating content that helps people master SEO.
Grabbing the attention of people online is hard. But keeping that attention is way harder. In fact, it takes most site visitors less than a second to form an opinion about your page. That's all the time they need to decide if they're going to stay or not. So having a clear message that's easy to grasp is essential. You need to show people what your post is about, and why they should stay a bit longer than that first second. Managing readers' expectations right away can convince them of the usefulness of your post and might even reduce the bounce rate at the same time!
Estimated reading time: 9 minutes
You may already be well aware of this, but you have about half a second to make a good first impression online. That's why it's so important to meet your readers' expectations the second they land on your page.
You can do this by being clear and honest in your titles, introduction, and meta description that people will see before they go to your site. But also by telling people what they can expect from your blog post or page right away. Help your readers understand what your text is about to reduce the bounce rate of your page and keep them hanging around longer.
Of course, there are many more things you can do to prevent people from bouncing back to Google, like improving page speed and page experience. But here, we'll focus on some easy steps to optimize your content and make people stay!
Add a table of contents
Remember all of those different textbooks that you had to read in school? Finding the right chapter to discuss in class, or to do your homework, was quite easy with a table of contents at the start of the book. You could find all of the chapters in one overview and simply check on what page your chapter started.
Of course, most textbooks these days still have these. But what about online texts? We do a lot more of our reading online, and especially when it comes to lengthier posts, a table of contents would be quite handy. So why not add them to your online posts? This allows you to manage your readers' expectations of your text right away, giving them insight into the topics you'll discuss.
Meet our Table of Contents block
Did you notice that this post has a table of contents? This one was created with the Yoast Table of contents block, which automatically takes all of your (sub)headings and creates a table of contents with it.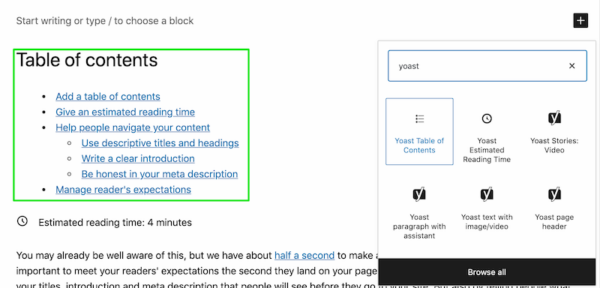 […]
This article was written by Camille Cunningham and originally published on SEO blog • Yoast.