Creating a secure website is critical to the success of your business. That's because without the right safety measures in place, your site is at greater risk of getting hacked. This can lead to a data breach, which might do irreparable harm to your reputation.
Fortunately, you can easily boost your site's security by getting a Secure Sockets Layer (SSL) certificate from a certified authority. This feature enables encrypted communication between your web server and the user's browser, preventing potential data theft. It also shows users that they can trust your site.
In this post, we'll take a closer look at SSL certificate authorities and why they're important. Then we'll look at some of the best SSL certificate providers on the market. Let's get started!
An introduction to SSL certificate authorities (and why they're important)
An SSL certificate adds a layer of security between a web server and a web browser. It enables encrypted connections to protect the exchange of data between the server and the user.
Websites with SSL certificates have URLs that start with "https://" (rather than just "http://"). Additionally, you'll see a padlock symbol next to the URL in your browser:
SSL certificates are issued by Certificate Authorities (CA). These are organizations that validate ownership details of web servers and bind them to cryptographic keys. They issue a unique digital certificate for each user.
Ultimately, SSL certificate authorities make the internet a safer place. That's because they facilitate the secure transfer of sensitive data, such as passwords and credit card numbers.
4 best SSL certificate authorities
Now that you know what SSL certificates are, you're ready to look for a reputable CA that provides them. Some offer free certificates, while others provide a premium service with additional security features. Let's take a look at some of the best SSL certificate authorities available today.
1. Let's Encrypt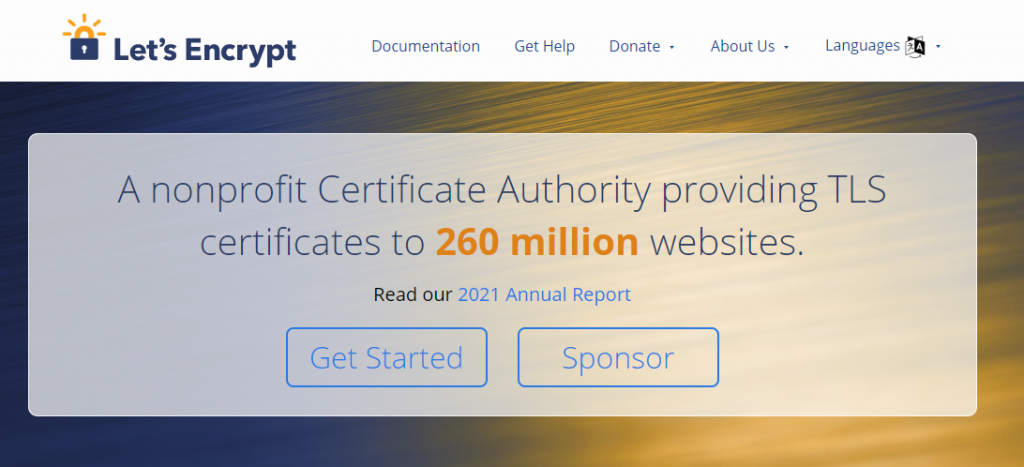 Let's Encrypt is a free, automated, and open certificate authority run by the non-profit Internet Security Research Group (ISRG). This organization is funded by some of the biggest names on the web, including Automattic, Chrome, and Mozilla.
It's important to note that since Let's Encrypt values transparency, all SSL certificates it issues or revokes are publicly recorded. Additionally, many common hosting providers offer Let's Encrypt support.
Key features:
As many SSL certificates as you want (all for free)
Compatible with most major browsers
Free and automated renewals
Just because this service is free doesn't make it less secure than paid alternatives. However, for some, its services may not
[…]
This article was written by Will Morris and originally published on ManageWP.