Do you want to know if the SearchWP plugin is worth it? Does it actually work or are you better off using the default WordPress search option?
We've put SearchWP to the test to see whether it performs well or not. In this guide, we'll explore the plugin's features, pros and cons, and pricing. By the end, you'll know whether the plugin powers up your search and delivers quality results that your users will find helpful.

SearchWP vs Default WordPress Search
WordPress offers a basic default search option. When we say basic, we really mean basic.
Once you enable it, your users can search for pages and posts on your site. But if you have a large website, this option won't work because it's not powerful enough to index all of the content your visitors are searching for.
Added to that, this method is a bit complicated as it involves quite a bit of coding. You'll need to edit sensitive files and one wrong step could lead to a broken website.
It's also hard to customize the WordPress search box. If it doesn't match your theme, you'll need to add some more coding.
So this is a definite miss for most WordPress users, especially beginners.
You're better off using a plugin. So is SearchWP the best option out there?
SearchWP is a powerful plugin for WordPress that lets you search EVERYTHING on your site.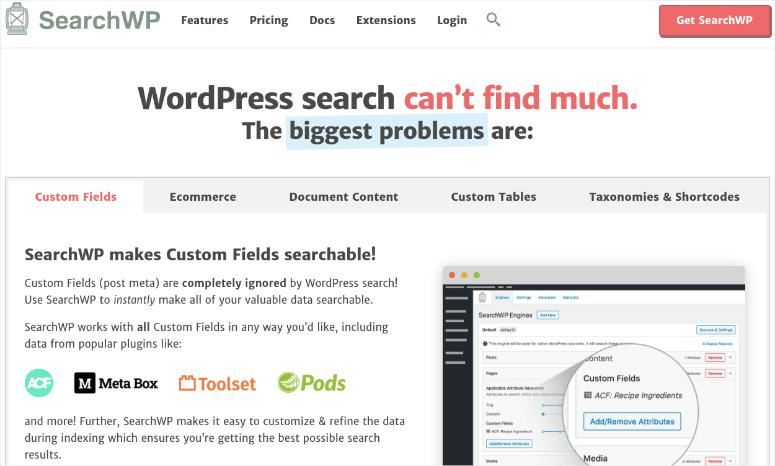 The search option will help users find what they need without spending minutes or even hours looking for it.
It's easy to use, displays accurate results, and gives you control over your search form.
When you activate this plugin on your site, it will instantly improve your site in the following ways:
Helps users navigate through your content
Saves time by finding things faster
Optimizes your site for mobile users
Reduces bounce rate
Boosts conversions and sales
That said, let's take a more detailed look at what SearchWP has to offer.
SearchWP Features
SearchWP is packed
[…]
This article was written by Melinda Bartley and originally published on IsItWP – Free WordPress Theme Detector.