Are you looking for an all-in-one page builder that's easy to use and seamlessly integrates with your WordPress site? Look no further because SeedProd is the perfect solution for you.
With all the hype surrounding this plugin, we're here to break down its features, who needs it, and how it can help you build a website you're proud of.
Let's dive in.
About SeedProd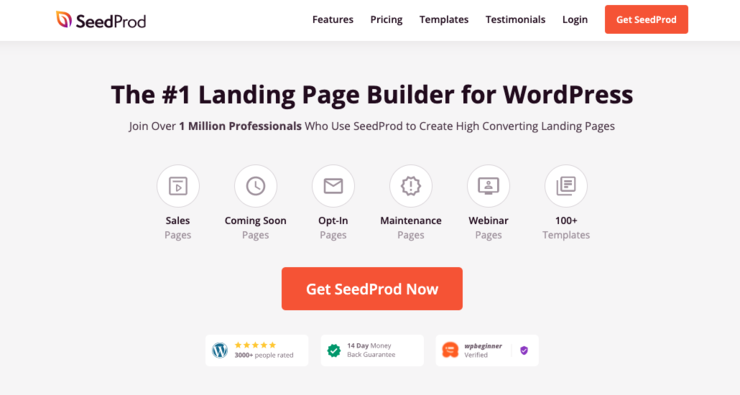 When it first launched, SeedProd was known as a coming soon and maintenance page plugin. Users could easily build these webpages from scratch with no prior coding knowledge required.
But now, SeedProd is a full-fledged page building software plugin for WordPress. With more than 1,000,000 active installs, it continues to serve WordPress users by letting them create beautiful landing page content that converts. Bloggers, business owners, developers, designers, and many others can use SeedProd to reach their marketing goals and succeed in their field.
Why Use SeedProd on Your Website?
There are many benefits to using SeedProd on your WordPress website.
1. Improve Lead Generation
The point of a landing page is to collect information from your website visitors so you can connect with them later. When you build optimized landing pages for your site, it's easier to move users through the customer journey and convince them to give you their email address and other information.
When new visitors stumble across your site, they need quick and easy-to-absorb information about your products and their benefits. If you fail to show users why they need your content or services, they'll bounce from your site and turn to your competitors.
SeedProd makes it easy to guide users through the conversion funnel and show them why they should invest in your brand. A beautifully-designed landing page effortlessly guides your customers through the process so they feel ready to take action.
2. Create Beautiful Landing Pages in Minutes
If you aren't design-savvy, then you would likely need to hire a designer to create your site the way you want it. But with SeedProd's premade templates, creating a visually stunning landing page is simple and doesn't take much time.
This software is perfect for beginners as it doesn't require any coding knowledge. Its drag and drop builder makes it easy to place elements where you want them and choose between colors, text, images, and more.
3. Build a Loyal Audience
Landing pages speed up the conversion process by providing instant proof of your brand's benefits. Going in-depth about its features shows customers why they should choose you instead of your competitors. It's the perfect time to boast about your business and build a loyal audience that keeps coming back.
Return customers
[…]
This article was written by zakiyah and originally published on IsItWP – Free WordPress Theme Detector.