Despite it being famous for quite a few years now, eCommerce is still a rapidly growing industry. Setting up an online shop of our dreams can be a great side business, but it can also turn into a lucrative career in due time.
Thanks to many pre-optimized themes, and tools, it's become relatively easy to create the bare bones of a store and start selling products. An appealing design is always your top priority. It makes the site seem more trustworthy and is overall more likely to draw in customers.
However, many other aspects can make or break an eCommerce business. Poorly handled shipping is the number one spot on that list. Not only does it hurt your bottom line, but terrible shipping policies can also have catastrophic consequences when it comes to customer satisfaction. Let's take a real-life example.
Many brands advertise free shipping; you see it, fill up the cart and proceed to checkout. Only to find out later that shipping to your country is actually near the sum cost of the products you purchased – never going back there again.
If you're using WooCommerce, there are plenty of plugins that can aid you in getting shipping rules straight. Still, if you have an international customer base and need specific shipping rules for different products or quantities, we suggest you try out the WooCommerce Table Rate Shipping plugin.
How to Setup Shipping Based on the Number of Items in the Cart
Well, first things first. You'll have to install the plugin to your WordPress by either downloading it straight from the "Plugins" tab or using other provided resources. Add the License Key, and commence installation. After that's all fine and dandy, you can go on and start to create a new shipping method.
So, let's jump into our WordPress admin panel. Under WooCommerce, jump into "Settings" and navigate to the "Shipping" tab located on the top of the page.

The first you'll have to do to get the store up and running is adjust a shipping zone. Now, if you're an absolute beginner and aren't yet familiar with the ins and outs of running a shop, feel free to peruse the knowledgebase and get acquainted with that first. Don't worry. It's not as hard to understand as it seems at first. You'll get the gist of it in a manner of minutes.
Click on "Add Shipping Zone," and you'll be ready to begin. Name the zone ( for clarity, use something recognizable and clear like the US, for the United States), and select a country where this method will apply. Upon clicking "Add Shipping Method," pick Table Rate Pro from the dropdown menu.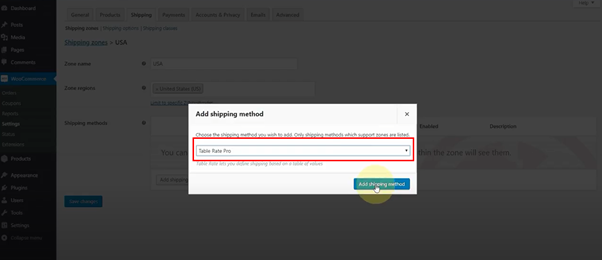 […]
This article was written by Ivana Banić and originally published on WP Pluginsify.