Considering using Teachable to create an online course? In our hands-on Teachable review, we'll help you decide if it's the best spot for your course or if you'd be better off with another solution like WordPress.
In general, Teachable is great for people who want to create straightforward courses but don't want to get bogged down in the technical details.
That could be because you're not a very technical person or it could just be because you'd rather focus your energy on marketing and content creation.
For those people, Teachable offers all of the features most people need in a very slick and user-friendly package. It also makes it super easy to sell coaching services in addition to your courses.
The main downsides of Teachable are that it can be more expensive than using WordPress and it also lacks the flexibility that you'd get with a self-hosted WordPress course. Teachable is also not strong when it comes to more academic-focused features such as advanced quizzing, assignments, gradebooks, and so on.
Basically, it's more focused on building knowledge-based businesses than serious academic uses.
To help you decide if the advantages of Teachable outweigh the negatives, I'm going to break this review into the following sections:
Let's dig in…
Teachable Features Overview
Let's kick off our Teachable review with a quick rundown of the core features in Teachable.
At a high level, Teachable helps you do two things:
Create courses.
Offer coaching services.
For both services, you can either charge money for access or offer them for free (or a mix of both).
You can also sell bundles that give access to multiple courses or coaching services for one price.
You don't need to mess around with configuring payments or anything. Teachable handles all the details to accept the money and just sends it to you whenever you request a payout.
When you're creating a lesson for your course, you can use all different types of content including the following:
Text
Video – Teachable will host the video file for you.
Images
File uploads – e.g. a PDF companion download.
You can either make all of the course content available right away or "drip" it out over time.
You can also create simple multiple-choice quizzes, though Teachable doesn't support question types beyond that. Higher-tier plans also support grading those quizzes.
One area where Teachable excels is helping you optimize your revenue. For example, you can use order bumps to upsell your coaching services or a bundle, which can encourage users to spend more money. 
You can also use marketing tactics like free trials and coupon codes to encourage people to join. Higher-tier plans also have a built-in feature to create an affiliate program to have people promote your offerings.
To connect your course to other tools that you're using (such as your email marketing software), Teachable integrates with Zapier (or any other platform that supports webhooks).
Other notable features include the following:
Members-only community features and private student areas
Advanced reporting for courses, students, videos, upsells, and more.
Course completion certificates.
Multiple admin users.
How to Create a Course With Teachable
Now that we've covered the features, let's get into what it's like to create a course using Teachable.
Signup and Basic Setup
To get started, all you need to do is register for a Teachable account. I'll talk about pricing later on, but Teachable offers a forever free plan, so you don't need to pay anything just to sign up and create a course.
Once you sign up, Teachable will launch a short setup wizard to help you configure some basics: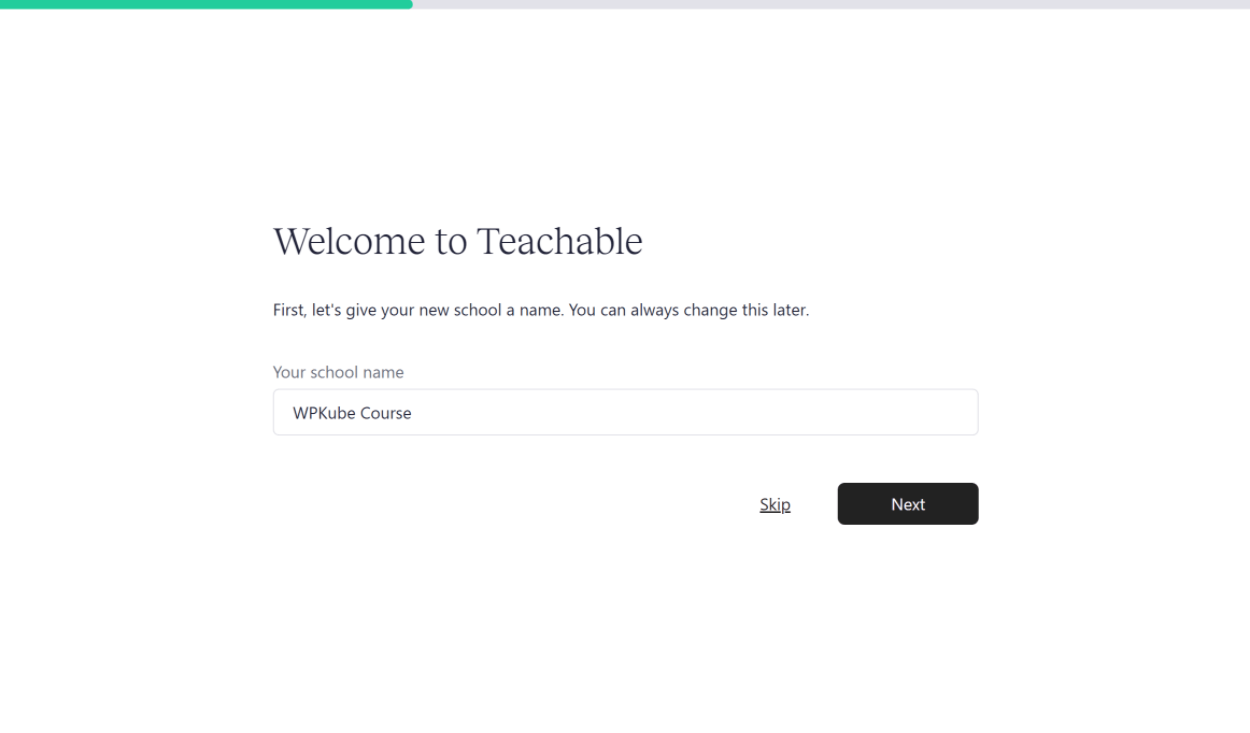 You'll enter a little bit about your business and knowledge level:
And then you're into the Teachable dashboard, which includes some next steps for you to create your course: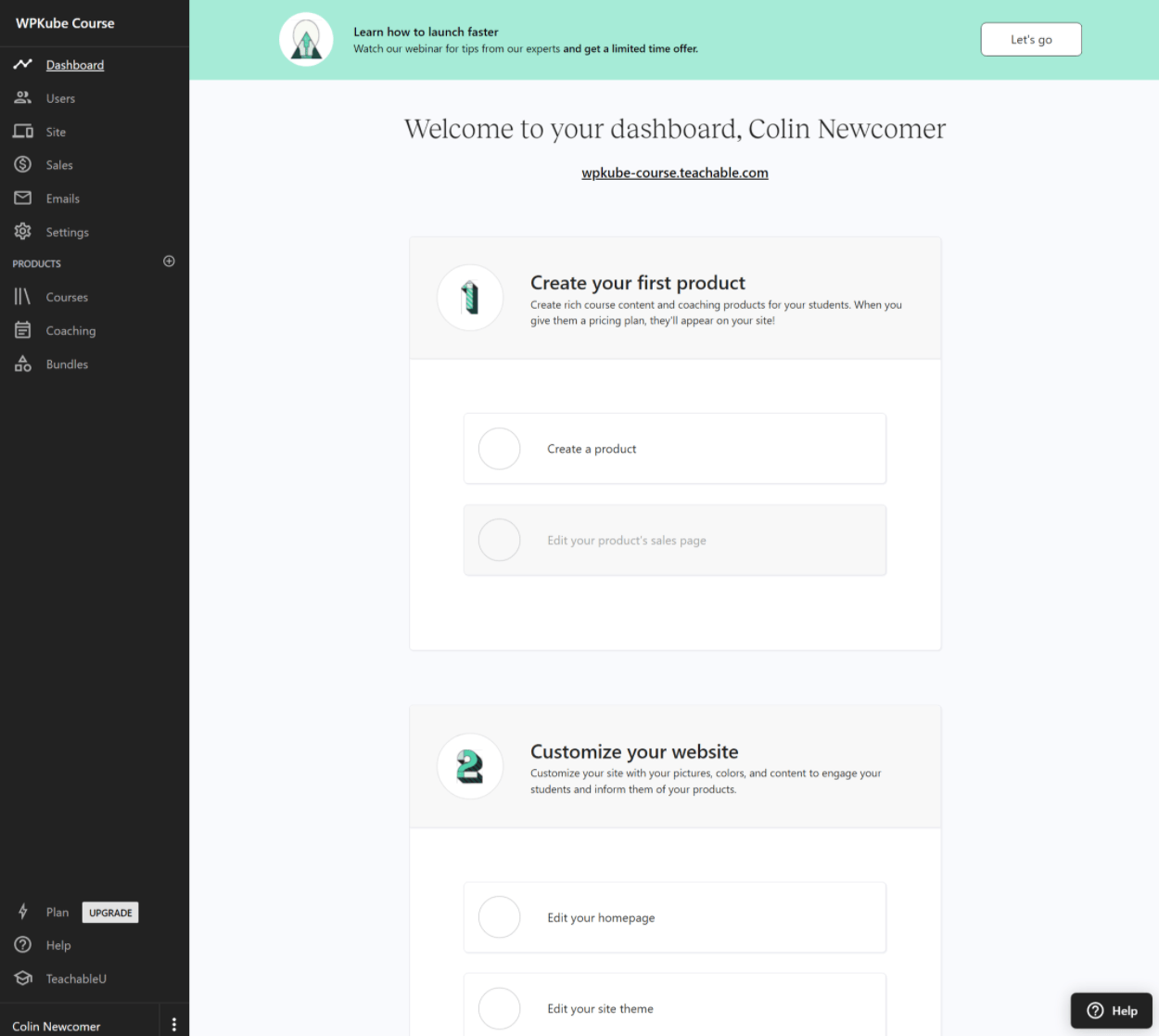 Create a Course "Product"
Teachable calls each individual course or coaching plan a "product". You can also create bundles that give people access to multiple products for one price (you can add up to 100 products to a single bundle).
To begin, you'll want to create your first product. When you do, you can choose between a course or coaching: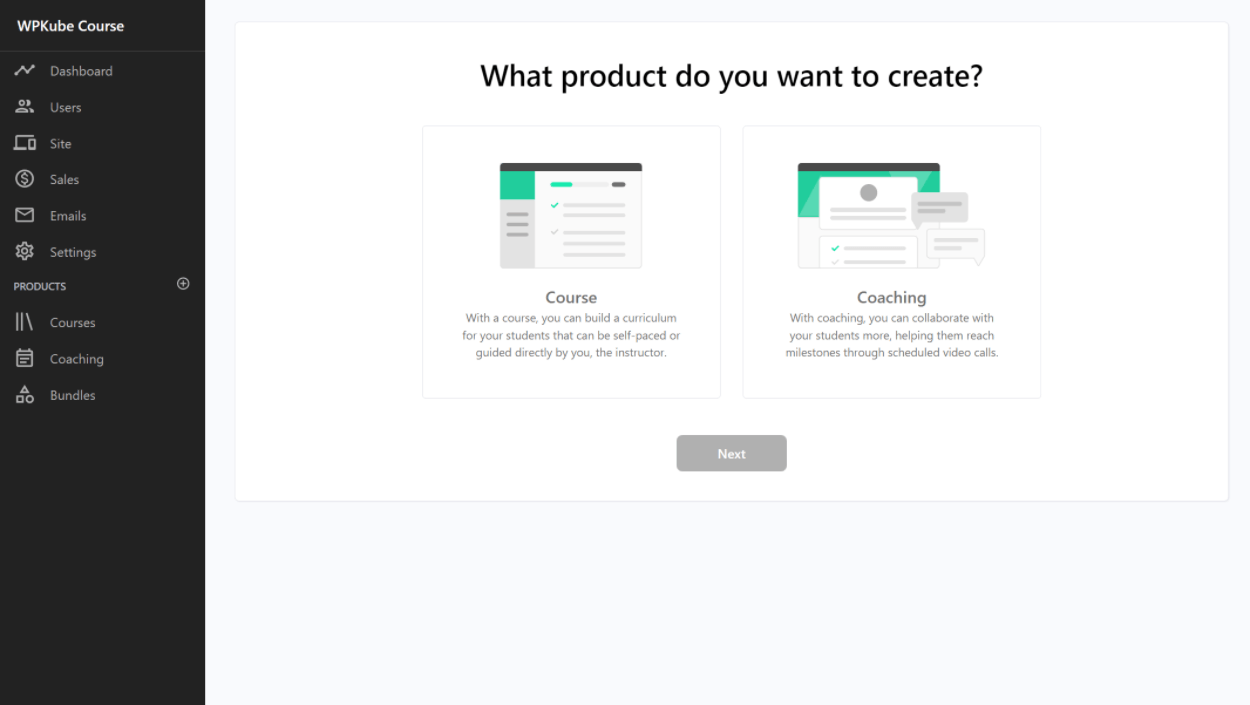 For this example, I'll do a course.
First, you'll enter some basic details for the course: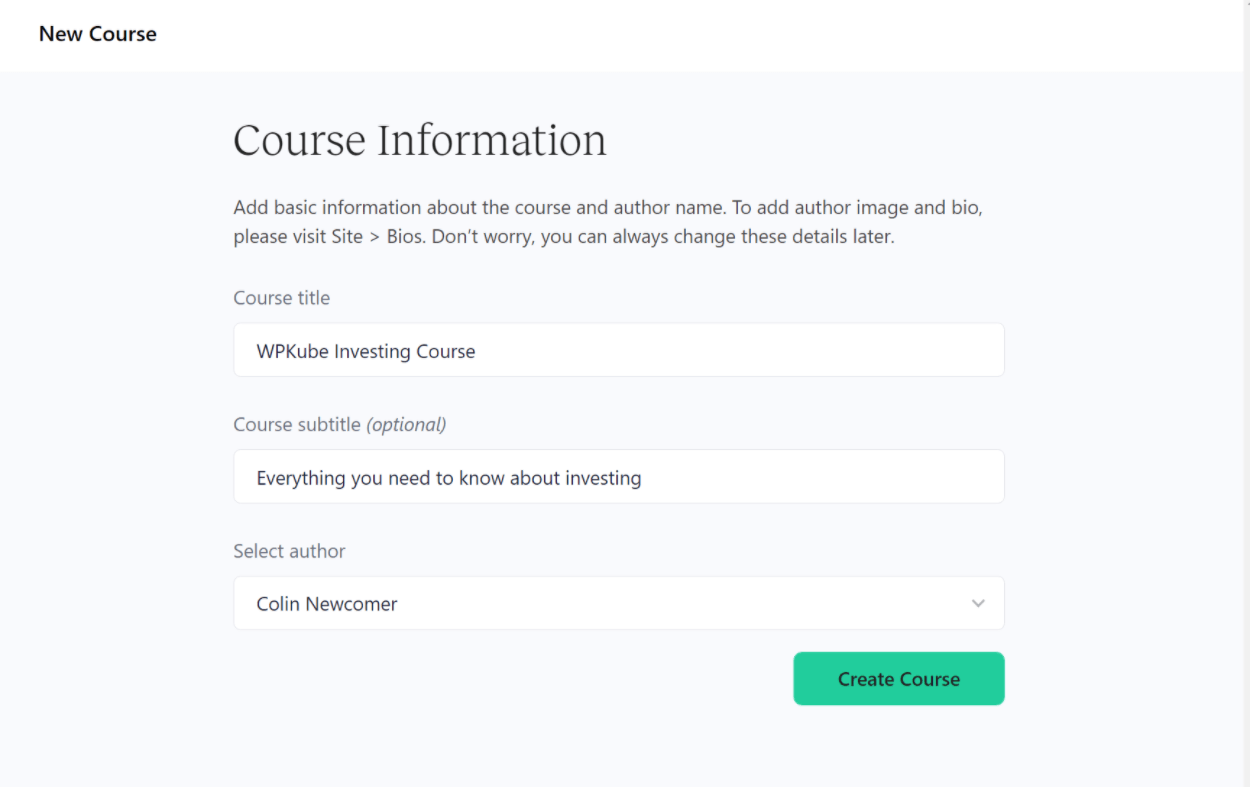 Set Up Curriculum
Now, you'll be in the course editor.
To begin, you can set up the "curriculum" for your course. This is basically the high-level layout. You can create as many lessons (called "lectures") as needed and organize them using sections: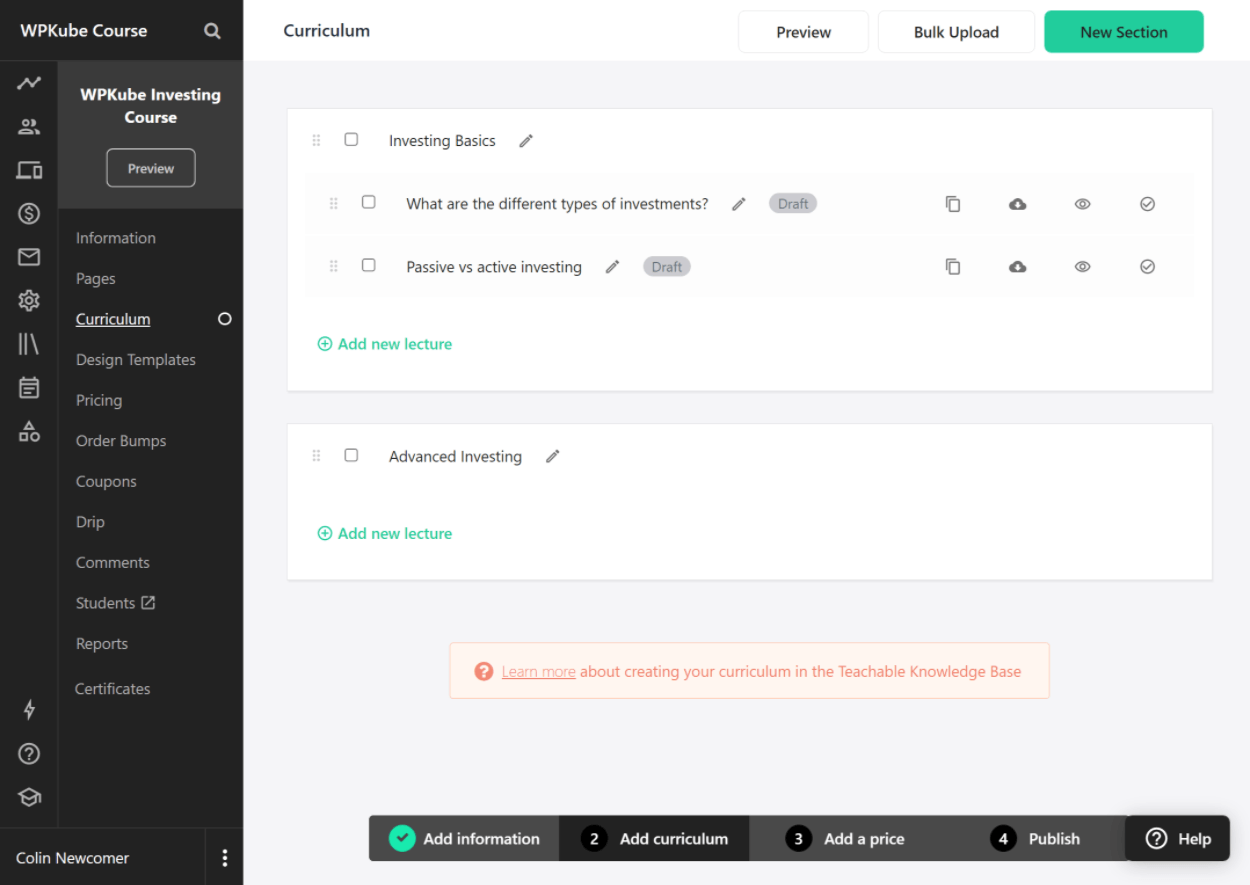 Add Lesson Content
To add the actual content for a lecture/lesson, you just need to click on it.
You'll then get an interface where you can add different types of lesson content including:
Files (e.g. videos)
Text
Quizzes
Code examples
Upsells
Adding text content is super easy – you just click into the text editor and use the formatting options on the toolbar. You can also click the image icon to quickly upload and insert images: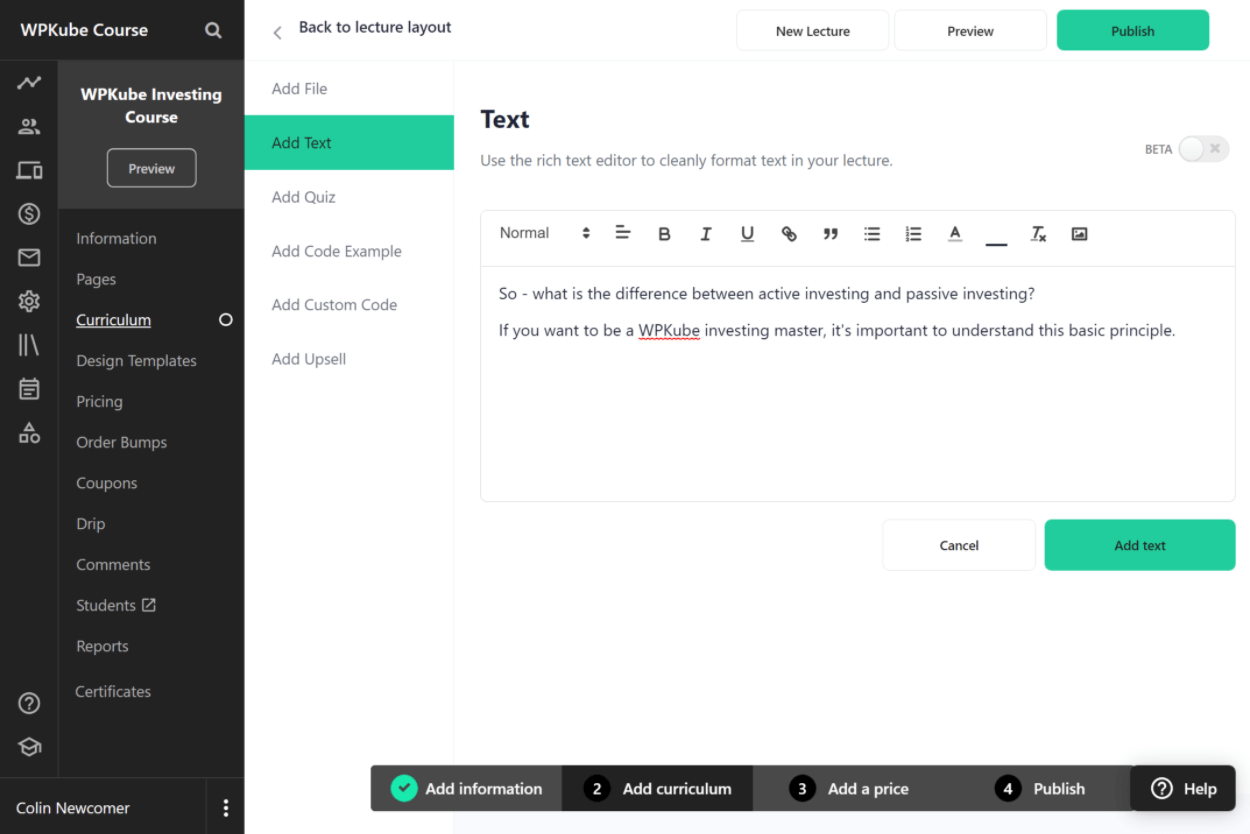 If you want to add video or audio content to a lecture, you'll need to go to the Add File tab. This tab also supports PDFs and other course materials. It's super simple – you just drag the file into the interface.
For a video, you can then:
Change the order using drag and drop. For example, you could make the video appear above or below the text content.
Disable embedding.
Upload captions.
Choose whether to allow file downloads or not.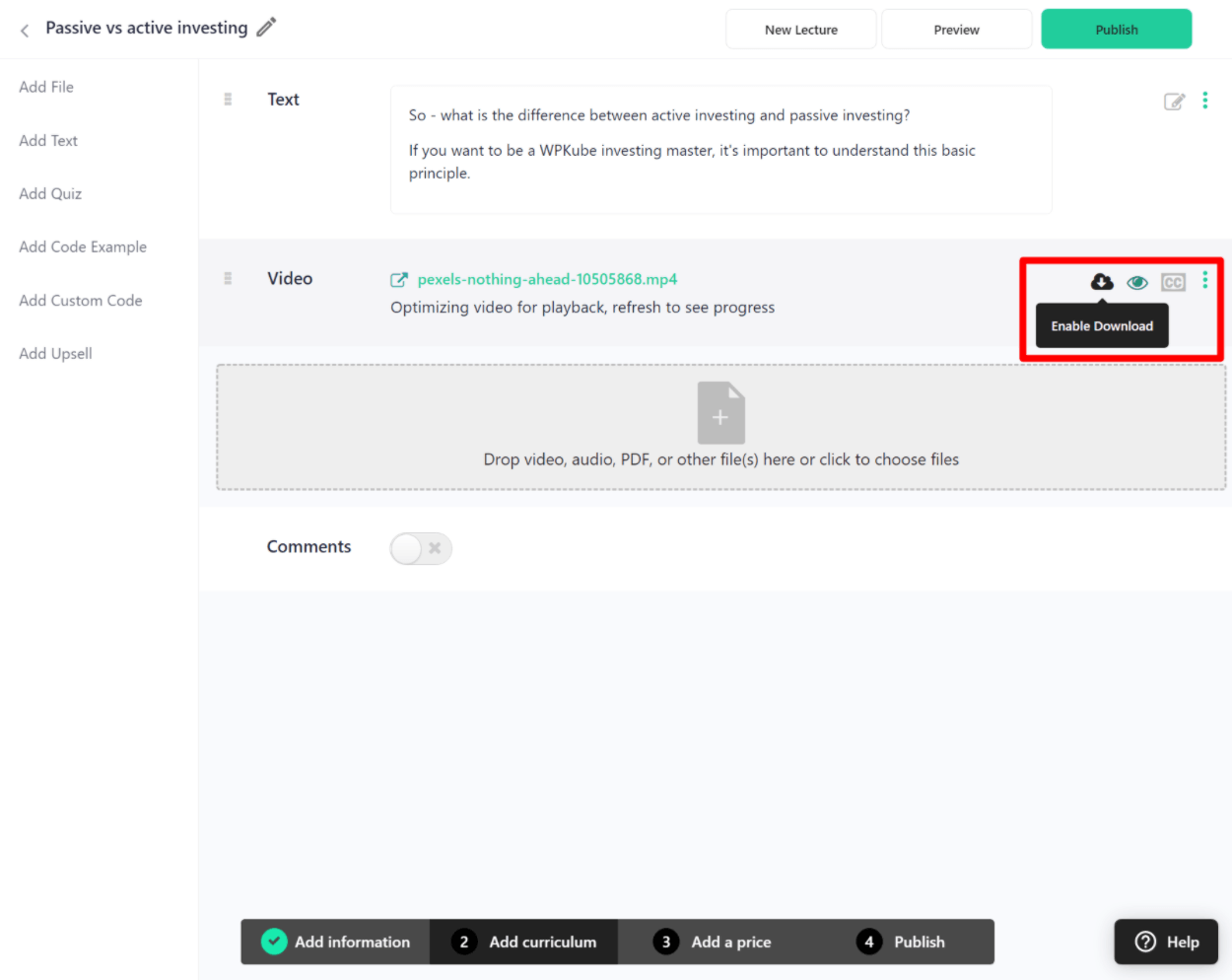 On higher-tier plans, you can also force people to watch the video before they're allowed to advance.
Add a Quiz (Optional)
If you want to add a quiz, you can go to the Add Quiz tab in the lecture editor. 
However, the Teachable quiz types are very limited because it only supports multiple-choice quizzes at this time. If you need more complex types of quizzes, you might need to go with a different LMS platform: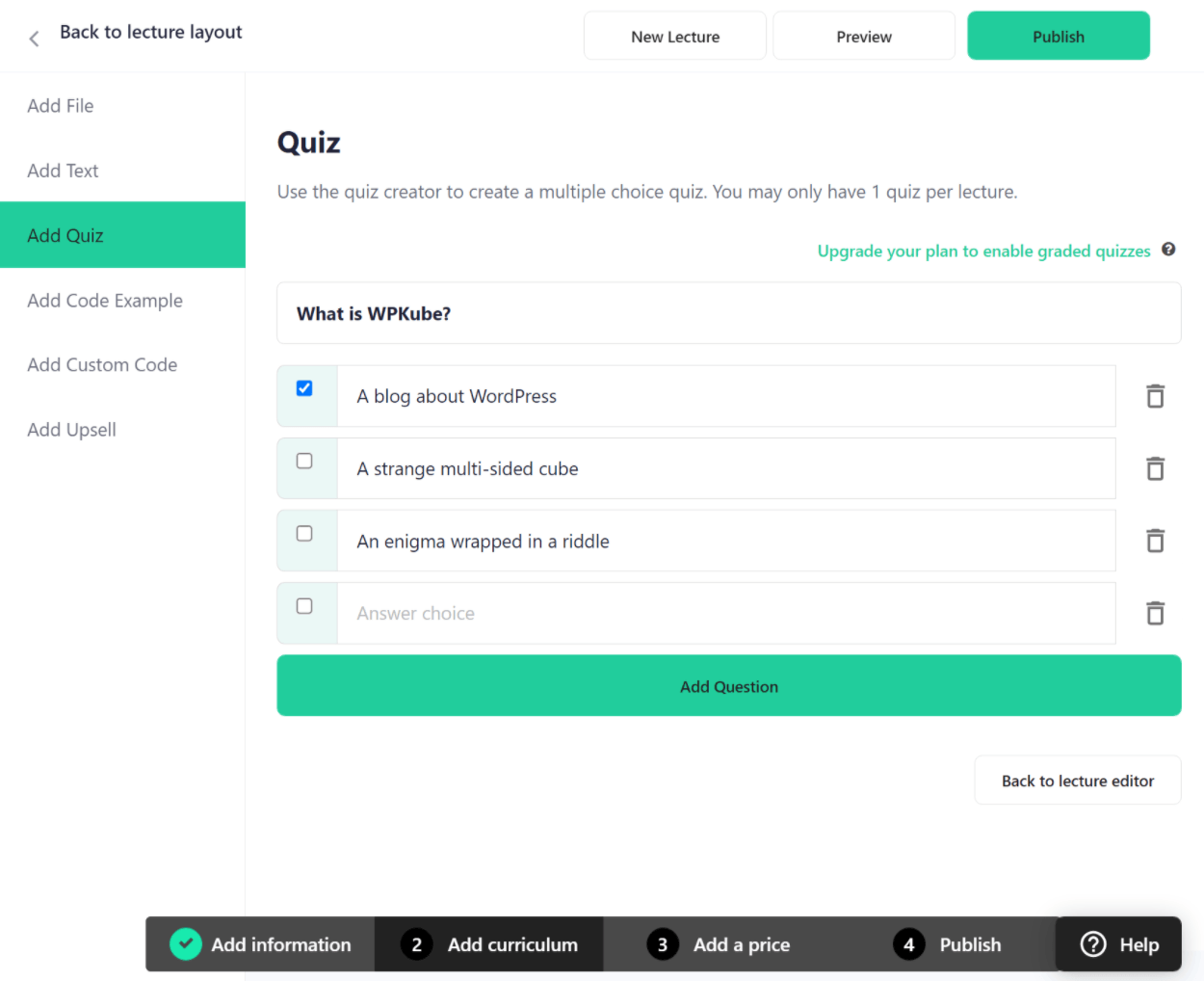 When you're finished, you can publish the lecture. Then, repeat the process for each lesson in your course.
Set Up Drip Content
By default, learners will get access to all of your course content from day one.
If you want to change this, Teachable also lets you drip content out over time to keep learners subscribed. You can set this up from the Drip tab of the editor.
You have two options for releasing content:
On a specific date.
X days after a user enrolled in the course.
One downside here is that you can only drip course sections – you cannot drip individual lectures (unless you put each lecture in a separate section):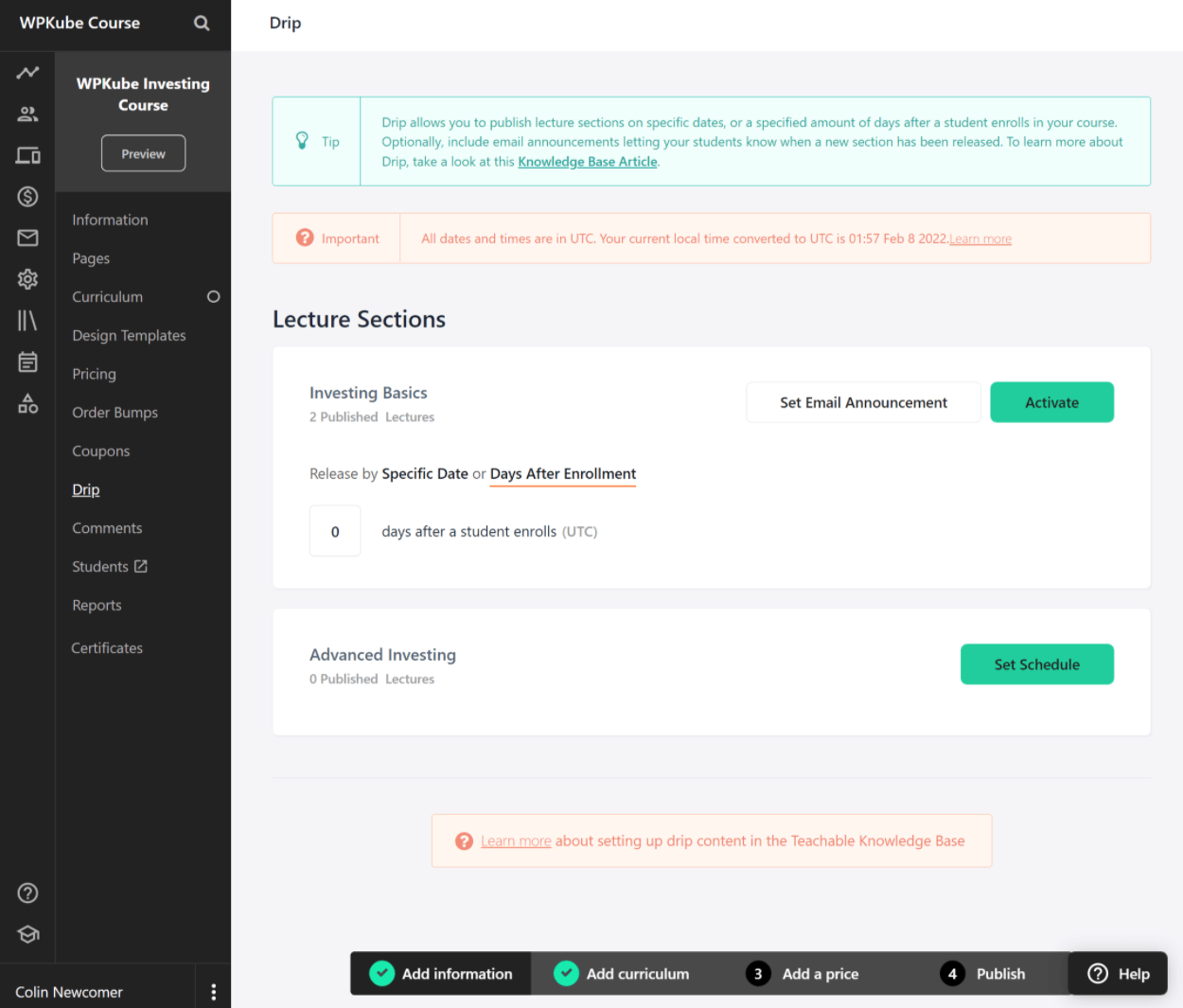 Control the Design of Your Course
To control the design of your course, you can choose from one of three basic templates and then customize the style to match your branding.
Having three basic templates does sound a little limiting, but I don't think it's a big deal because there are only so many ways you can present course content: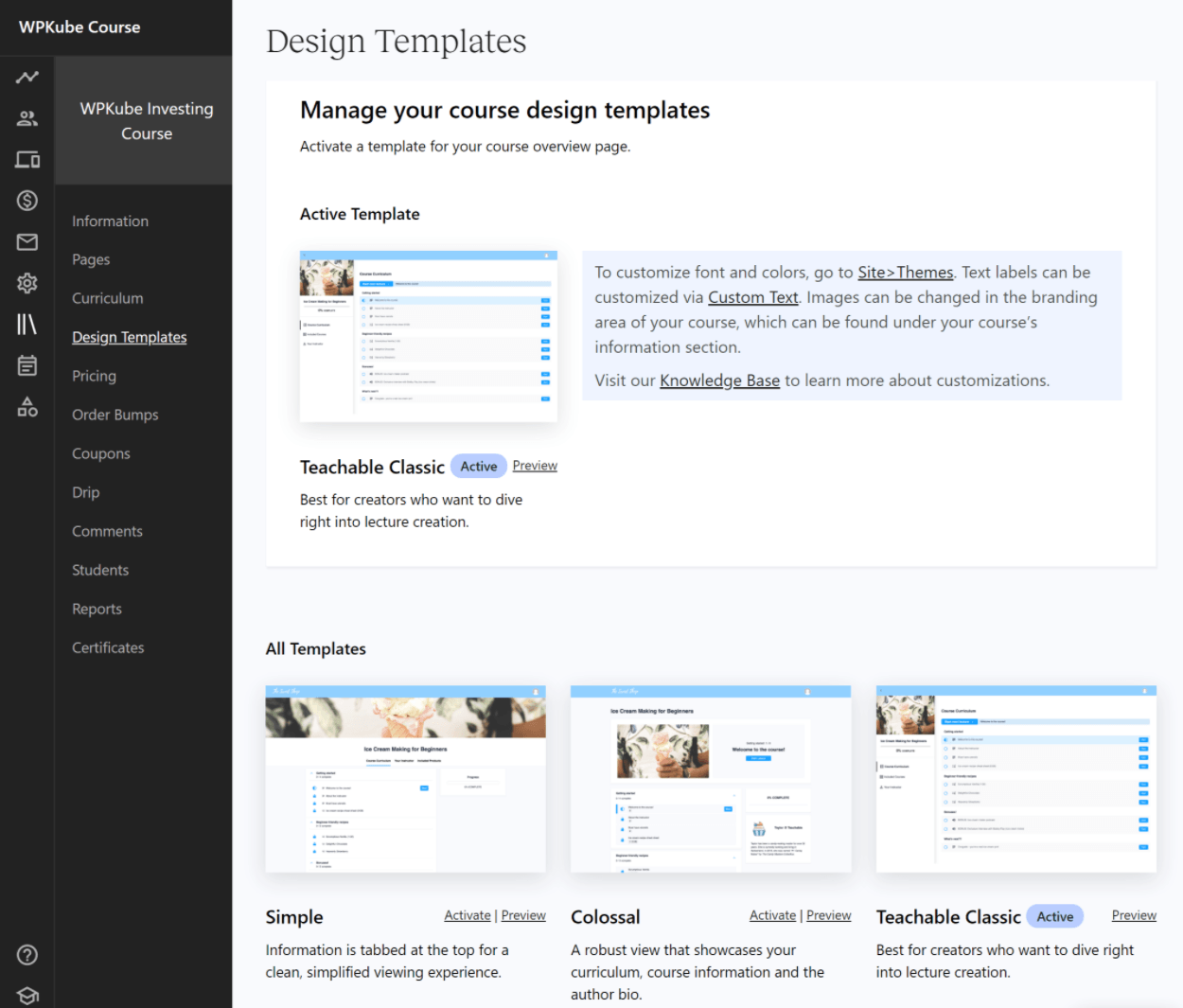 Once you choose your template, you get an editor to customize all of the colors, fonts, images, and so on.
While you can preview your changes, I wish Teachable offered some type of live visual preview so that you can see how your design looks right away: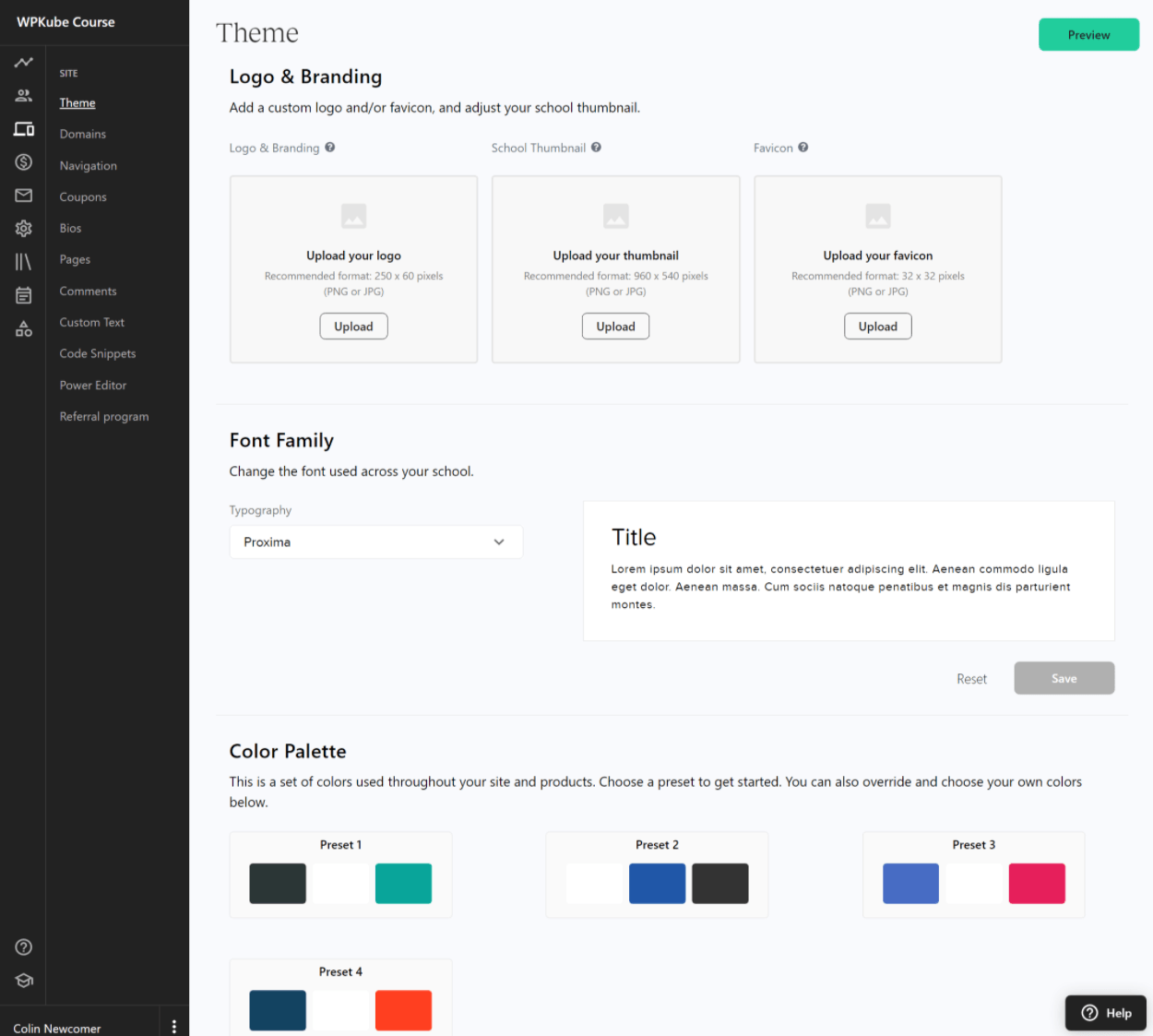 Set Up Pricing
For each product (course or coaching), you can set up multiple pricing plans. You get four different high-level pricing options:
Free
One-time purchase
Payment plan
Recurring subscription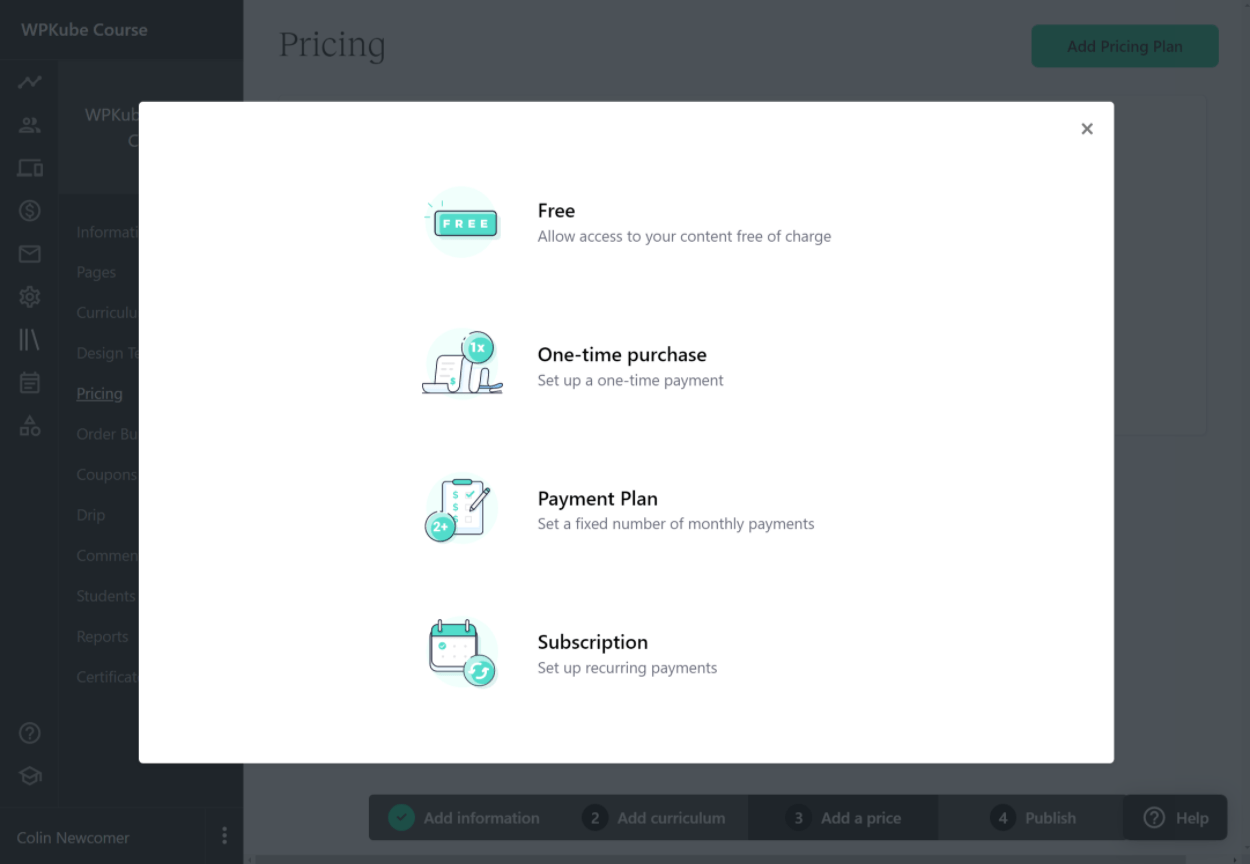 You can mix and match the different options. For example, you could offer a one-time $500 payment OR three payments of $200: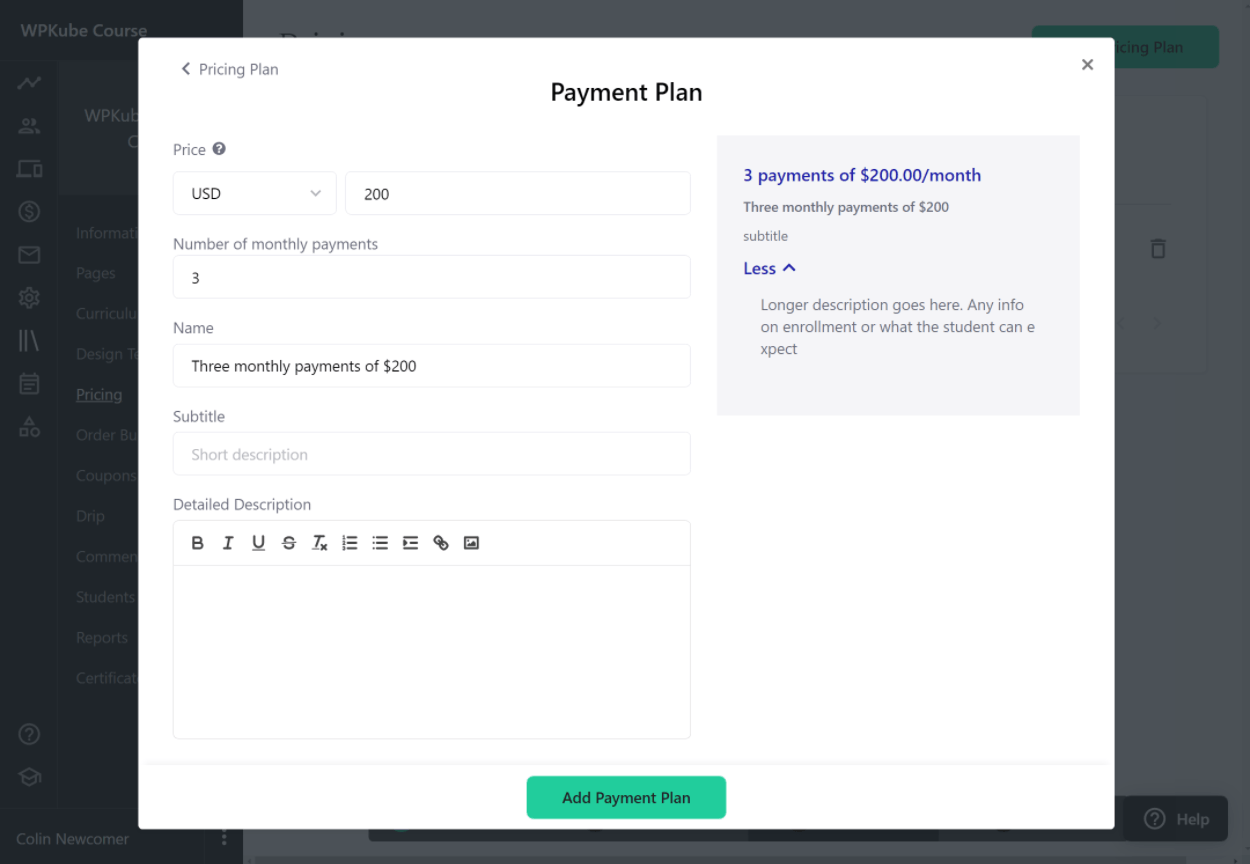 For subscription payments, you can fully customize the frequency and you also have the option to offer a free trial.
Beyond the pricing plans, you can also offer order bumps, which are a conversion-boosting strategy designed to upsell additional products and grow your revenue.
For example, you could create an order bump to upsell a coaching service on top of your course.
You can also create coupons to incentivize people to sign up for your courses: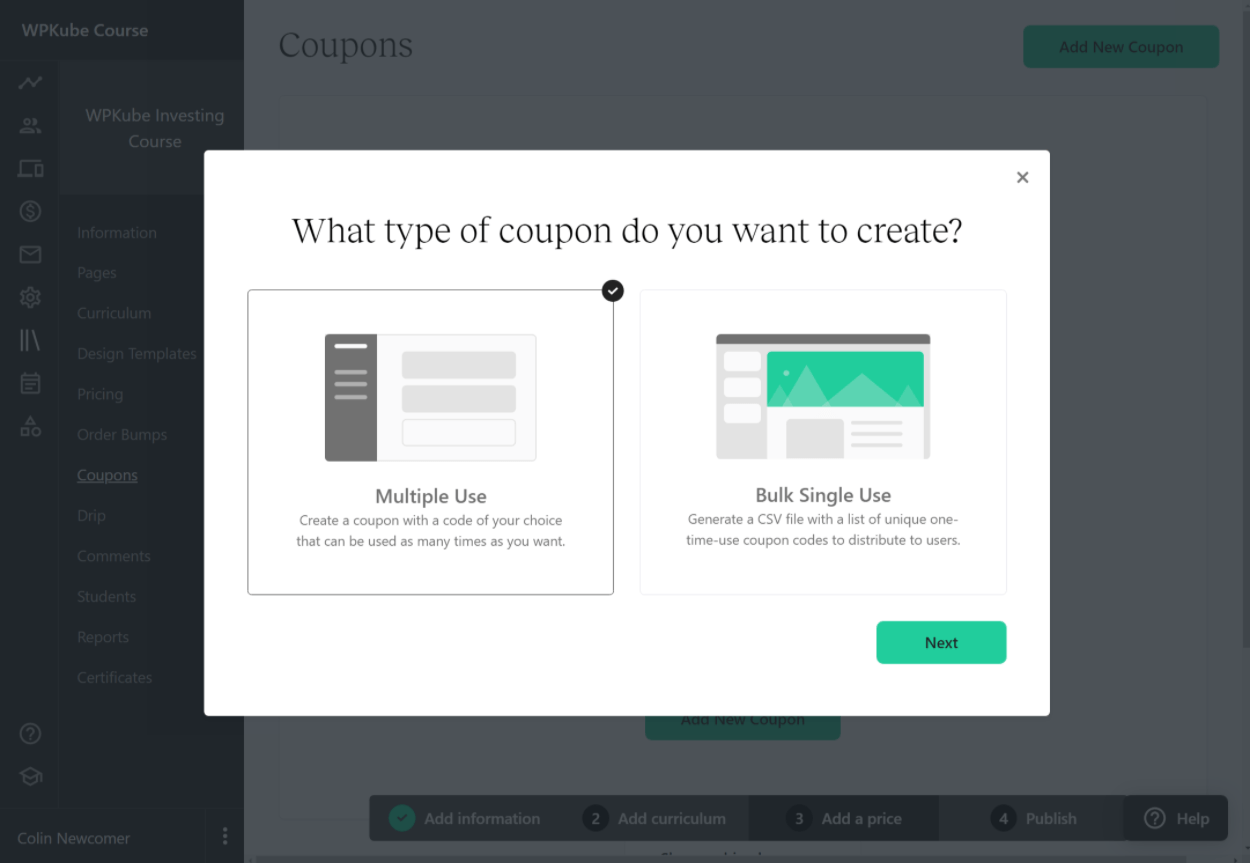 Publish Your Course
Once you're happy with all your choices, all you need to do is click the Publish button in the top-right corner to make your course live.
Exploring Other Features in Teachable
Let's look at a few other important features in Teachable.
Coaching Services
In addition to creating course products, you can also create coaching products.
When you create a coaching product, you can choose how to get clients. For example, you can let people check out directly or require them to fill out a form, with or without manual approval: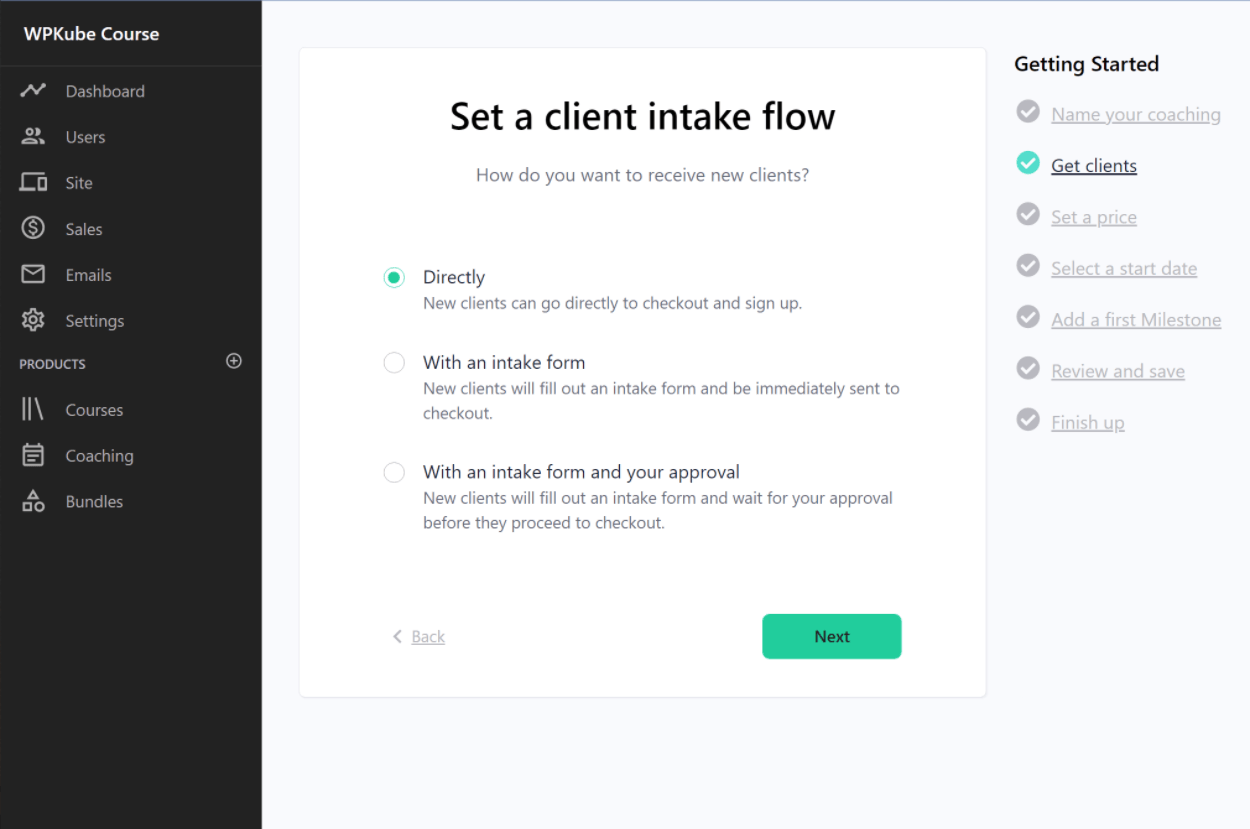 You can then set a price using the same options as you get for courses, along with a start date and various milestones: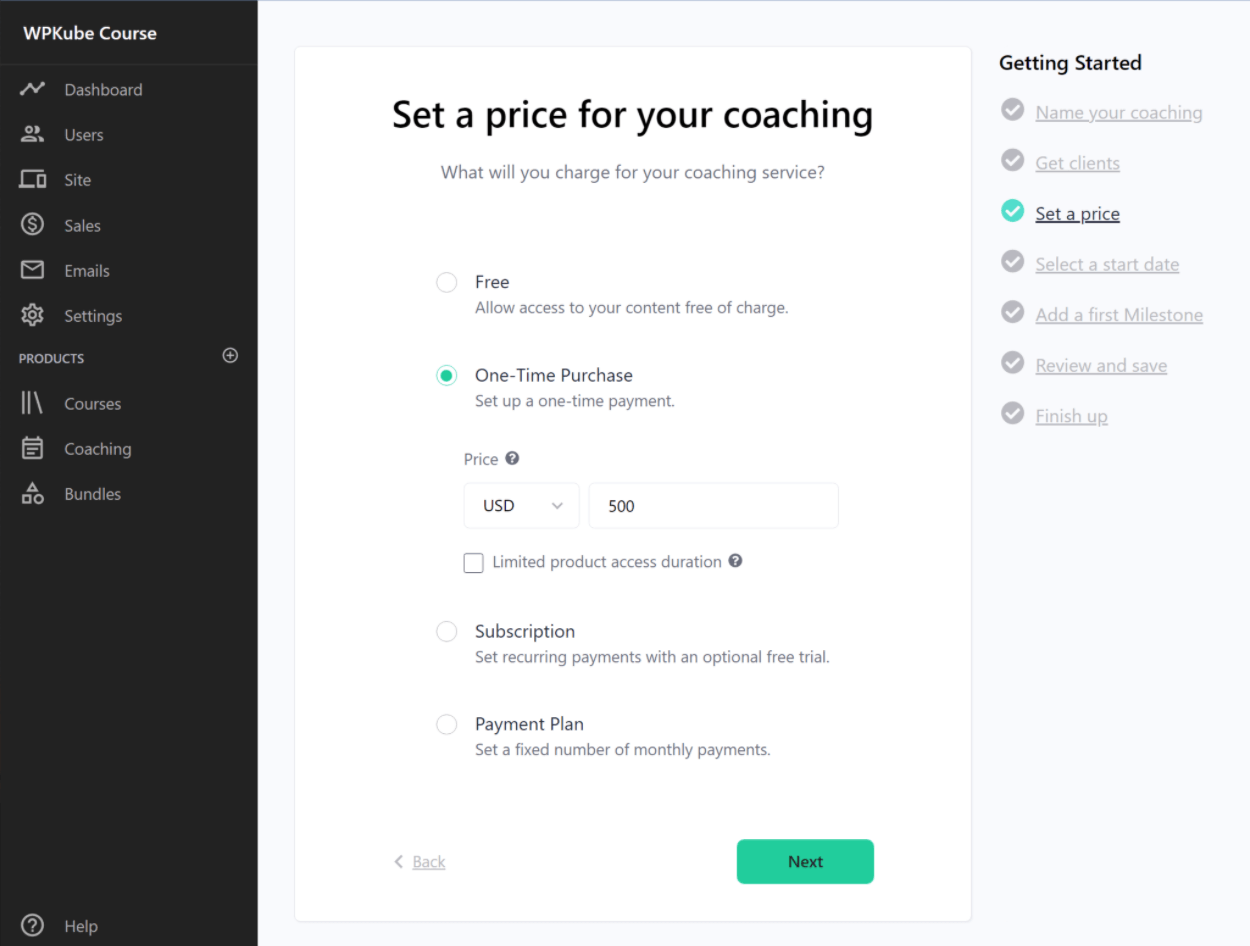 Bundles
To boost sales, you can create bundles that give people access to multiple courses and/or coaching products for one price.
You can use all the same pricing options as individual courses and coaching products: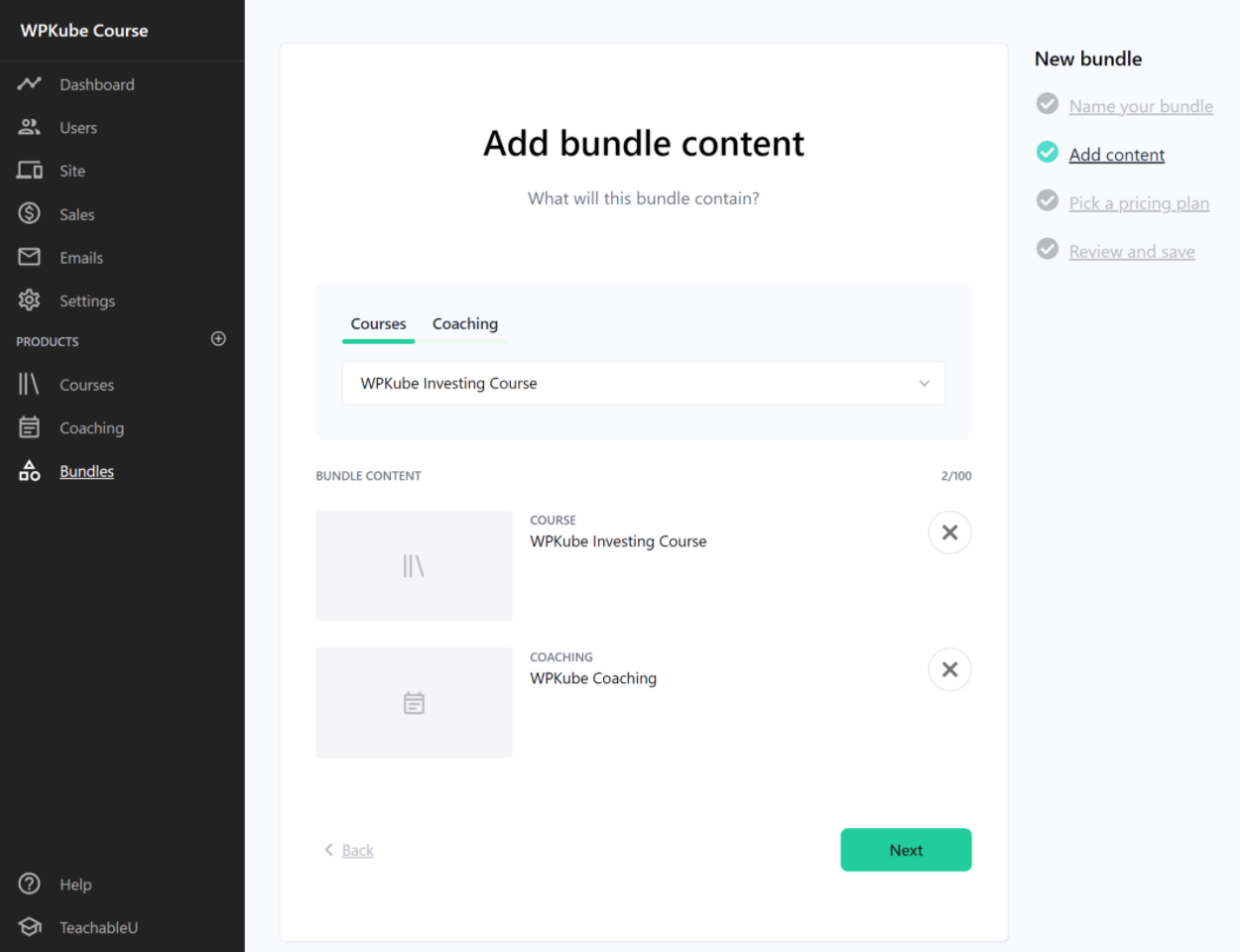 As I mentioned earlier, you can add up to 100 separate products to each bundle.
Email Marketing and Notifications
To help you connect with students, Teachable lets you send emails to individual users, users enrolled in a specific course, or all users.
You can set up emails using a simple text editor: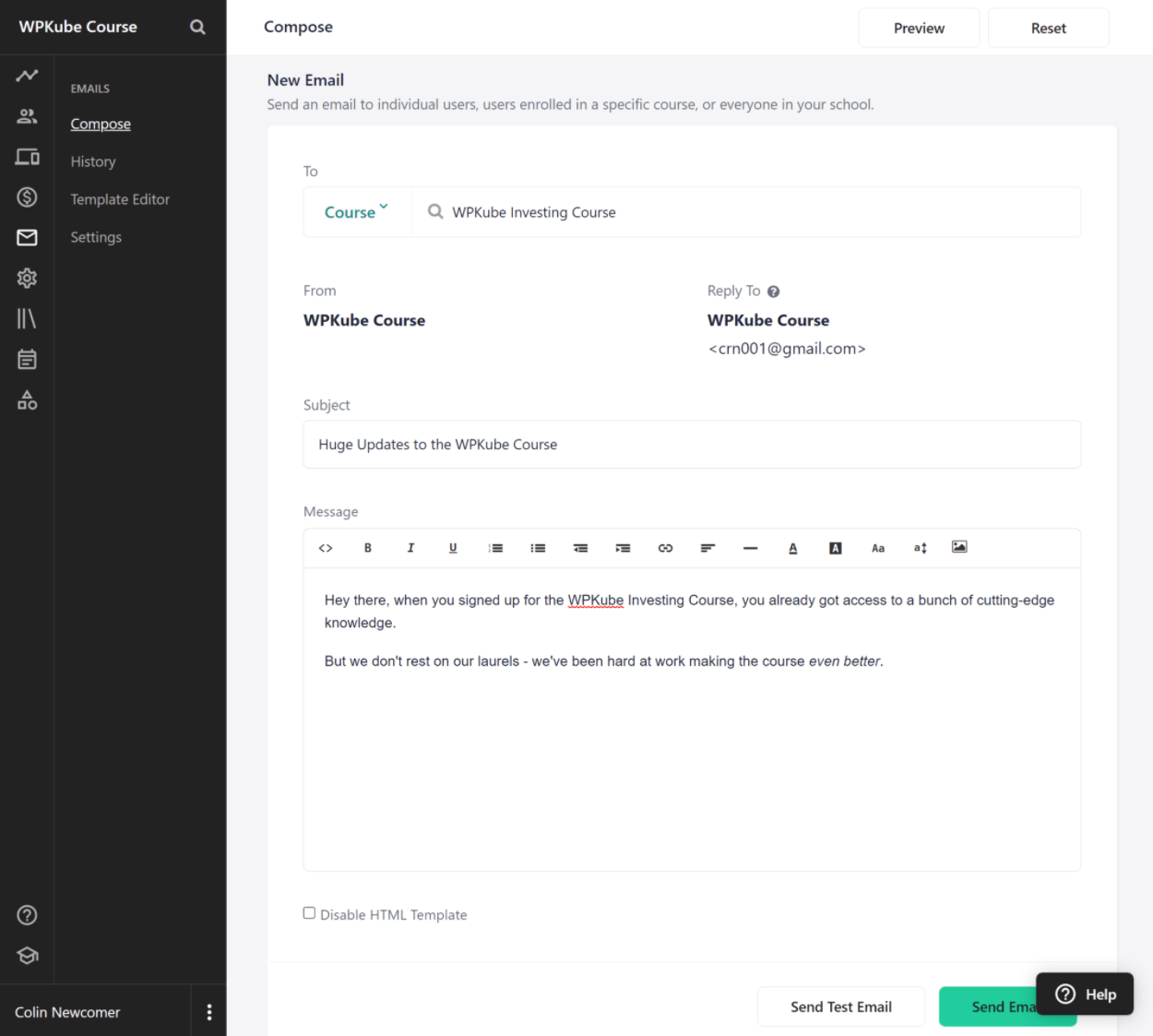 You also have the option to enable/disable the notification emails that are sent to students and admins. However, you cannot customize these emails – you can only turn them on or off. 
This isn't a huge deal, but it is a bit frustrating because you can't personalize the basic notification emails.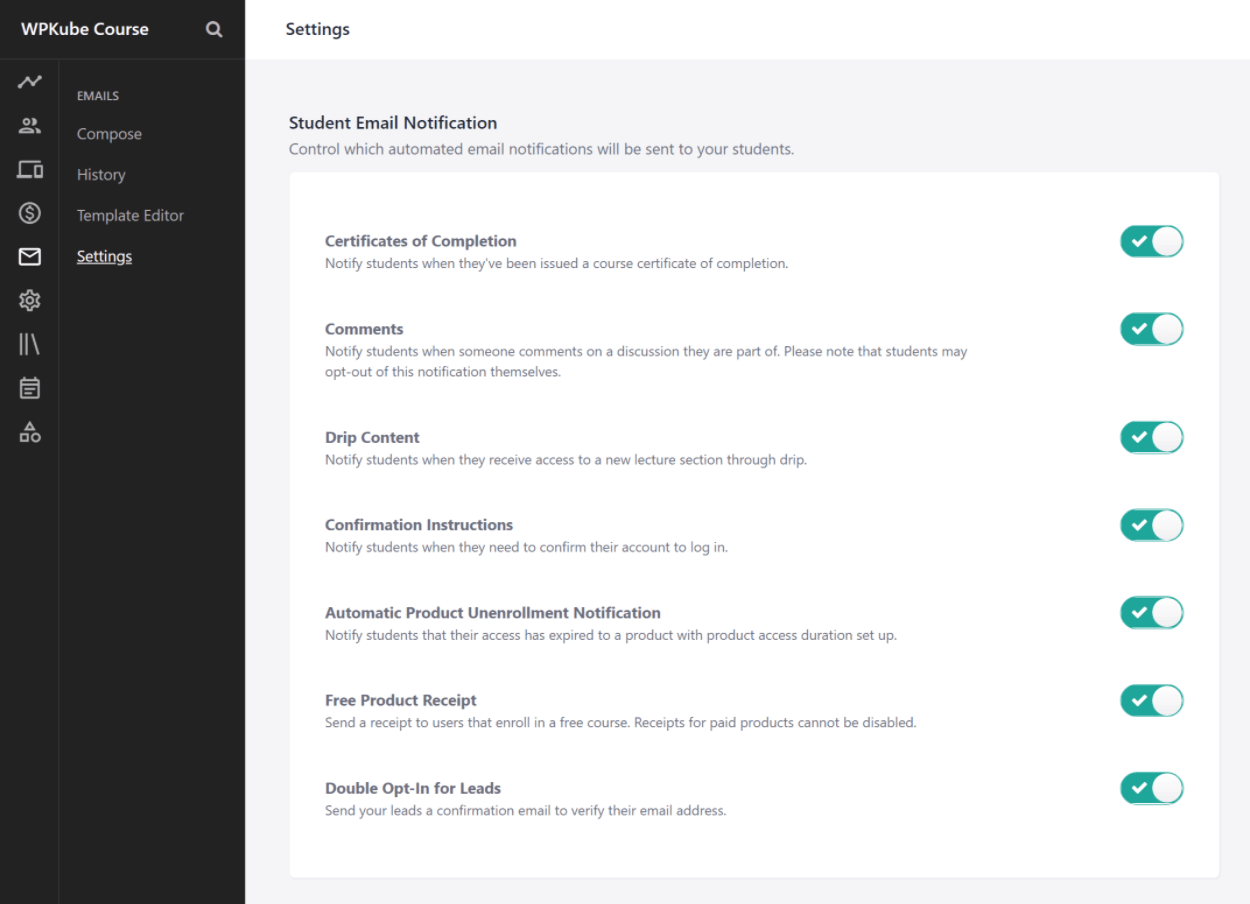 Webhooks (Zapier Integration)
To help you connect to other tools you might be using, Teachable supports webhooks, which is the technology that lets you connect to platforms like Zapier and Pabbly (and all the apps that those platforms support).
It's a little technical, but it's super powerful for setting up automations. For example, you could make it so that Teachable will automatically send a student's information to your CRM after signup.
Here's the full list of webhook triggers: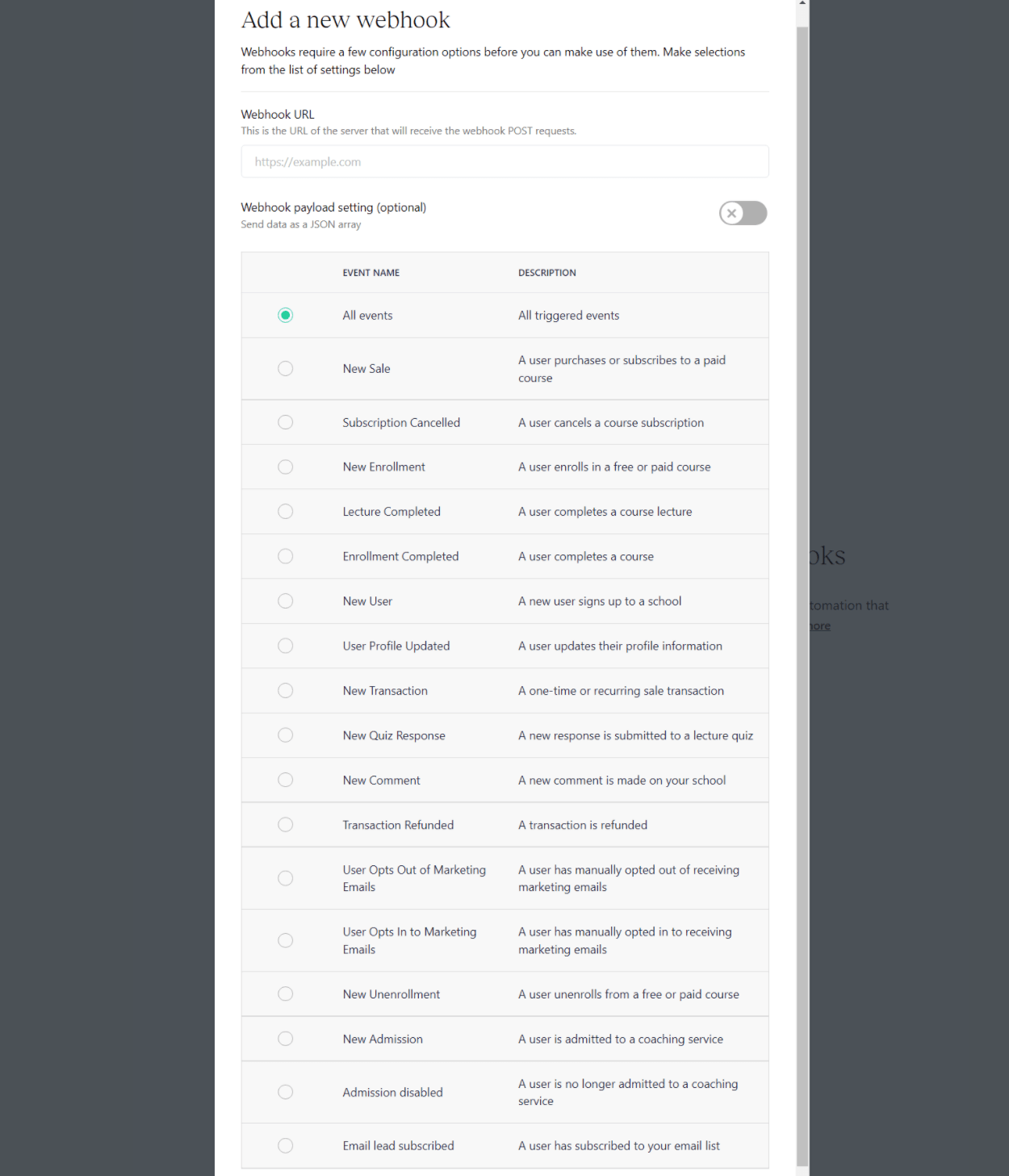 Teachable also has direct integrations with some platforms and tools including the following:
Google Analytics
Facebook Pixel
Mailchimp
ConvertKit
Circle.so
Sumo
Segment
Student and Sales Management
To manage students (and leads), as well as sales details, you get dedicated dashboards in your course.
For students, you get a basic list to start: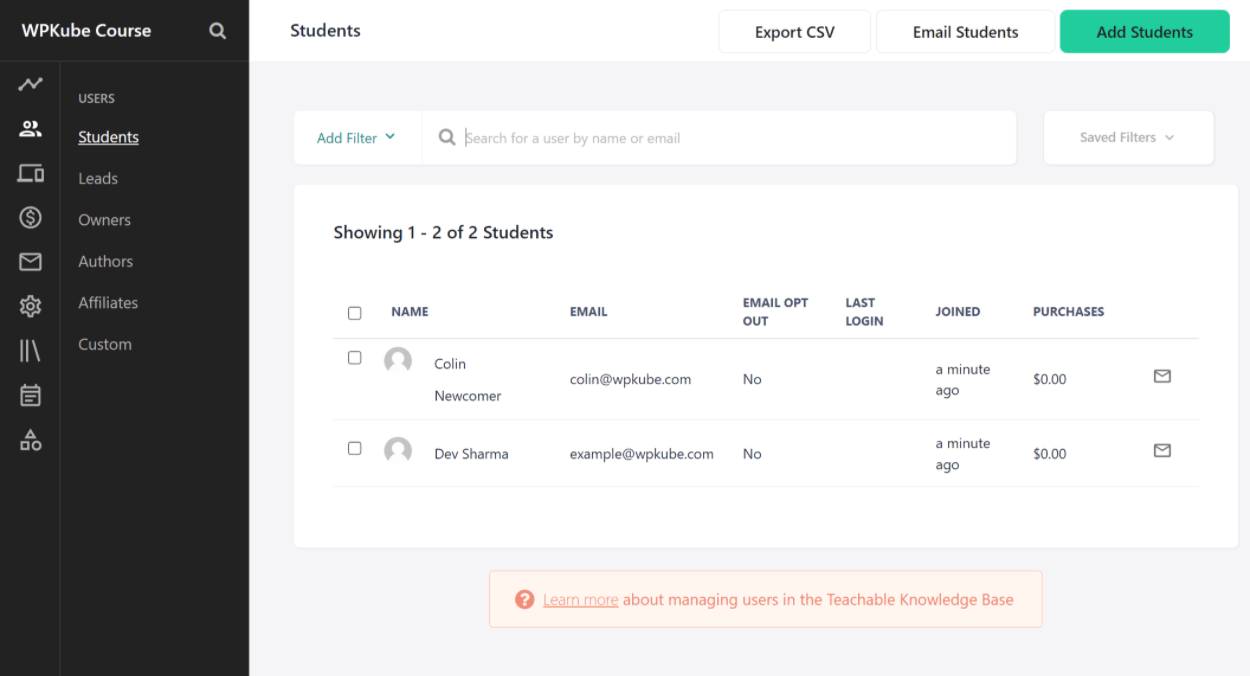 If you click on a specific student, you can see a ton of details for them including their:
Purchases
Enrollments
Progress reports
Teachable vs WordPress for Online Courses
If you want to create an online course, another popular option is the open-source WordPress software, which powers more than 43% of all websites on the Internet.
If you add a WordPress course plugin to your site, you can create fully functioning courses including all of the features in Teachable (and more if needed).
Teachable uses a very different approach to WordPress, so I think it's useful to quickly run over some basic differences between Teachable vs WordPress.
Here's the high-level difference:
Teachable is a software-as-a-service (SaaS) tool.
WordPress is free, open-source software that you install on your own hosting.
With Teachable (and SaaS tools in general), you can get started by simply registering for an account. You never need to interact with the underlying software, which is why it's "as a service".
The biggest benefit of a SaaS tool like Teachable is simplicity. Everything is already done for you – you just register for an account and start building. What's more, you never need to worry about security, maintenance, updates, and so on.
With WordPress, you'll need to actually purchase your own web hosting and install the WordPress software on it. You'll also be responsible for maintaining and updating everything (though your host can help with it).
You can then install an LMS plugin like LearnDash or LifterLMS to turn WordPress into a fully-functioning course platform (with even more features than what Teachable offers).
So – why would anyone use WordPress to create an online course when Teachable exists? 
Well, WordPress has two big advantages:
It's more flexible. You can customize your site however you want – you aren't limited by the preset features that Teachable makes available to you. You get more design control, more control over quizzes, more control over adding non-course features, and so on.
It's cheaper. You can create full-featured courses with WordPress for a much lower cost if you're on a tight budget.
Which approach is better? There's no "right" answer here. It's really just about choosing the approach that best matches your needs, knowledge level, and budget.
However, I think it's important to understand these trade-offs (and benefits) before you go all-in with Teachable. I'll discuss this again at the conclusion of this review.
Teachable Pricing
Teachable includes a forever-free plan that lets you have unlimited courses, coaching services, and students…but with limited features. For simple courses, it might work. 
However, most users will need to upgrade to one of the three premium plans to access features including the following:
Members-only communities
Coupon codes
Drip content
Built-in email marketing
Graded quizzes
Remove Teachable branding
Course completion certificates
Built-in affiliate marketing (create your own affiliate program)
More admin-level users to manage your courses
Group coaching calls
Here are the prices with annual billing: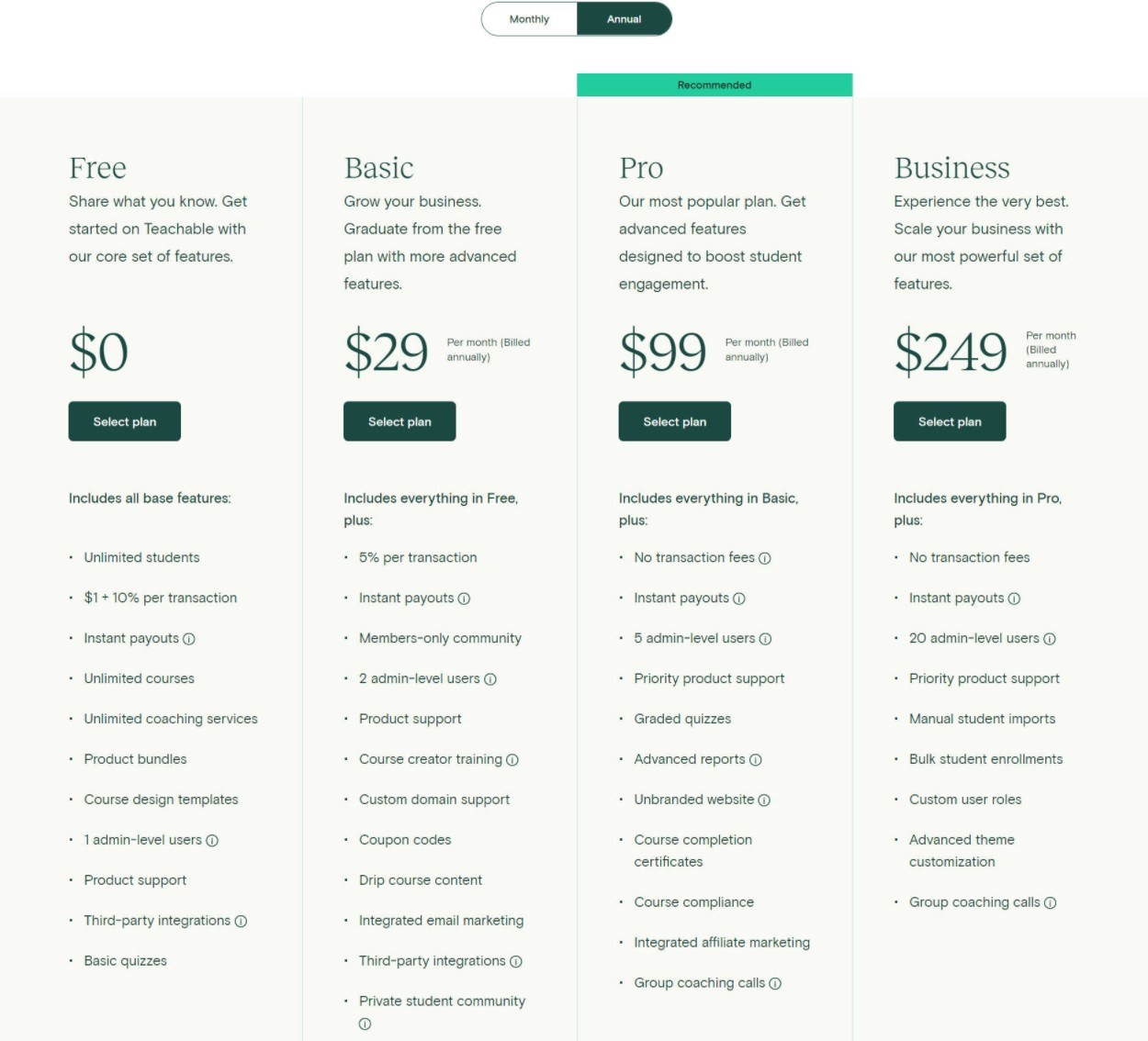 And here are the prices with month-to-month billing: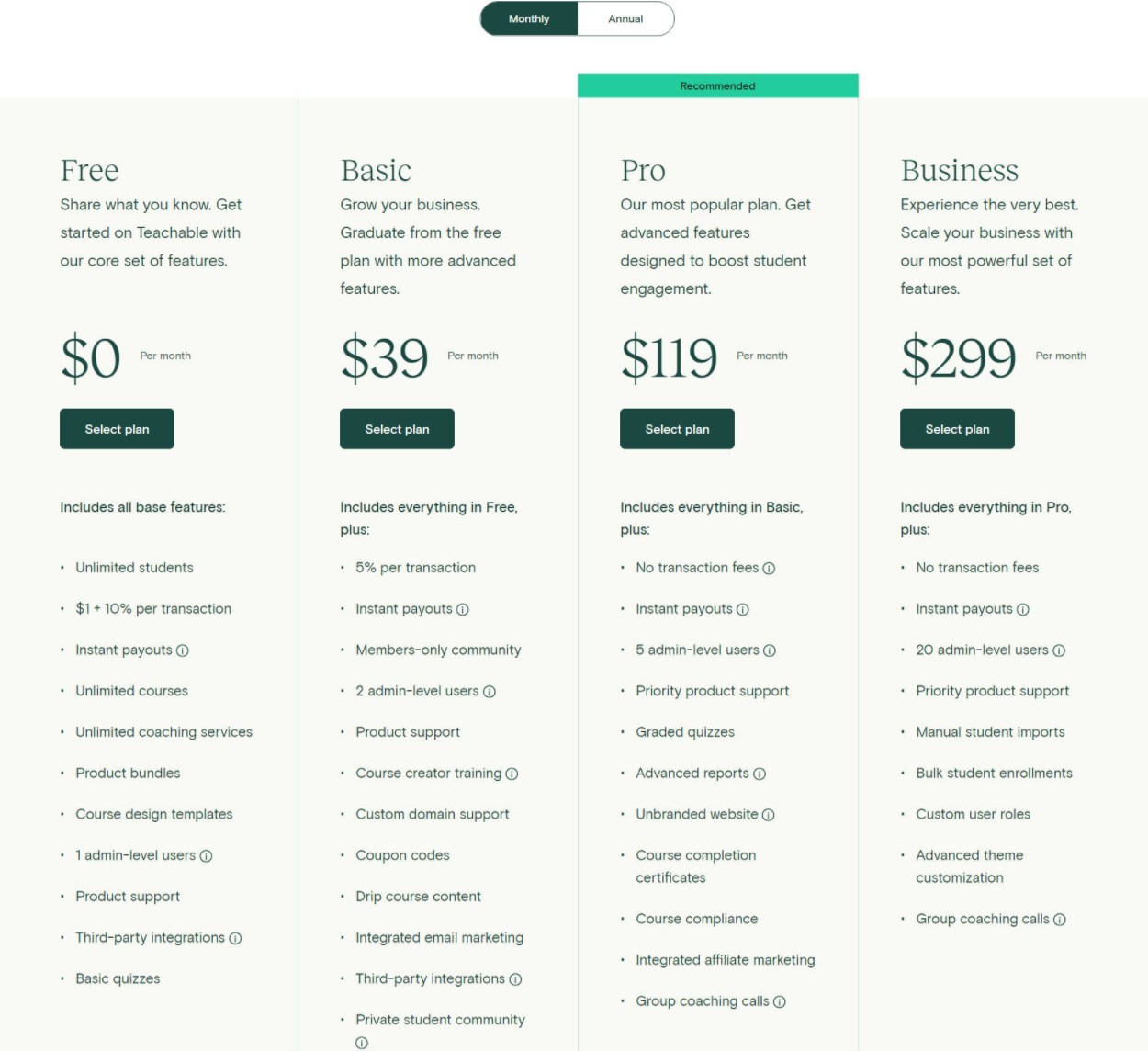 Beyond the feature differences between plans, one important difference to note is the transaction fees. These are fees you'll pay based on the money you collect that are in addition to the standard credit card processing fees:
Free – $1 + 10% per transaction
Basic – 5% per transaction
Pro and Business – no transaction fee
This transaction fee is important to consider in choosing a plan. For example, it's conceivable that the Basic plan offers all of the features you need, but it still might be cheaper to pay for the Pro plan because it eliminates the transaction fee. You'll need to do the math for your specific situation – you can always start with Basic and upgrade as your revenue grows.
To view a detailed comparison of all features and fees, click the button below.
View Detailed Comparison
Teachable Pros and Cons
At this point in our Teachable review, we've covered most of the pertinent information. So, let's recap with a specific look at the pros and cons of Teachable.
Pros:
No technical management. Teachable completely eliminates the need to deal with hosting, security, maintenance, updates, and so on. This is one of the biggest perks for non-technical users.
Excellent interface. Everything about the frontend and backend Teachable experience is very slick and user-friendly.
Courses and coaching. Teachable makes it easy to sell coaching in addition to your courses, whereas some other platforms only focus on courses.
Forever-free plan. While there are some notable limits, the free plan is a viable option for simple courses, especially when you're just getting started.
Integrated payments. Teachable handles all the payment details for you and offers instant payouts so that you can get your money right away.
Conversion-boosting features. Having built-in support for order bumps is great for boosting conversions and revenue.
Smartphone app. Teachable has its own smartphone app for students, which is something that's hard to do with a self-hosted platform (though you can accomplish it with WordPress)
Cons:
More expensive than WordPress. If you're on a tight budget, you can save money with WordPress.
No code access for complex customizations. Because Teachable is a SaaS tool, you can't fully edit your site's underlying code, which can be required for some advanced customizations. Most people won't have problems, but this is something to consider if you want unique functionality that Teachable doesn't already support.
Limited design options. Using something like WordPress will give you a lot more control over the design of your course.
Added transaction fee on lower-tier plans – unless you upgrade to the Pro plan or above.
Limited quiz functionality. Teachable only supports simple multiple choice quizzes, which is a big limit if you need advanced quizzing functionality.
Teachable FAQ
As we finish out our Teachable review, let's go over a few common questions.
Is Teachable legit?
Yes! Teachable is absolutely legit. Teachable has tons of successful course creators and it's worth hundreds of millions of dollars. This is definitely not a fly-by-night operation.
Is Teachable a good LMS?
Teachable is a great system for simple online courses and knowledge-based businesses. However, I wouldn't say it's a great LMS for heavy-duty academic courses because it lacks advanced functionality when it comes to quizzes, assignments, gradebooks, and so on.
If you need quizzes with different question types, assignments, grading, and so on, I would recommend a different tool.
Can you make money on Teachable?
Yes, you can absolutely make money on Teachable. You can just sell courses or you can sell a mixture of courses and direct coaching.
Collectively, Teachable users have made over $1 billion as of 2022, so the opportunity is definitely there.
What percentage does Teachable take?
Teachable charges a 10% transaction fee on the free plan and a 5% transaction fee on the Basic plan. However, there are no transaction fees on the Pro or Business plans.
Can you teach live on Teachable?
Teachable doesn't have a built-in way to add livestreams, but you can embed a third-party livestream into a lecture using YouTube or another platform.
Can you use Zoom on Teachable?
While Teachable doesn't have a built-in Zoom integration, you can connect the two using Zapier. Here are some example recipes.
Final Thoughts on Teachable
Now for the most important question of our Teachable review – should you use it for your online courses?
Well, I think the answer really comes down to the debate between any SaaS tool vs open-source, self-hosted tools like WordPress.
The Case for Teachable
If you value simplicity and you're willing to work within someone else's "system", that's where Teachable excels.
Teachable makes it so easy to create and monetize online courses. You don't need to mess around with maintenance, updates, and so on. You just register for an account and build your courses using a really well-designed interface.
For non-technical users, those are really awesome benefits. 
Plus, if you're just creating straightforward courses, Teachable should have all the functionality that you need.
It also does support webhooks, which gives you a good amount of flexibility for connecting to other tools that you might be using, such as a CRM, email marketing software, and so on.
Go to Teachable
The Case Against Teachable
Teachable has the same downsides as any SaaS tool:
It's more expensive than self-hosted, open-source alternatives like WordPress + an LMS plugin.
You don't have as much flexibility because you only get access to the features Teachable offers you (and you can't access your site's underlying code).
Honestly, while the extra flexibility can be really valuable for "non-standard" courses, I don't think it's something that will affect most course creators who are just creating straightforward courses.
I mean, if you need advanced quizzing or assignments, then Teachable probably isn't a good option because of this. But I'm guessing most people looking at Teachable just want a way to monetize and deliver fairly standard text, image, and video-based lesson content.
For the average user creating simple text or video courses, I think the stronger argument is price:
With Teachable, you're paying a bit of a premium for simplicity and "hands-off" management. If you think those conveniences are worth the extra money, then Teachable is probably the best option for you.
On the other hand, if you're on a really tight budget and/or you're willing to invest a little sweat equity to save some money, then you might do better with a self-hosted WordPress site and a quality LMS plugin like LearnDash or LifterLMS. Check out these posts to learn more:
I would also recommend this setup if you need advanced quizzing or assignments, as both LearnDash and LifterLMS are much more powerful when it comes to those areas.
Do you still have any questions about Teachable or our Teachable review? Let us know in the comments!
Keep reading the article at WPKube. The article was originally written by Colin Newcomer on 2022-04-20 23:34:00.

The article was hand-picked and curated for you by the Editorial Team of WP Archives.